Fantasy Flight Games is introducing two new vehicles for Star Wars: Legion – The Rebel X-34 Landspeeder and the Imperial TX-225 GAVw Occupier Combat Assault Tank. Time to mount up!
The next wave of miniatures have been announced for Star Wars: Legion and both sides are getting some love with new vehicles. Up first we have a look at the new Rebel X-34 Landspeeder!
Unable to match the Empire's production of military equipment, the Rebel Alliance makes do with whatever they have on hand—which often means converting civilian vehicles into weapons of war. In addition to being outfitted with stolen weaponry to support Rebel soldiers in combat, the nondescript appearance of these vehicles is often useful in avoiding capture. Soon, you'll be able to adapt one of the Star Wars saga's most iconic speeders to fit your needs on the battlefields of the Galactic Civil War.
The X-34 is a civilian transport that has been converted for use in battle. Because of the repulsor engine, the craft is perfect for zipping around the battlefield and delivering it's make-shift payloads where they need to go. While it's not designed for combat it's more than able to support the role of a highly mobile firebase.
As the Rebellion's second heavy unit it can have a few different weapon options equipped. It also has the ability to transport a single small base miniature into battle with it's Transport cap of 1. To really get the most of this vehicle you are going to want to take advantage of it's speed and not it's armor of 2. Having those extra gunners on board can help dish out the firepower, but the best survival trick is not getting shot in the first place.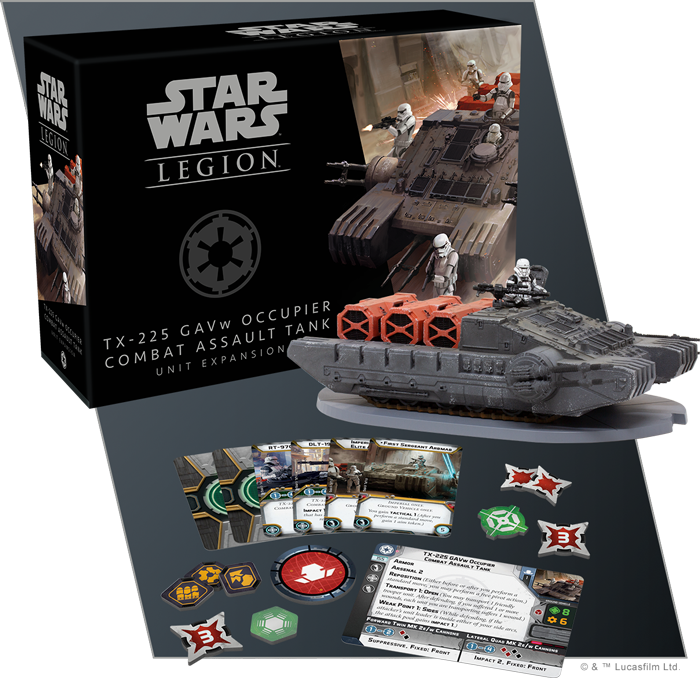 The Imperial Forces are getting some help from the new TX-225 GAVw Occupier Combat Assault Tank:
Few symbols of Imperial occupation are more readily apparent than a TX-225 GAVw Occupier Combat Assault Tank. Heavily armed and capable of carrying either cargo or personnel, one of these tanks can be a versatile asset to stormtrooper detachments on occupation duty. With the TX-225 GAVw Occupier Combat Assault Tank Unit Expansion, you'll find a single finely sculpted, menacing TX-225 miniature that can work in tandem with your ground troops to impose the Empire's will wherever it's been assigned. This beautiful miniature is accompanied by the full assortment of unit cards, upgrade cards, and tokens that you'll need to add one to your armies.
As the second heavy option for the Empire this tank does fill a few different combat roles. Obviously it's got firepower and armor but it also can be used as a transport vehicle, too. It works great as a screen for your ground forces and has the option to even carry kyber crystals (for some yet unknown reason).
It's neat to see Star Wars: Legion add in a pair of vehicles that provide transport capacity. That can add a whole new level to the game in terms of strategy and tactics you can employ.  I wonder who else will be showing up alongside these new vehicles…
Both of these new expansions are available for pre-order and are slated for the 2nd quarter of 2019!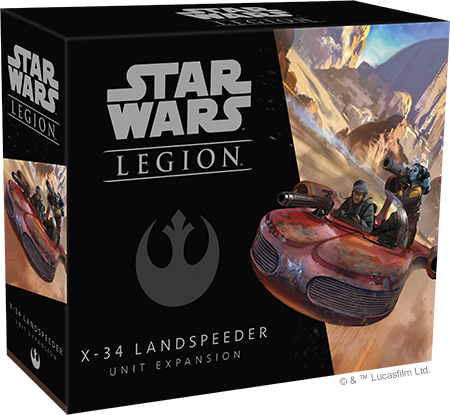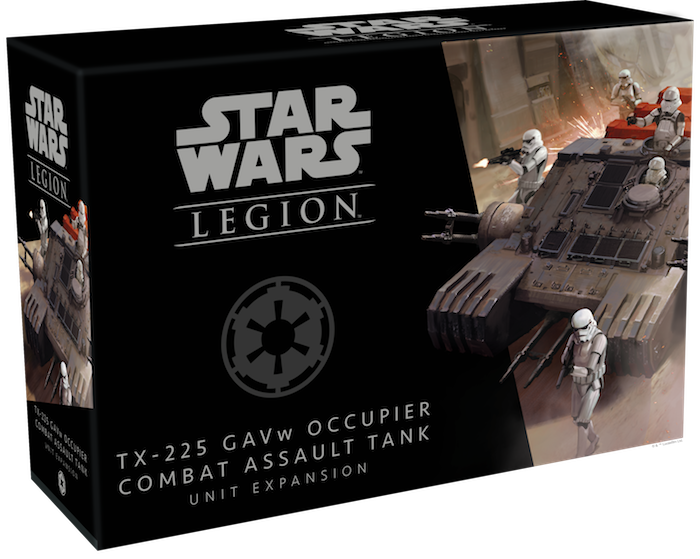 More Tanks!