Here come the droids of the Separatist Alliance! Come check out some of the new upgrades coming with the next expansion for Star Wars: X-Wing!
The Servants of Strife expansion pack is coming to a tabletop near you from Fantasy Flight Games. Now, we already got a preview of the ships coming in this new pack. Today, we're taking a closer look a handful of the new upgrade including a new type of upgrade specific to the Separatist Alliance ships.
A full suite of 48 upgrade cards invites you to outfit your Separatist ships with new tools that enhance their abilities and make them even more lethal. While many of these upgrade cards are reprints of common neutral upgrades, Servants of Strife also features brand-new upgrade cards exclusive to the Separatist Alliance that further define it as a faction focused on using droid starfighters like never before.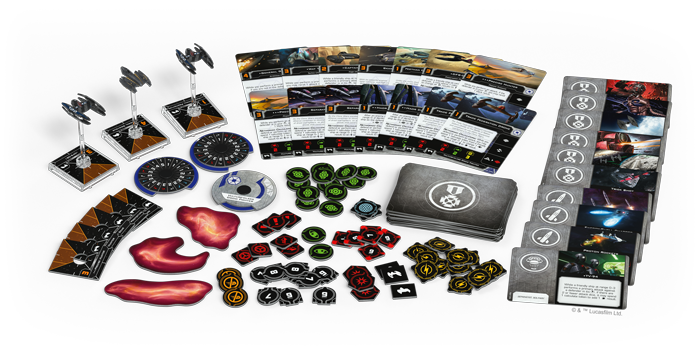 The Upgrades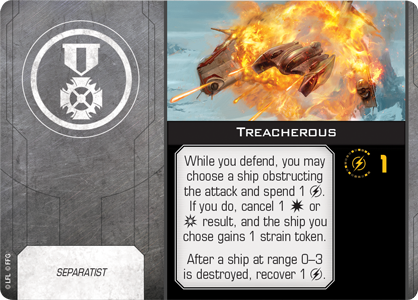 Treacherous is a Separatist only Elite Pilot Talent that comes with 1 charge. What it allows you to do is cause stress to an obstructing ship by spending a hit or crit plus the charge token. Then, after a ship at range 0-3 is destroyed, you get a charge token back.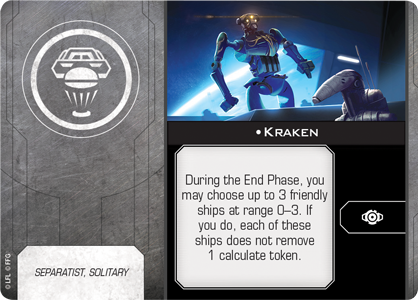 Kraken is a new Tactical Relay option (aka evil droid option). Kraken allows you to bank calculate tokens on up to 3 ships at range 0-3. These are effectively similar to focus tokens, but only for droids. Not having to spend an action in later turns to get a calculate token means you can use those actions for other effects there by upping you action economy and leading to some bigger combos.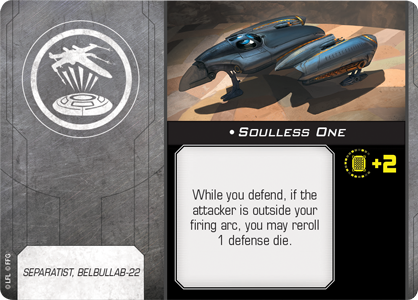 Soulless One is a ship title upgrade specific to the Belbullab-22. Not only does this upgrade add 2 hull, it also allows you re-roll a defense die when the attack is outside your firing arc. That's pretty handy from any angle.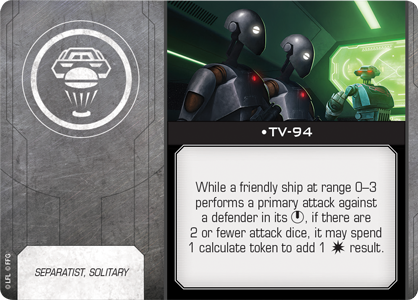 TV-94 is another Tacitcal Relay upgrade available to the separatists. This one allows a friendly ship at range 0-3 to spend a calculate token on an attack to add 1 hit, provided that the defender was in their bulls-eye arc AND the attack had 2 or fewer attack dice. This one seems a little corner case, but with a ship (or three) like the Precise Hunter in your squad, you'll probably trigger more often than you think.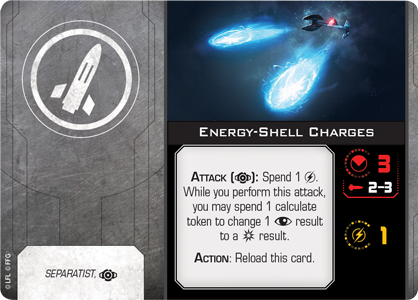 Energy-Shell Charges are a new type of missile option. Packing 3 dice at range 2-3, these can be fired as long as you have a Calculate token and a charge left. You can spend the Calculate token to change one focus to a crit result. On top of that, you can also use an action to reload this card with a charge token – pretty handy!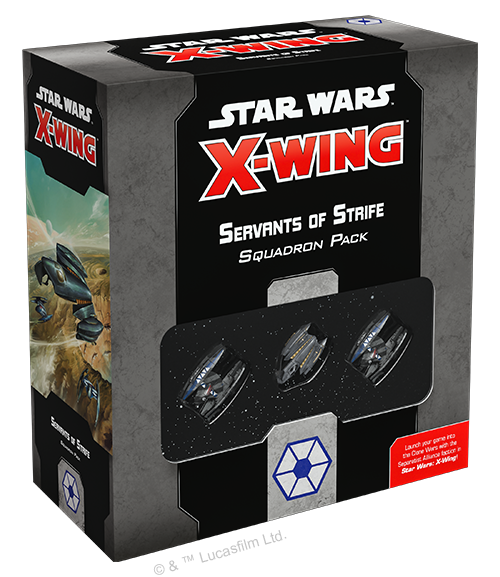 The Separatist Alliance is joining the game with a bang – get ready for the attack of the droids!