In keeping with the Age of Sigmar 2.0 releases, Skaven received three new Endless spells. Here how to scratching your way to victory with them!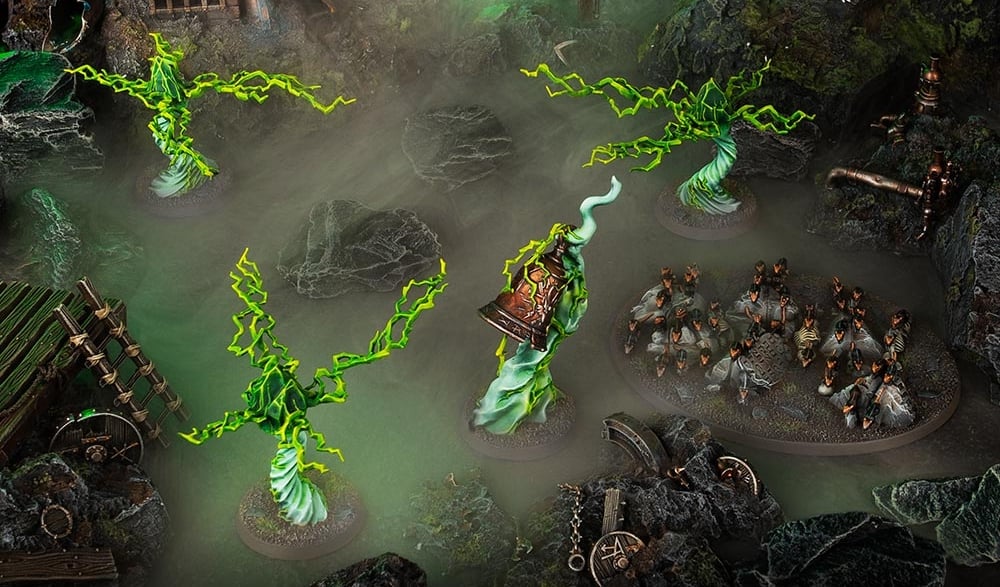 Aren't they lovely?
Vermintide
This one was one of my favorites back in Fantasy, and now it's back in beautiful Predatory form. With a casting value of 7, it isn't particularly easy to cast, but there are plenty of ways for Skaven to boost their casting (Warpstone tokens or being near a Gnawhole come to mind). It's a predatory spell with range 13 and movement 7, so on casting it has a 20" threat range. It does a pretty good amount of damage, rolling 13 dice and dealing a mortal wound on a 6 whenever it moves over anything OR when a unit finishes a move or a charge within 3". However, my favorite thing about it is that it doesn't hurt any of your Skaven, and Skaven units can move over it as though they had fly. Since the major risk with Predatory Spells is having them turn around and bite you, this is a great rule if you want to run this spell. Also, the base is huge, the size of a chariot base, so it will cover a wide area and deal a TON of damage. Use these guys to add some punch to a charge, or as a screen to protect your fragile spellcasters.

Warp Lightning Vortex
This spell is by far my favorite of the three new Endless Spells. With a casting value of 8, it is one of the hardest spells to cast, but trust me, it's worth it. Once you've cast is, you set up one of the three vortex markers within 26" of the caster, then set up the other two exactly 7" from each other, forming a perfect triangle with them. After the models have been placed, they don't move, so setting them up won't turn around and attack you if you end up going first in following turns. For as long as the spell lasts, roll a dice at the end of EACH movement phase for each unit within 6" of any of the vortex markers. You add one to the roll for each additional marker within 6", so if a model is centered in the triangle, you get +2 to the roll. If you roll a 4+, that unit takes D3 mortal wounds, which is much easier to achieve if the unit is close to more than 1 of the markers. If you roll a 6 on the dice (not effected by the other markers unfortunately) you instead deal a whopping D6 mortal wounds! But the awesome doesn't stop there; any unit that starts its movement within 6" of any of the markers cannot run or fly that turn. If you catch a slow unit at the back of the triangle, you can almost guarantee 3-4 rounds of mortal wounds, possibly completely knocking out a tough unit, like Stormcast or Chaos Warriors. Use this spell to isolate and chip away at particularly scary units, or to simply delete enemy war machines.

Bell of Doom
This one feels like the biggest risk/reward spell, which makes it perfect for a Skaven creation. It's another Predatory spell that moves 13", with a casting value of 7 and an initial range of 13". Once it's set up, or after it finishes a move, roll 3d6, and if the result is 13 exactly, every unit within 13" suffers D3 wounds and the spell is removed. However, for as long as it remains on the field, you get to subtract 1 from the Bravery of all non-Skaven units within 13", and all Skaven are IMMUNE TO BATTLESHOCK! Use this spell to buff your low Bravery blobs, but know that should you ever roll a 13, you're likely to blast your poor little rats back to Skavenblight.
~What do you think of the new Endless Spells? How do you plan to use them in your games? Let us know in the comments below!