Bolt Action: New Tank Busting Options for Afrika Korps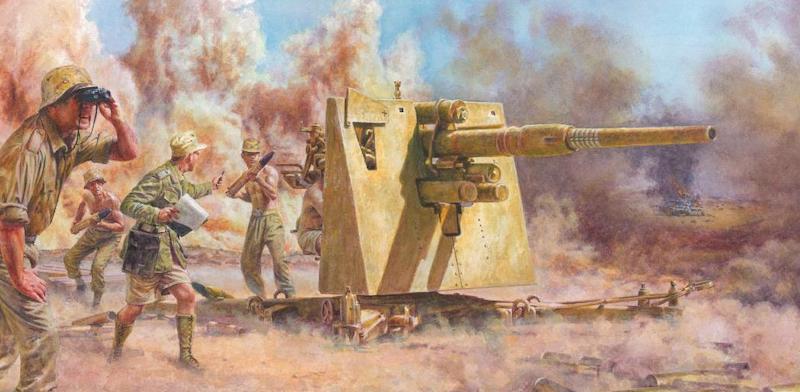 Four new anti-tank options to give your German forces in the battle in the desert – the PaK 36, Lefh 19 Howistzer,  Flak 38, and the feared 88.

via Warlord:
Punch through enemy armour with the new Pak 36 light anti-tank gun field by the Afrika Korps. The standard issue German anti-tank gun in 1939, it equipped the Panzerjäger battalions (Pak is short for Panzerabwehrkanone – anti-tank gun, and 36 indicates the year the weapon was designed). It was arguably the best antitank gun in the world at the onset of war, but was quickly outclassed by heavier armour on enemy tanks. Still, 15,000 were produced for Germany and its allies, and it was still in service in 1945. In order to extend its usefulness the Stielgranate 41 hollow-charge ammunition round was developed. This large, fin-stabilised shell fitted over the end of the barrel, but did not have a very long range.
Afrika Korps Pak 36 light anti-tank gun – $20.75
Scale: 28mm – 1/56th
1 Artillery Piece/War Machine
3 Crew
Metal
Requires Assembly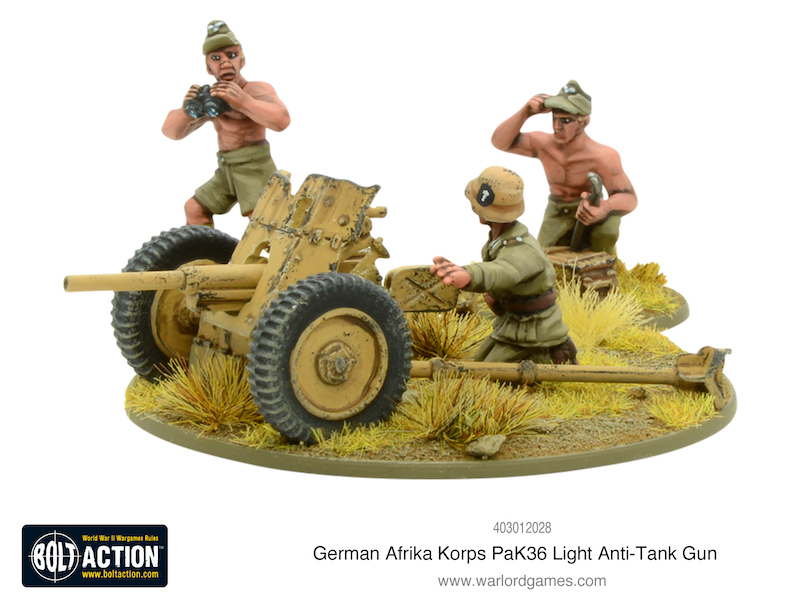 Keep putting on the suppressive fire with the Afrika Korps LeFH 18 10.cm medium artillery. Based on an original American idea, recoilless guns vented propellant gases through nozzles (venture) at the rear of the barrel instead of damping recoil using a gun carriage's recoil mechanism. As a gun's recoil mechanism was always heavy, this allowed for a far lighter weapon, on a smaller carriage, suitable for use by airborne and mountain troops. The downside was that the range was reduced and the powerful back blast was hard to conceal from enemy spotters.
First Krupp, then Rheinmetal, developed the LG40, which was a 75mm artillery piece first used by Fallschirmjäger forces on Crete in 1941. A 105mm version was introduced in late 1941 and saw service in North Africa. They were used as artillery rather than anti-tank weapons. Both were light enough to be towed behind a Kettenkrad.
Afrika Korps LeFH 18 10.5cm medium artillery – $30.00
Scale: 28mm – 1/56th
1 Artillery Piece/War Machine
4 Crew
Metal
Requires Assembly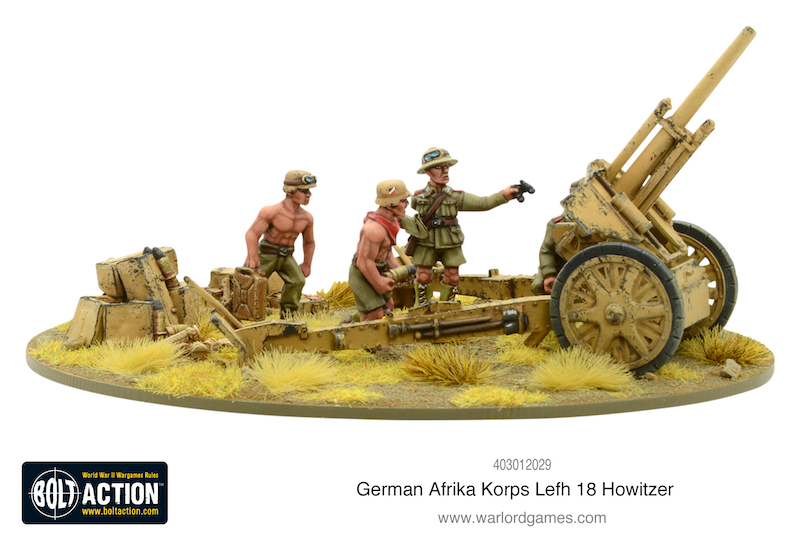 Keep the skies clear with the Afrika Korps 2cm Flak 38. Designed to engage enemy aircraft, many automatic cannons saw ample use against other type of targets. Their high-velocity shots were lethal against enemy lightly armoured or soft-skinned vehicles, not to mention against infantry. The standard light anti-aircraft weapon of the German armed forces was the 20mm Flak 38, and was widely used by all services. It could fire about 120 rounds per minute, including reloading time.
Subscribe to our newsletter!
Get Tabletop, RPG & Pop Culture news delivered directly to your inbox.
Afrika Korps 2cm Flak 38 – $20.75
Scale: 28mm – 1/56th
1 Artillery Piece/War Machine
3 Crew
Metal
Requires Assembly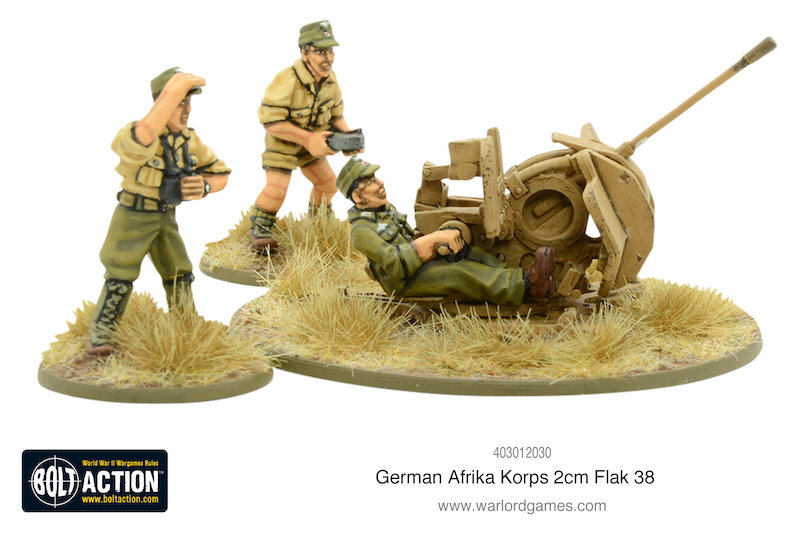 Originally developed as an anti-aircraft weapon, the Flak 37 8.8cm (or Eighty-eight as it became known by Allied troops) had a high muzzle velocity to allow it to reach the higher ranges modern bombers were capable of at the time. This would make it an exceptionally deadly anti-tank weapon as many Allied tank crews would learn to their peril. The 88 could also be deployed as a conventional artillery piece – as one infantryman noted, the 88 was 'anti-everything'…
The 88's fearsome reputation grew immensely during its service in the Western Desert where it was one of the very few weapons capable of dealing with the British Matilda II infantry tanks.
Afrika Korps 8.8cm Flak 37 $40.00
Scale: 28mm – 1/56th
1 Artillery Piece/War Machine
7 Crew
Plastic
Requires Assembly