D&D: Ghosts Of Saltmarsh In-Depth Preview And Alt-Cover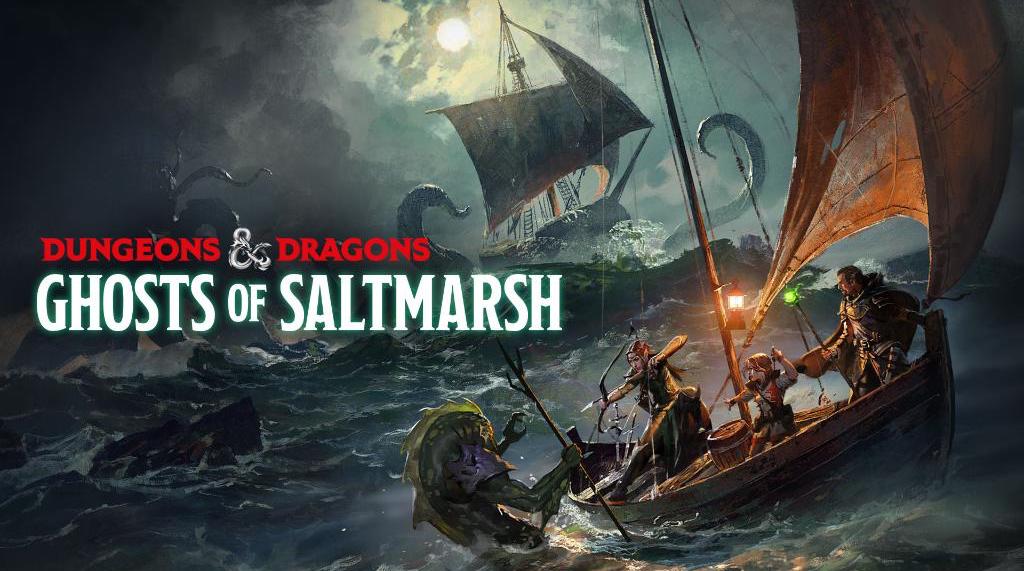 The big news broke early yesterday, but now we're getting a closer look at what you'll find inside the upcoming book, Ghosts of Saltmarsh, where you'll find rules for nautical adventures, reimagined classic modules, and a sahuagin-infested alt-cover.
Now that it's officially been announced by WotC, there's a good deal more detail around the Ghosts of Saltmarsh, including a designer interview, a look at the alternate cover artwork, done by NC Winters, and a better idea of what rules you can expect to find inside it. As we talked about yesterday, this book is a Tales from the Yawning Portal inspired book that aggregates and updates classic D&D modules like the Sinister Secrets of Saltmarsh or Isle of the Abbey into 5th Edition rules. Alongside those modules, you'll find rules for running naval adventures and ships and all things aquatic.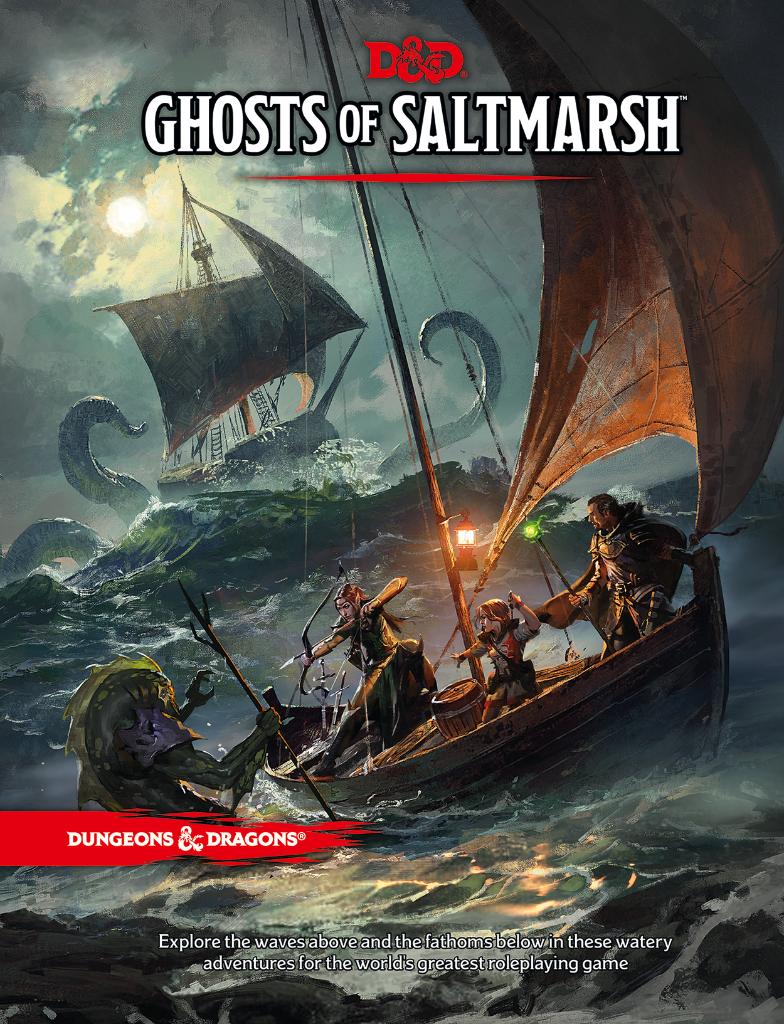 There's a lot of stuff to dig through in this initial preview. So grab your potions of waterbreathing and let's dive in to the Ghosts of Saltmarsh.
via Wizards of the Coast
Alright let's get this one out of the way first. Here's a look at the alternate cover art, designed by NC Winters: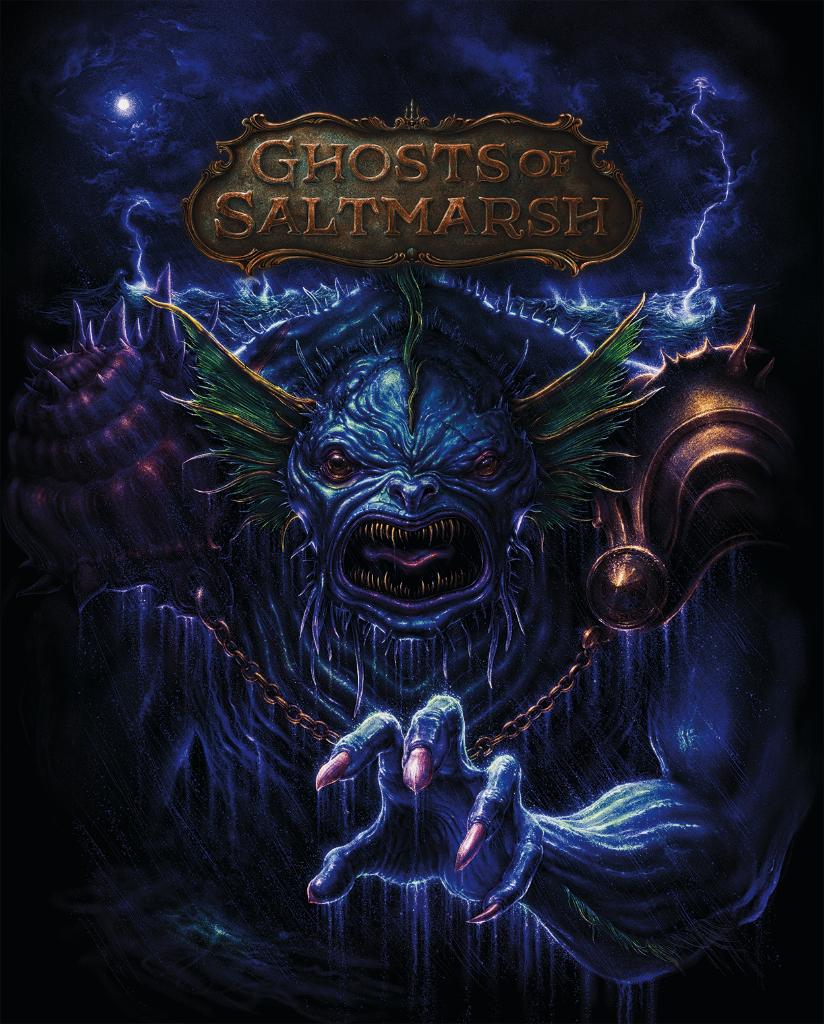 This Sahuagin-bedecked book is exclusively available from gaming stores, but the book will be available for purchase everywhere (including Barnes and Nobles and Amazon) on May 21st. No staggered release. Now let's take a closer look at some of the rules you'll find inside, with Kate Welch, who in addition to her work as game designer, is also the best grandmother-slash-member of the shadow council.
We've previously covered a playtest version of the Naval Combat rules–and in the Ghosts of Saltmarsh you'll find 10-12 ships with statblocks ready to go, so you can grab this book and immediately start having battles that feel satisfying without having to go through the all the hassle of Naumachia, which let me tell you is a lot of work. You'll also be able to explore the port town of Saltmarsh, which is becoming a universal town (much like the Yawning Portal) that you can drop into any campaign world in need of a seaside town where nothing will ever go wrong.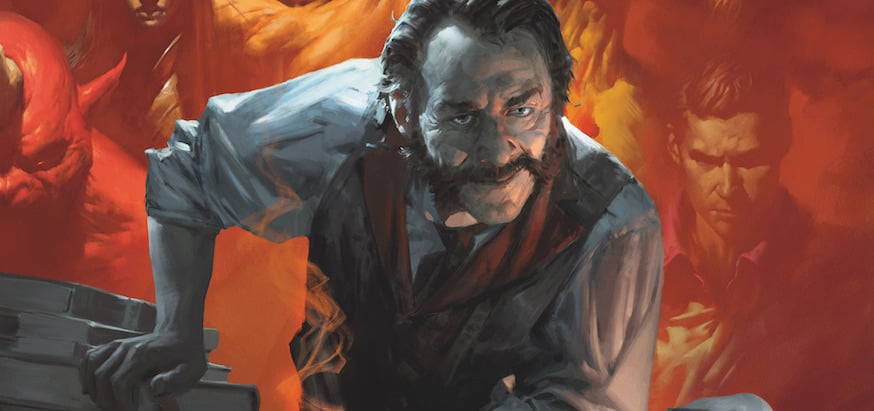 I mean it's not like seaside towns are famous for eldritch horrors or anyth–
Subscribe to our newsletter!
Get Tabletop, RPG & Pop Culture news delivered directly to your inbox.
Nestled on the coast of the Azure Sea is Saltmarsh, a sleepy fishing village that sits on the precipice of destruction. Smugglers guide their ships to hidden coves, willing to slit the throat of anyone fool enough to cross their path. Cruel sahuagin gather beneath the waves, plotting to sweep away coastal cities. Drowned sailors stir to unnatural life, animated by dark magic and sent forth in search of revenge. The cult of a forbidden god extends its reach outward from a decaying port, hungry for fresh victims and willing recruits. While Saltmarsh slumbers, the evils that seek to plunder it grow stronger. Heroes must arise to keep the sea lanes safe for all.
We're very excited around the office for this one, so be sure to look for more details in the weeks to come. But for now…
Happy Adventuring!