This giant auction has items from Star Wars, Star Trek, GI Joe, Hot Wheels,  Rambo, TMNT, Buck Rogers, and more! The sheer amount of items up on the block later this month is insane. The catalogue covers toy from the most recent line from back into the 1960s, all genres.
Meccano Boba Fett (Square Cardback) AFA 60STAR WARS: EPISODE V – THE EMPIRE STRIKES BACK (1980) – 18 Back, Miro-Meccano French produced square cardback action figure, punched cardback. Includes blaster. Exceedingly rare European release. AFA case includes added bubble protection rails. Expecting: $25,000-30,000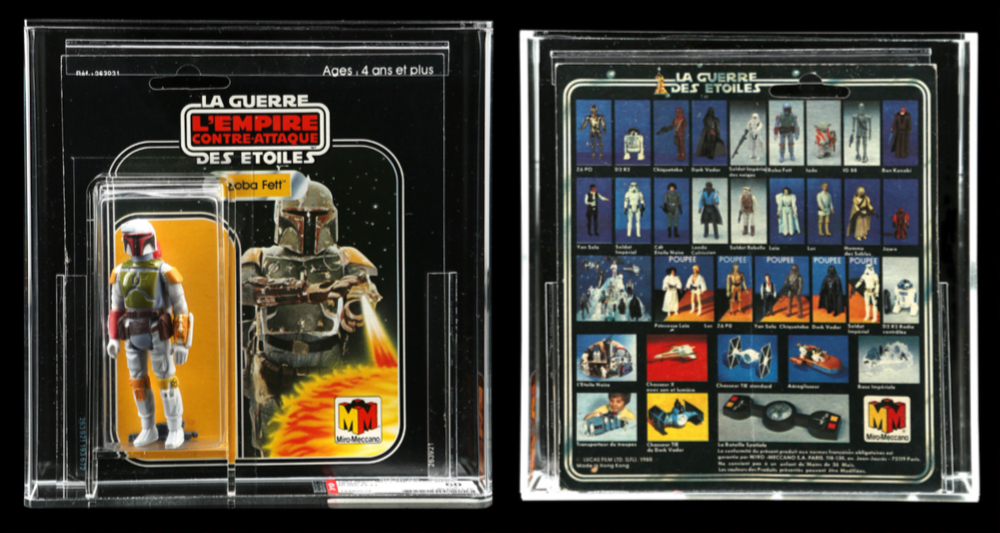 ROTJ Proof Sheet – Millennium Falcon AFA 85STAR WARS: EPISODE VI – RETURN OF THE JEDI (1983) KENNER (1982) – Proof sheet of the 2-panel glossy color overlay for the Millennium Falcon box. Expecting: $4,500-6,500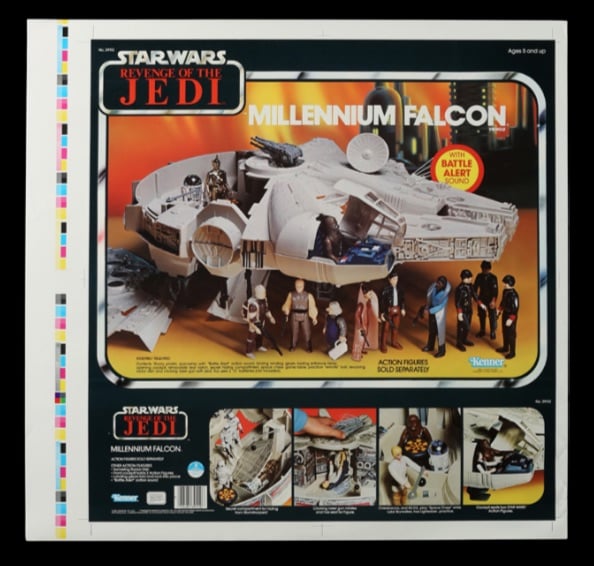 Star Wars Early Bird Set Mailer Kit AFA 80+STAR WARS: EPISODE IV – A NEW HOPE (1977) KENNER (1978) – The Early Bird set marked the first availabilty of Star Wars action figures and required collectors to buy and send an empty envelope to Kenner, after which the set was mailed sometime later. This lot was only available during a Christmas 1977 promotion. All 4 figures are complete in their original mailer box with paperwork. Including Luke with double- telescoping lightsaber, this is a core item for any Star Wars collection. Expecting: $8,000-10,000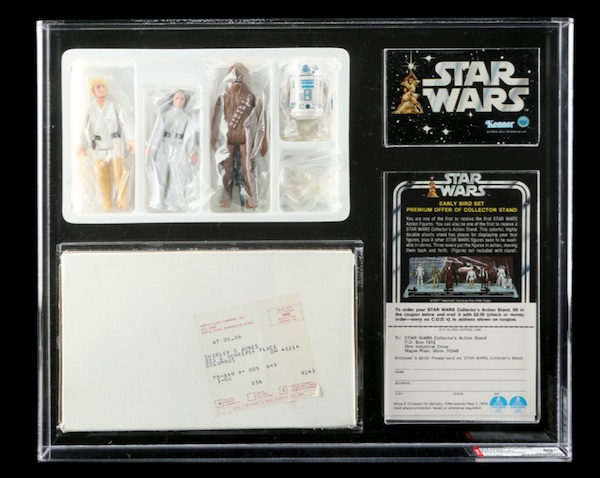 Alien 18" Figure AFA U85ALIEN (1979) KENNER (1979) – Available for only one year from Kenner, this fine example was pulled directly from an original shipping case in mint, uncirculated condition. Expected: $2,000-3,000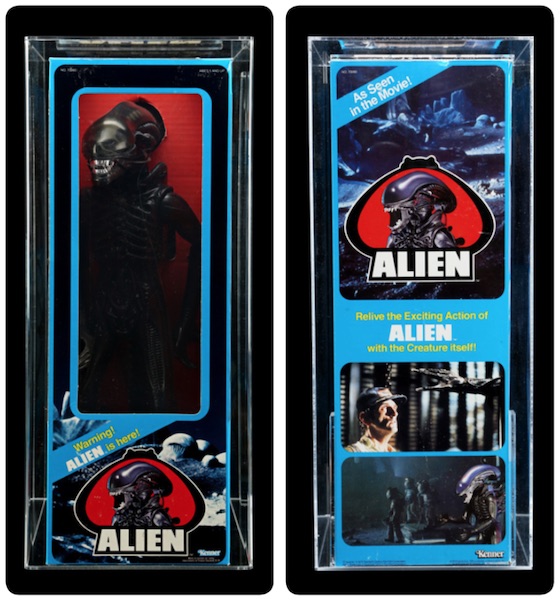 Hand-Made Mola Ram Action Figure Original Wax Sculpting INDIANA JONES AND THE TEMPLE OF DOOM (1984) LJN (1984) – Due to lackluster sales, Kenner did not renew their license after Raiders of the Lost Ark. For Temple of Doom, LJN took the helm and planned a small line of 5 figures in a 5" scale. However, only 3 figures were produced: Indy, Mola Ram, and Giant Thugee. This is the original wax sculpting for Mola Ram, hand-sculpted in an opaque green wax. The individual parts are attached with metal pins typical for an articulated figure. This one-of-a kind, hand-made piece is the basis for every production figure in existence. Includes COA from Collectible Investment Brokerage dated June 20, 2018. Expected: $18,000-20,000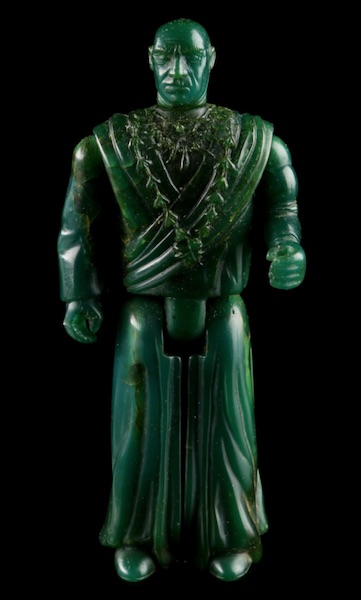 The Lord of the Rings Complete Collection (Loose) CAS 80+ LORD OF THE RINGS, THE (1978) KNICKERBOCKER (1979) – The complete Knickerbocker collection including Frodo, Samwise, Golum, Aragorn, Gandalf and the Ringwraith. Expected: $2,500-3,500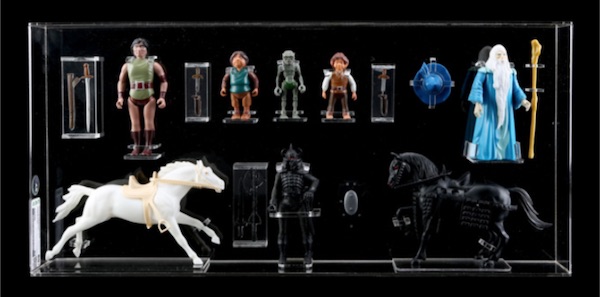 Battle Cat Partial Proof SheetMASTERS OF THE UNIVERSE MATTEL (1981) – Featuring the artwork of Rudy Obrero, this stunning partial packaging proof depicts the heart of the MOTU product line: the hero on his mighty steed. Expected: $400-600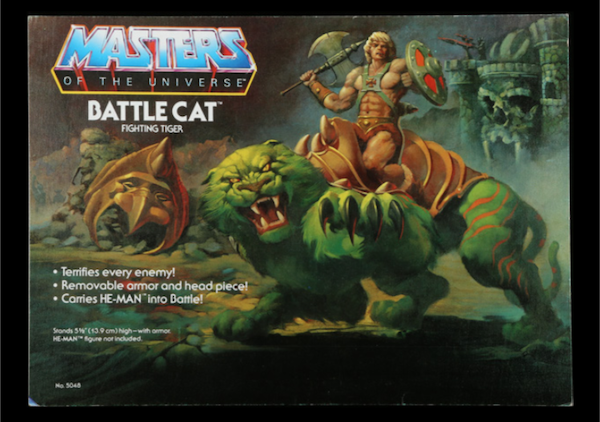 … and that's just the start. This auction has 700 lots, 400 of which are Star Wars related. There are vintage, unreleased prototypes, limited runs, and foreign variations valued from several hundred dollars to several thousands of dollars. There's also a bunch of ILM memorabilia if you're into that kind of thing. Bidding begins February 28th and ends March 1st. The full catalogue and bidding information can be found here.