Bolt Action introduces a couple of new support groups for the British and German Armies. Come take a look at how these boxes can benefit your Bolt Action forces.
via Warlord Games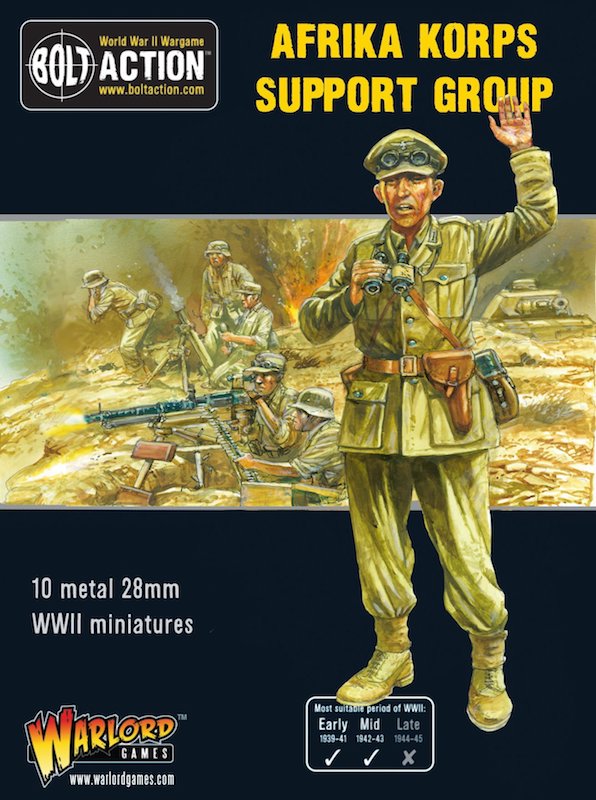 This set contains:

1 x DAK HQ
1 x DAK Machine Gun Team
1 x DAK 8th Army Medium Mortar

Afrika Korps HQ

German officers were capable and often experienced leaders. Junior officers were trained to undertake the role of their immediate superiors, enabling them to use their initiative to take control of situations when necessary. The Afrika Korps (DAK) proved this through consistent victories as well as elusiveness in retreat.

Afrika Korps Medium Machine Gun

The Germans were equipped with two excellent machine guns in the MG34 and rapid-firing MG42 – known to Allied troops as 'Hitler's Buzz Saw' because of its distinctive noise, or 'Spandau'. Unlike other armies, the Germans used the same machine gun both as a squad weapon from its bipod and as a tripod-mounted support weapon. The tripod mounted provided a much more stable firing platform and made it easier to keep up a sustained fire using a belt feed.

Afrika Korps Medium Mortar

The standard German medium mortar of the war was the 80mm Granatwerfer 34. It was a very effective and accurate weapon that could provide longer range, on-call fire support. It had a maximum range of 2,400 metres and could maintain a rate of fire of 15-20 rounds per minute. It was carried by its crew in three pieces: a base plate, tube and bipod.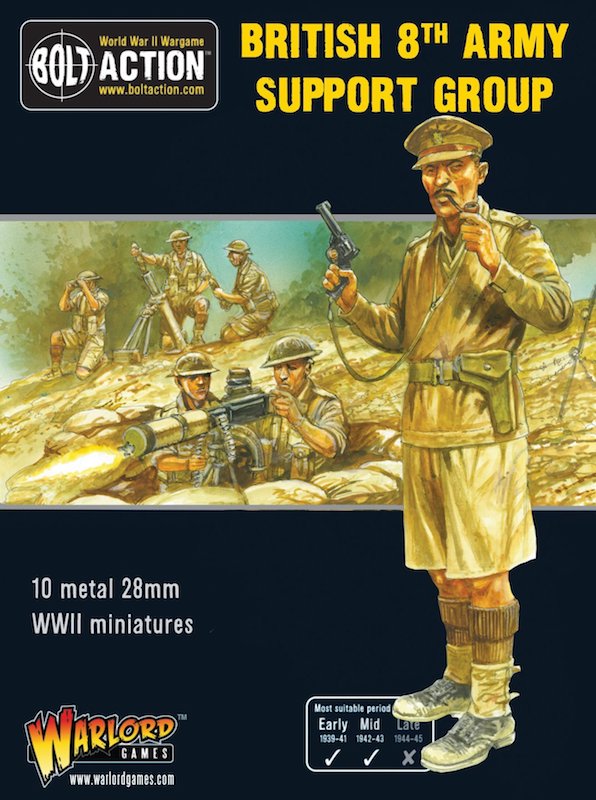 This set contains:

1 x British 8th Army HQ
1 x British 8th Army Machine Gun Team
1 x British 8th Army Medium Mortar

British 8th Army HQ

The middle ranks of officers were almost invariably drawn from the upper-middle classes: educated in the public schools, instilled with the values of empires, and imbued with a sense of confidence, duty and resolve that is difficult to conceive of today. An officer unit consists of the man himself and can include up to two other men acting as his immediate attendants.

British 8th Army Medium Machine Gun

The .303 Vickers water-cooled machine gun offered fire support to infantry units. This was another weapon of World War I vintage that soldiered on through World War II and beyond, proving effective at laying down continuous fire over a long range.

British 8th Army Medium Mortar Team

The 3-inch mortar was used to provide support from up to 3,000 yards dependent upon the projectile used. The 3-inch mortar was operated by a crew of 3 or more (we use 3 for games) and was often transported in a Universal 'Bren' Carrier.