GW may be letting us know what to expect with the new Keeper of Secrets kits with the three daemons who rampaiged through Vigilus Ablaze. Take a look.
After years of no mention, Vigilus Ablaze contains not, one, not two, but three Keeper of Secrets running amok, kicking but as they went.
We have seen the unveiling images of the new upcoming kit and everyone is trying to figure out what built options will be in it. The previous plastic Greater Daemons have had 3 built options and hobbyists are hoping for the same.
Let's first look at the kit pics, then move into the 3 Vigilus Keepers:
The Kit:

The kit shows off one head, and at least two built options.
a) 2x crab claws, sword, clawed hand
b) 2x crab claws, sword, shield
Vigilus Daemon 1 – The Marneus Attempted Assassin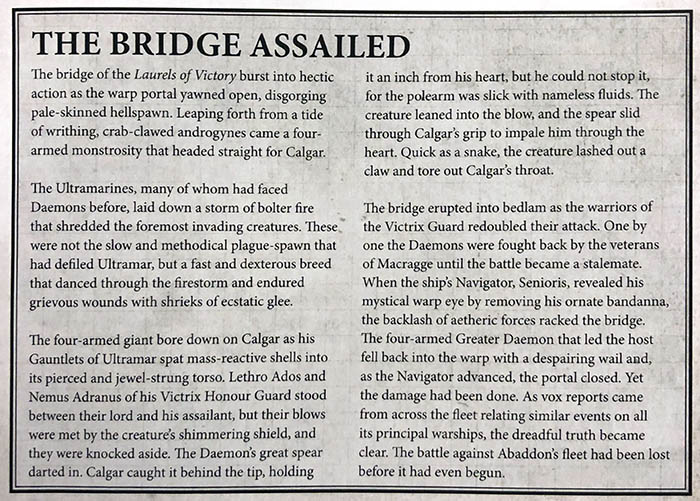 This one is a "four-armed monstrosity". It has, the 4 arms, a great spear, shield, and at least one claw.  So the big news on this one is the spear.
Vigilus Daemon 2 – The Pale Stalker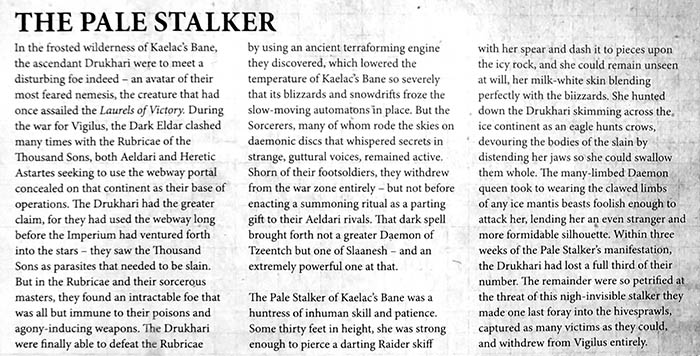 This Keeper of Secrets hunted Drukhari through the snows of Vigilus. It is armed again with a spear, is 30ft tall, with white skin that disguised her in winter, and had the ability to distend her jaw to swallow Drukhari whole. that could be the hallmark of a lerge mouthed alternative head option.  Again, the spear…
Vigilus Daemon 3 – The Sisters Hunter
Here a named Keeper, Leiwa'quasca. No physical description on this one, only that her rampage was great and she was brought down by two Canonesses.
~ I can hardly wait till we get more details. What build options do you think these three Keepers herald?