Necromunda continues to churn away, slowly turning out more and varied releases–including this latest release, a deep dive on some of the lore in Necromunda Underhive.
Necromunda and its Underhive full of violence, chaos, death, destruction, and order…sorry wrong game–but Necromunda is an interesting slice of 40K life. It provides a look at the grittier parts of the grim darkness of the distant future. Where servitors and gangers toil and find that even the smallest people can be larger-than-life. The world of Necromunda is a grimy place, and while the world of the Imperium as seen through the lens of its military forces is a far cry from a bright, shining utopia, when held up against a place like Dust Falls… let's just say that the battlefields of the galaxy seem almost resort-like in comparison.
via Warhammer Community
What's interesting to me is just how much of a deep dive the game is getting–it looks like another way to show support for the game, even if you're not releasing another Ambot. And with Kill Team and Necromunda seemingly competing for the same space (though Kill Team does seem to be trying to secure the competitive skirmish game niche), it's interesting to see how each game is getting its share of the spotlight.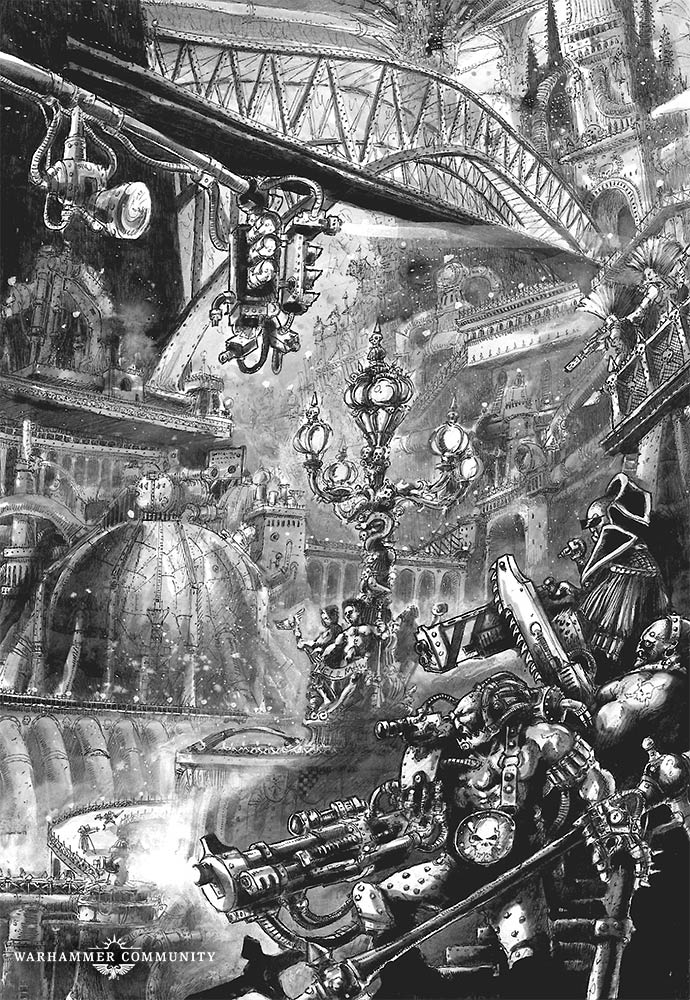 For Kill Team we've seen Elites, Commanders, Rogue Trader–all on top of the new starter sets that have been rolling out. For Necromunda, now that all the gangs are out, it's been the Ambot and presumably soon we'll see more Bounty Hunuters (and Kal Jerico of course), but the releases seem to be much smaller in scope.
Though the small scope of it does let them focus more on what's happening in the world:
Dust Falls straddles the divide between Hive City and the underhive of Hive Primus, and is a centre for gangs, Guilders and criminals. Like most things in the underhive, however, Dust Falls was created by chance. Much of the lower hive is made up of domes, each a cavern of plasteel, pipes, factories and hab blocks all stacked on top of each other. Between these domes even more tunnels, conduits and cables link everything together.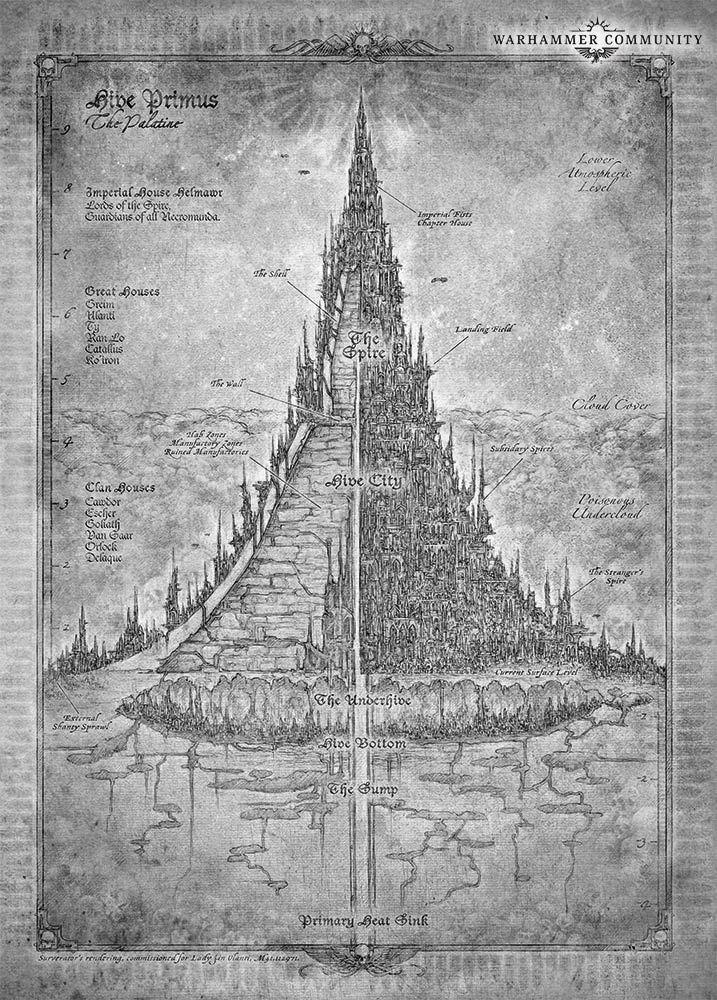 Over centuries of neglect, the spaces between the domes gather dust – a lot of dust – among other things. Sometimes this dust builds up so much it causes a collapse. Such was the case with Dust Falls, an avalanche of powdery detritus smashing down all the way to hive bottom. Around the ragged hole left behind, the settlement of Dust Falls grew, a place where travellers from above and below could traverse the hive. While the disaster that created the settlement has long since faded into memory, the dust still falls from above, a fine pale rain that covers everything and gives the town its name.
So while Kill Team might have the edge in terms of competitive rules, Necromunda looks to be carving out a narrative niche for itself.
You can read more on Dust Falls and its Council right here–you'll get a picture of a world that would be at home in a late '90s George Miller movie.
And we mean that in the best way.
Where do you fall in terms of Necromunda and Kill Team? Which skirmish game is the one for you? Let us know in the comments!