Shadowspear has new datasheets for both the Chaos Space Marines and Obilterators. How will those work with the Codex? We've got the answer!
Whenever we get multiple datasheets for the same unit, things start to get a little strange. That's one of the reasons we'd like to see the Indexes get retired – it's just confusing! In Shadowspear we are getting two new datasheets for existings units – one for the Chaos Space Marines and one for Obliterators. Do these overwrite and replace the ones in Codex: Chaos Space Marines? Or is this another situation where we can take one unit from the Codex and one from Daemonkin and that's fine? The answer is "sort of" – but at least GW thought about it before hand.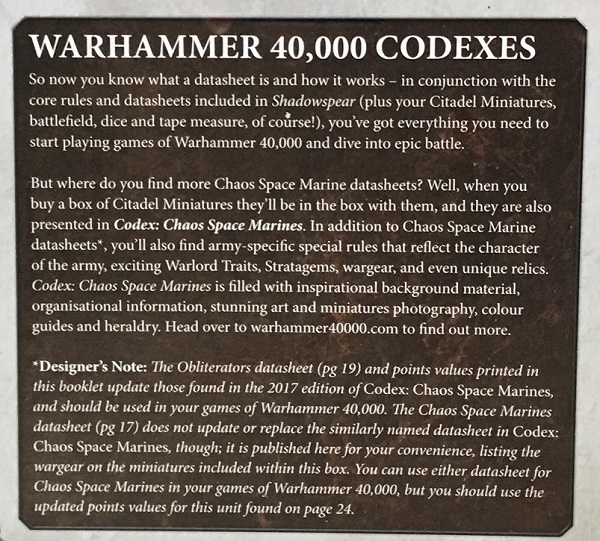 The Designer's Note you can find in Codex: Daemonkin (the minidex in Shadowspear) has an explaination of how the datasheets work. That wall of text is basically saying the following:
The points and Datasheet for Obliterators have both been completely updated with this book – use these rules/points instead.
 The Chaos Space Marine Datasheet isn't actually different that the one in the Codex, but the points ARE updated. You can use either datasheet, but you should use the points updated in this book.
So what's different about the Chaos Space Marine Datasheet then? Well, it's limited to the options found in the box: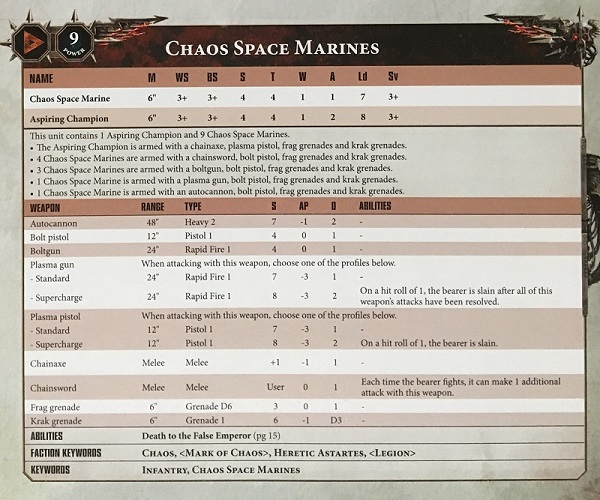 You get a unit of 10 CSM with an Autocannon, Plasma Gun, plus a Champ with a Chainaxe/Plasma Pistol. The Autocannon dropped down to 10 points, the Plasma Gun dropped to 11 points, and the Pistol dropped to 5 points. The Chaos Space Marine squad in the box, equipped as shown, will cost you a total of 157 points. The only reason this Datasheet was added was just for convenience.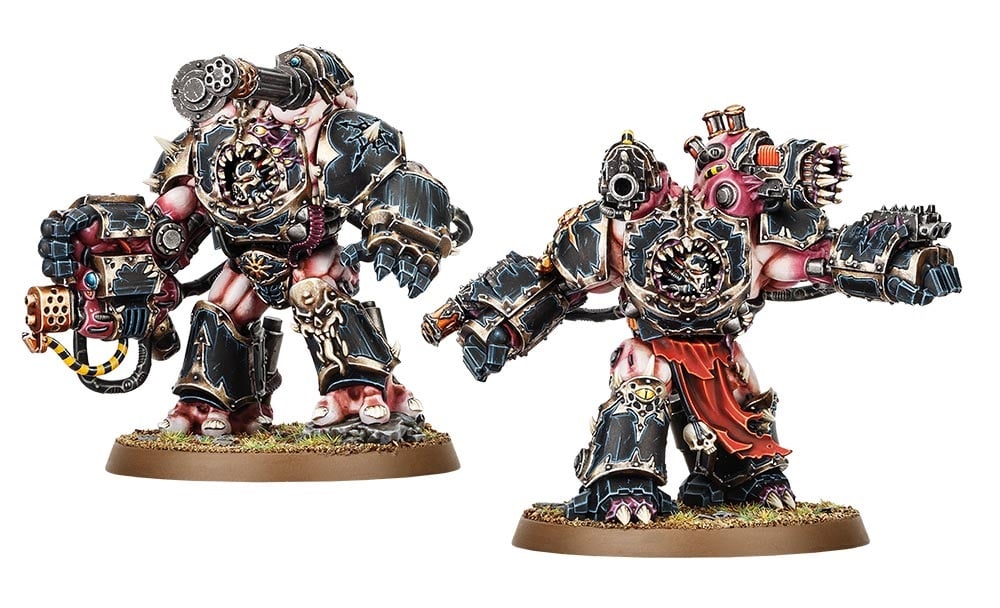 The Obliterators on the otherhand completely replace the Chaos Codex Counterpart. They clock in at 115 points per model, however, which is almost double their current cost. Oof. Statwise they did get a buff, but I don't know if it was quite worth that much of a price hike.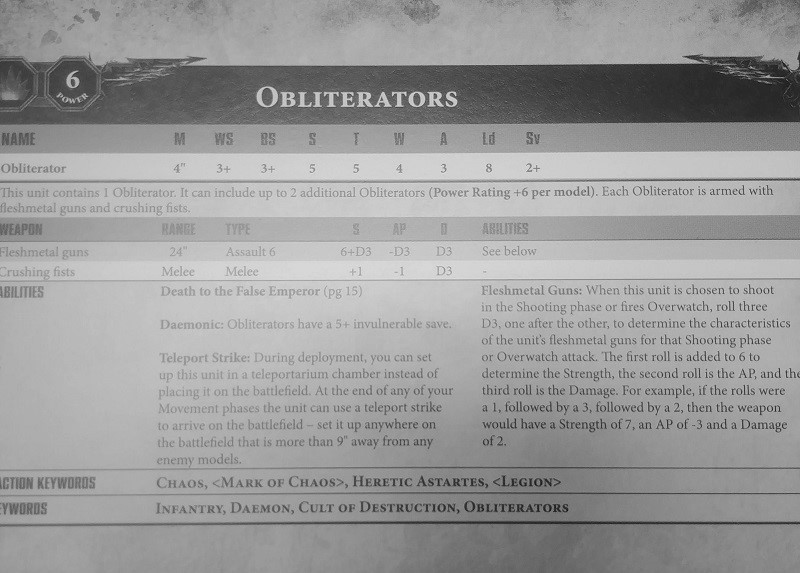 At least you can take them as single units now – so that's a plus. It's the little victories, right? A full squad of 3 will run you 345 points. Now, that can lead to a very scary 18 shots! With the potential to pump out a massive 54 damage in one round (if you get a 3 for the damage stat) that's pretty impressive! Plus they can deepstrike in and really mess things up. If can manage to stack an aura or two to help boost the to hit and/or to wound rolls, I can see that being pretty terrifying. 345 points terrifying? That's for you to decide!
Shadowspear is up for pre-order this weekend. If you're a chaos player, you're going to want to get you hands on the Codex: Daemonkin.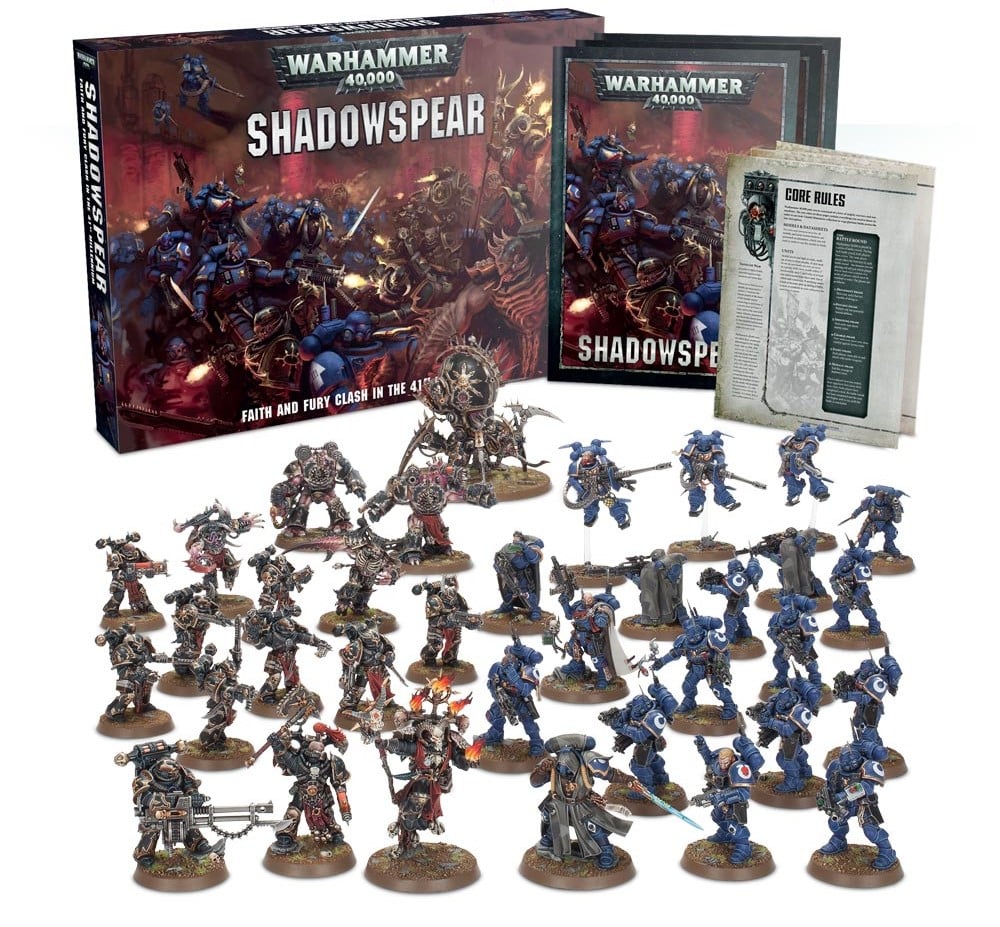 Hope you found this clarification helpful – and thanks to GW for putting this out BEFORE the question even popped up.