… and to unending conquest; and be sure to have offerings of food and more drink because he has victories to plan.
This new nefarious Red Skull aka Johann Schmidt – figurehead of HYDRA and archenemy of Captain America – fig is the latest addition to Sideshow's Marvel Sixth Scale collection. It has a detailed headsculpt with piercing eyes and a menacing grin, plus there's an alternate with a scowl if you go for the collector's edition. He comes clothed in a fabric costume inspired by the comics that shows his rank in the evil organization with several medallions and an arm band. Red Skull also comes equipped with an officer's knife, a pistol, a cane to bash in the heads of his enemies, and a mysterious Cosmic Cube of power.
This fig is available for pre-order now, and is expected to ship Q4 of this year.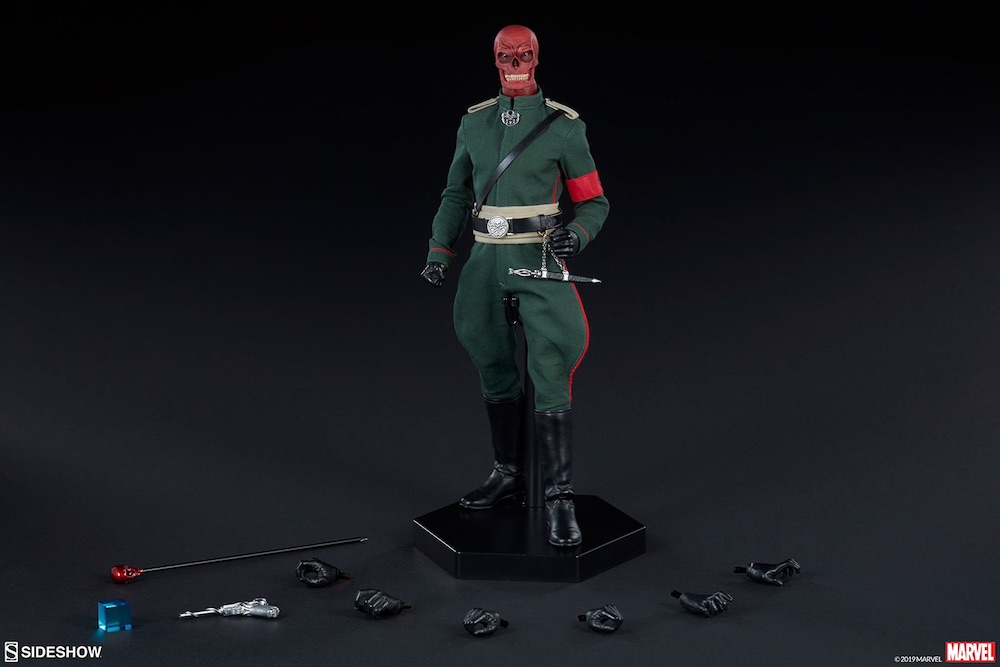 Red Skull 1/6th Scale Figure – $235
12 inches tall
Components made of: ABS , Metal , PVC
Fully articulated
Comic inspired portrait of Red Skull
Collector's Edition includes alternate portrait for 

$235

Four hands, including:

One pair of fists
One pair of open hands
One pair of pistol grip hands
One pair of alternate grip hands

Costume:

Green bodysuit with red trim
Red Hydra armband
Green waist belt
Leather-like Officer's belt with Hydra buckle
One pair of Officer's boots
Skull cane
Hydra medallion
Hydra pistol