Now that Fyreslayers are officially out, we can look at all the juicy new changes. While everyone is rightfully pleased by the extra wound added on to our battleline units, something new I'm excited about is the addition of lodges. Let's see who's the best!
Existing only as battalions before, the 4 lodges are now available for free, just like Chambers for Stormcast. These are my thoughts on the new lodges, and some tactics for using them in combat.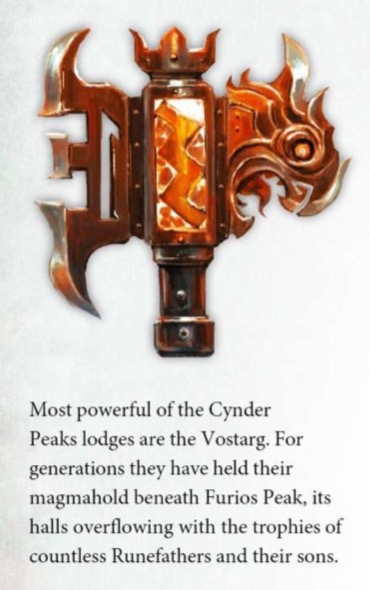 Vostarg
The only Slayer lodge to hold onto the name of one of the original lodges of Grimnir's time, Vostarg is the most aggressive of the four playable lodges, and the benefits of taking this battalion favor that playstyle. First off is the Fearsome Surge ability, which not only adds 1 to the charge rolls for all units, but on the first turn, models that run automatically move an extra 6" rather than rolling. This combos well with the required Command Trait, Fiery Endurance, which allows any unit wholly within 12" of the general when it declares a run to still charge later in the turn. Combining this with the Horn of Grimnir model for Vulkite Berserkers gives them a 24" threat range, which is HUGE for a slow army like Fyreslayers. The command ability is great too, prioritizing close combat by giving all the hero who uses the ability as well as all Vulkite and Hearthguard Berserkers wholly within 12" +1 to hit rolls in combat. Pop this with a Magmadroth mounted Runefather or a Runesmiter that just tunneled in with a hefty unit and watch your opponent's line melt like stone before a lava flow. And speaking of the Runefather, he is a great candidate for the required artefact, the Vosaxe. It increases the Rend of his Latchkey Greataxe to 2 and gives him an extra damage on any hit rolls of an unmodified 6. This can mean a potential of 12 damage with your Runefather, and that's before your Magmadroth swings.
If you want to really put the Fyre in Fyreslayers, go with this lodge.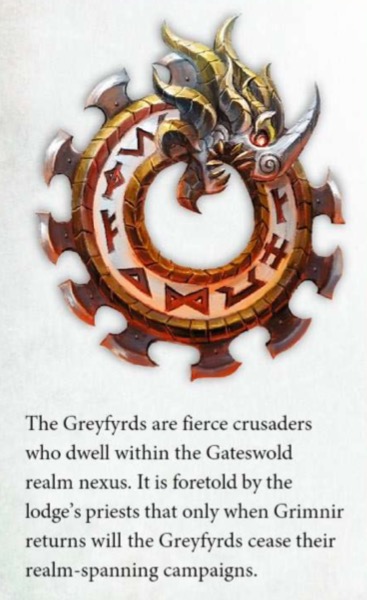 Greyfyrd
The old mercenary house of Chamon, those guys do NOT have time for any of your nonsense. However, as a mercenary lodge, what they may lack in ur-gold they make up for in wealth, and as such can afford better equipment for their team. This is represented on the battlefield with the Spoils of Victory trait, which allows a Greyfyrd army to pick 2 extra artefacts of power in their army. This can be strong when combined with their Command Ability, Expert Cohesion, which allows footslogging heroes within 3" of the user to fight immediately after him in combat, before your opponent gets a chance to retaliate. Hitting your opponent with a big blob of heroes buffed with extra Artefacts is extremely satisfying, and is a great way to delete a high priority unit. Your general is required to have the Battle-scarred Veteran trait, which adds 1 to all his attacks while there are 5 or more models within 3" of him, comboing again with the great command trait. The compulsory artefact is the Helm of Obsidia, which gives the wearer an additional 2 wounds. Throw that on a Grimwrath and make him your general to turn an already powerful unit into a one-dwarf execution squad.
Having a diverse selection of non-mounted heroes is the bread and butter of this lodge, and as such this lodge benefits players that like to make epic champions for their armies.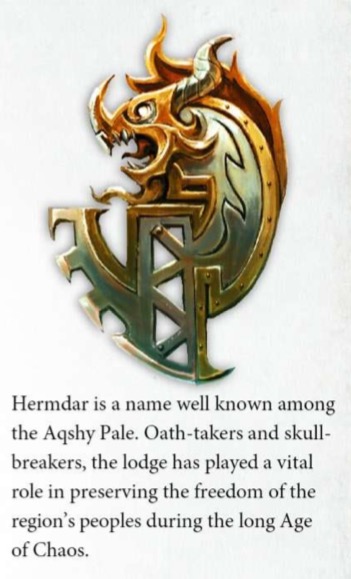 Hermdar
The Rebel Alliance of the Realms, the Hermdar lodge has garnered a reputation as slayers of despots, and in a very un-Slayer like move sometimes fight for little to no pay. On the tabletop, Hermdar are some of the toughest armies the Duardin can produce. To represent their iron determination to succeed, the have the Seize by Force trait, which means they can ignore battleshock tests while they are wholly within enemy territory or wholly within 12" of an objective. In addition, their general must take the Warrior Indominate command trait, which forces your opponent to subtract 1 from all wound rolls, shooting OR melee, that target your general or any units wholly within 12" of him. While these two traits represent the defensive side of Hermdar, it is a two bladed axe, and sometimes the best defense is a swift and ferocious offense. The first example of this is the command ability Skull-breakers and Oath-takers, which allows a friendly unit of Vulkite or Hearthguard Berserkers to fight at the top of the combat phase, before any other units are selected to fight. This can turn the tide if you are on the receiving end of an opposed double turn, since it allows one of your powerful units to deal some initial damage before your opponent gets to fight. The second aggressive bit of Hermdar is Tyrant Slayer, the compulsory artefact, which allows the bearer to re-roll wound rolls, and on an unmodified 6 dishes out a mortal wound in addition to regular damage.
While not quite as attack focused as the previous 2 lodges, Hermdar is a great lodge for players that value tactical flexibility, as it can switch from attack to defense rather quickly.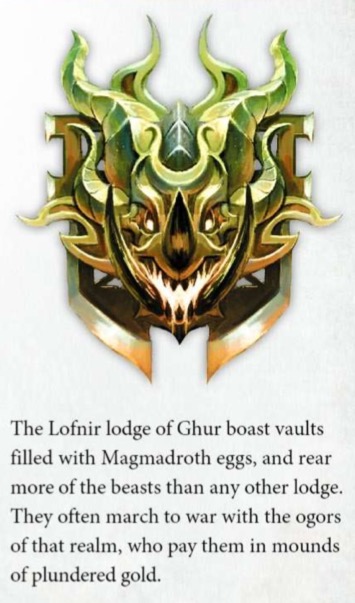 Lofnir
While every Fyreslayer reveres Vulcatrix as a great enemy that faced Grimnir, the Slayers of Lofnir worship her at the same level as Grimnir, and their battle strategies bring in more of her children than any other lodge. Right off the bat, this style of combat is represented by the Venerators of Vulcatrix trait, which not only allows EVERY Magmadroth to take a mount trait rather than just one, but in Pitched Battle a Lofnir army can bring an extra behemoth, so long as all the Behemoths are Magmadroths. This army benefits well from having more priests than warriors, so is likely the lodge that will make the most widespread use of Magmic Invocations. The Lofnir command ability, Torrent of Magma, allows a Lofnir priest to select an enemy within 12" and, for the rest of the phase, all Auric Hearthguard get +1 to hit AND wound with their magmapike shots against the targeted unit. Obviously an army led by a Runemaster will make the most of this ability since it allows Auric Hearthguard to be taken as battleline, so you can bring big blocks of them without worrying about Vulkite tax. It should be noted that a Runemaster can't take a Magmadroth, but honestly Runesmiters on Magmadroths are plenty deadly, and still priests for the command ability. The command trait of a Lofnir general must be Explosive Charge, which allows all Magmadroths within 12" of the general to add 1 to their charges. This would seem to favor having your general mounted, so it's up to the player whether they want to prioritize the shooting ability or the mighty monster charge. The compulsory artefact, the Igneous Battle-throne, seems to speak to the latter, as it allows a mounted hero a 6+ save after save to ignore wounds and mortal wounds.
Give this Lodge a try if you want to bury your opponent in giant fire lizards.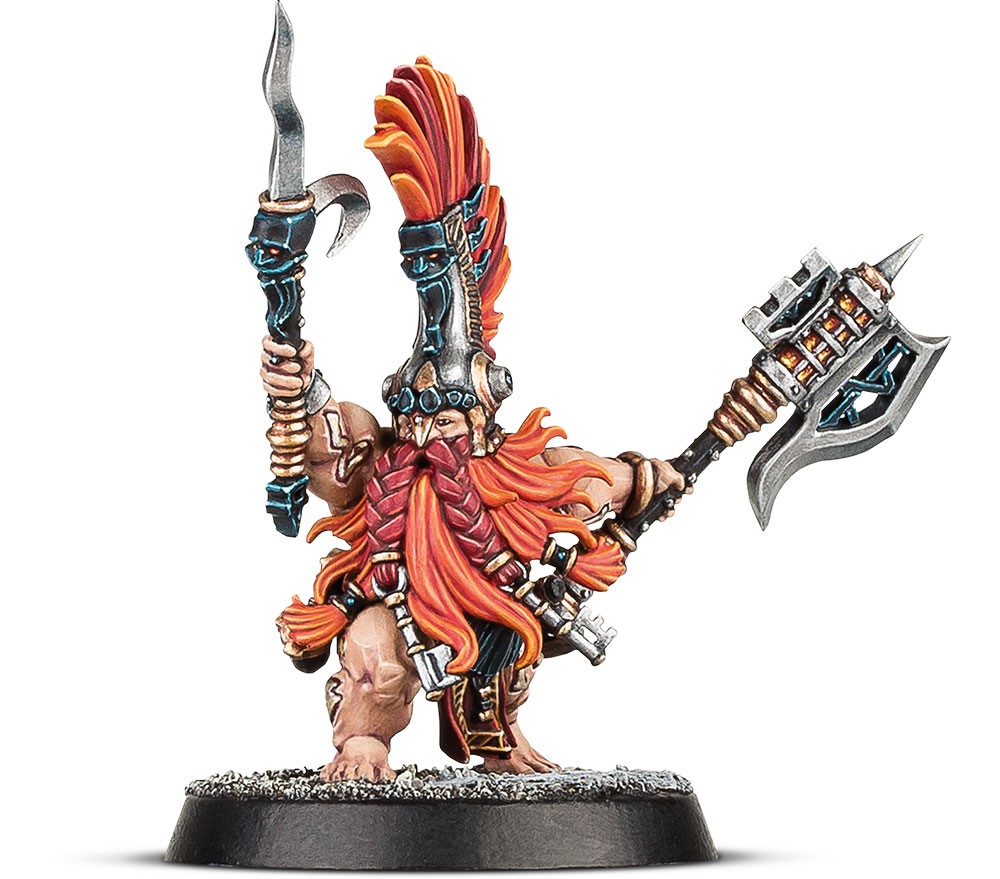 ~What do you think of the new Lodge rules? Which ones will you be using in your games?