D&D: Descent Details Confirm Planar Suspicions, Tickets On Sale Now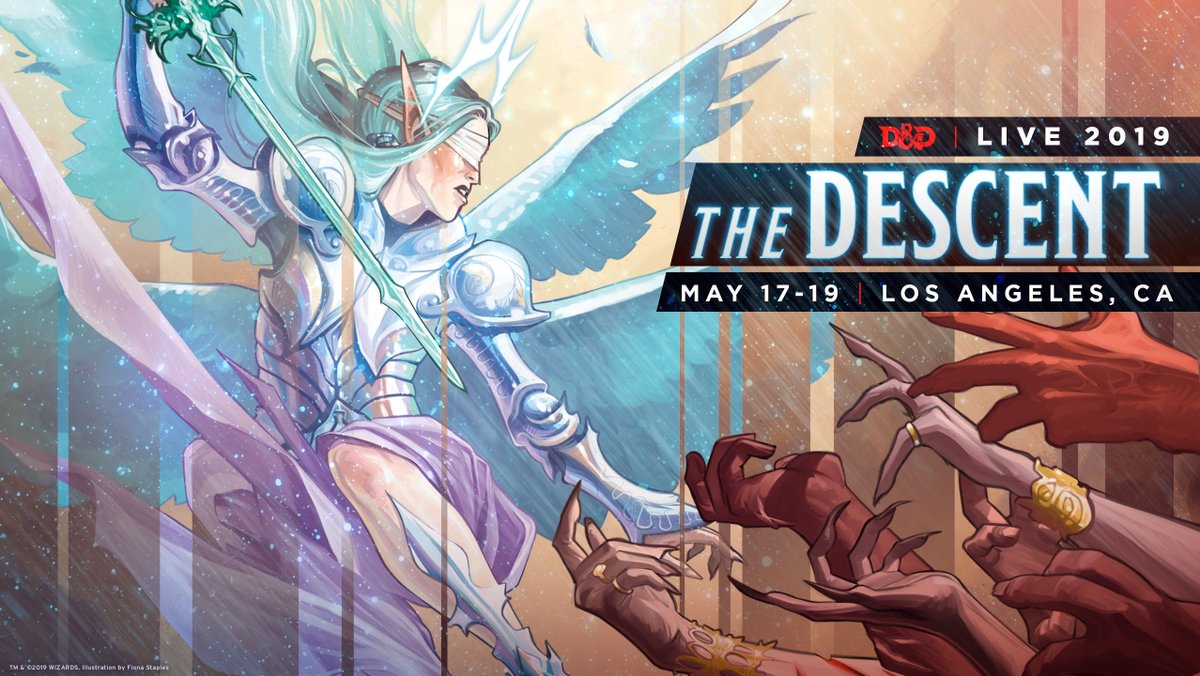 That picture of The Descent reveals more than you think. Details and tickets for D&D's 2019 live/streaming event are available inside.
First things first, you'll probably want to grab your tickets quickly folks. The event is sure to sell out soon if it hasn't already by the time you're reading this. But secondly! We now know that that angelic figure gracing the featured image (and the gorgeous picture down below) is Zariel, a Fallen Angel who became an Archduke of the Nine Hells. She's featured prominently in Mordenkainen's Tome of Foes and is the cover art for the new event, so it looks like we're in for some planar adventuring, which is pretty exciting!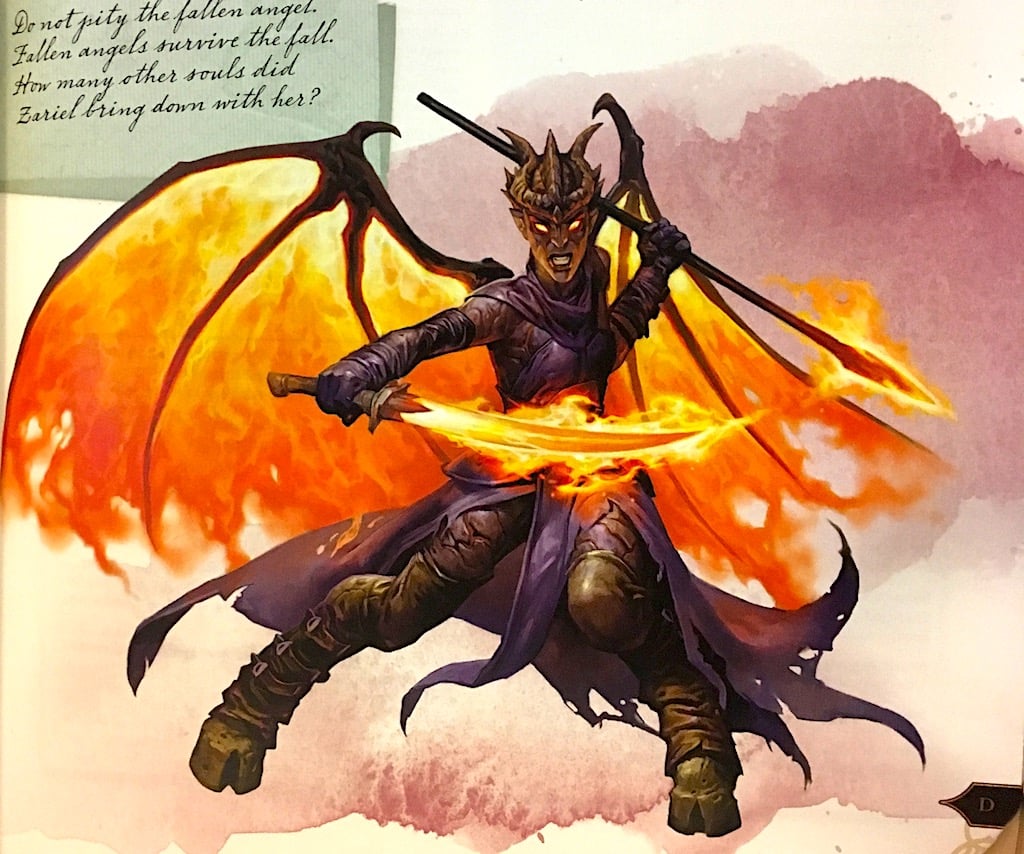 As for The Descent, the event, the whole thing is basically a D&D festival, where you can watch live entertainment, play some D&D yourself (trying out the new unannounced adventure) and get some sweet swag and merch. They'll also be officially announcing their next big storyline/adventure. There's a limited number of 3-day badges available now.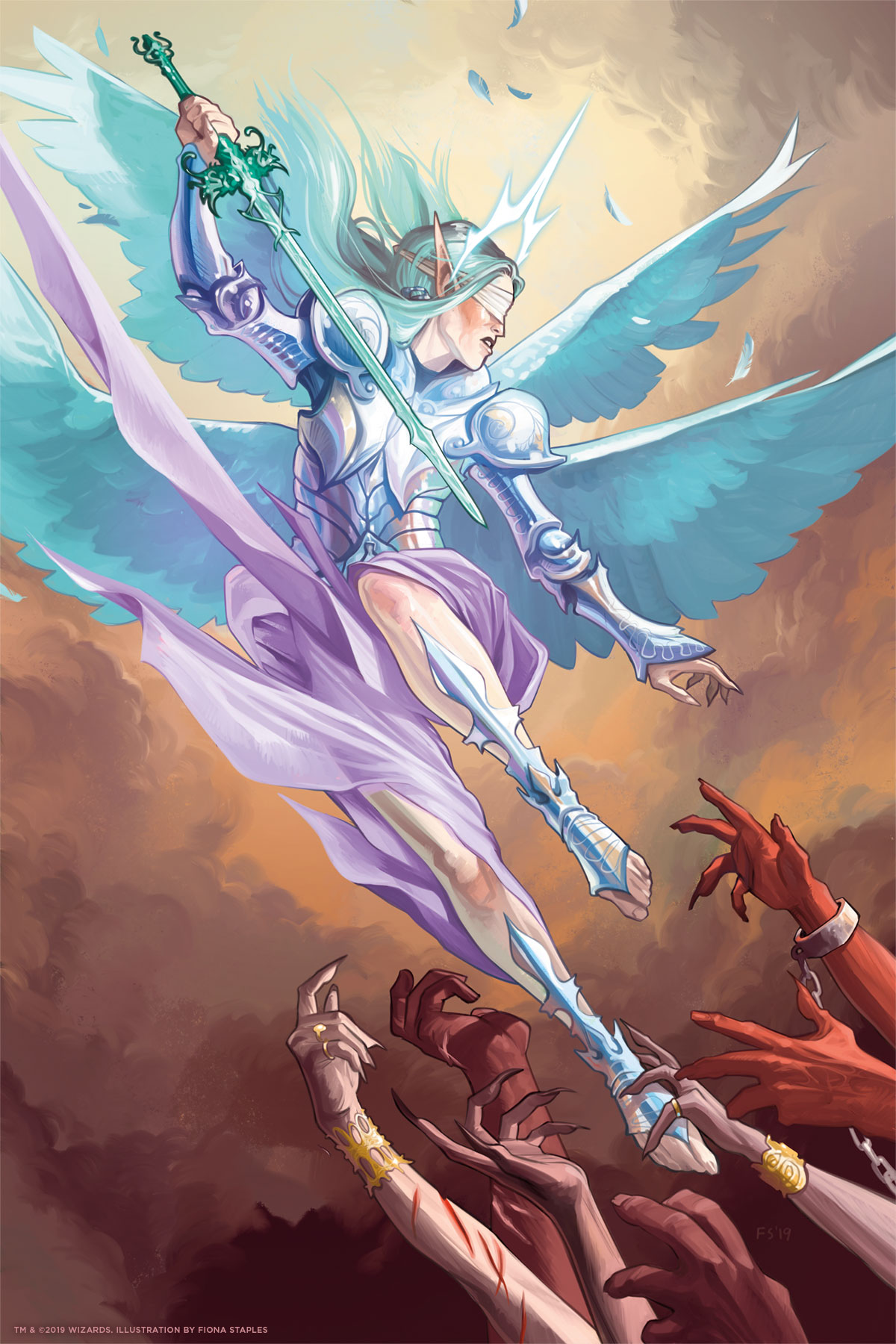 D&D Live 2019: The Descent celebrates the Dungeons & Dragons community as they gather both online and at a studio in L.A. to learn about D&D's latest story-line through an immersive entertainment experience. Following last year's award-winning Stream of Many Eyes, this year's D&D event gives fans the chance to play through an epic adventure plunging them into a captivating new story. The three-day extravaganza includes sneak peeks at upcoming products, signings with D&D luminaries, musical performances, unique giveaways, amazing cosplay, and tons of twenty-sided dice rolling critical hits!

Click here for information on the programming, groups and partners attending D&D Live 2019: The Descent! More guests will be announced leading up to event!
And you can see Zariel herself Descending gently towards the fiendish hands, beckoning her onwards. As they say in Good Omens, some angels fall, others saunter vaguely downward–and Zariel, it seems has a story of her own. When Angels go bad, they're better at it than most others, because they have all that being good to make up for. It seems like there's some planar flavoring, if not a Planescape in our future.
As mentioned, there are a limited number of 3-day passes available right now. They're going for $300, but that gets you access to a ton of "experiences" as they put it on their website, including a chance to meet with podcasters/streamers, and costumed characters. Here's, specifically what you'll see.
---
Find Out the Next D&D Storyline!
Witness the live unveiling of the new D&D storyline from the studio audience on Friday, May 17 at 4pm PT. Host Anna Prosser will lead a discussion with members of the D&D Team on what's exciting about the new adventure.
Subscribe to our newsletter!
Get Tabletop, RPG & Pop Culture news delivered directly to your inbox.
Jump Into Playing the New Story!
Play a 3-hour session of a D&D Adventurers League Epic previewing elements from the new storyline on Saturday or Sunday. Anyone can play in the D&D Epic! No experience with D&D or Adventurers League is necessary. Bring a Tier 1 or Tier 2 AL character, or grab one of the pre-made 1st level characters to jump into the adventure with 25 tables of players all experiencing one Epic story!
Get D&D Exclusive Merchandise!
Grab a D&D swag bag including merch from D&D partners and an advance copy of Ghosts of Saltmarsh. The swag bag will include items you can only get from the D&D team, as well as items made exclusively for D&D Live attendees from partners like Beadle & Grimm's and UltraPro.
Watch D&D Entertainment Every Night!
Join the studio audience watching Dungeons & Dragons played live by D&D's biggest celebrities on Friday and Saturday nights. The story will be told in two parts and will feature Dungeon Masters such as Jeremy Crawford, Kate Welch, and Chris Perkins from the D&D team.
Meet Your D&D Storytellers!
Mingle with D&D partners and costumed characters in the adventure-themed marketplace—and discover the original storyline interspersed throughout. The cosplay story experience is brought to you by Sunweaver Creative and will feature maps for the event peppered with improvised dialogue from professional performers.
Celebrate the D&D Community with Music!
Close out the event on Sunday night with a live music performance celebrating D&D, featuring artists assembled by Chris Funk including Cardioid and Magic Sword.
---
Happy Adventuring!