D&D: The #dndselfie Shows What D&D Players Really Look Like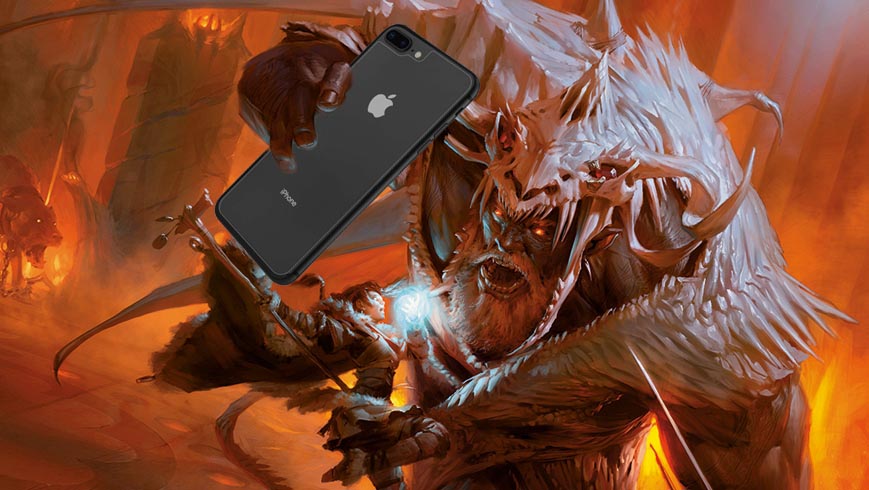 A recent SNL sketch has everyone posting their D&D selfies to show what gamers really look like these days.
A strange cross-section of life, pop-culture, and the internet has the hashtag #dndselfie trending on Twitter right now–and it shows just how wide the D&D community reaches. At the heart of the hashtag is the idea that there's no typical look for a D&D player. Whatever the stereotype is, anyone can play the game, and what began as a response to a skit has become an "internet moment." First though, let's take a look at where it all began. It all starts with a recent sketch from Saturday Night Live:
Employee of the Month is an honor worth fighting for. ⚔️ pic.twitter.com/lIHMXh2Xil

— Saturday Night Live – SNL (@nbcsnl) April 7, 2019
Two things worth mentioning–Kit Harrington is a chameleon, it's pretty incredible what a haircut, beard, and HBO's lighting budget can do for a person, and two, I know they're LARPing in this sketch, and if you trot out the old hierarchy of nerddom from before everyone realized the Internet was a mistake, even LARPers are towards the bottom of the barrel…
…but the fact remains, these jokes were stale even in the late '90s. In response, twitter user NIC ter Horst, of the D&D Podcast Killustrators came back with a picture of herself and the hashtag #dndselfie, encouraging folks to show what the community really looks like.
https://twitter.com/nicterhorst/status/1115258257780695041
The results are varied, some are magical, some are mundane–all are a great example of just how far WotC's shadow reaches. There are the usual suspects, of course, like Matt Mercer and the Critical Role crew.
Subscribe to our newsletter!
Get Tabletop, RPG & Pop Culture news delivered directly to your inbox.
Been a big ol' D&D geek for over 23 years, & it's only enriched my life w/ wonderful stories, wonderful people, & lessons on how to be a better person.

I hope everyone has the chance to create the hero they want to be & live a bit in their shoes at a table w/ dice.#DNDSelfie pic.twitter.com/Yh2pachu19

— Matthew Mercer (@matthewmercer) April 9, 2019
And then it just sort of takes off from there. You've got streaming hosts, artists, podcasters, cosplayers…
#DnDSelfie I love these characters and the stories I've made with them. They've inspired so much more of what I do, personally and for work.
Dungeon Master Of Dread.
(Pun intended) pic.twitter.com/Qti9ZJLOph

— Gabe but 86% Kingdom Hearts (@GabeJamesGames) April 8, 2019
Hi! I'm Mike, writer for Sly Flourish and author of Return of the Lazy Dungeon Master. This is me and my wife and #dnd partner Michelle. We've been playing D&D together for 15 years and separately before that for most of our lives. We'd have it no other way. #DnDSelfie pic.twitter.com/IX6RDESseb

— SlyFlourish.com (@SlyFlourish) April 10, 2019
Hi I'm @KrystinaArielle your friendly neighborhood aasimar, cleric, bard from @Sirens_Show . I play #dnd and I am grateful for the friendships and joy this game and community have brought to my life. We're geeks, we're here, get used to it. #DnDSelfie pic.twitter.com/O58T4Ts3ds

— Krystina Arielle 🦖 (@KrystinaArielle) April 8, 2019
D&D brought me, but indies forged me. Now I do my own thing AND write for Wizards AND make kickass video games. Time is a flat circle. #DnDSelfie #indieTTRPGselfie pic.twitter.com/5vpmdyUWNF

— The Strix (@the_strix) April 10, 2019
…but then you start getting into all of the other folks and it's pretty amazing. You'll see real life clerics: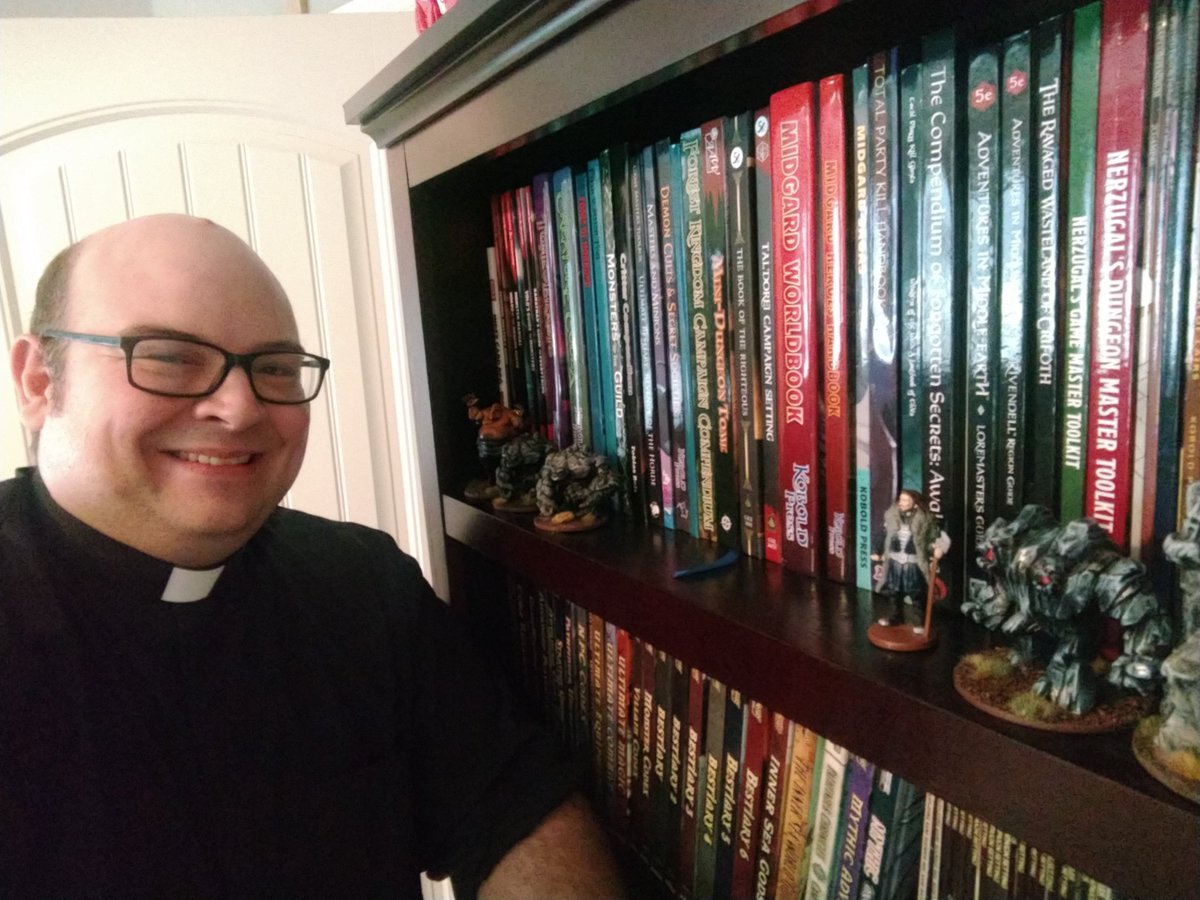 ..and an assortment of folks, young and old, some with families, some with pets, all of them coming together to share their love of roleplaying games (and one in particular). It's a dizzying variety of people out there (and I learned that there's a staggering number of people creating live shows, entertainments and more).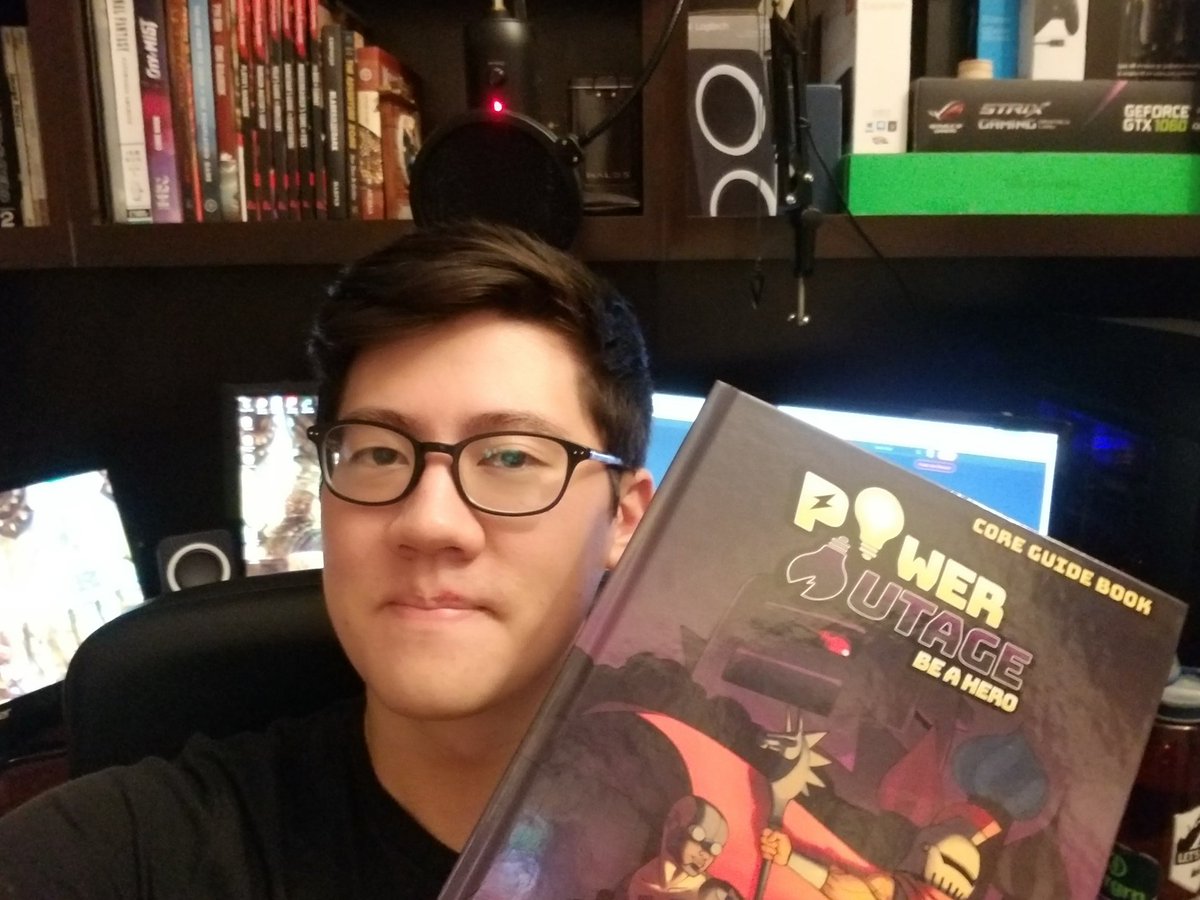 #DnDselfie with my daughter. Every night. pic.twitter.com/gSNCeItKq4

— Bill Carter (He/Him) (@RPGScience) April 10, 2019
Of course, since the Internet was a mistake, the sadly predictable responses started cropping up: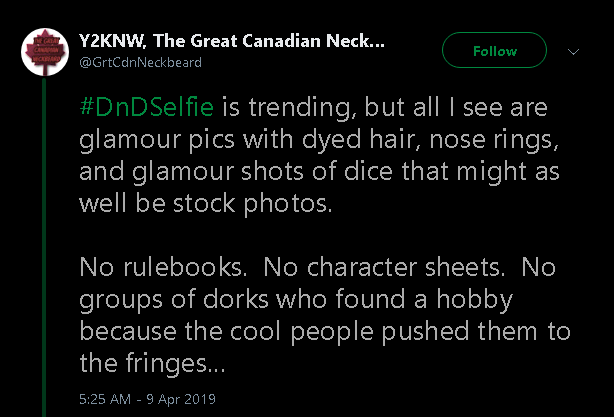 Which, if you're so down that the only way you can find an identity is in your suffering and isolation–that's a hard place for anyone to be. If life is coming down so hard on you that you define yourself as 'outcast' and find anything that clashes with that picture threatening, here's hoping you can love yourself enough to be a part of the community you found.
Hey, @nbcsnl. This is what my #DnDselfie looks like.

There's no selfie. Because to me, #dnd isn't about self. It's about selflessness. Community. Family. Story.

Yeah, we're a bunch of nerds. But this is what you're making fun of. And it's a beautiful thing. Join us 🐉 pic.twitter.com/TUXWTy0O0d

— Kelly Lynne D'Angelo ✨ (@kellylynnedang) April 9, 2019
In the meantime, the hashtag is trending still–you can find all kinds of people out there who show what D&D is all about.
Arguing over which edition is the best and who would win in a fight.
Happy Adventuring!