WotC:Discover D&D's New Storyline Live At The Descent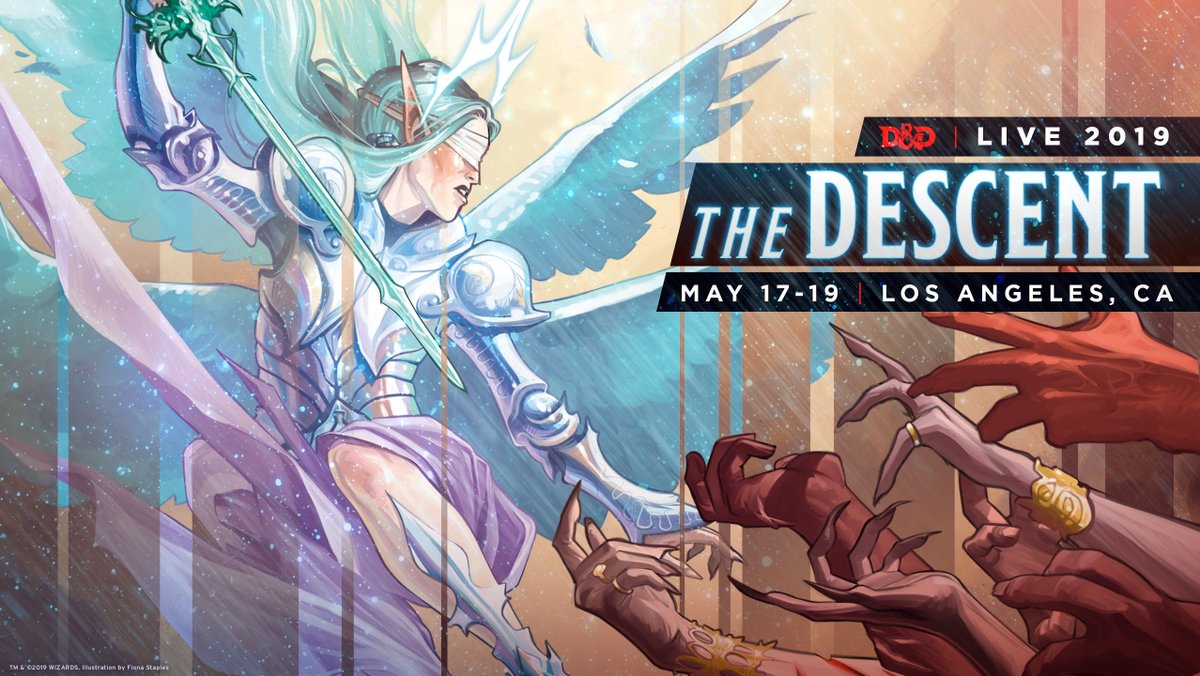 Last Summer it was the Stream of Many Eyes. This year, fans are invited to watch The Descent, an upcoming live event that will introduce the next big story in D&D, chock full of special guests and more. Here's what we know.
D&D's next big storyline is coming–and much like Waterdeep, it'll be coming to you live in front of a studio audience. Mirroring the Stream of Many Eyes, the upcoming live event, The Descent (full title D&D Live 2019: The Descent) will take players, DMs, and fans into the worlds of adventure with a fantastic array of live and streamed entertainments.
They're pulling out all the stops for this one folks. WotC has a studio in Los Angeles, where they'll be bringing another part of the Forgotten Realms to life. They've already confirmed several special guests from the D&D online community, and this year's event promises even more with musical performances, fan participation, cosplay, and more. Here's a look at what you can expect:
via Wizards of the Coast

D&D Live 2019: The Descent celebrates the Dungeons & Dragons community as they gather both online and at a studio in L.A. to learn about D&D's latest storyline through an immersive entertainment experience. Following last year's award-winning Stream of Many Eyes, this year's D&D event gives fans the chance to play through an epic adventure plunging them into a captivating new story. The three-day extravaganza includes sneak peeks at upcoming products, signings with D&D luminaries, musical performances, unique giveaways, amazing cosplay, and tons of twenty-sided dice rolling critical hits!

Fans around the world can check out twitch.tv/dnd starting at 4:00pm PT on Friday, May 17 to watch D&D Live 2019: The Descent for new product reveals and an all-star cast playing Dungeons & Dragons live.
Already this new storyline promises to be "Epic" — seriously, it's in the tagline: "Mingle with D&D Luminaries, grab exclusive merch, and play in a D&D Epic." And that word seems suitable for the event. The Descent feels like a mini-festival crammed into one weekend and with D&D instead of Tame Impala. But you'll probably still be paying too much for water bottles, so there's some small comfort.
A limited number of 3-day badges for D&D Live 2019: The Descent will go on sale for $300 on Tuesday, April 9 at 10am PT. A 3-day badge earns you access to the following D&D experiences:

Find Out the Next D&D Storyline!
Witness the live unveiling of the new D&D storyline from the studio audience on Friday, May 17 at 4pm PT. Host Anna Prosser will lead a discussion with members of the D&D Team on what's exciting about the new adventure.
Jump Into Playing the New Story!
Play a 3-hour session of a D&D Adventurers League Epic previewing elements from the new storyline on Saturday or Sunday. Anyone can play in the D&D Epic! No experience with D&D or Adventurers League is necessary. Bring a Tier 1 or Tier 2 AL character, or grab one of the pre-made 1st level characters to jump into the adventure with 25 tables of players all experiencing one Epic story!
Get D&D Exclusive Merchandise!
Grab a D&D swag bag including merch from D&D partners and an advance copy of Ghosts of Saltmarsh. The swag bag will include items you can only get from the D&D team, as well as items made exclusively for D&D Live attendees from partners like Beadle & Grimm's and UltraPro.
Watch D&D Entertainment Every Night!
Join the studio audience watching Dungeons & Dragons played live by D&D's biggest celebrities on Friday and Saturday nights. The story will be told in two parts and will feature Dungeon Masters such as Jeremy Crawford, Kate Welch, and Chris Perkins from the D&D team.
Meet Your D&D Heroines & Heroes!
Mingle with D&D partners and costumed characters in the adventure-themed marketplace—and discover the original storyline interspersed throughout. The cosplay story experience is brought to you by Sunweaver Studios and will feature maps for the event peppered with improvised dialogue from professional performers.
Celebrate the D&D Community with Music!
Close out the event on Sunday night with a live music performance celebrating D&D, featuring artists assembled by Chris Funk including Cardioid and Magic Sword.
Odds are good you'll find your favorite D&D streamers and podcasters at this event. When WotC officially made the announcement, a number of others were quick to tweet that they'd be in attendance.
Thrilled to announce that @venturemaidens will be in attendance this year at the @Wizards_DnD #DnDLive2019 stream event! Watch out LA that tasteful brand is coming your way 😎 https://t.co/msOdB3bHa8

Subscribe to our newsletter!

Get Tabletop, RPG & Pop Culture news delivered directly to your inbox.

— Venture Maidens (@venturemaidens) April 5, 2019
Our #Sirens are ready for #TheDecent at #DnDLive2019!! Grab your instrument and join us in this immersive event!! @VividVivka @yerawizardkelly @KrystinaArielle @kenleyshea @Cyndancer @jasoncmiller & DM @satinephoenix #casualbards #sirensisters https://t.co/Diw5gwIKwW

— The Sirens (@Sirens_Show) April 4, 2019
Yesss! I can't wait for #DnDLive2019!! I'll be there repping @DMsGuild, @DnD_AdvLeague, @MistTalesDnD (with the best cast/friends ever!!!), and @Wizards_DnD!!! #DnD

There is so much amazingness planned. You don't even know. https://t.co/1opq0ElgEf

— Lysa Penrose from the Dead (@lysapenrose) April 4, 2019
And that's just the start of things. There's sure to be more coming out–this teaser image speaks a lot of what we might be seeing. Last year with Mordenkainen's Tome of Foes we got heavy into the blood war–this figure looks almost divinely empowered and the Descent is a very evocative title. It could feature some planar shenanigans–whether it's descending into the Nine Hells or following the path of a celestial (like the one pictured) as they descend, or maybe fall and become a demon or devil. There's a lot it could be. We'll have to wait and see what it actually is, but if you're interested, tickets will go on sale Tuesday, April 9th. Watch this space for more info.
Happy Adventuring!