Games Workshop's latest bi-annual updated to 40k created a few more questions which needed to be FAQ'd – Here we go again!
After all the dust settled and the Feedback was collected, GW has added an addendum to their April 2019 Big Update. If you'd like to check all the gritty details, you can do that on their FAQ Page HERE. However, GW also put together a nice summary of a lot of the changes. We're going to hit the highlights but you can read ALL of those HERE.
Overwatch does not count "as if it were the Shooting phase" for the purposes of those attacks: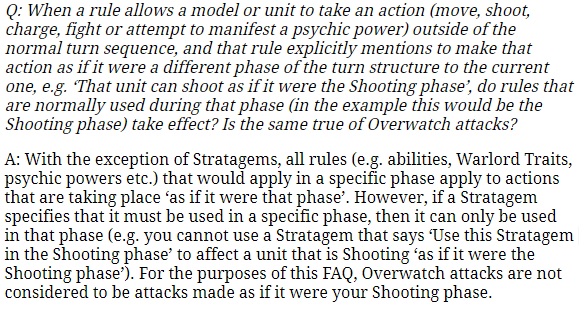 However, this is not consistent with the Tyranid FAQ – that has been changed as well:

Counter-offensive circumvents "strike last" abilities:

T'au Shoot A LOT- but not that much:

And Deathwatch DO NOT get to stack Special Issue Ammo with Bolter Discipline:

There are a lot more little changes here and there so be sure to check your codex and the big FAQ update for any changes that would be applicable to your army!
FAQ FAQ FAQ!!!