Age of Sigmar: Whips and Chains Excite! Endless Spells of Slaanesh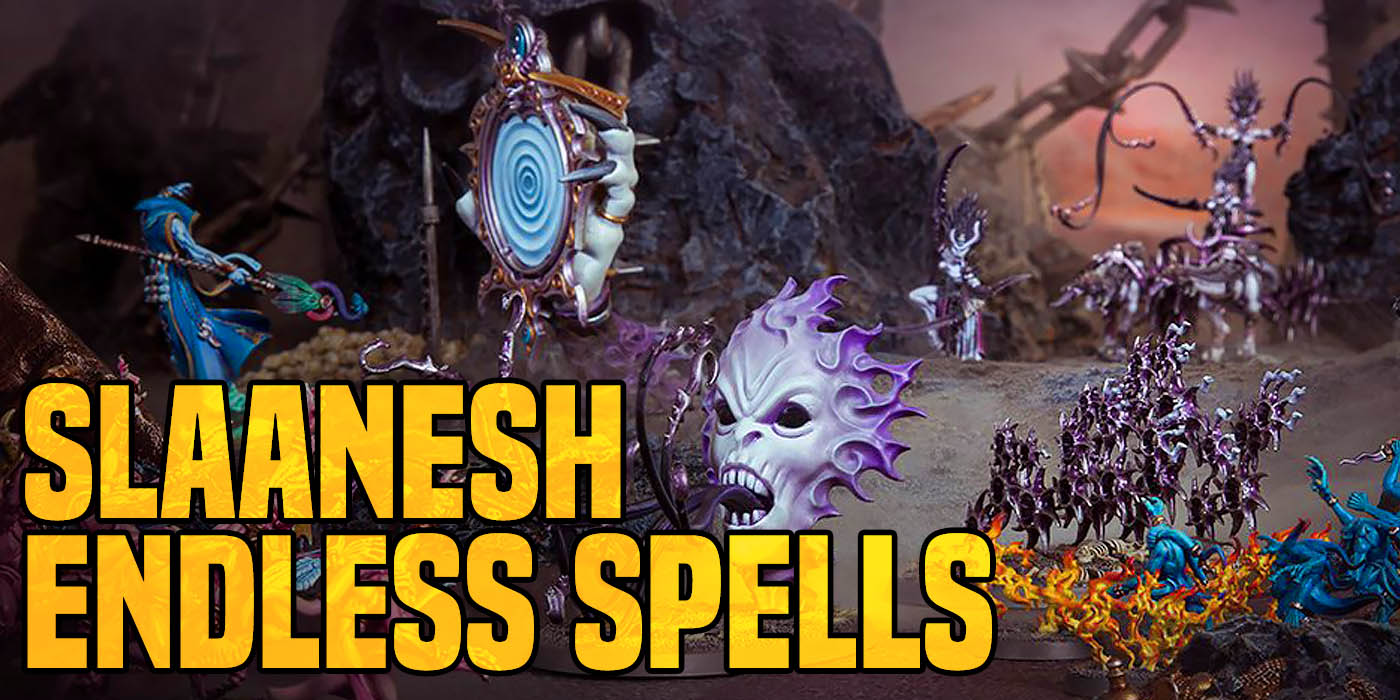 This weekend, the long-awaited legions of Slaanesh will land in the mortal realms, and with them come three gorgeous Endless Spells. Here are my thoughts on the brand new spells, and how to make the most out of them in your games of Age of Sigmar.

Wheels of Excruciation
Death by a thousand cuts made manifest, the Wheels are a solid Slaanesh answer to low save horde armies, like Gitz or Skaven. Casting on a relatively low 5, the Wheels are a predatory spell with a 12" move that can fly, so they can get where they need to go fairly quickly. Once they've moved, you roll 6 dice for every unit that has any models passed over by the Wheels, taking a mortal wound on any rolls less than their unmodified save. While this will struggle to do damage to tough units like Skullreapers or Sequitors, Clanrats and Night Goblins are prime targets for your blade train. Caster beware, however, as unlike previous spells these things don't distinguish friend from foe, and if it ever turns around it could mince your low save Daemonettes. Try to keep this spell near some of your higher army mortal units when you cast it to mitigate this additional damage. At 40 points with a relatively low cast target, this spell will likely only last long enough for one damage burst, and sometimes it might be beneficial to throw out the blades and then immediately dispel them to dish out as much damage as you can and reduce the blowback on yourself.

Mesmerising Mirror
A nice magical mirror that shows you visions of your greatest desires, what's so wrong with that? Well, the fact that once you look in you might have your soul sucked out and stuck inside the mirror until the Dark Prince of Pleasure decides to pluck you out is certainly a downside. The Mirror is another predatory spell that casts on a 6, and it can completely wreck your opponent's battle plan. It moves 6" and can fly when it scoots around, so you can adjust its positioning to get the most out of it since unlike the Wheels this one doesn't hurt your own units. The first effect of the spell is any units that start a move within 12" of the mirror suffer d3 mortal wounds unless they finish their move closer to the mirror.
While d3 wounds might not bother a unit of 30 or 40 models, especially those with mortal wound prevention like Daughters of Khaine, low model units are likely to think twice about ignoring the mirror, more so if they've already suffered a few wounds. This is frightening enough, as it can completely change how your opponent has to position their troops, but this spell has something even worse in mind for heroes. Once this model is set up, or after it moved, you roll 6 dice for each hero within 6", then deal mortal wounds equal to the number of sixes you rolled TIMES the number of 6s that you rolled. That means that with one 6 you deal a single mortal wound but with 3 you deal a whopping 9. This has the potential to dish out an insane amount of damage, and could potentially knock out the toughest heroes in the game in a single turn. If your opponent is playing an army that relies on their heroes, like Fyreslayers or Sylvaneth, this is definitely the spell for you.

Dreadful Visage
When a Chaos God puts on a mask at a spooky daemon masquerade, it only makes sense that the mask in question might take on a life of its own. That is exactly the case with the Dreadful Visage, a deadly predatory spell available to the legions of Slaanesh. Casting on a 7, this is the most difficult of the new Endless spells to cast, but it is certainly worth the attempt. When it moves, it can fly 8", and once it finishes its move, you roll 6 dice for the nearest unit within 6", dealing a mortal wound on every roll of 4+. Since most similar spells deal their damage on 6s, this is a really powerful spell, but the awesome doesn't stop there. Non-Slaanesh units within 12" subtract 1 from their Bravery, while Slaanesh units increase their Bravery by 1. This, combined with the damage from the spell's move, meaning that this spell could easily turn the tide in pitched combat, especially if you are about to throw a big block of Fiends or Daemonettes at the same target. Use this spell to hit high model, low bravery units like Namarti or Skaven, or to soften up tough targets before charging in and making it more likely that a few of them will flee.
Which are your favorite of the new spells? Will they be making their way into your Hedonites lists?