Goatboy here and I survived the Alamo 40k GT and even placed – 3rd overall with Red Corsairs. Here's what I learned.
I also placed 2nd for best painted – but figured 3rd overall was cooler for me.  They don't double up on awards and it let someone else move up for painted.  Not to bad if you ask me.  I played the Red Corsairs list I posted a few weeks ago and had some thoughts after the event.  For those wondering here is the list again in a quick print out.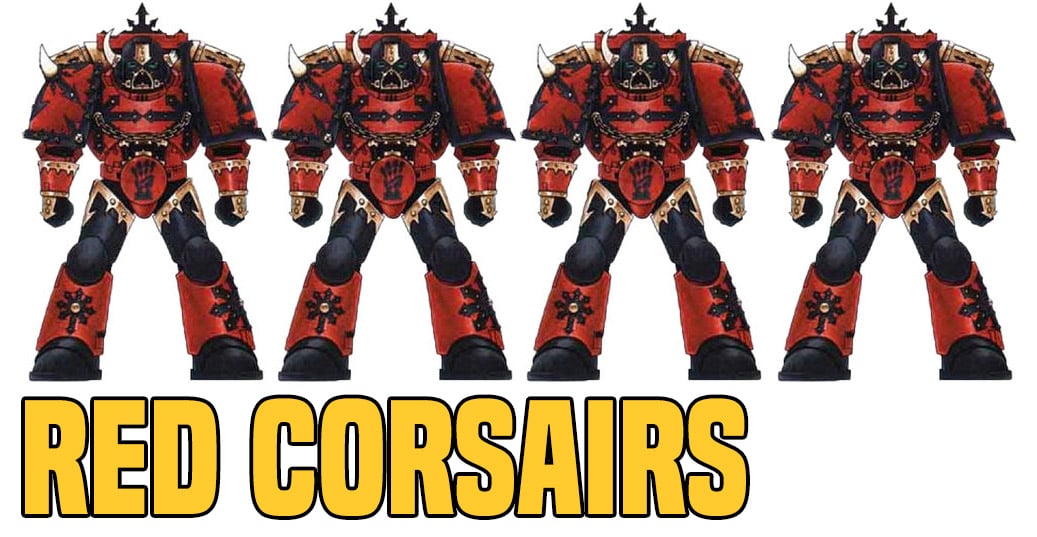 Red Corsairs Battalion – Updated to Soulforged Pack
-HQ-
Discordant Lord – Mark of Slaanesh, Auto-cannon, Specialist Warlord – Master of the Soul Forge
Discordant Lord – Mark of Slaanesh, Auto-cannon, Warlord – Reaver Lord, Relic – Mechaserpents
Discordant Lord – Mark of Slaanesh, Auto-cannon
-Elite-
Greater Possessed – Mark of Slaanesh
-Troops-
Chaos Space Marines X 5, Chaincannon, Mark of Slaanesh
Chaos Space Marines X 5, Chaincannon, Mark of Slaanesh
Chaos Space Marines X 5, Mark of Slaanesh
-Heavy-
Maulerfiend, Lasher Tendrils, Mark of Slaanesh
Maulerfiend, Lasher Tendrils, Mark of Slaanesh
Maulerfiend, Lasher Tendrils, Mark of Slaanesh
Red Corsairs Spearhead Detachment
-HQ-
Daemon Prince, Wings, Mark of Slaanesh, Malefic Talons X 2, Warp Bolter, Relic – Intoxicating Elixir
-Heavy-
Venomcrawler, Mark of Slaanesh
Venomcrawler, Mark of Slaanesh
Venomcrawler, Mark of Slaanesh
Thousand Sons Outrider Detachment
-HQ-
Ahriman on Disc
-Fast Attack-
Chaos Spawn, Mark of Tzeentch
Chaos Spawn, Mark of Tzeentch
Chaos Spawn, Mark of Tzeentch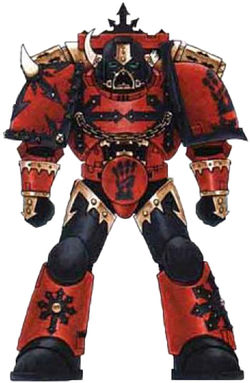 Red Corsair Tourney Feedback
Overall beyond my first game where I played 5 Eldar flyers the army did pretty good.  It was aggressive, had some decent damage output, and was fun to play.  I worked on getting all the paint updated so it matched pretty well and looked decent on the table top.  I am sure there are some pics floating around if you look at the Alamo GT but my favorite model is the heavily converted Discordant Lord I used as my warlord.  It was a mixture of a Venomcrawler, Fat Ad Mech guy, some green stuff, and the cool axe from a Lord of Contagion.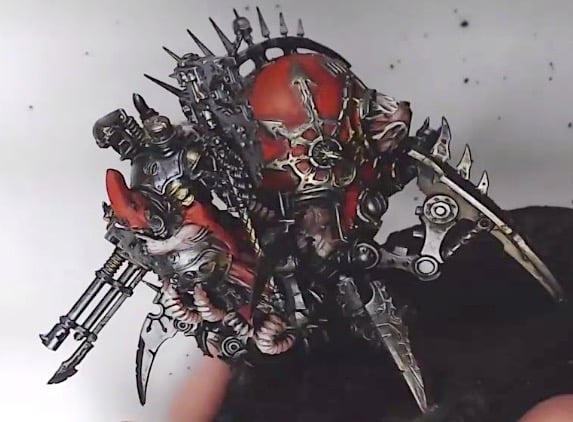 Behold my creepy creation!
We played ITC missions with the set up full set up of armies based on who rolled the deployment zone (you won that roll you set up second – and thus it was up to whoever set up first if they wanted to go first).  This was an odd one as it felt like it gave too much power to losing the die roll.  Most of the time for myself – if I can go second I can pull ahead in ITC missions.  Knowing what you need to try to accomplish in a round is a very powerful thing – especially when you can leave easy targets for later rounds etc.  I think I lost the deployment die roll once during the entire tournament – with the only time it mattered was when I wanted to go first versus my list opponent Will and his IG/BA list.  I needed to get there, get a quick set of kills and start bothering his castle.
Instead of going over games I would rather look at what I liked and disliked about the army.  Then will go over the different things I tried in the ITC missions and how I played up options that I normally don't run when I play my other lists.  I don't think this army is the best as a lot of the games came down to me rolling a bit better on saves during a turn or two.  That let me have a chance to cause maximum damage with things like Lord Discordant's charging important things.  Those guys are nuts.  There were a few mistakes made by opponents but I put that on being tired and playing an event for the first time.
ITC Missions
Most games had my opponents pick the following ITC missions – Big Game Hunter (correct), Kingslayer (correct), and mixtures of Marked for Death or Engineers.  Big Game Hunter is a given as I have 10 things that give it up – with 9 of them not being able to be hidden.  From there Kingslayer is pretty good as killing my Warlord Discordant gives you 4 command points right away.  No one picked Old School (I did once but I am feeling more and more that it is a trap).  Engineers came out to be very interesting as I tried it a few times and used my extra crappy Chaos Space Marines to gather points for me.  If the terrain let me set up a hidden group easily enough it was a pretty smart pick most of the time.  Marked for Death usually meant the 3 Maulerfiends and a Daemon Prince most of the time.  The Daemon Prince was hidden most games and would come out to punk something as needed.  This usually left that point out for opponents so I knew I needed to try and get 12 points to beat their 11.  There was no way I wasn't given up a flat 8 points most games.  I find in ITC, giving up Secondaries is ok as the game really revolves around pulling ahead on either kills or hold more for 1 to 2 turns.  Once you get that far ahead you can concentrate on just not giving up turns like you just took.

Big Winner Units
The Lord Discordants were amazing.  Those guys really shined as they ran around, punched guys to death, and were a pain in the butt.  The only game they didn't do so well was the Eldar Flyer match up – but that was fine as they at least killed some chaff.  I get the feeling will see Chaos running 3 of them in a ton of lists.  I think the Alpha Legion (if the -1 to hit stays – rumors are pointing to no) will be the best but I do see power in Red Corsairs or Flawless host.  The ability to chain Death to the False Emperor on 5+'s was huge as you could easily hit anything Imperial and wreck it – units, vehicles, characters, etc.  I didn't get a chance to play a Knight but I think these guys would be monsters against those giant robots.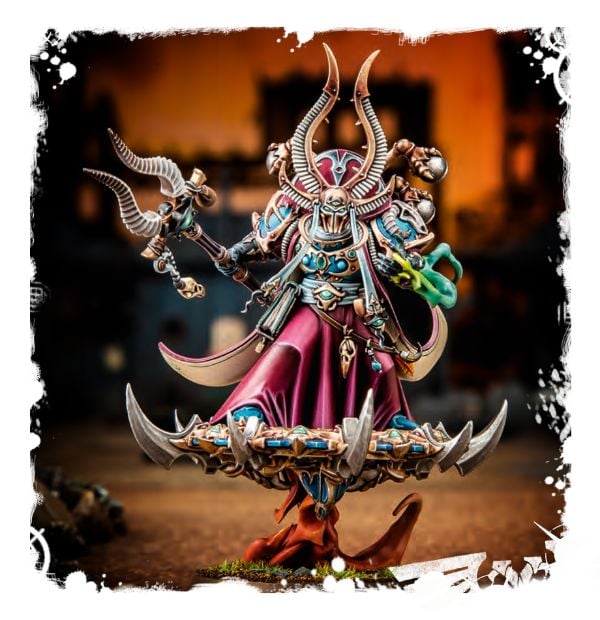 Ahriman on a Disc did pretty well.  There is a reason he shows up in most Chaos armies as he does everything you need.  You can cast some spells better, have fly to be a bother, and randomly enough hits pretty hard in combat.  I found out he has a flat 3 damage staff when he survived a Callidus assassin charge and punched her back pretty dang hard.  He even heroically intervened an Eldar Flyer that was too close to him (Tried to snipe him out – he made saves the first time – didn't the second time) and punched it out of the air.   This guys is just super good and while I wish I had 2 Tzeentch Daemon Princes to help him he did pretty well.
Speaking of Daemon Princes the final Chaos one did well with the Elixir and combos from Ahriman.  He took out 2 Doom Scythes in a Necron Match up and did pretty well throwing Delightful Agonies on those important Lord Discordants.  I love my Daemon Prince model and if I can find a place for the Warp Bolter monster of Slaanesh I throw him into a list.

Meh Units
The Venomcrawlers did ok.  Their shooting output was kind of mediocre and I found more power in their ability to move and assault pretty well with a Lord Discordant.  I really wish their guns were a flat 3 instead of a d3 as there were a lot of games where they shot 2 to 3 times.  Their close combat output though can be scary with a flat 3 damage claw.
The Greater Possessed didn't get a chance to do much other than baby sit the Venomcrawlers.  I am wondering if there is a way to use a bunch in a Rhino to come out and be scary.  I feel they are just a bit too expensive and should be sitting around the point value that the Death Guard elite characters are at.  50-60 points as they have no real upgrades other then being a bit creepy.
The Chaos Space marines were fine and I should have dropped the Chaincannons for something else.  I just had to use them as they were painted and I didn't want to build/paint 2 more regular Chaos Space Marines.  I wonder if having a big fat unit to regrow might be good – but they just felt like they should be left cheap.

Bad Units
Maulerfiends were pretty bad.  In fact they were just not worth it and died most games.  They would run up the field, maybe kill a scouting unit, and then die to whatever firepower the opponent had.  I got lucky in the last game where I finally had some things blow up.  I think running them as Heldrakes, more Daemon Princes, or just anything else would have been better.  They just didn't bring a whole lot to the table top other then a nice meaty target for the opponent to throw wounds into. With the Lord Discordants getting Legion Traits – having Alpha Legion will just be better and then throwing in a few Heldrakes as needed to go bother the opponent.  Or at least claw down a Flyer if need be.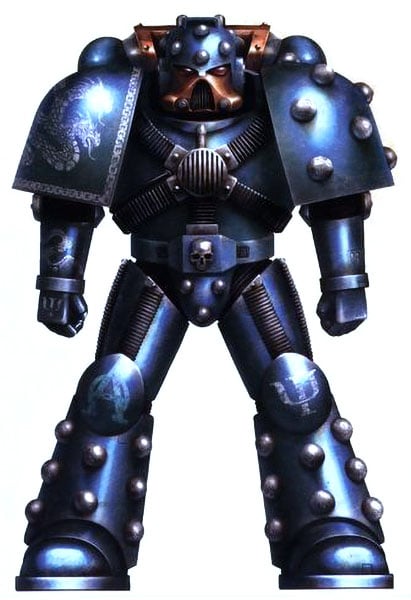 My Next Experiment
The next things I will look at in the upcoming year is to figure out if Bikers work out and if going Alpha Legion is much better.  Plus I want to try and get the Lord of Skulls to work in a list or two just for fun.  He is big, red, and mean and I love that turd of a model.  Of course with Chaos Knights on the horizon will see what I  get obsessed with as the year moves along.
~Until next time – Death to the False Emperor!