Aboleths are ancient aberrations that lurk in the depths of D&D's origins. What secrets do they hold? Find out as we pull them into the Spotlight.
The deepest oceans hold fascination and fear for many people. There's just something about that seemingly endless expanse of deep blue that fades into a dark murk where ancient leviathans swim. There are literal monsters in the deeps before we insert any fantasy nonsense.
You can find a whole subreddit dedicated to a fear of the ocean. And Aboleths play on that fear–they are ancient, they are alien, they are the monsters lurking in the depths–in the backs of our minds in the depths of our subconscious. There's something very primal about creatures coming up from the sea. Like a memory, you know you have without realizing it until all of a sudden that fear lurches from the depths and you sweat from your bones.
Now tie on to that some of humanity's other biggest fears, losing control of the thing that seems to make us stand out, our minds–and you have a recipe for a great monster. Enter the Aboleth, an ancient, psychic fish that will enchant your mind and bind you to its will, even as it changes your physical form to make you suit its alien desires.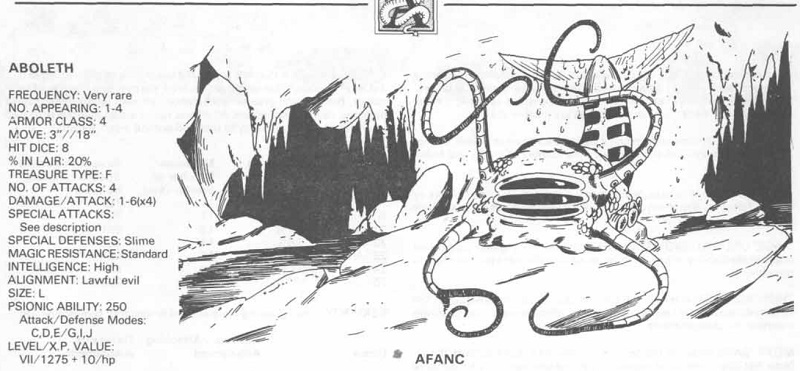 First appearing in 1981 in the module Dwellers of the Forbidden City (a module all about yuan-ti and their schemes), Aboleths have their official entry in the Monster Manual II. There, they were slime-covered hateful creatures that are both incredibly ancient and intelligence. They are said to hoard secrets older and more foul than humanity. And that's what they represent–the fear of the unknown, and the fear of the sort of primeval creatures that sent even our distant ancestors scurrying out of the oceans to begin with.
They are innately psionic, every last one, and they had many at-will magical spells, including the ability to enslave a victim telepathically and then eventually coat them in slime which would transform them into a water-breathing mutant that cannot survive on land.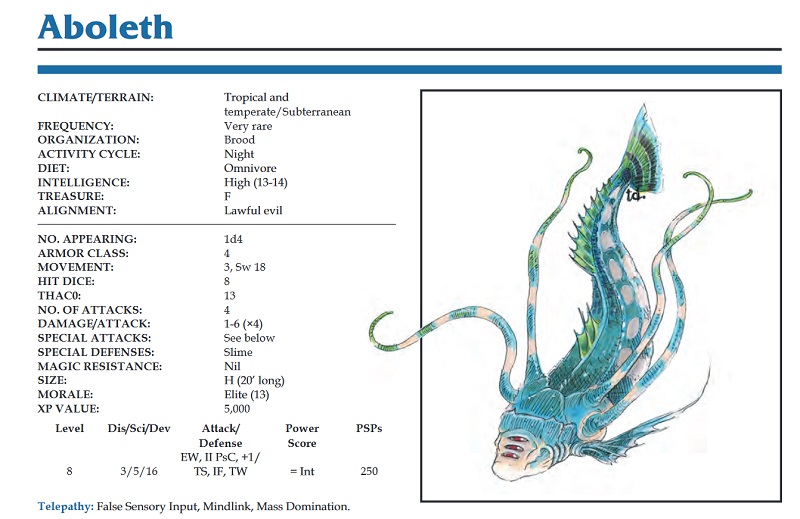 2nd Edition Aboleths feature a little more lore and a much more understated three-eyed look. You get some great details about the 2nd edition version of these aboleths, including their smell (rancid grease), their texture leathery, slimy, rubbery–nothing pleasant–and of course, horrific details that illustrate rather graphically the life and reproductive cycle of the aboleths.
With no natural enemies, Aboleths are the undisputed terrors of the deep, and when the Complete Psionics Handbook released, they featured in greater detail. These psionic monstrosities are powerful–and their biggest tool is all the ways they'll turn a party against itself.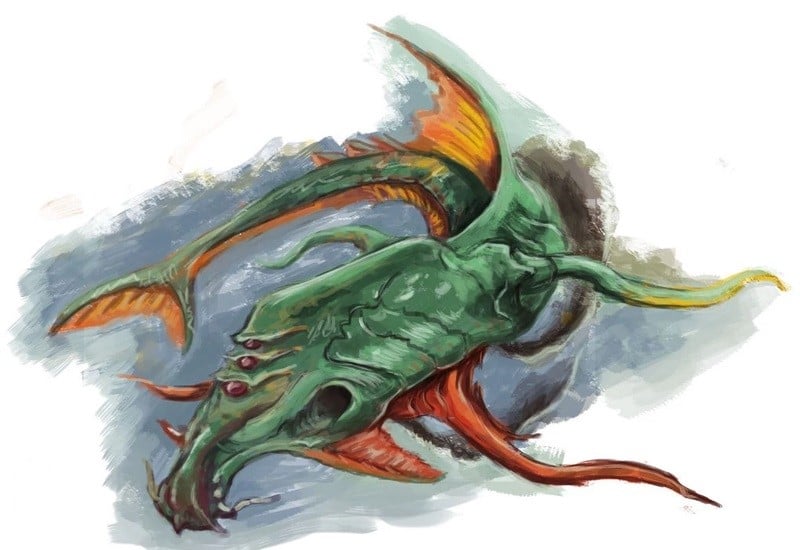 3.x Aboleths take on a much more sinister place. Now they also inherit the knowledge of their parents as well as all the victims they consume. So they not only can mind control you, they will learn everything you ever knew. Still present is their mucus cloud ability that transforms those caught up in it–as well as a few new tricks. Psionics took on a brave new world in 3.x, and for a time, they had psionics as a spell-like ability. But with the advent of the Complete Psionics Handbook for 3.x, they changed significantly, gaining in power if not prettiness.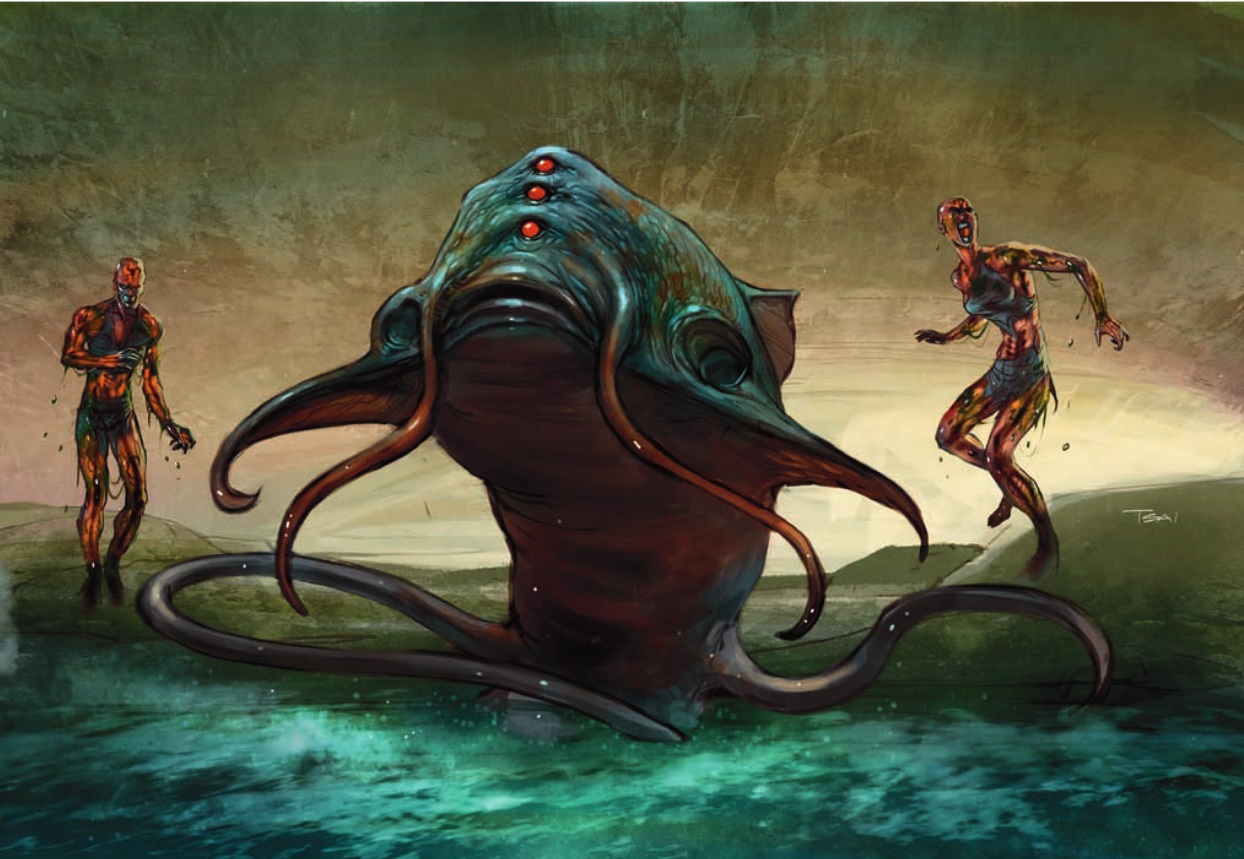 In 4th Edition, the Aboleths are all about the Far Realm, the realm of aberrations where everything evil and gribbly comes from They're mid-tier monsters, coming in at around level 17–and even the ancient aboleths aren't safe from 4th Edition's monster treatment. You'll find 3 different kinds of aboleth, the Slime Mage, the Aboleth Leader, and the Aboleth Overseer. Now only some of these ancient beasts have the ability to permanently dominate a person–but those that do can transform the living into an aboleth servitor. These servitors are wretched figures who were once transformed by the aboleth into clear, translucent-skinned beings who exist only to serve their aboleth masters.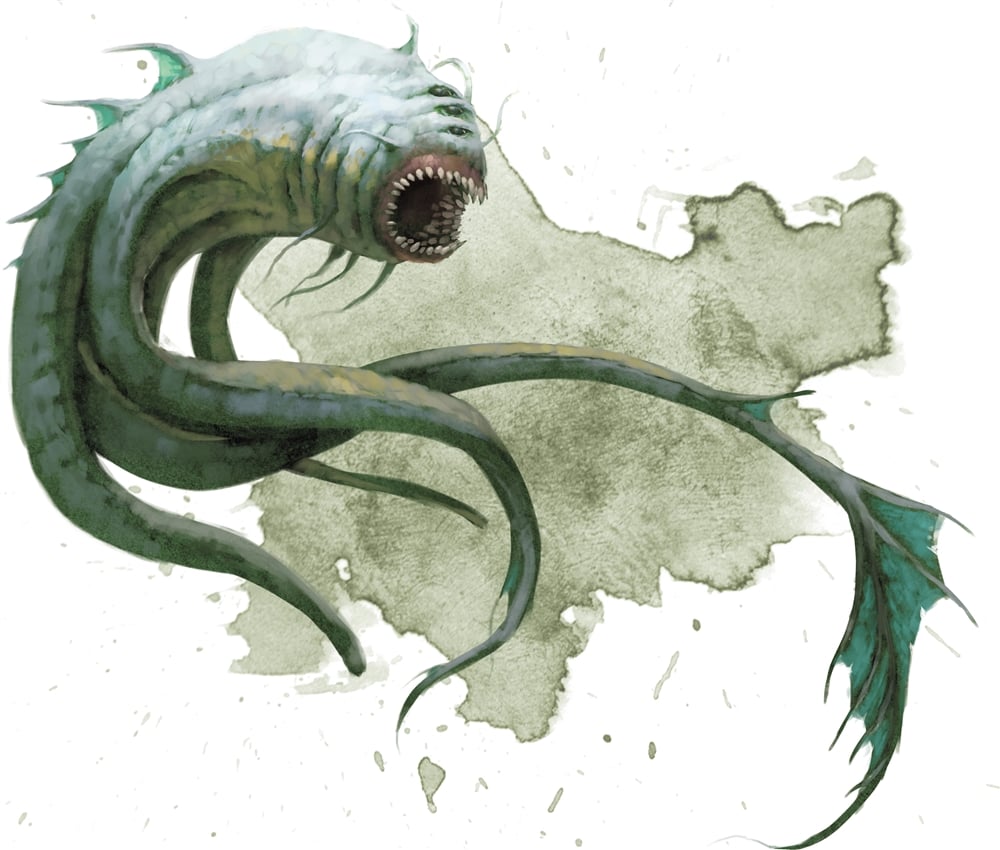 5th Edition Aboleths are the true terrors of the deep they are meant to be. They might not be the highest CR creatures in the monster manual, but they are gods of the waters. With features like flawless memories and marked as enemies of the gods and the ability to instantly know a creatures greatest desires just from looking at them–aboleths are a primeval force in this edition. Their lair actions reinforce their magical, corrupting nature, as do their regional effects.
But they're not creatures from the far realm–rather they come before even the gods. They're like the product of a different branch of evolution–these are holdovers from a world that was not welcoming to humanoid life. And yet they carved out an almost endless existence from it.
There are so many tools to play up the cunning and alienness of an aboleth–they have memories hundreds of millions of years old and are able to perfectly communicate with creatures. In combat, they work best as melee monsters who draw opponents in. Interestingly enough, their psychic abilities are better served to disrupt party support while they take down the weakest links, rather than used to dominate creatures to make the party fight itself.
---
Aboleths can be a rewarding adversary. With tools to play up their creepiness and the ability to create an army of allies, they are a great villain for any campaign, wielding power and influence behind the throne.
Happy Adventuring, and watch out for an aboleth's hive of skum and villainy.