The Bell Tolls for Peter Mayhew

The actor that brought Chewbacca to the screen, and to legions of fans over five movies,  has died at the age of 74. His family shared this letter on Twitter yesterday…
The family of Peter Mayhew, with deep love and sadness, regrets to share the news that Peter has passed away. He left us the evening of April 30, 2019 with his family by his side in his North Texas home. pic.twitter.com/YZ5VLyuK0u

— Peter Mayhew (@TheWookieeRoars) May 2, 2019
Mayhew was born in London. At his peak height, he was 7 feet 3 inches tall. He snagged his first movie role in a Ray Harryhausen fantasy called Sinbad and the Eye of the Tiger thanks, in part, to a newspaper article he was featured in about men with big feet. He was working as a hospital orderly when he auditioned for the role of the Wookiee Chewbacca, and won the role just by standing up. The adventure that followed included five live-action Star Wars movies, multiple guest appearances on shows like The Muppet Show and Glee, and meeting thousands of loyal fans at conventions. The role of Chewie was passed to Joonas Suotamo, who had been Mayhew's stand-in, during The Last Jedi with the original actor's blessing.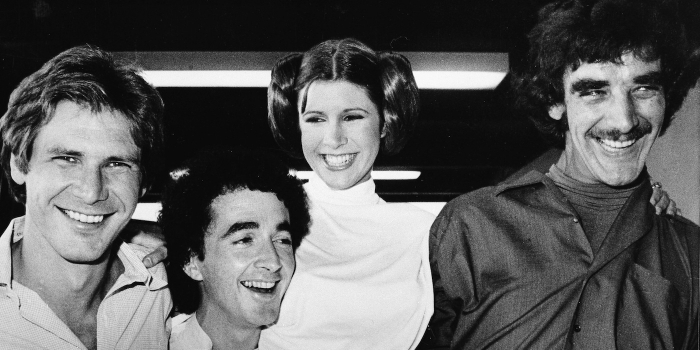 Beyond Star Wars Mayhew wrote two children's books that tackle being different and dealing with bullies. He was also very involved with charity work – he gave his time to the 501st Legion, the Wounded Warrior Project, and others. With his family, he started the Peter Mayhew Foundation, which works with other organizations to help achieve his goal of moving toward the Wookie way.
He was a vivacious, kind spirit that brought a lot of good to the world and continuously gave to the Star Wars community – even when he was in physical pain. He will be missed.