Illustrator Joe Ledbetter brings his crisp, bold lines, a vibrant palette to Artists Alley with these new figs. He got his start in underground shows, and his hallmark anthropomorphic creature design is rooted in 1980's videogames and skate culture. Ledbetter did the design and color work on these, sculpts are by Joe Menna. If you're looking for a playful and edgy take on your favorite Gotham character, you'll want to pick one (or all) of these up.
Batman – $60.00
Batman has been a global icon for 80 years and has been remade in thousands—if not millions— of artistic expressions, iterations, and representations, but we can safely say: you've never seen a Batman figure like this.
Limited to 3,000
Measures Approximately 6.41″ Tall
Diamond Code: SEP180632
Robin – $60.00
He's a Teen Titan, a Boy Wonder, but in this figure from the playful mind of Joe Ledbetter, something seems fowl.
Limited Edition of 3,000
Measures Approximately 3.85″ Tall
Diamond Code: SEP180634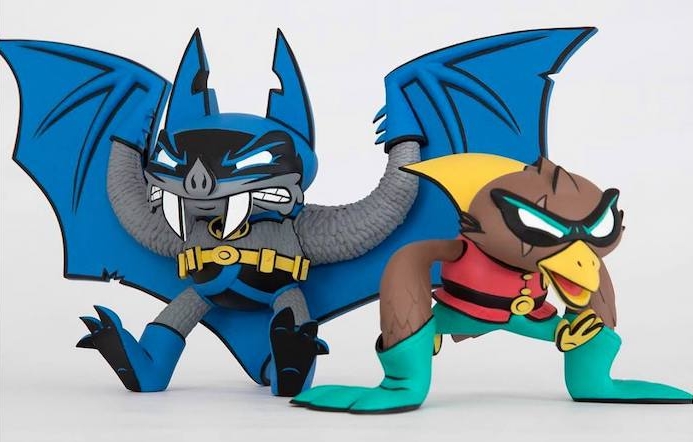 Penguin – $60.00
Often considered the most fashionable of the animal kingdom for their plumage which resembles formal wear, penguins have the natural gift of always show up looking stylish. The Penguin is a ruthless boss, but like his namesake, is usually the most dapper-looking of his peers, often dressed in fine couture.
Limited to 3,000
Measures Approximately 6.65″ Tall
Diamond Code: SEP180636
Cat Woman – $60.00
Bringing a new, literal spin to the term "Cat-Burglar" this playful statue of Catwoman from the mind of Joe Ledbetter is a joyous rendition of the iconic Batman nemesis/ally.
Limited to 3,000
Measures Approximately 6.61″ Tall
Diamond Code: SEP180638