Forbidden Power's boxed set is just the beginning. Big things are coming to the Mortal Realms in the coming weeks.
Games Workshop has unveiled their plan for the future of Forbidden Power–beyond just the box set, which contains new Endless Spells, Scenery, and a new book that details all the twists and turns of the unfolding Soul Wars. But you'll find more than just what lies in the book in store. The magic contained within the Storm Vaults marks a new era for the Soul Wars and a new way to roll out battleplans and the like for Age of Sigmar. Let's take a look.
via Games Workshop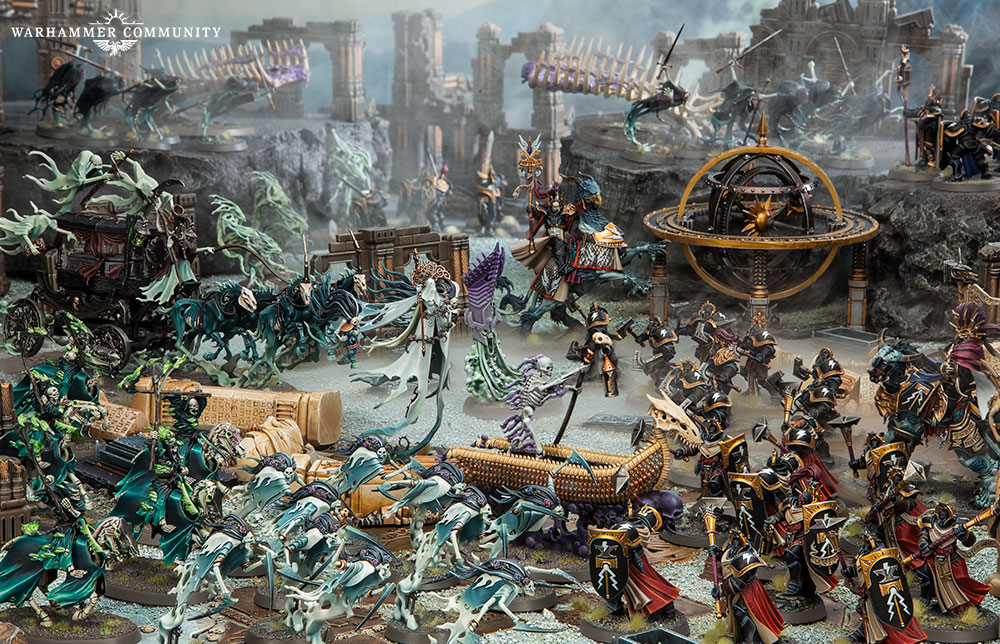 Over the next few months, we'll be bringing you themed weeks that explore different sides of the war for the Stormvaults, providing a wider perspective on the conflict and offering more hints as to how the future may unfold. Every Forbidden Power week will bring with it new fiction exploring new corners of the Mortal Realms, plus a battleplan allowing you to recreate conflicts therein. Of course, you can use these rules to inspire your own campaigns and alongside the Stormvault campaign system in Forbidden Power. If, for example, you want to see how, say, Ogors might have fared in the siege of Lake Lethis, then go for it!

We'll be releasing the first themed content soon, with a look at some different perspectives on the battle for Lake Lethis to get us started. It kicks off tomorrow with some short fiction, so keep an eye out for it on the Forbidden Power page.
And it's clear that Games Workshop has more interesting narrative threads to explore. In Forbidden Power's book you'll find all kinds of interesting plot developments–Order doesn't look quite as Ordered as it once did. As the secrets of Sigmar's manipulation of the Stormvaults comes to life, his allies might have a thing or two to say.
But for now, Lake Lethis is the center of attention…
Just what might happen if the ancient spirit held in the heart of Lake Lethis – the ancient city at the centre of the conflict explored in Forbidden Power – was to be unleashed?
Be sure and stay tuned fore more ways to explore Forbidden Power in the coming weeks.
Best of luck, Generals!