If there was one army built for Apocalypse, it's the Astra Militarum. Time to bring on the Baneblades!
The Astra Militarum is one of those armies that pops-up a lot as a Detachment in other Imperial lists. They are great for Command Point Batteries (love'em or hate'em) and they also have access to a wide variety of specialized and/or cheap options, too. But that's in standard 40k. For Apoc, they are more than able to bring the full might of the Guard down on the foes of the Emperor. The armored cavalry has arrived.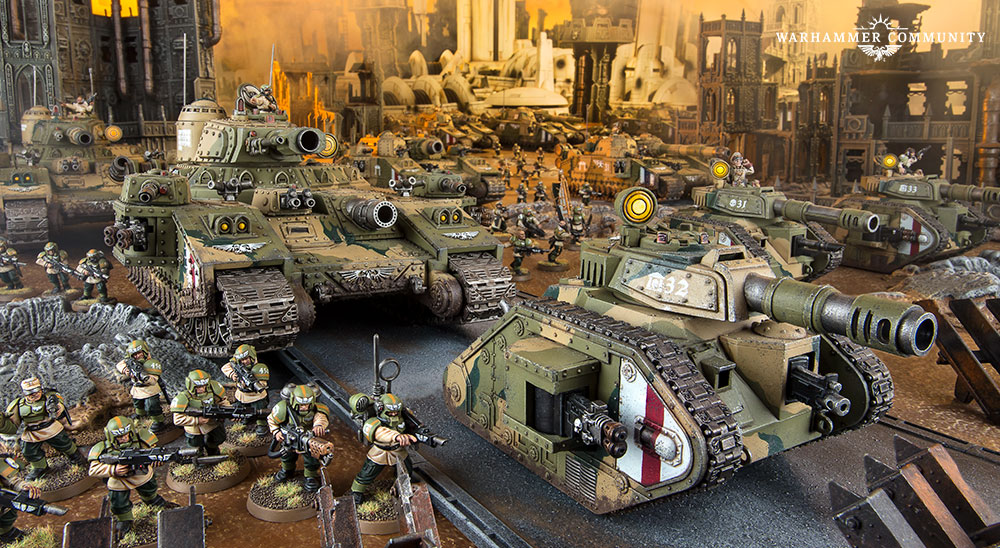 "Astra Militarum armies in Apocalypse have some of the best and most varied armoured units in the game, capable of crushing their foes with a dizzying array of tanks and walkers of all shapes and sizes. With the scale of Apocalypse, you'll be able to field an army of tanks where each unit fulfils a distinct role – columns of Bane Wolves and Devil Dogs incinerating infantry while Basilisks and Manticores devastate your foes at extreme range."
While it's going to be awesome to field columns of tanks don't discount taking those cheap guard officers either. They are going to be invaluable for getting the right Command Asset into play when you need it thanks to their Officer Ability:

Now that we know that the Command Asset Deck is a 30 card deck that you create before the game – this ability makes a lot more sense. Each turn players will get to draw 1 card plus one card for each warlord they still have, up to a maximum of 10 cards. With a few detachments of Astra Militarum in your forces, you should be able to hit that cap fairly easily – and thus have a ton of options for Command Assets! Just remember that each Detachment only gets a single Warlord…
Heavy Armor, Cheap Troops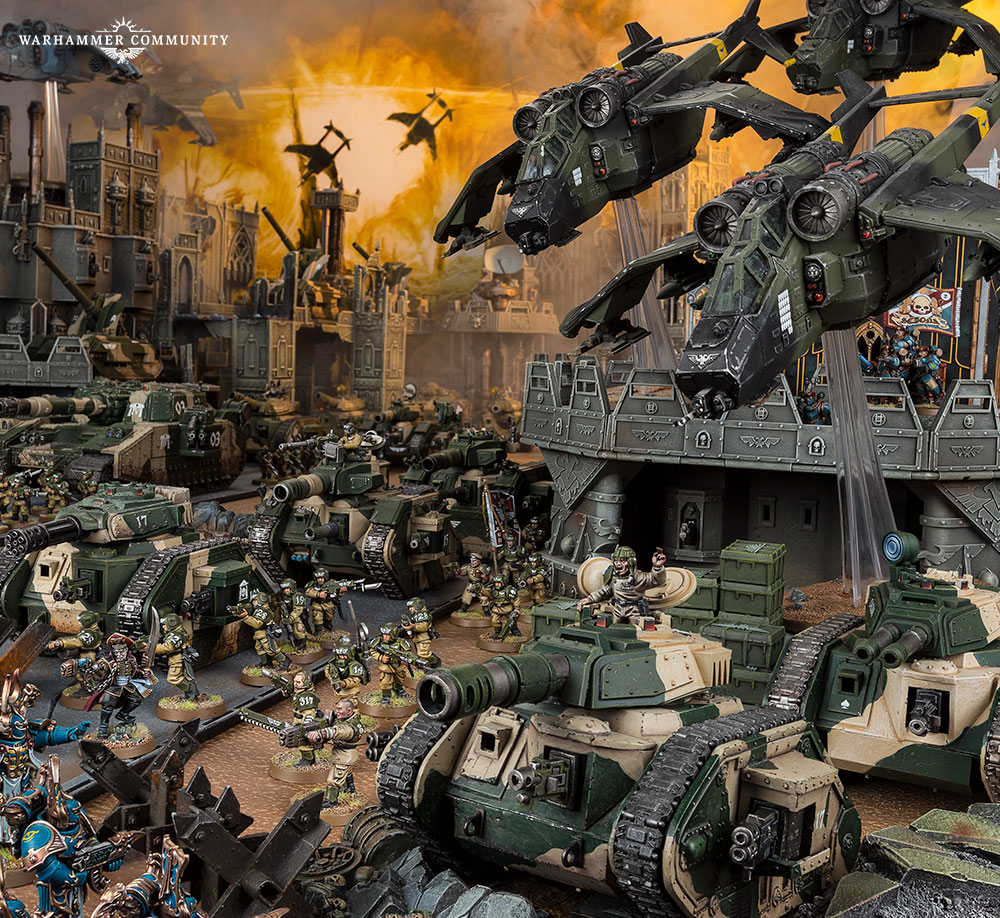 One of the recurring things we keep reading from the Warhammer Community is the need for troops in your lists so they can score objectives. Astra Militarum will bring the beef with their tanks for sure, but they also have access to dirt cheap troop options – perfect for filling in those detachments (just like in 40k). And while a single lasgun is less than scary, when you're firing squad after squad of them…well, it's just a numbers game at that point!
Now, let's chat about some of that armor!
Leman Russ
First up we have a look at the Leman Russ – a tank that has been a mainstay in Apoc since the beginning. Now, with all the different variants and options, it's still going to be just as popular as ever. Solid armor, good weapons, and backed by the rest of the Astra Militarum – what's not to like? And if you're still unsure, check out it's Grinding Advance: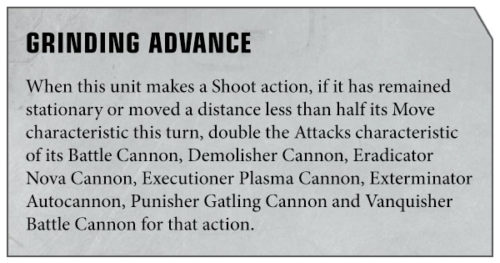 Just like in 40k, it's going to get to fire twice with it's main weapon when it moves less than it's Move characteristic in a turn! Brutal.
Baneblade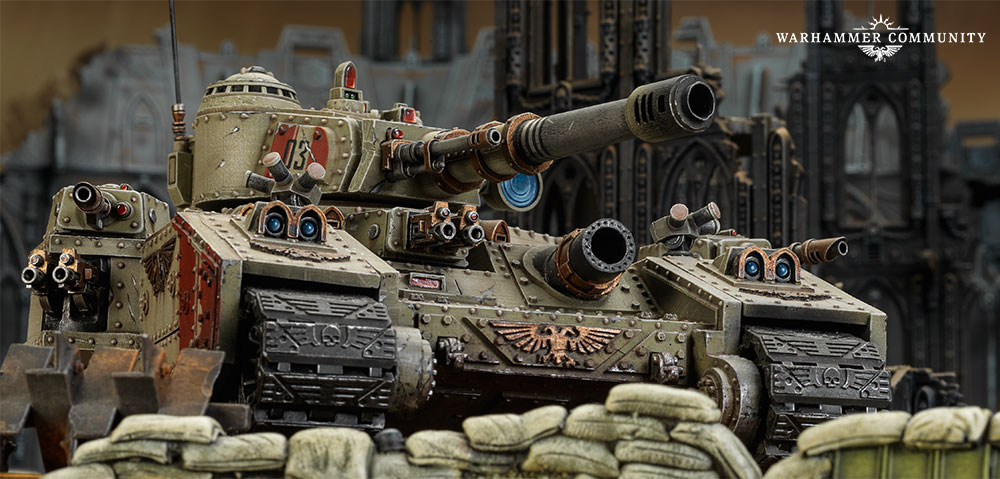 The venerable Baneblade is an Apocalypse favorite and for good reason. It's got a variety of variants on top of a dizzying array of weapon options, too. Stat wise, GW has also teased out it's durability:
"With 5 Wounds and a 6+ Save, the Baneblade is incredibly tough by the standards of Apocalypse, too."
Remember that the Baneblade is going to be harder to wound in most cases because the attacker will also need to use the SAT stat which (in general) is worse for them. Unless they are firing dedicated anti-tank weapons at it (which is appropriate). Also, that 6+ save is a little deceiving – but remember what we learned yesterday about how the blast markers work. For Small Blast Markers, that's a D12 save. For Large Blast Markers, that a D6 save.
Deathstrike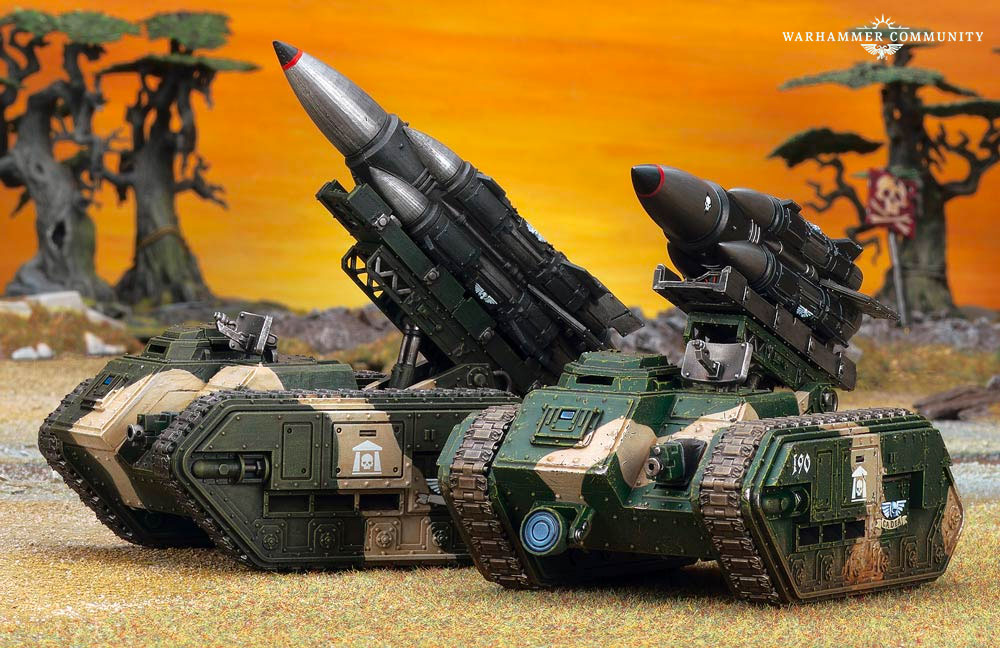 The Deathstrike is one of those units that feels like a joke at first. Then the missile actually fires at your army and hits it's target. Suddenly you're no longer laughing at this "ridiculous" unit. Let's not forget that in Apoc, Damage is applied at the end of the turn – so even if you target these deadly missile batteries, they might still fire before you take them out. If that happens, get prepared for this: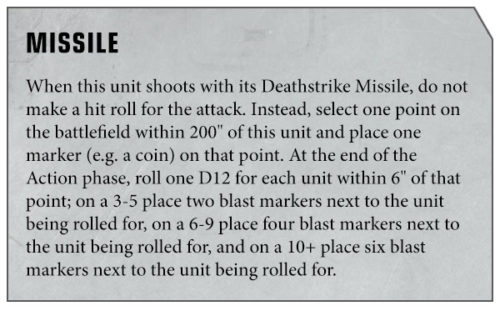 No where to run. No where to hide. That is a MASSIVE amount of pain coming your way. I hope you like Blast Markers because the Deathstrike is going to rain them on the battlefield.
The Command Assets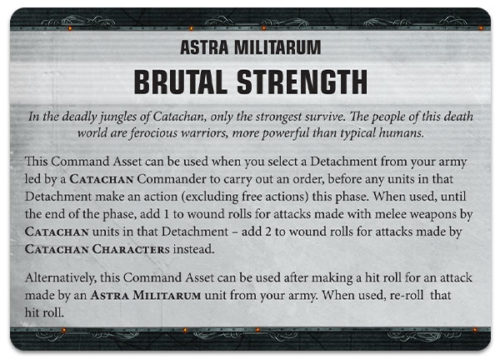 Brutal Strength is kind of hilarious and also fitting. Catachan units in close combat are going to really love this ability. But imagine this used on Colonel "Iron Hand" Straken! A plus 2 to his to wound roll? That's worth the price of admission!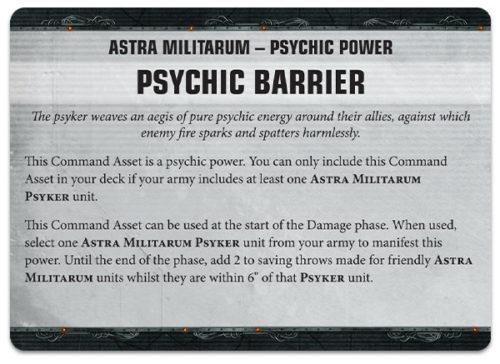 Psychic Barrier is a powerful defensive ability for a few reasons. First off, it's a flat +2 bonus to your saving throw. That's fantastic. It can make those devastating Large Blast Markers a bit more manageable. But what I think really makes this power super effective is that you use this at the start of the Damage Phase. If you're familiar with how the turn sequence works, that means you're going to be able to position this Psyker where you need them to be to best apply this power. If you can afford to wait to activate the detachment that your Psyker is in until after your opponent has fired their big guns, you can really increase your odds of surviving!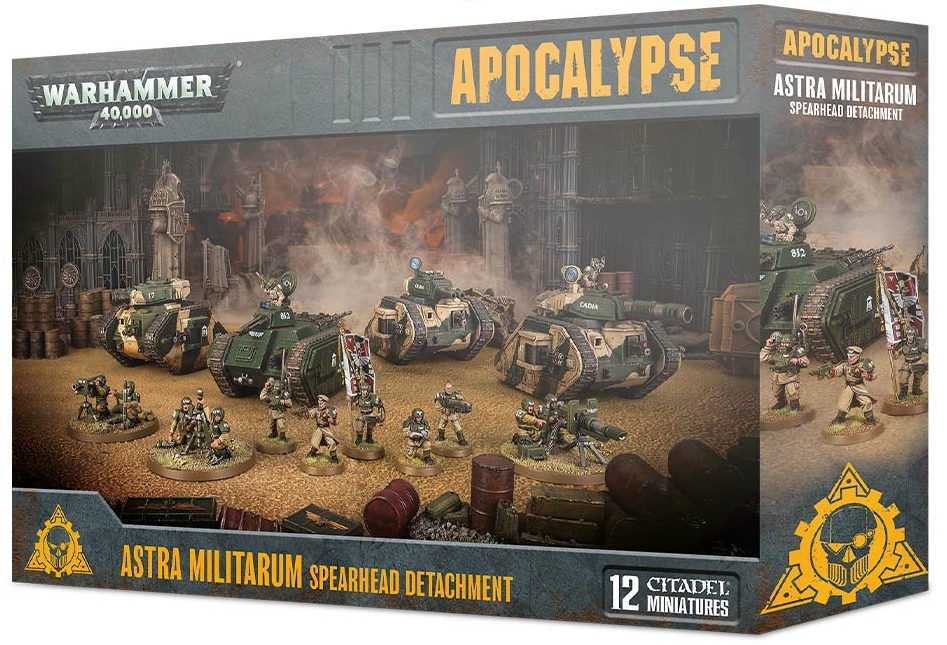 What's your take on the Astra Militarum in Apocalypse?