The Traitorous Death Guard and Thousand Sons are sharing this Faction Focus from Games Workshop!
Tzeentch and Nurgle working together? It really must be the Apocalypse! Okay, it's more like their chosen Heretic Astartes, but still – when the Chaos Gods start working together, the rest of the universe is in trouble. And that's very true today as we are getting a closer look at both the Death Guard and the Thousand Sons! Up first – the Death Guard.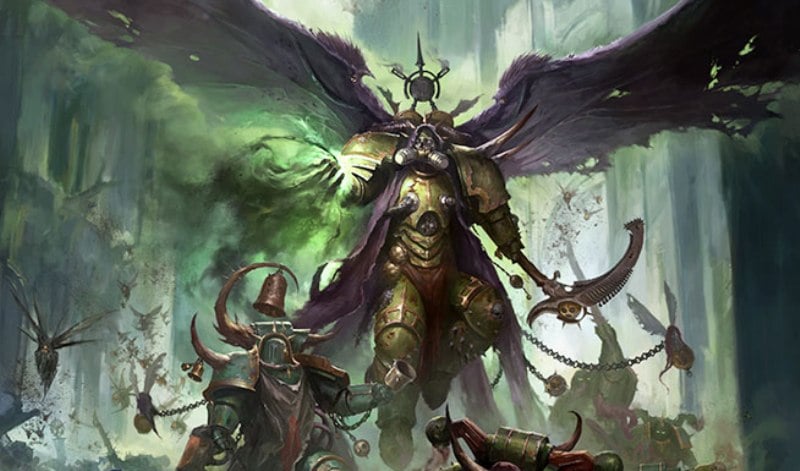 Death Guard
The Death Guard are know for being aggravatingly tough. And in Apocalypse, that toughness is represented by a new rule for pretty much their entire army: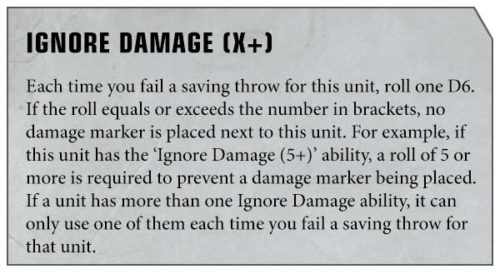 In this case, GW is saying it's an Ignore Damage ( 6+) which might not be as great as Disgustingly Resilient statistically but it's still better than most (ie, not having it).
Mortarion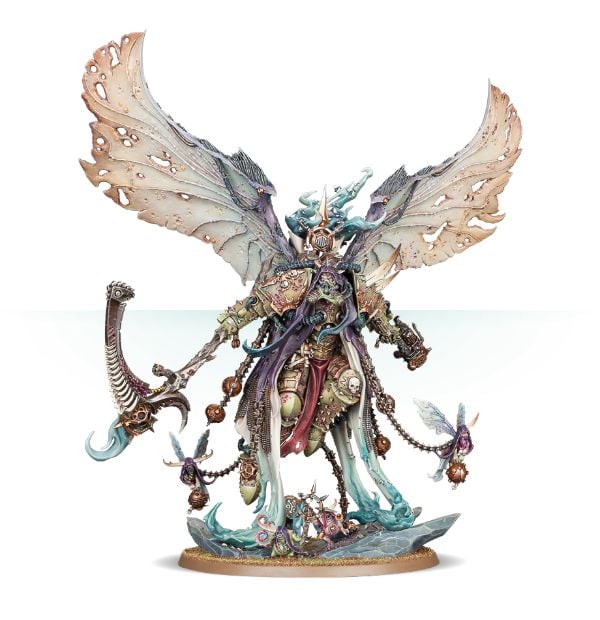 Mortarion is going to be a favorite for Apocalypse Players. First off – he's an amazing model and Apocalypse is all about showing off eye-candy! Secondly, he is a powerful Psyker, can Fly, and is deadly in both the shooting and close-combat arenas of Apoc. What's not to like!? "He's a big target and will get popped easy!" Not so fast there ye-who-doubts-Morty!
"Mortarion has a few tricks of his own and isn't affected by wounds in the same way as other units. Usually in Apocalypse, if the number of damage markers that a unit has is equal to or more than half of its Wounds characteristic, but it's not destroyed, then it is critically damaged. This represents the battle damage that the unit has taken and means that it can't fight as effectively – halving the unit's Attacks characteristic. However, thanks to his armour, Mortarion ignores this rule, ensuring that he remains effective for as long as he's on the battlefield."

He might still be an easy target – depending on how that works in Apoc – but at least he's going to be able to keep fighting until the bitter end!
Plagueburst Crawler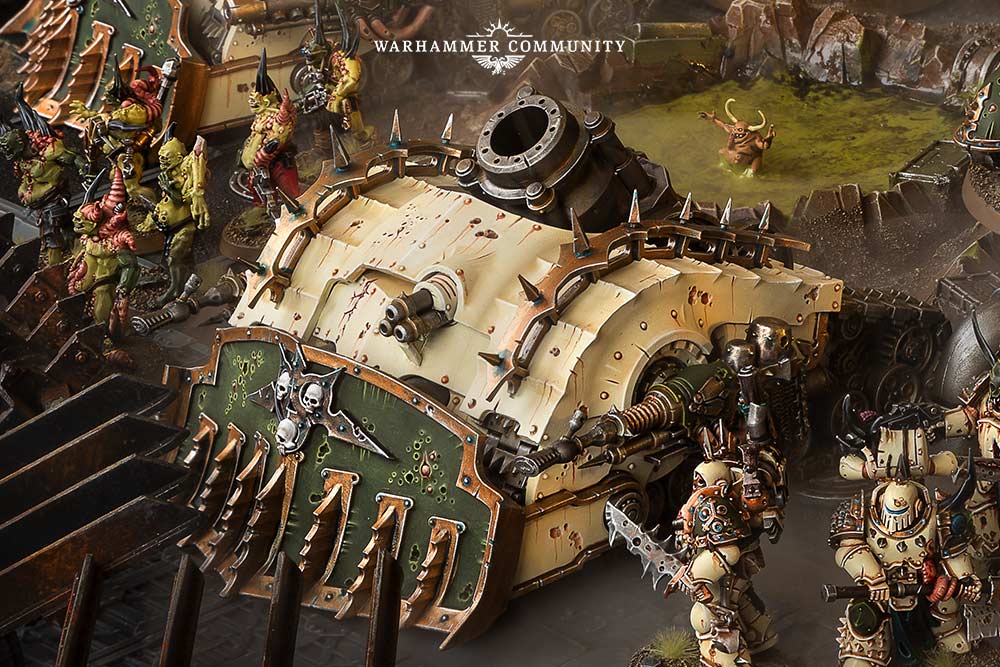 In Apocalypse, the Plagueburst Crawler is going to be a great tool for bringing pain down on your target's head. It's got a mix of weapons that make it a threat to both tanks and Infantry. If you need something that will function as a solid switch-hitter check out it's weapon stats and judge for yourself:

Nurgle's Rot
Papa Nurgle loves to give gifts to everyone. One of those gifts is the infectious Nurgle's Rot: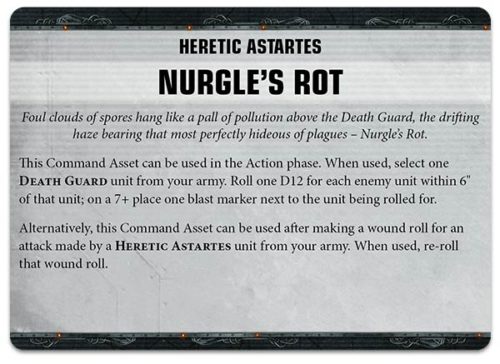 Get a Death Guard unit dug in and really go for the gore by using Nurgle's Rot on them. a 7+ on a D12 per unit within 6″ isn't the worst odds. On the flip side, you can also use this ability to re-roll a wound roll for a Heretic Astartes unit from your army.
Side note: We're really digging these alternating options for many of the Command Asset Cards. With two different options, you've got the "ideal" use but you also have a generic back-up use and that means you'll always have some command options during your turn.
The Thousand Sons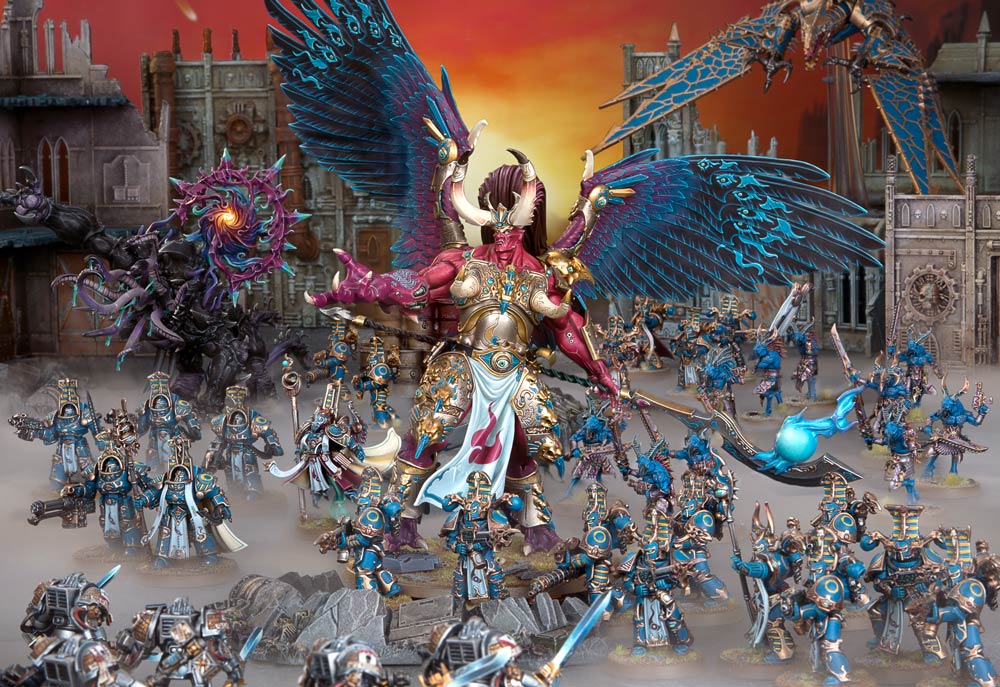 The Sons of Magnus are coming to Apoc as well and they are bringing out the Psychic Beef – with tons of Psyker options in their army, get ready to send more mental bullets down range than the enemy will know what to do with! And that's not just telekinesis either…
Magnus
Speaking of Psychic Powers, there are few Psykers that can stand up to the might of Magnus unleashed. In Apocalypse, Magnus will have one more trick to pull (besides being a Daemon Primarch who can Fly, and is incredibly deadly in both shooting and melee):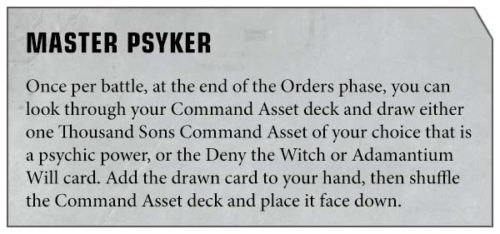 Nice. Once per battle, pick your power! That could be really useful in a game like Apocalypse. You might have the answer to a problem in your Deck, it's just a matter of digging it up. But in Magnus' case, it's as easy as taking a look for yourself.
Rubric Marines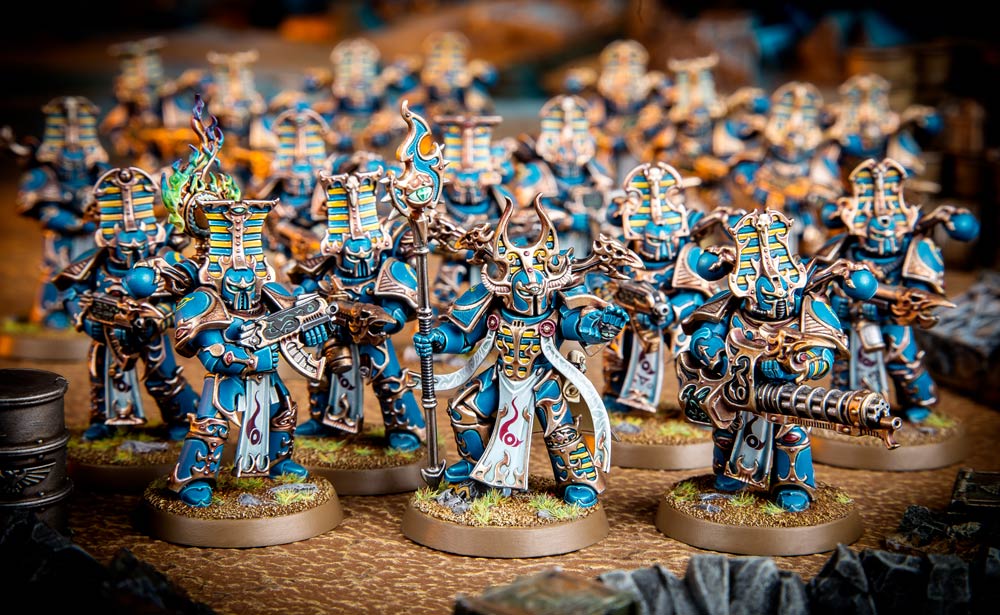 "Fearless, remorseless and utterly implacable, Rubric Marines are a great choice in Apocalypse. In a Thousand Sons Detachment, they count as a Troops choice and they are Psykers, meaning that they can manifest Command Asset psychic powers. They are also armed with inferno boltguns, deadly Small Arms that cut down other infantry with ease. This versatility means you won't regret having loads of them on the table."

Solid Troop options are going to win folks games and Rubrics sound like they are going to be able to hold their own. Their Inferno Boltguns have a better than average shot at wounding against infantry and the SAT isn't too bad for Small Arms fire. And with Rapid Fire, it's probably as safe bet they are going to get to double tap their guns, too.
Doombolt
With all those Psykers running around you're going to want some powerful powers to toss around. Behold Doombolt: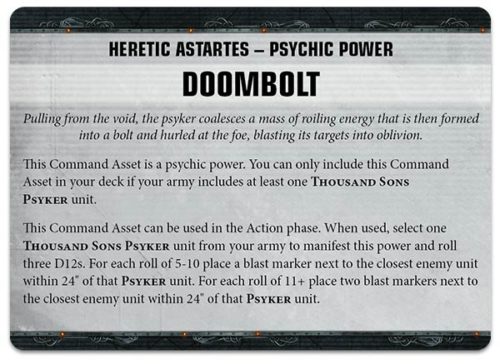 This seems a lot like Smite from 40k – only it's three shots at placing some blast markers instead of just one. And it hits the closest enemy within 24″ – not too shabby!
What do you think of the Death Guard and the Thousand Sons so far? Morty or Magnus? Why not both!