Acquisitions Incorporated, the official guide to creating your own branch of the adventuring franchise in D&D is here–this is our review.
Adventurers looking to branch out into owning and operating their own adventuring franchise–and players who get a lot out of adventuring with style and panache clashing with the mundane day-to-day of corporate life–will want to check out Acquisitions Incorporated. This book is such an interesting one. It adds a bunch of new options that slot in alongside a class, it has new backgrounds if you're looking to lean into the corporate/fantasy humor that abounds in this book, and it's very lovingly written. But at the heart of it is a mechanic that I think has gone under the radar of a lot of folks–myself included.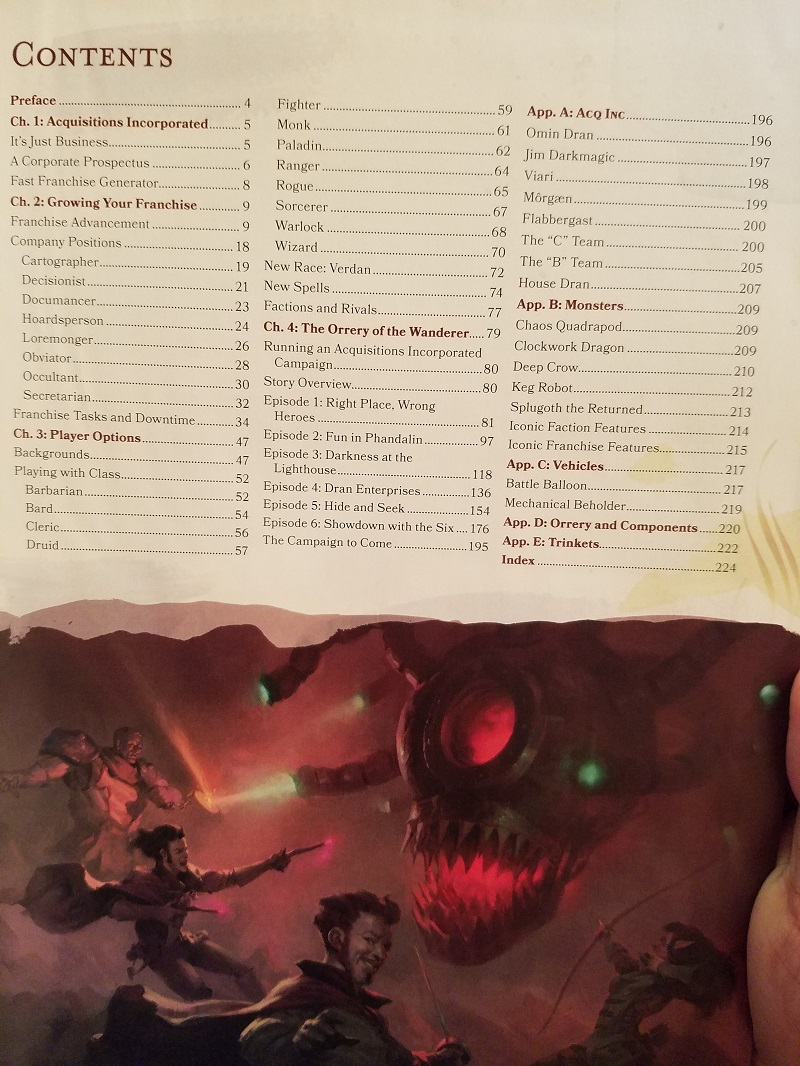 What Acquisitions Incorporated does is give you a mechanic to make "the party" a character. And if that's the kind of thing you're looking for, then this book is amazing. If you're hoping for something that's more on par with a Mordenkainen's Tome of Foes or Xanathar's Guide to Everything you'll be a little disappointed. But what you will get is a great system for giving your party an HQ, a whole plethora of non-xp rewards and progression, which D&D sorely needs. And a new player race alongside a few new monsters and a massive adventure that takes up about half the book. All of it's well crafted, with a tongue-in-cheek flair that lends itself well to the "CEOs of rival adventuring companies are villains and Interns are expendable" sort of attitude that permeates the book.

This is perhaps the most D&D of the D&D books. It understands players. It gets those moments around the table when you know the hallways is trapped and you send the hapless intern. Or that most players will want to have their own personal keg robot, even in a fantasy setting.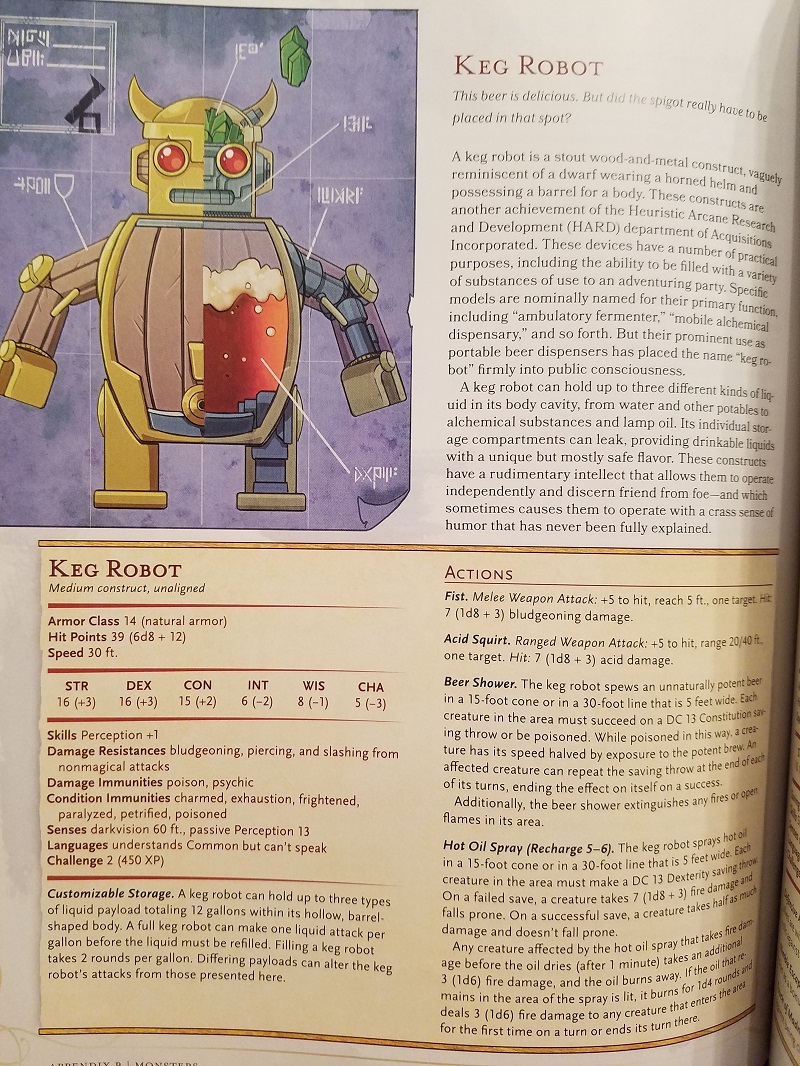 Or that you want to keep track of what happens to the foes you kill or that your maps should absolutely contain magic powers. This book wants you to engage with the stereotypical activities of D&D that might otherwise get glossed over in a rush to get to the next part of the adventure.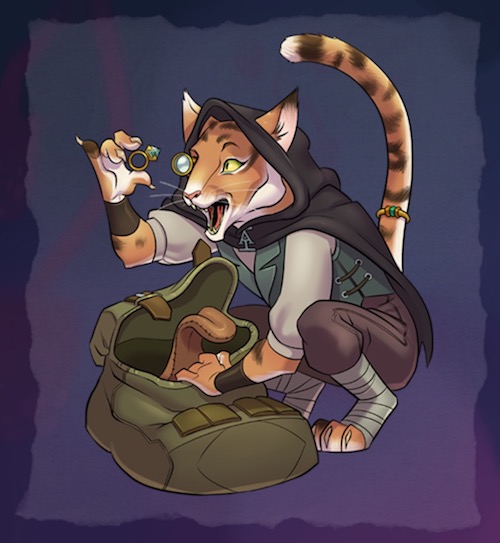 Let's run through this piece by piece. First off there's the introduction which explains what Acquisitions Incorporated is and gives you a brief history of the Acq-Inc streams/podcasts, just to give you a jumping off point. Then the book takes a hard turn into my favorite segment, Growing Your Franchise. This is Chapter 2 for those of you playing along at home–and this is the part that I found most valuable as both a player and a DM. It introduces the idea of your Franchise leveling up, and through that framework you get an excellent mechanic for advancing the party as a group.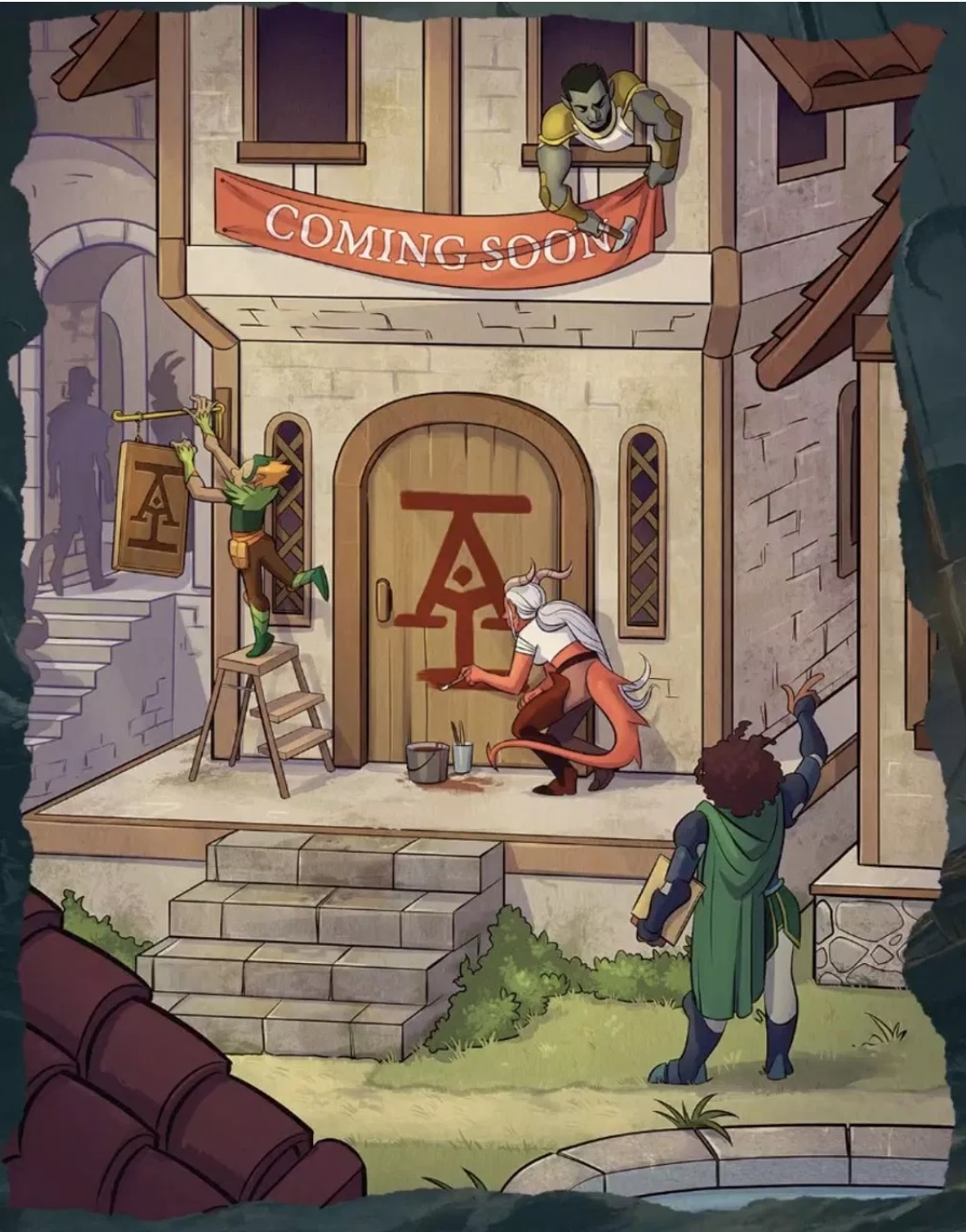 Essentially: as you level up, your franchise (or adventuring party if you want to separate it from the Acq-Inc. canon) grows in ranks, and at each rank your party has access to certain things, just as a part of doing your adventure. Even if you didn't tie these rewards specifically to leveling up–they are a great indicator of about when your party would probably appreciate getting those things. At each rank there are a few basic assumptions–the party will have an HQ, the party will have some means of party transport, the party will have some hirelings/npcs they know and interact with that are friendly/along for the ride.
And as you rank up, you'll get cool new features to help customize your party. Whether it's a secret door, big statues that help transport you, spectral wait staffs–there's a lot of different features available to represent the unique and extremely D&D rewards that are available. It's a big mood, is what I'm trying to say.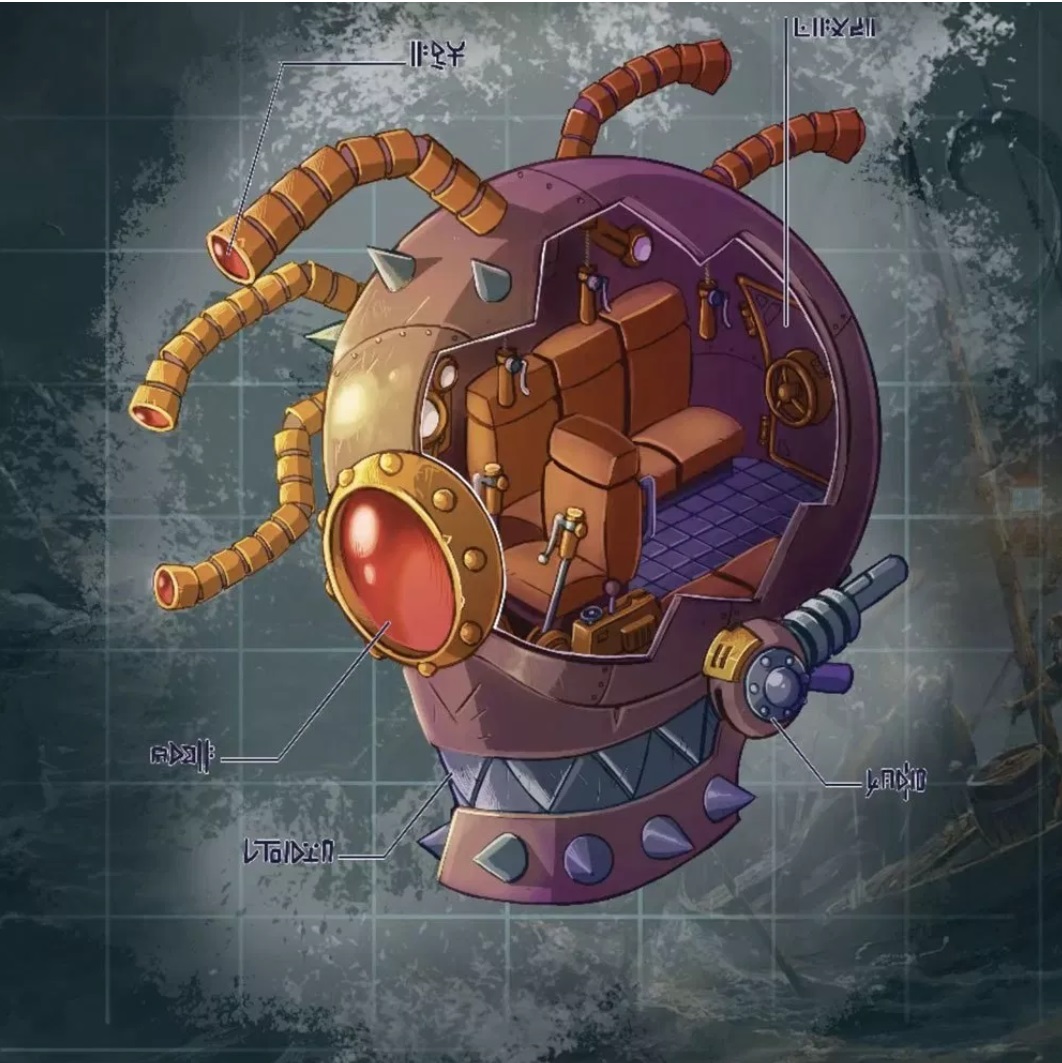 But what's really valuable here is that the whole book is a system for layering in non-XP and also non-combat rewards. Sure you'll find things like a Lighthouse Energy Blast that shoots eldritch power out of a lighthouse's beacon, or special ejector platforms that launch foes in the event of an invasion. But you'll also find a sidebar that talks about how the various skills, proficiencies, and backgrounds of each character should contribute to the Franchise HQ design–and it's all flavor elements. Whether it's herbalism making the place smell good or people with the athletics skill installing an obstacle course, none of these options do anything mechanically but give players an opportunity to roleplay.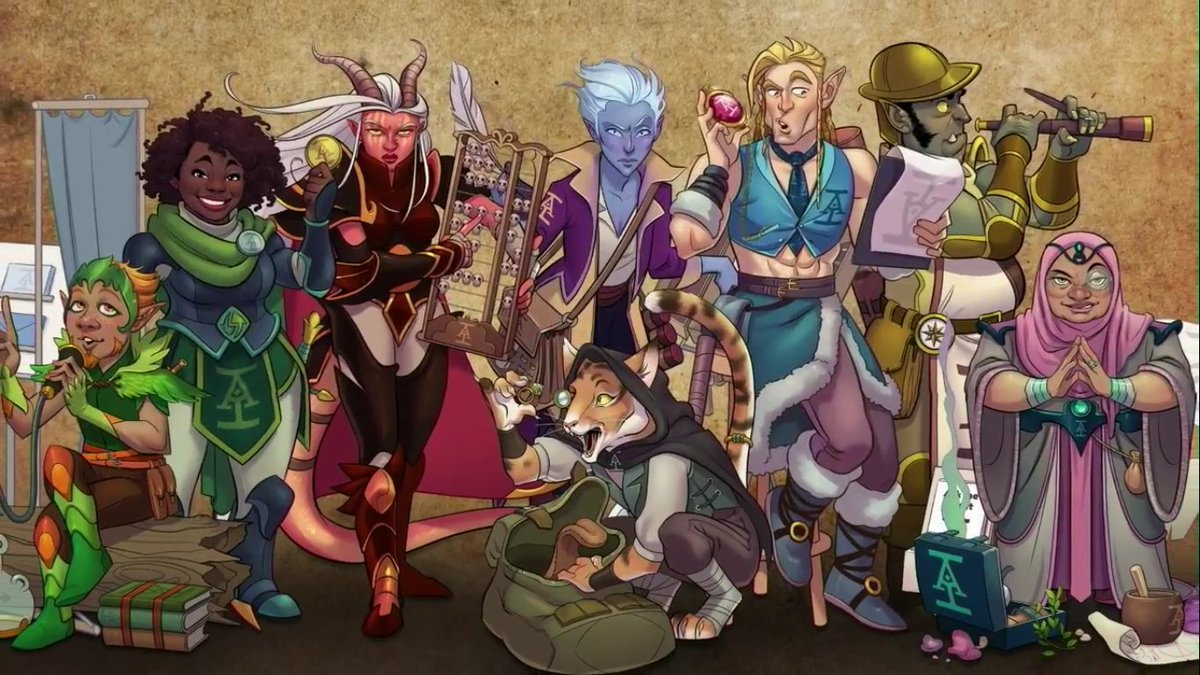 Each of the new player options in the book follows the same format. You'll get the new player roles, which we've covered a little before–but each of them has a rank from 1-4 and as you level up, you'll earn special abilities that complement your chosen role. These ones can be powerful combat buffs, or they might be things like magical business cards (but don't knock them, they actually help charm a creature while they're hanging on to it). You'll also find a section that talks about tweaking each of the classes to make them feel a little more Acquisitions Incorporated–which mostly means you'll add a dash of humor, and a touch of melodrama to your character, making it easier to find hidden depth through roleplay.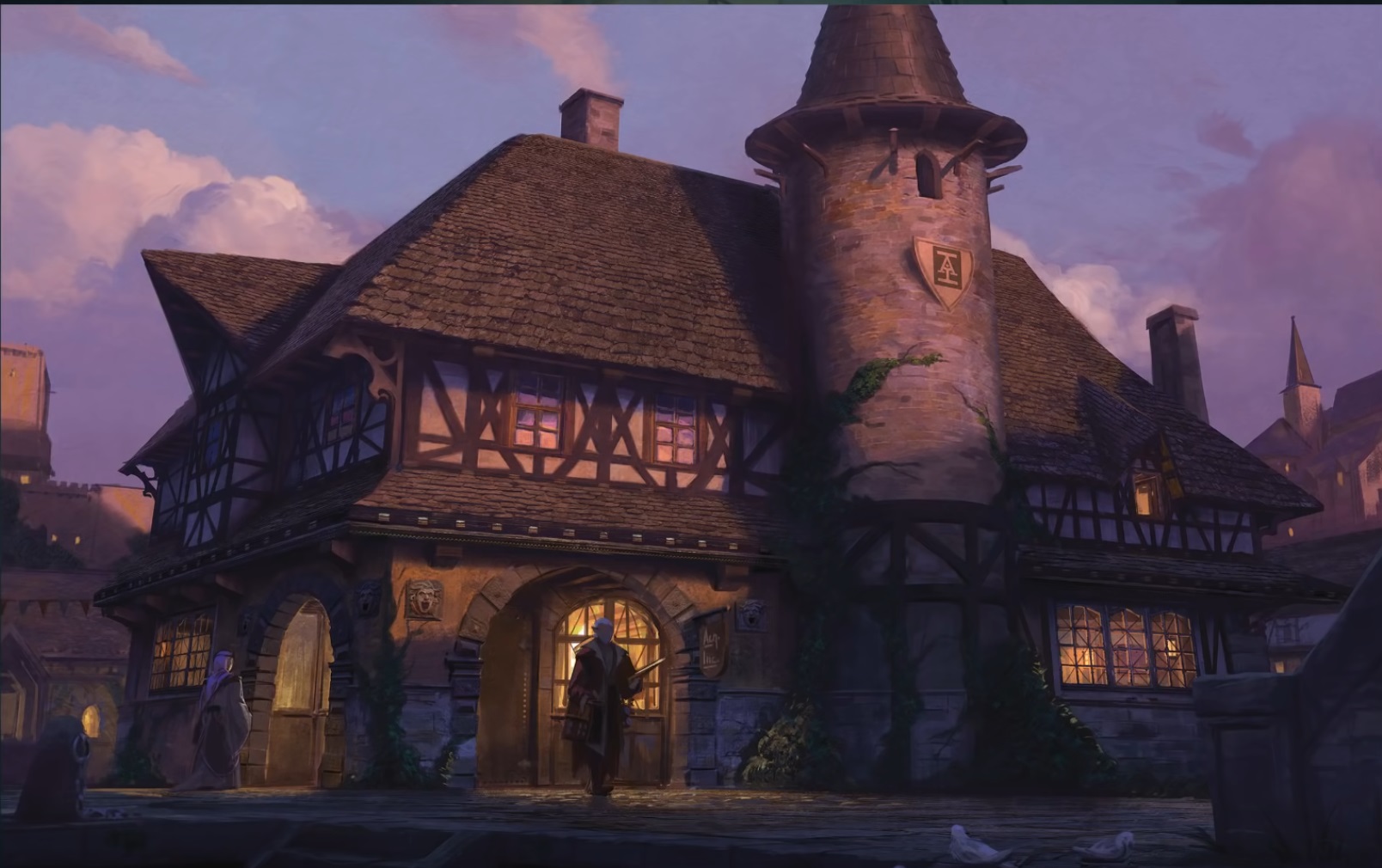 One final thing you'll find are stats for all of the Acquisitions Incorporated team members, and a few other familiar faces here to round out the massive adventure that takes players from levels 1-7 and introduces you to "running an Acquisitions Incorporated campaign."
I really like this book and it's emphasis on the party. We can definitely recommend it, with the caveat that you want humor and party-focused mechanics for your game.
Happy Adventuring!