Fantasy Flight Games shows off some of the new 'Blue' Cards and Characters heading to the game in the latest Expansion!
The Force is strong with these cards coming in the next expansion for Star Wars: Destiny. The Force Sensitive Blue Characters are getting a ton of new tools to add to their tool-box. Get ready to deal with all manner of force-shoves and counters in the up coming Spark of Hope!
From Rey learning the ways of the Force from Luke Skywalker to Yoda training the Jedi of the Old Republic, the bond between master and apprentice defines the Star Wars galaxy. Success and failure is passed down from generation to generation, as apprentices surpass those who came before them and become masters themselves.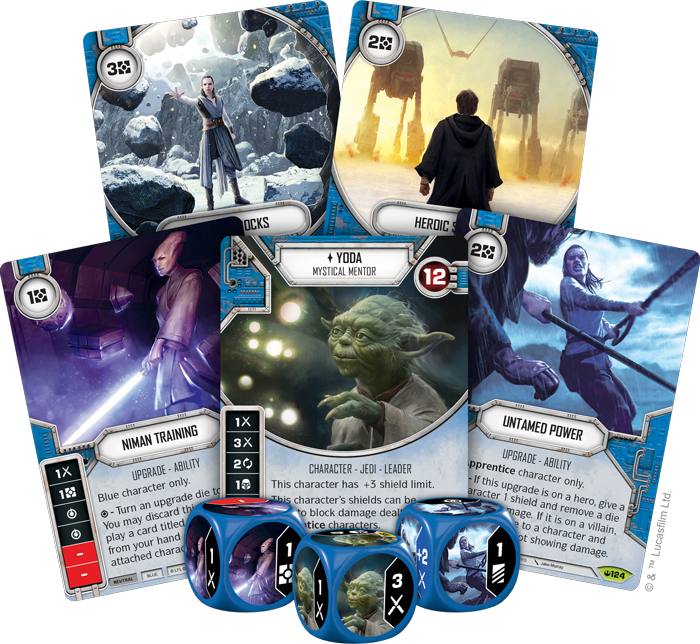 Spark of Hope continues the themes introduced in Convergence, including an emphasis on subtypes that put Jedi and apprentices on the center stage of conflict for Blue heroes.
New Blue Characters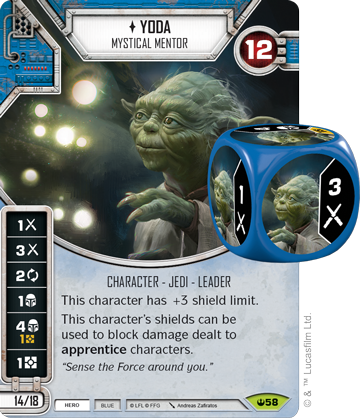 Master Yoda is going to be a great option for a defensive play-style. With his bonus ability to have +3 shields over the normal limit and his ability to "tank" hits for other characters, he's great to get have on your team to help defend new characters like the very cheap (and diceless) Youngling: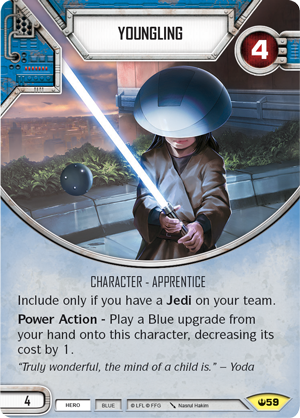 At only 4 points to include, Younglings are super cheap characters. Unfortunately, they don't do much without dice – but that's where training comes into play. With the right upgrades and support cards, Younglings can ramp-up pretty quickly.
New Support Cards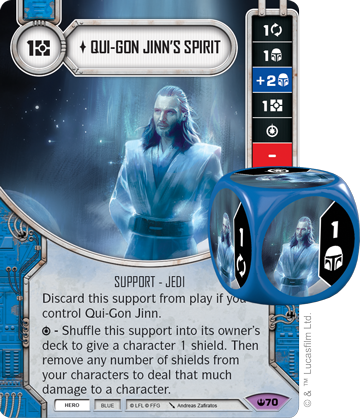 Qui-gon Jinn's Spirit can only be used if you don't control Qui-Gon Jinn – it's like if he's alive you can't use this card or something. Anyhow, this card leans into that defensive play style with ways to add shields back. At the same time, you can also use it to go on the offensive with it's Special side.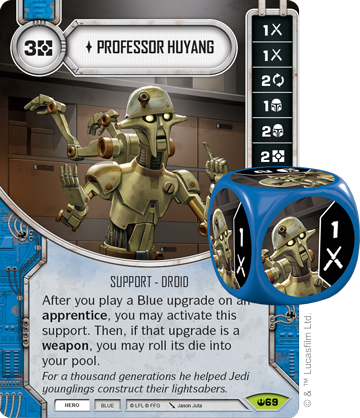 Professor Huyang allows you to ramp up those apprentice cards quickly. This ability allows for you to activate this support card when you play an upgrade on a blue apprentice and then, if it's a weapon, you can roll it's die into your pool.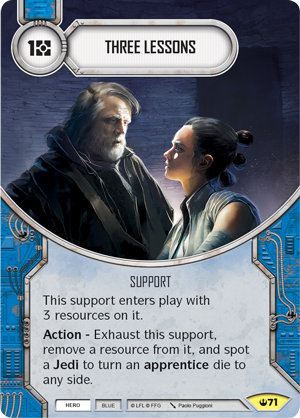 This card is both a resource bank and a way to manipulate an apprentice die to any side. But isn't that only two lessons?
New Upgrade Cards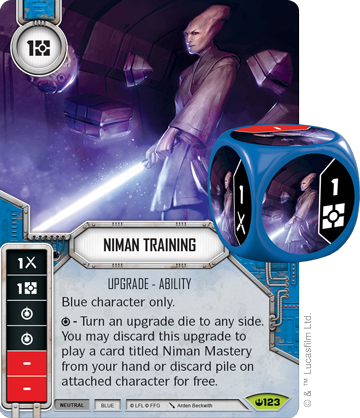 Niman Training is okay on it's own. But it really allows you to fish for Niman Mastery which is basically a much better version of this die.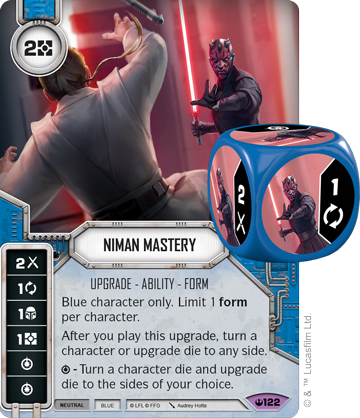 More dice manipulation is never a bad thing in a game with both dice AND cards.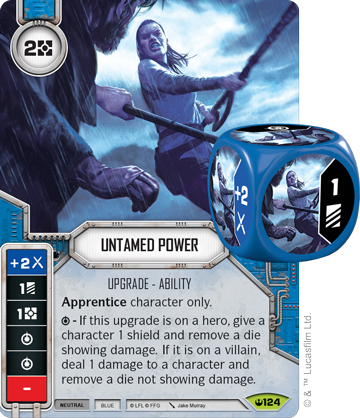 Untamed Power can be used by either side and has a nice ability. You can either get a bonus shield at the cost of losing a die not showing a shield for Heroes OR, if you're playing a villain, you can deal 1 damage at the cost of a die not showing a damage.
New Event Cards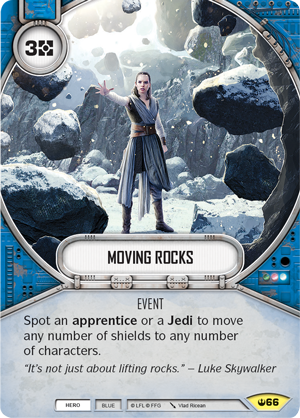 With all those shields, it would be nice to shuffle them around – Moving Rocks allows you to do just that!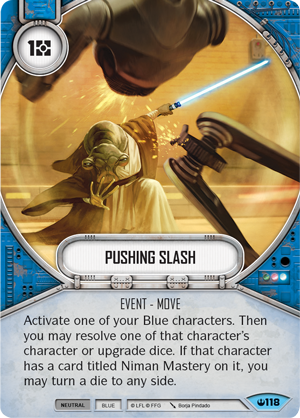 Pushing Slash can let you resolve extra dice in a round – plus if you have Niman Mastery, you can turn a die to any side.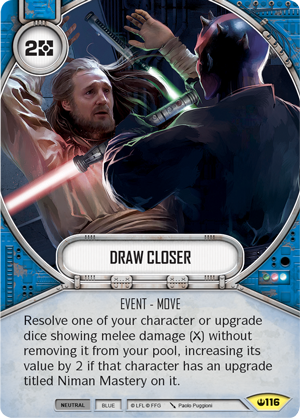 Draw Closer is another card that combos with Niman Mastery. It not only allows you to keep a die in your pool and still use it, it also increases the value by 2!
New Downgrade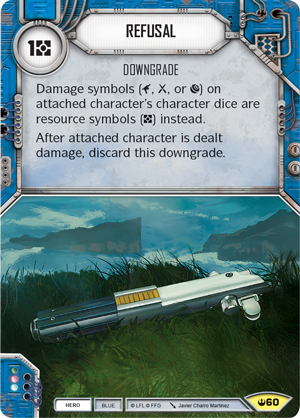 And finally we have Refusal – this card basically converts all your damage sources over to resources – until that character takes damage.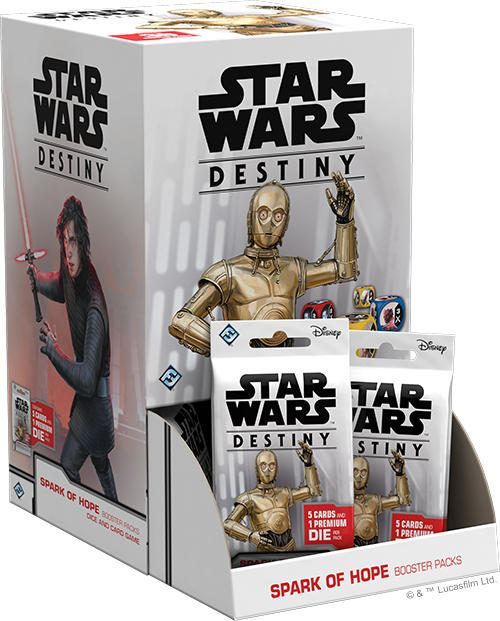 Even in the darkest of times, the spark of hope can be found in the Star Wars Galaxy, lit by those who dream of a better place. In the era of the Clone Wars, Jedi like Obi-Wan Kenobi fought against the darkness of the Separatist army, Jyn Erso and Luke Skywalker led a tiny band of Rebels against a Galactic Empire, and when the First Order rose to power the Resistance stood up as the spark of hope that would burn it down.

Find your own path in Spark of Hope, a 160-card set of boosters for Star Wars™: Destiny!

Spark of Hope continues the themes introduced in Convergence, with an emphasis on subtypes, downgrades, and new plots that change the way you construct your deck! Look for Red villains cards that empty your opponents hand, a new set of moves and masteries for Blue heroes, new Bounty Hunters for Yellow villains, and more!
Hope is a powerful weapon in the right hands.