It's time to take a look at a few of the Chaos Knight specific Stratagems and Artefacts you'll find in their new Chaos Knight Codex!
The Chaos Knights are stomping their way to a tabletop near you and now that we've got the book in hand, we're taking a closer look at the stratagems of these titanic warmachines. First up is the stratagems!
Chaos Knight Stratagems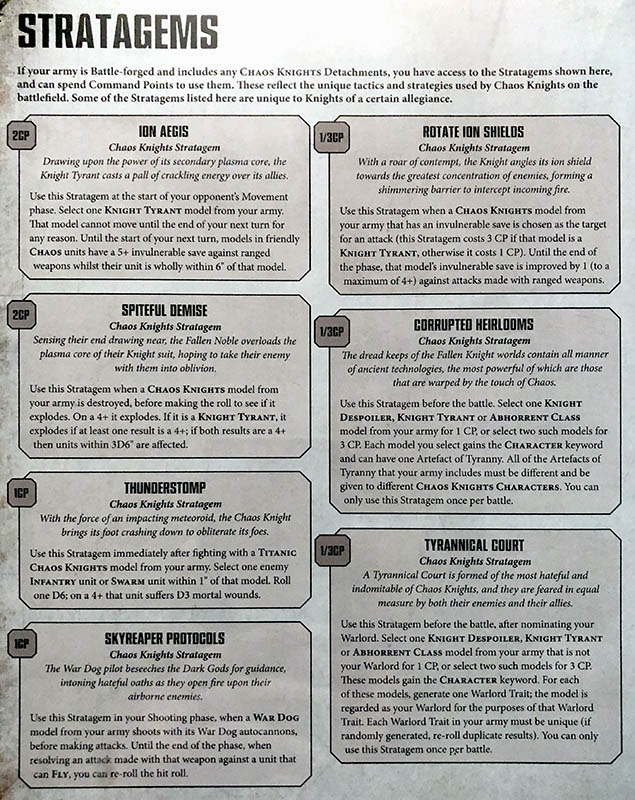 Ion Aegis – 2 CP – 5+ Invulnerable Save vs Ranged Weapons for units wholly within 6″
Spiteful Demise – 2 CP – Explodes on a 4+ ; increased explosion range for Knight Tyrant
Thunderstomp – 1 CP – 4+ to cause D3 Mortal Wounds to Infantry or Swarm within 1″ after fighting
Skyreaper Protocols – 1 CP – War Dogs get re-roll vs units with Fly
Rotate Ion Shields – 1/3 CP – +1 to Invulnerable Saves vs Ranged Weapons (max of 4+)
Corrupted Heirlooms – 1/3 CP – Extra Artefacts
Tyrannical Court – 1/3 CP – Extra Character/Warlords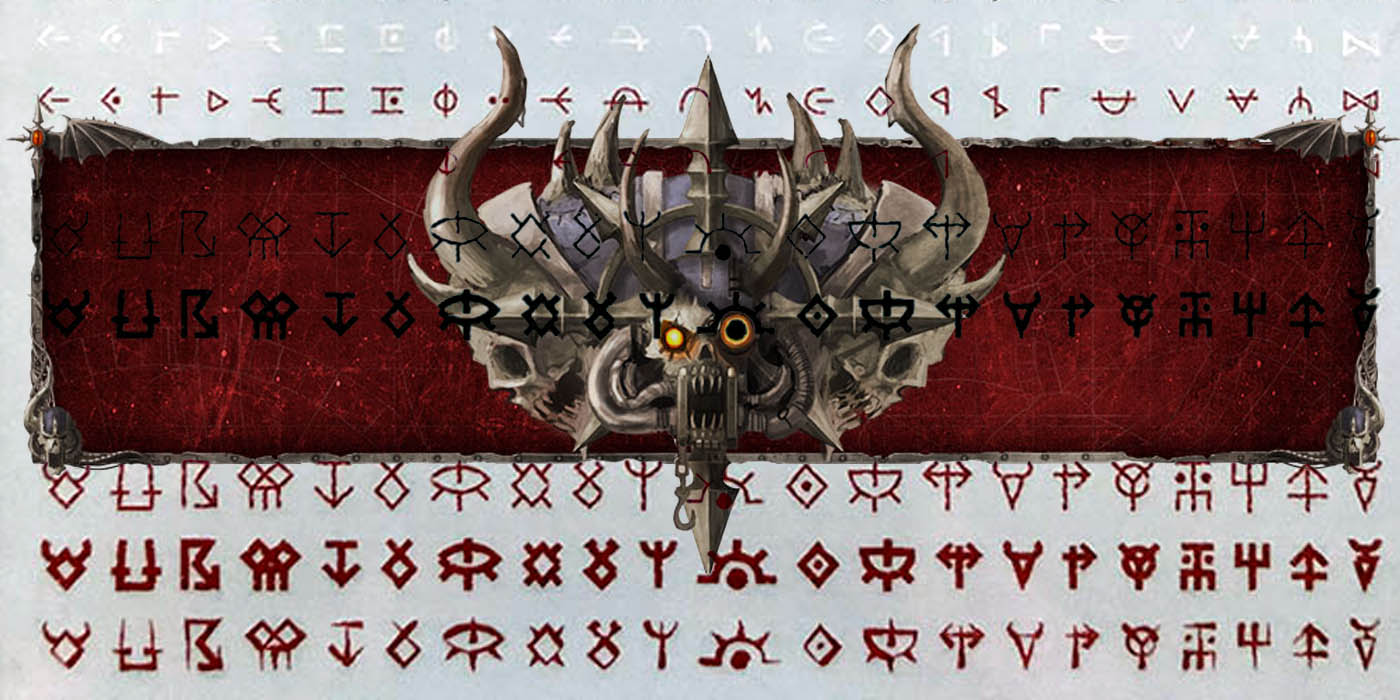 Keep in mind that's just the first page of Stratagems! There are a total of 23 for the Chaos Knights to choose from!
Artefacts of Tyranny
How will you decide to load-up your Chaos Knights and their Artefacts? Let's take a look to find out!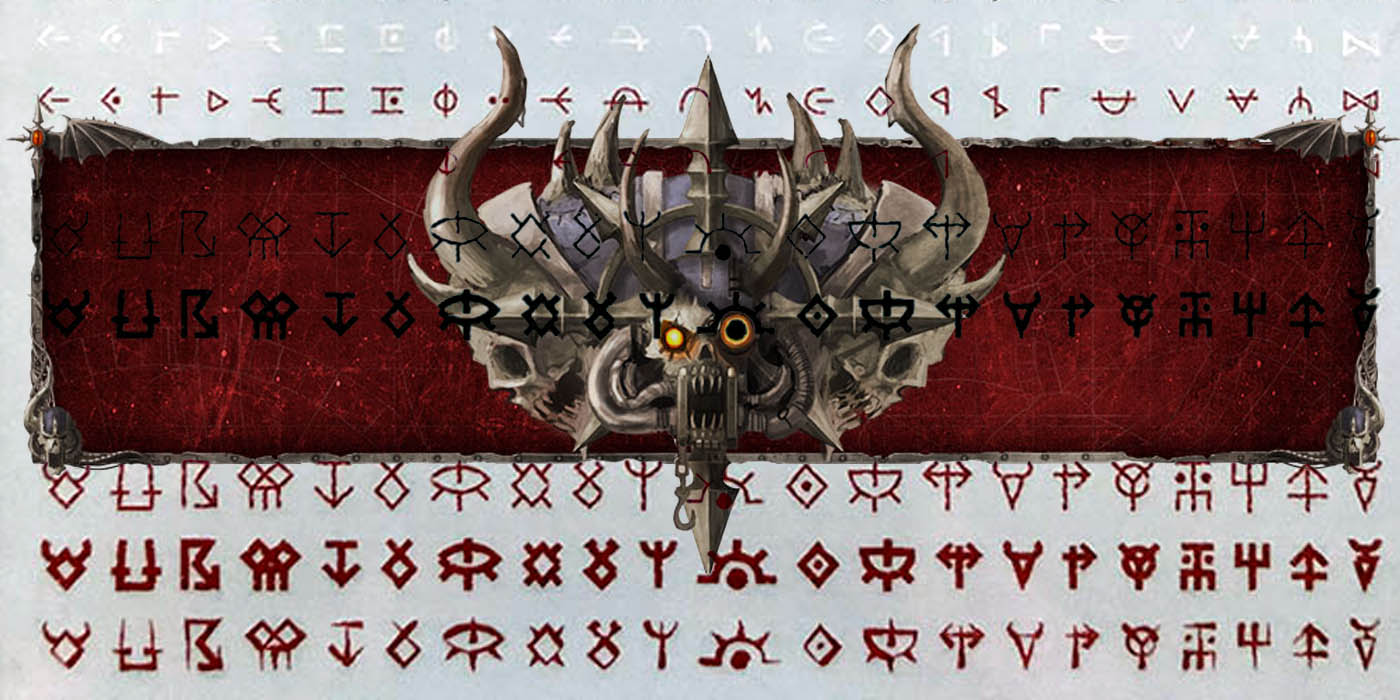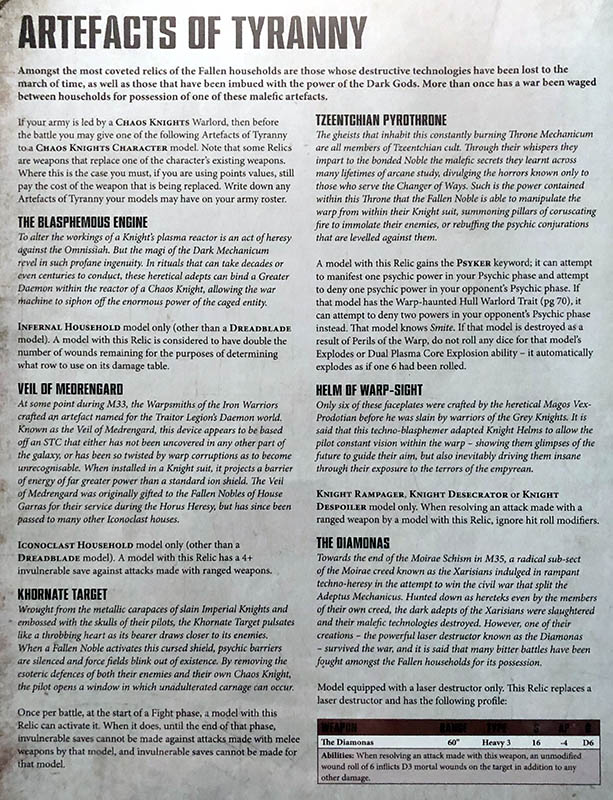 The Blasphemous Engine – Double the number of wounds left for the damage tier for an Infernal Household Model
Veil of Medrengard – 4+ Invulnerable save vs Ranged attacks for an Iconoclast Household model
Khornate Target – When activated once per battle, invulnerable saves cannot be made vs melee attacks from this model; this model cannot make invulnerable saves
Tzeentchian Pyrothrone – Knight becomes a Psyker and can attempt to cast 1 power and deny 1 power a turn; if destroyed due to Perils of the Warp test, automatically counts as if it rolled a 6 for the explosion
Helm of Warp-Sight – Knight Rampager/Desecrator/Despoiler only; ignores hit roll modifiers
The Diamonas – Relic Laser Destructor; enhanced profile and causes extra D3 mortal wounds on unmodified wound rolls of 6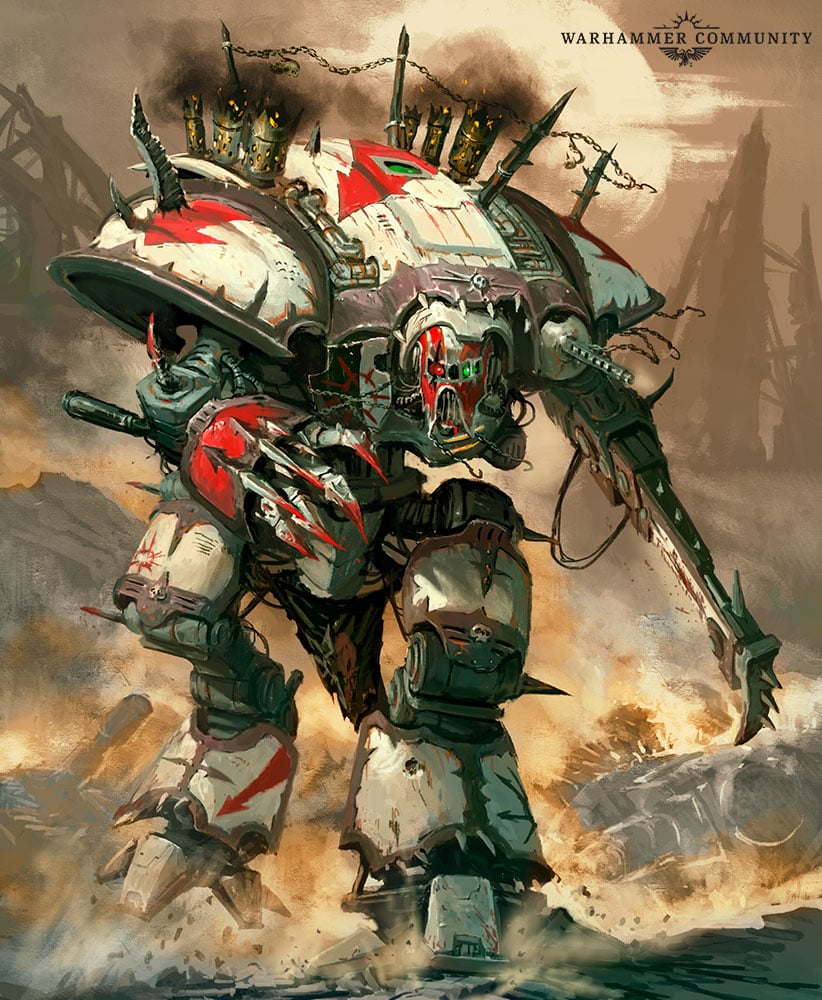 ~Have at it!