The Acastus Knights Porphyrion are heading to Adeptus Titanicus and we've got a look inside the box!
If you're looking to add some fire power to your Adeptus Titanicus forces without adding another Titan then the Acastus Knights Porphyrion are for you:
Bring The BOOM
Knights in Adeptus Titanicus generally fill a couple of role. They typically are your objective grabbers, your flankers, your distraction forces and occasionally they can even go Titan Hunting. Anyone who underestimates Knights will find themselves on the wrong side of a charge or salvo that can cripple or eliminate one of their Titans. And that was before the Acastus Knights Porphyrion entered the scene.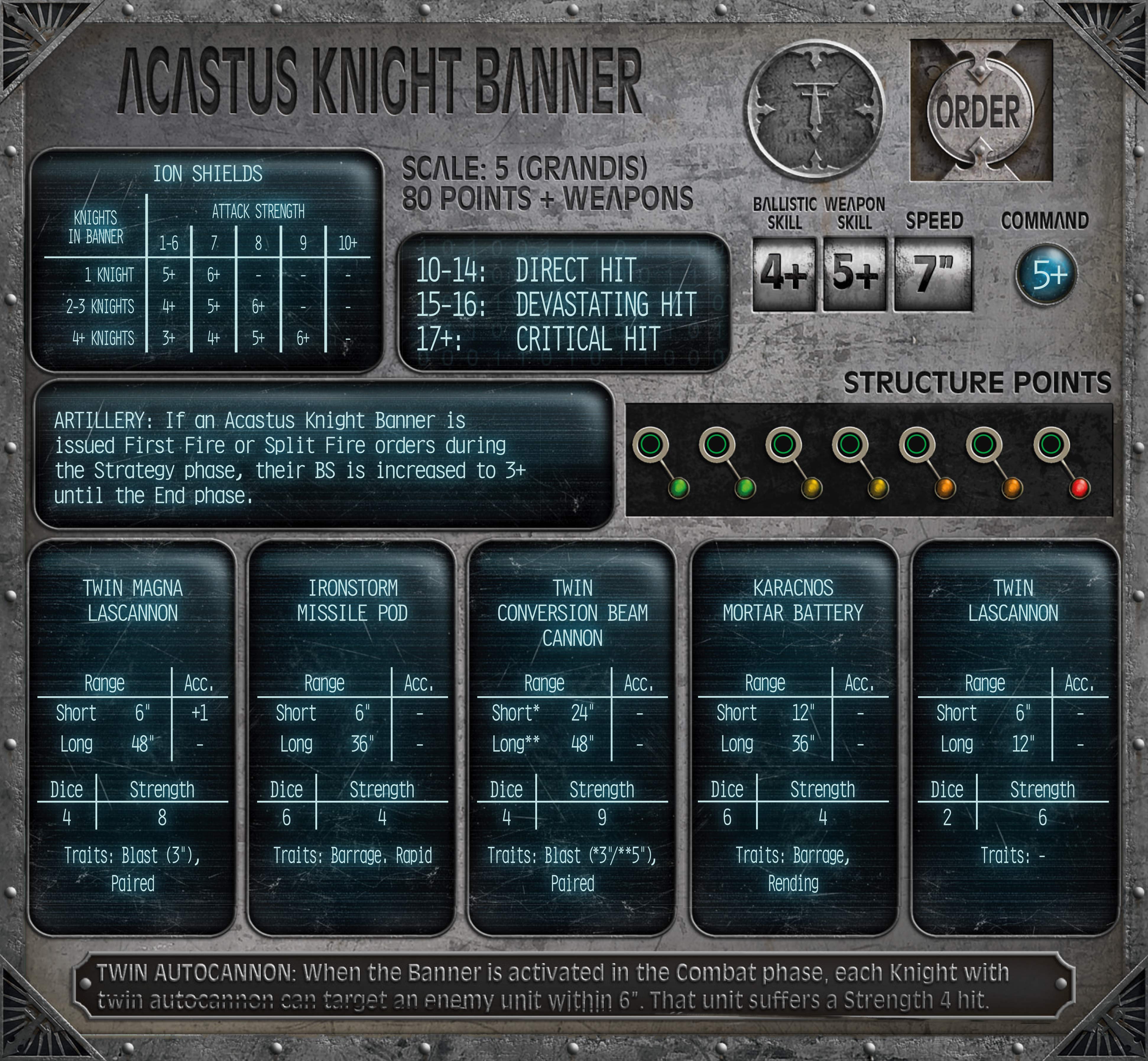 These new Knights bring some fairly heavy fire power along for the ride. Their main weapons being the Twin Magna Lascannons or the Twin Conversion Beam Cannon. Either option has the same Long Range option and when you couple that range with their Artillery special rule, you've got a pretty mean platform that is able to snipe out other Knights, wound Warhounds and Reaver Titans, and can even threaten Warlords if you get lucky.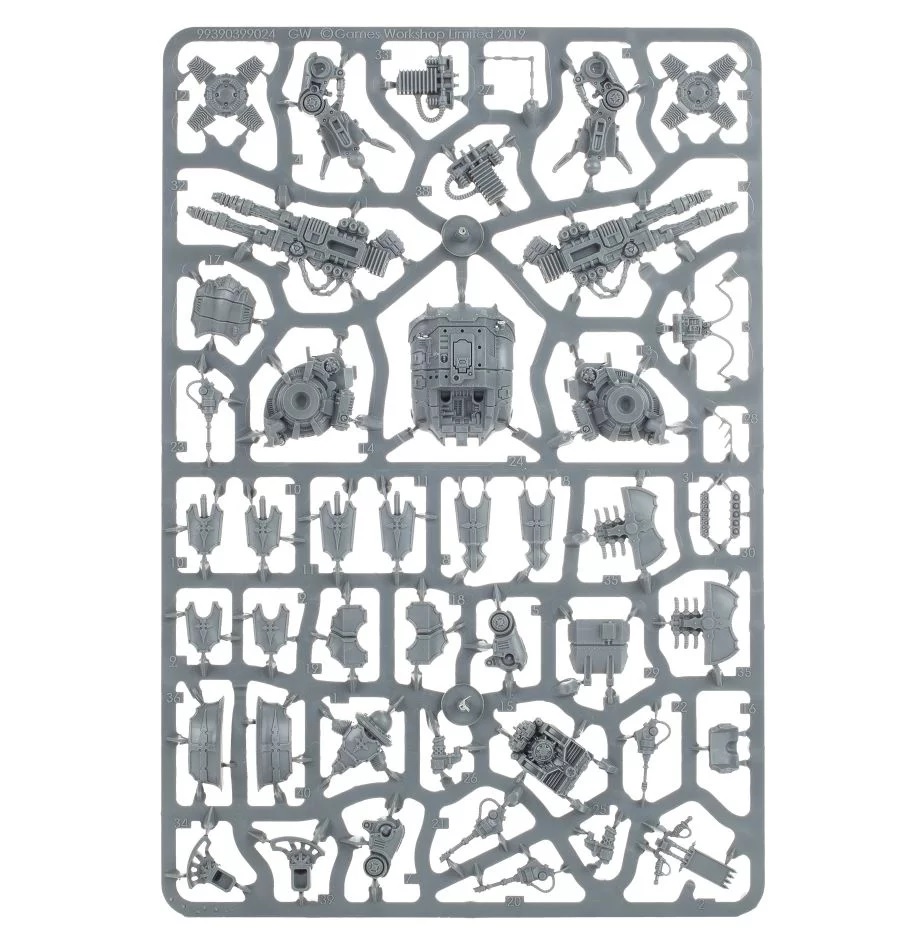 In the box you'll find two copies of the same Porphyrion sprue. What's really impressive on this sprue is the crazy amount of details you'll spot. In the video for example, I specifically note that GW has even retained the details on the underside of the foot from the larger Forge World model. That's not exactly something most folks are ever going to see once you base them! In the picture above, you can see the details on the underside of the foot in the top right corner – and they look even more impressive in person.
Why does that matter though? Because it's telling that GW's miniature designers cared enough to bother with that in the first place. There is a level of care and attention to detail on these kits, and I would argue in Adeptus Titanicus in general, that is noteworthy. Sure, they could (and probably did) just scale down the full resin kit to fit in this scale – but that's GREAT! Have you seen the resin kit? It's also wonderfully detailed. GW managed to capture a bunch of that detail on this version and the results speak for themselves.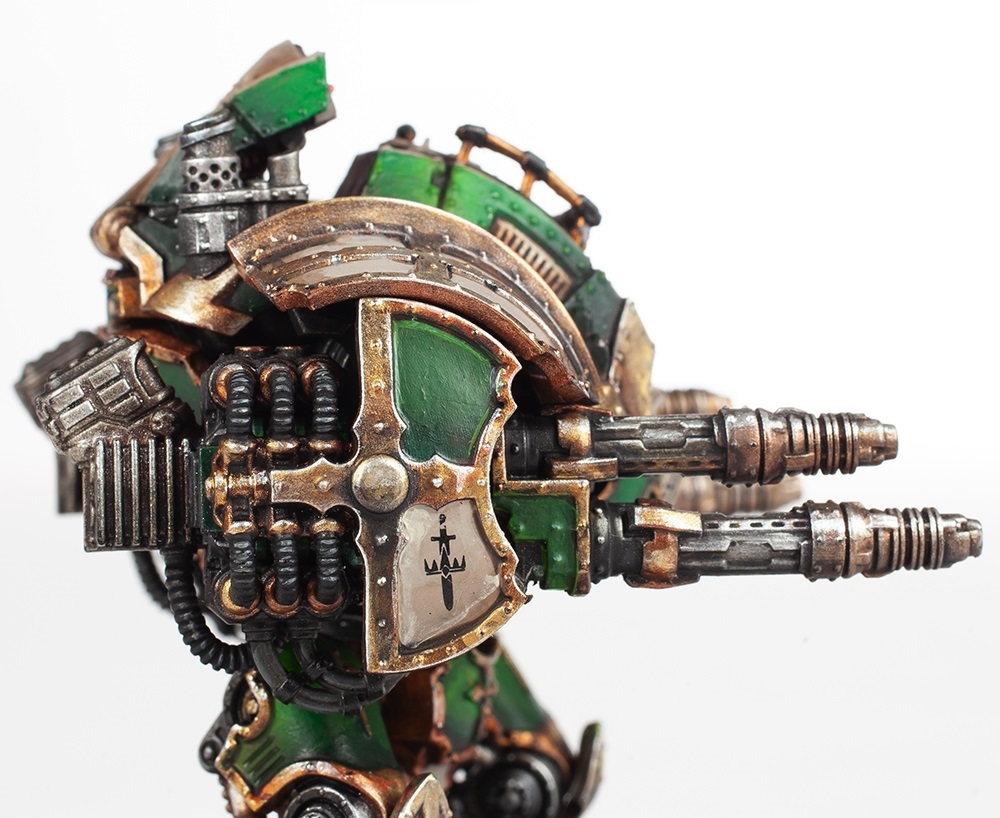 Adeptus Titanicus has some great models in the line-up and the Acastus Knights Porphyrion are yet another great model in the range. These bad boys are up for pre-order now and will be available in stores this weekend!
Adeptus Titanicus Acastus Knights Porphyrion $50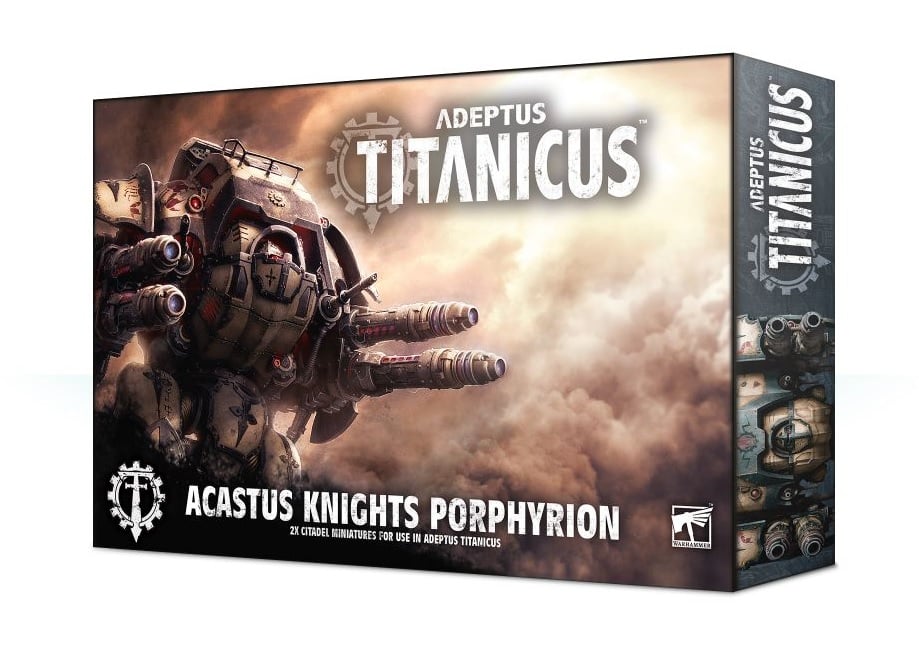 Acastus Knights rival even the Scout Titans of the Collegia Titanica in both size and power. Heavily armed and armoured, they stride across the battlefield unleashing devastating volleys from their paired magna lascannons.

This multipart plastic kit contains the components necessary to assemble 2 Acastus Knights for use in games of Adeptus Titanicus. Each of these machines is armed with a a pair of magna lascannon, and a choice of Ironstorm missile pods and Karacnos mortar batteries. These are highly detailed Adeptus Titanicus-scaled miniatures are every bit as impressive to behold as their larger brethren – details include the ability to have the top canopy open or closed, and a choice of defensive weapons to sit next to the model's head.

This kit comes as 46 plastic components and is supplied with 2 Citadel 60mm Round bases along with an Acastus Knight Porphyrion decal sheet that features heraldry for Houses Makabius, Vyronii, Malinax and Coldshroud.
It's the Noisy Cricket of Adeptus Titanicus!