Get ready for Warcry Warbands on your AoS tabletop. Here are my thoughts on using the first three warbands released, and some strategies for using them on the battlefield.
Last week, GW put up the new skirmish game Warcry for two week preorder, and oh man does it look incredible. The models, the rules, everything looks like it's going to be an amazing game, and I can't wait to get my first few warbands painted up and get playing. But even better than the already fantastic game, every warband can be taken as a unit in a Slaves to Darkness Chaos army, representing those fighters that rose from the Eight Points and gained Archaon's favor.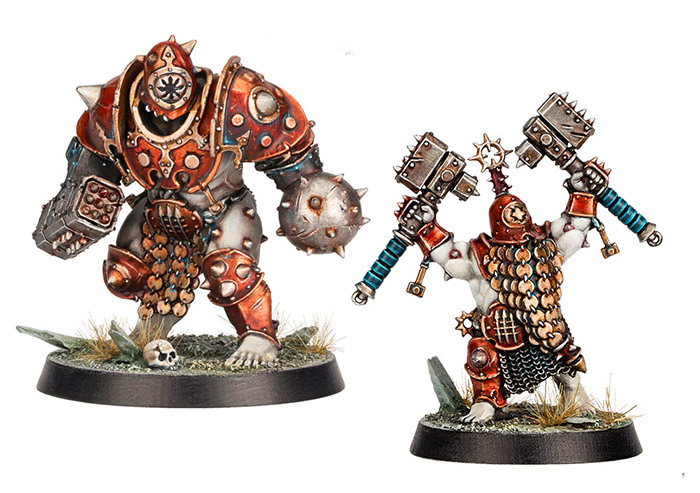 Iron Golems
Hailing from the metallic realm of Chamon, the Iron Golems are excellent blacksmiths, and go to the Eight Points to prove the strength of their arms and armor in hopes of making weapons of war for Archaon. In Warcry, the Iron Golems are the hardiest of the warbands, with high toughness and an exceptionally high would count, making them very hard to put down without concentrated effort. In Age of Sigmar, the function much the same way, bringing a relatively high save of 4+ and a 3 wound bruiser model. The unit can be bought in blocks of 8, maxing out at 32, for 70 points. They have an average movement of 5", 1 wound each save for the Ogor, and Bravery 6, and they have a decent ranged and melee attack. For every 8 models 1 must be a Dominar, who gets an extra melee attack, 1 must be a Signifier, who jacks their Bravery up to 8, and 1 must be the aforementioned Ogor Breacher, who gets 2 extra wounds. All in all they seem kind of mediocre until you get to their ability, which allows them to reroll saves on any turn in which they didn't move. This is huge, especially if you take second turn, since you can weather any first turn shooting and then move them onto an objective, where they can sit relatively unharmed for the rest of the game.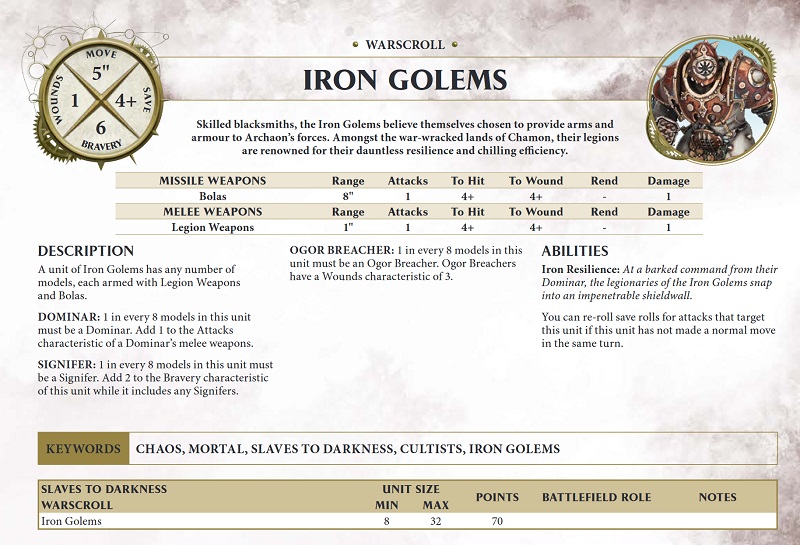 My suggestion is to take them in at least a block of 16, making sure to allocate any wounds that do manage to get through to your Ogors first. Try to get second turn, and then run your Golems up to an advantageous point, especially if you can also get them in cover. Once they're dug in, let them serve as an objective anchor, or use them to shield an important character from harm. For any extremely dirty trick, hide Shalaxi behind a screen of these guys and watch your opponent's most dangerous hero crumble trying to crack the line after an Irresistible Challenge.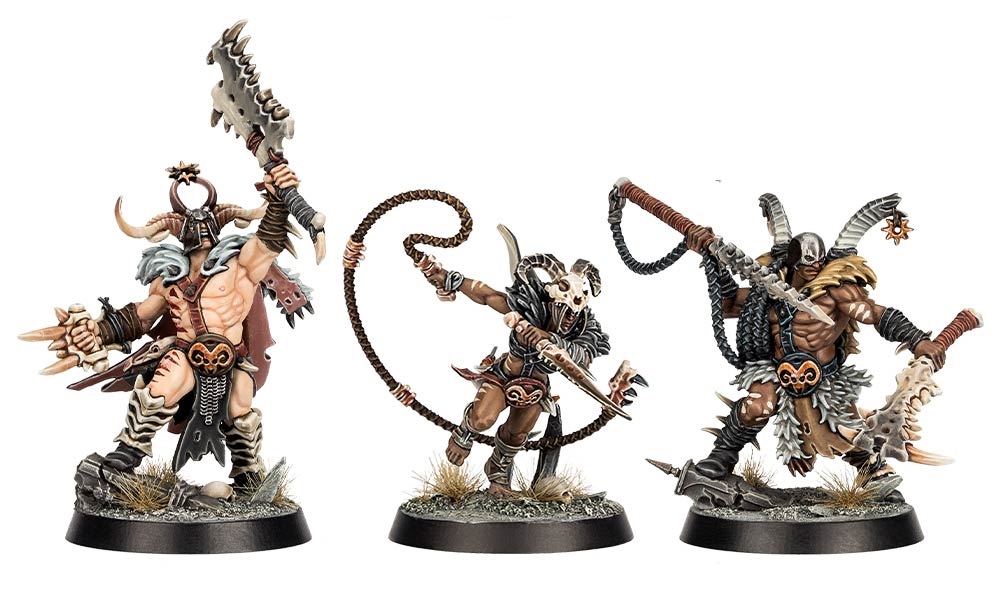 Untamed Beasts
As their names suggests, these wild warriors hail from the feral realm of Ghur, and they live for the thrill of the hunt. Their weapons and armor all suggest that they were made from animals they have slain, and they even bring their own beastly companion with them in the form of the Rocktusk Prowler. In Warcry, the Beasts boast an incredible mobility, and several of their abilities promote ganging up or pulling single targets into an unfavorable position. Once they hit the battlefield in Age of Sigmar, the warband becomes a powerful alpha strike or vanguard unit. They are bought in blocks of 9 for 70 points a piece, maxing out at 36 models. Within every batch of 9, 1 must be a Heart-Eater, who gets an extra attack with his melee weapon, 1 must be a First Fang, who gets a pretty scary ranged attack that wounds on a 3+ with -1 Rend and Damage 2, and 1 must be the leonine Rocktusk, who gains an extra wound. They have a speed of 6", which is decently fast for foot sloggers, and 1 4+/4+ 1 damage attack a piece.
Where they really shine is in their ability, Unleash the Beast, which allows them to not only run and charge, but also make a 6" vanguard move before the first battle round begins. This means that your warband will more often than not be engaged turn 1, and can soften up a unit before the rest of your army arrives to clean house.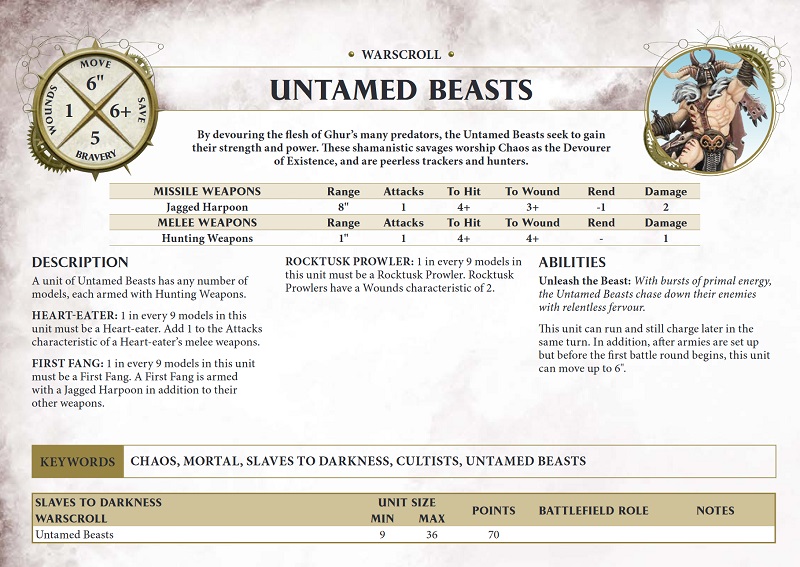 My advice with these guys is pointing them at enemy war machines and hunting them down while your slow, tough units make it into combat, or have them snag an early objective.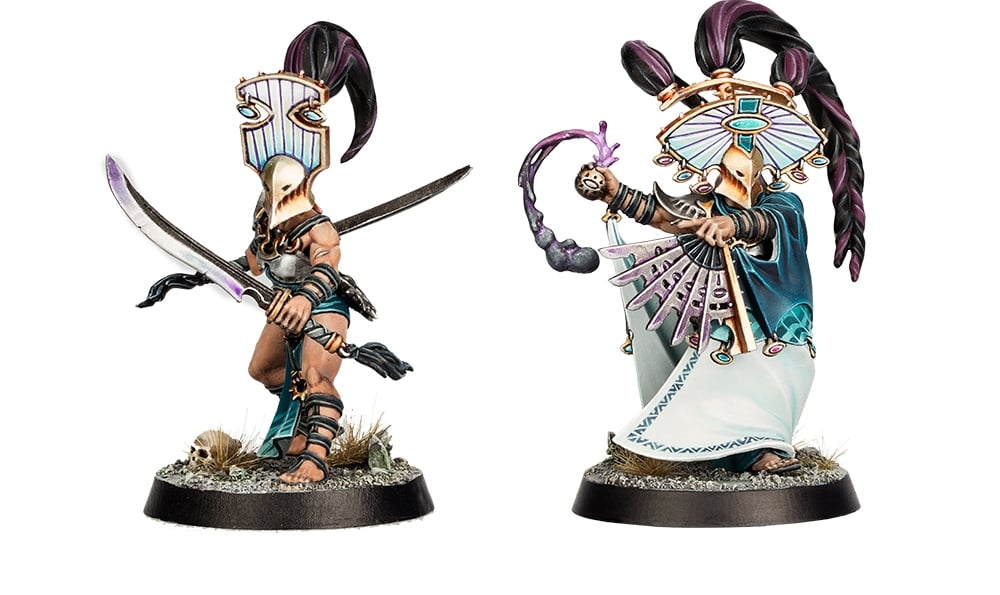 Cypher Lords
A secretive cult from the realm of Hysh, the Cypher lords are all about misdirection, poise, and finesse. In Warcry, this warband brings inhuman acrobatic skill, allowing them to flip across terrain with ease, as well as the mesmeric powers of their leader, who can make your opponents attacks ineffectual or move your frontline infantry models to a more advantageous position. In Age of Sigmar, the surprisingly fill a similar role to the Iron Golems, but in a different way. They, like the Golems, are bought in units of 8 for 70 points, maxing out at 32. For every 8, one must be a Thrallmaster, and 1 must be a Luminate, who adds one to the unit's charge rolls. The unit brings a high 6" speed, but a very low 6+ armor save. Where they shine is when they are engaged and still have their Thrallmaster, who can drop a Gloom Globe to disrupt your opponent. At the start of the combat phase, so long as the unit still has any Thrallmasters, you can pick a unit with 3" and roll a d6. On a 4+, that unit suffers -1 to all their hit rolls, which can mean the difference in 10 casualties and none.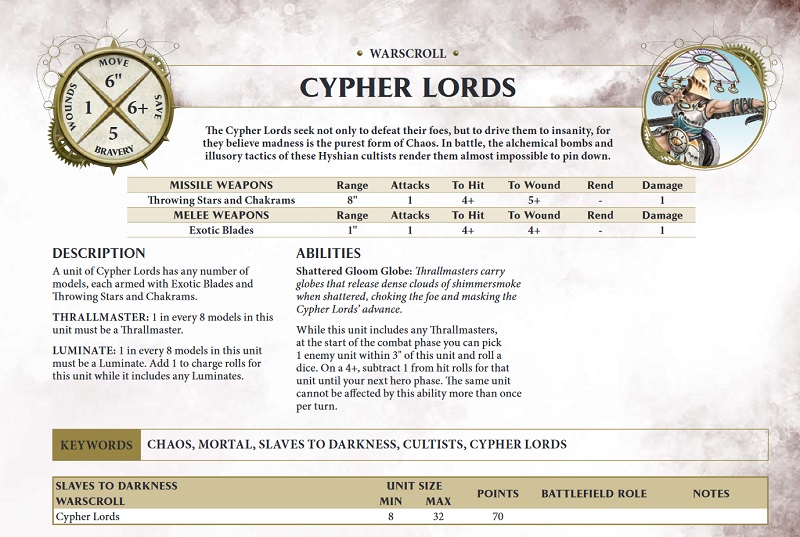 My suggestion is to combine this unit with another one that reduces to hit rolls even further, and then hold up your opponent with units that are next to impossible to hit.
Which of these warbands is your favorite? Will you be adding them to your Chaos army?