Warcry is coming to the Mortal Realms, bringing six new bands of cultists to bloody confrontation to win the right to serve Archaon, the Everchosen. And now, all six war bands have been revealed, come take a look.
Here we are folks, all of the Warcry war bands are out. Each of these six bands has so much personality to them, each showcasing a different set of Chaotic virtues. There's so much style wrapped up in each of the cultists, each with their own style of play, their own methods of killing, and of course, an aesthetic to die for. Let's take a look, starting with the first of them.
Iron Golems
The Iron Golem miniatures combine classic Chaos aesthetics with cultural cues based on the Mortal Realm from which they originate. Hailing from the Realm of Metal, these warriors are renowned for the quality of their smithing, believing themselves chosen by Archaon himself to forge arms and armour for the Slaves to Darkness.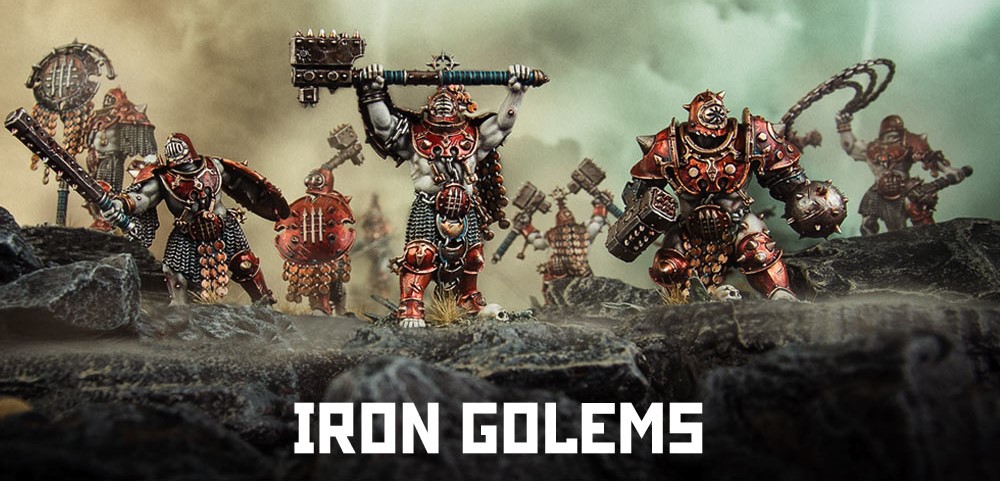 Untamed Beasts
Meet the Untamed Beasts – perhaps Warcry's most savage warband (and believe us, they've got some stiff competition). Hailing from the Jagged Savannah in Ghur, these raiders have a distinctly old-school aesthetic that's reminiscent of classic Marauders and barbarians of Warhammer's past. If you're looking for a warband that looks like it came straight from the pages of Slaves to Darkness, these are the guys for you!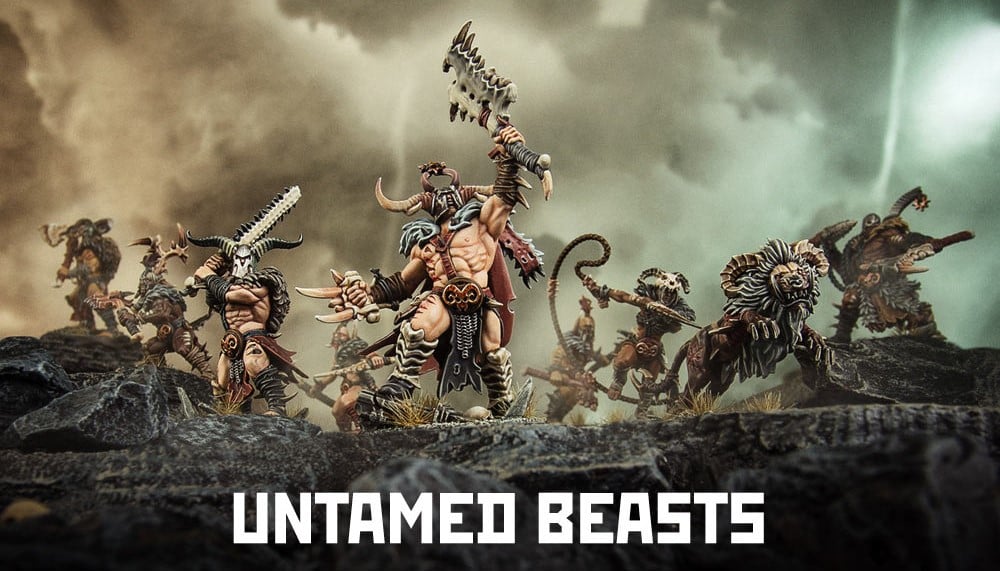 The Splintered Fang
These guys might hail from the Realm of Life, but they've got nothing but death for their foes! And snakes – lots and lots of snakes. These guys show off facets of Chaos rarely seen on the tabletop, as one of the insidious murder cults who use cunning as much as brute force to claim victory. Just like with the Iron Golems and Untamed Beasts, the Splintered Fang show off new aspects of Chaos – there's even an aelf amongst them!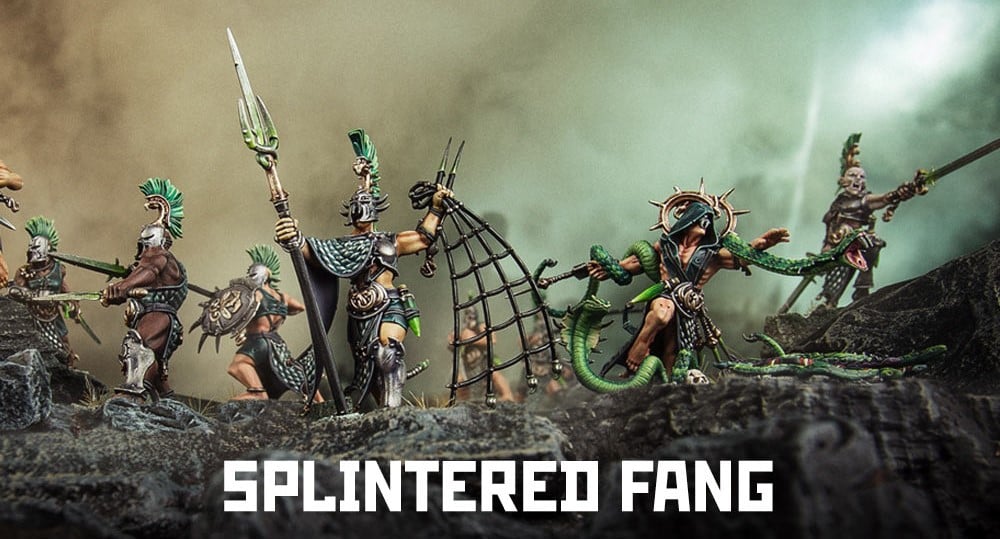 The Corvus Cabal
Meet the Corvus Cabal – a shadowy pack of murderers hailing from Ulgu. These guys worship Chaos as a vast, black-feathered bird known as the Great Gatherer, offering trophies stolen from their victims to this strange deity. The Corvus Cabal have come to the Varanspire to seek the patronage of Archaon, who they see as an avatar of the Great Gatherer. They use stealth, guile and unnatural cunning to claim victory in the Bloodwind Spoil.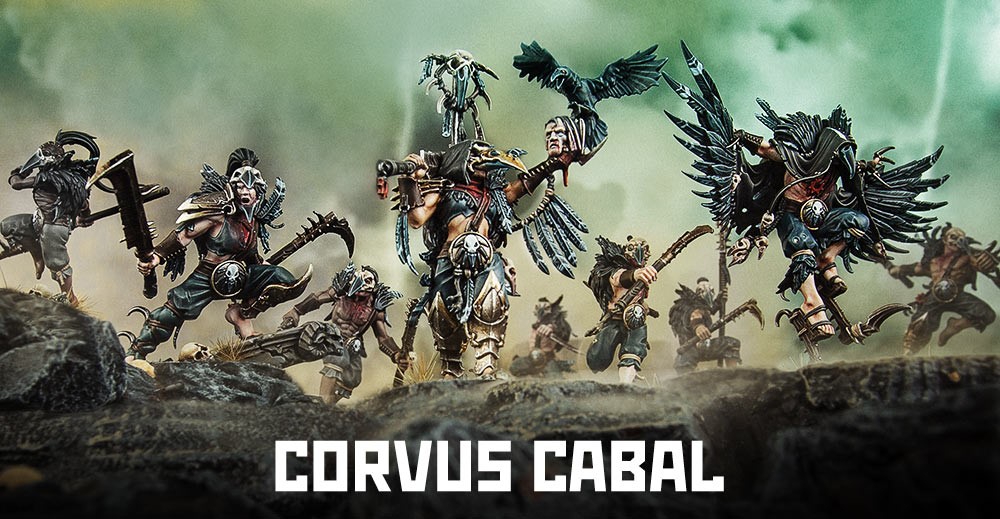 The Unmade
Once upon a time, the Unmade were benevolent philosopher-kings renowned across the Realm of Death for their wisdom and nobility (If you're a long-time Warhammer lore fan, your "senseless tragic downfall" alarm is probably going off right now.) Desperate to fight back the hordes of undead, the inhabitants of this land (a place known as Tzlid) were driven to worship the Chaos Gods – who promptly rewarded them by turning them into maniacal cultists obsessed with pain and mutilation. Seriously – they're wearing their own faces as belts.

The Cypher Lords
The Cypher Lords are as mad as the most frothing cultist of Tzeentch, delighting in spreading mayhem and madness wherever they go. They're deadly fighters, too, using skills earned in the martial colleges of Nochseed to deadly effect, whether they're cutting down rivals in the streets of their city or shedding blood in the shadow of the Vararspire to catch the attention of Archaon.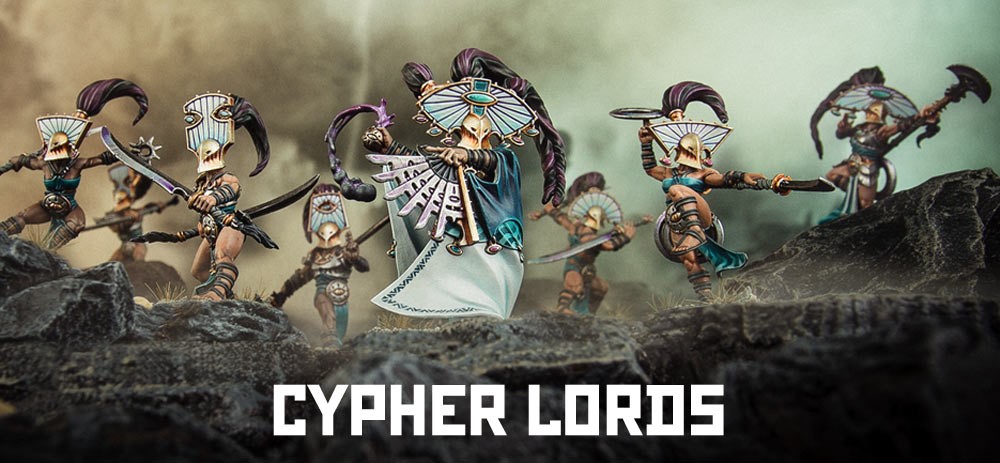 ---
Each of these War Cry bands will be released soon. Age of Sigmar's open day is next weekend, so stay tuned for more info as it develops.
Which Warband will you choose?