Eberron first came out fifteen years ago. Join the original creative team as they talk about where the setting has been, and where it's going.
Whether you play in the mean streets of Sharn, City of Towers, or on the unexplored continent of Xen'drik, it is a world that feels unlike the other D&D settings. It has its own particular feeling, living somewhere in a pulpy, adventure all its own. With its prevalent magic and innovation, and its deep-rooted love of mystery, intrigue, and suspense, Eberron is a world that has left its mark on many a gamer. And now, to celebrate fifteen years with this setting, the original creative team have come together on the Manifest Zone podcast to talk about what the setting means to them, what themes it's helped them explore, and where the setting is headed.
It is so fascinating to hear the team talk about what makes Eberron worth exploring to them. Whether it's learning about Eberron's origins as a more pulpy setting that blended detective fiction with swords and sorcery, or how the team gravitated towards some of the unique themes that make Eberron stand out as a beloved setting.

And that, truly, hits the nail on the head. Eberron is everyone's favorite (or second favorite) setting because of how different it feels while not feelign out of place for D&D. It tells a story with a lot of real human themes that can be explored under the veneer of pulpy adventures. You'll find soldiers who were literally mass produced as part of a magical industrialization that were built for a war that is no longer going on. Without purpose, what meaning can they find?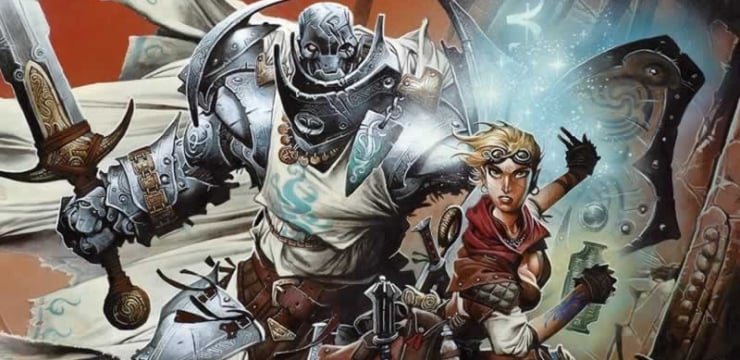 Even looking at how Eberron treats the Last War is so different from most fantasy things. There are many nations and many perspectives on it. A lot of the messy agonies of war are conveyed–there's no good guy, no bad guy, ont even really a winner in this war. Even Game of Thrones with all its nudity and swearing, doesn't quite make that leap. Eberron feels like each nation has its own heroes and villains, has its own reasons for doing what they did. There's nothing without reason or motivation here–and solid motivations, not just "they were always chaotic evil in previous editions, so they should be always chaotic evil now." War isn't glorified, it's not this big noble thing that heroes do–it's just a human foible that has wrought a lot of suffering on all sides.
All of this is wrapped up in a world that's telling the story of how society comes to grips with industrialization. The magic of the Dragonmarked houses changes the landscape too. It builds a world that's modern enough to understand, but one that feels logical and functional–it leans more towards the Legend of Korra than the high-tech nonsense of the latter World of Warcraft expansions. Everything has a reason and meat and bones to it.

The vast scope of Eberron is still much more tightly focused in terms of themes and flavor. It knows what it wants to say and it says it–it has a coherency to it, and a story that unites the present of the world that makes it all their own. It's a setting fully developed with the ruleset in mind and it shines because of it. But perhaps the most interesting little nugget was the fact that, a big reason we're getting the Hardcover book later this year, is that the Wayfinder's Guide to Eberron was so well-received on the DM's Guild. It was the community's efforts that drove Eberron back to the forefront of WotC's development cycle–so again, fill out those surveys, reply to the people in charge. Make things happen.
You can hear more about Eberron on the podcast linked above. Or follow us for more news on Eberron, coming this Fall.
Happy Adventuring!