Can you guess which wizard school has the most students? Which warlock patron makes the most pacts? The results are in, according to D&D Beyond.
That's right folks, step right up and see just how basic your college of lore bard is, how common your cleric of light happens to be. D&D Beyond has taken a big swath of their user data and distilled it down into the top 3 subclass options across each class. Now, a few caveats before we get to those sweet sweet numbers. The data set only pulls from people who have unlocked all the subclass options. So if you had the Player's Handbook but not Xanathar's Guide to Everything on D&D Beyond, you'd be excluded from the data.
And of course, this is also just from D&D Beyond users who have created characters. There's no guarantee these aren't just crazy build experiments. But by and large the sample size is big enough that these results seem to have a lot of meaning when it comes to how people play D&D. How do your subclasses stack up?
via D&D Beyond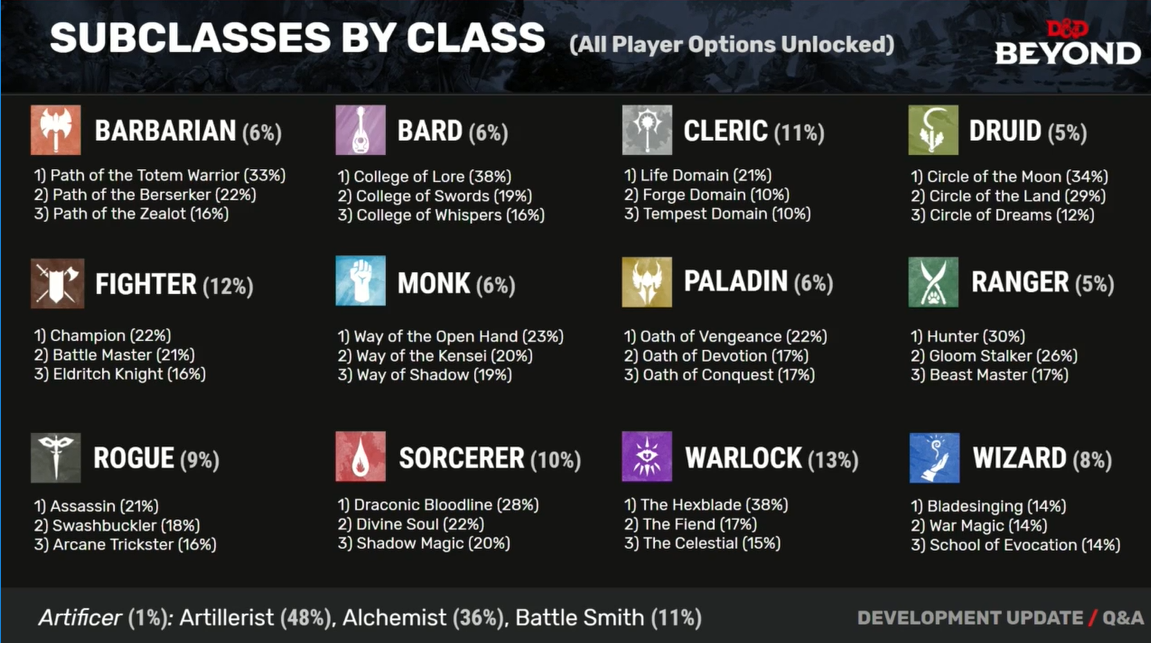 Barbarians play out about the way you'd expect, with most people playing as a Totem Warrior (and probably Bear totems at that), followed not too distantly by Frenzied Berserkers and then the Path of the Zealot out of Xanathar's brings up the rear. By and large, these barbarians are here to smash and be awesome while smashing.
Bards keep the College of Lore locked down–it is widely regarded as the best subclass according to forums and it holds a wide wide margin. Most people build buffing bards, it seems.
Clerics also live up to the stereotype of being filled with healium. Life Domain clerics win out, which fits with Cure Wounds being the most popular spell. And yet interestingly enough Xanathar's Forge Clerics take the number two spot, followed about evenly with the mega-damage dealing Tempest Domain.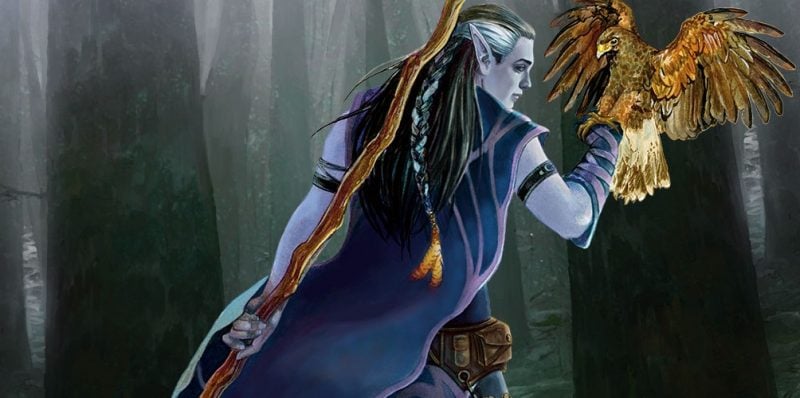 Druids are a much more evenly distributed mix than I'd have expected. Circle of the Moon wins out, but only by a little. Circle of the Land is representing the mystical, magical druids big time. And it does me no end of good to see the Circle of Dreams making headway among the playerbase.
Fighters are the most common class by far, and unsurprisingly they are the most evenly distributed–but only among the fighter archetypes in the Player's Handbook. None of the Xanathar's Guide options manage to crack the top three.
Monks, on the other hand, make much of their mobility. The Way of the Open Hand, aka the "Oh did you think the enemies were going to actually have a turn? I don't think so" class, wins out and rightly so. But Way of the Kensei and Way of the Shadow are close behind, making sword saints and ninjas aplenty in the worlds of D&D.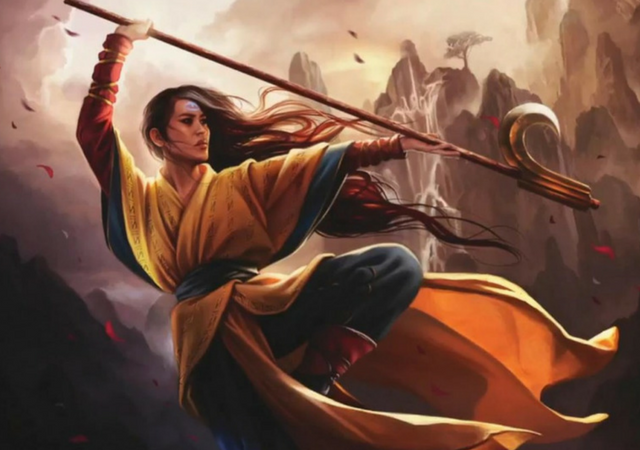 Paladins are perhaps even more typical. The archetypal Paladin is the Oath of Devotion, but the one that's more about smiting is the Oath of Vengeance–so you can guess which one is the most popular. And so is the Oath of Conquest, for all your evil knight kneeds.
Rangers make a very interesting case for why people keep wanting to see some kind of a fix for the Beast Master–with 17% of the playerbase taking on the animal companion nonsense. The rest of you are apparently playing Hunters (for damage) and Gloom Stalkers (for being Batman).
Rogues are much fightier than I would have expected. Assassins are first, followed by Swashbuckler of all things–and then Arcane Trickster brings up the rear of the most popular class. No love for Thief, but plenty for that automatic critical if your campaign goes long enough.
Sorcerers are perhaps my favorite. It goes Draconinc Bloodline, and then the two Xanathar's Subclasses beat out all the rest bringing the Divine Soul and Shadow Magic (which are just such lovely opposites) to the table.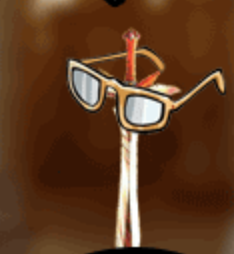 Warlocks make a lot of deals with magic swords. The Hexblade is far and away the most popular Warlock build. A brooding hero wielding a blade, magic spells, and curses? Who would've thought that would be popular? Of course you're basically making a pact with Dr. Swordopolis. Or a Fiend or Celestial, because there is apparently balance in all other things.
And proving just how much the playerbase loves their Gish builds, both Bladesinging and War Magic are tied with the most popular Wizard school.
There you have it folks. How does your character stack up? Let us know in the comments, and–as always, Happy Adventuring!