Goatboy here again with a bit of extra Chaos love –  my rundown of my 3 favorite builds from the Chaos Knight Codex.
Chaotic Flexibility
The army is very interesting in that it is designed to be very interchangeable between rounds.  In fact that is the biggest powerful option in this book – being able to tailor your knights per match up with a few quick stratagems, abilities, and relics.  It's crazy to think the single knight you took could become an anti flyer, an anti vehicle, or just a pain in the butt for your opponent all on the same chassis.  I think this is one of the more unique army books we have seen in a while even though it really isn't a ton of new "units".
The fluff in the book talks about how these Knights salvage broken bits from Imperial Knights as they continue on their wake of destruction.  This is obvious in how the book really only has 4 Knight chassis and all the options to change them up.  The double gun options seem powerful as all get out as most of the time a single choice is good – but having the ability to stack a stratagem onto two of the same gun makes it powerful.  With that in mind, let's go through my favorite knight builds.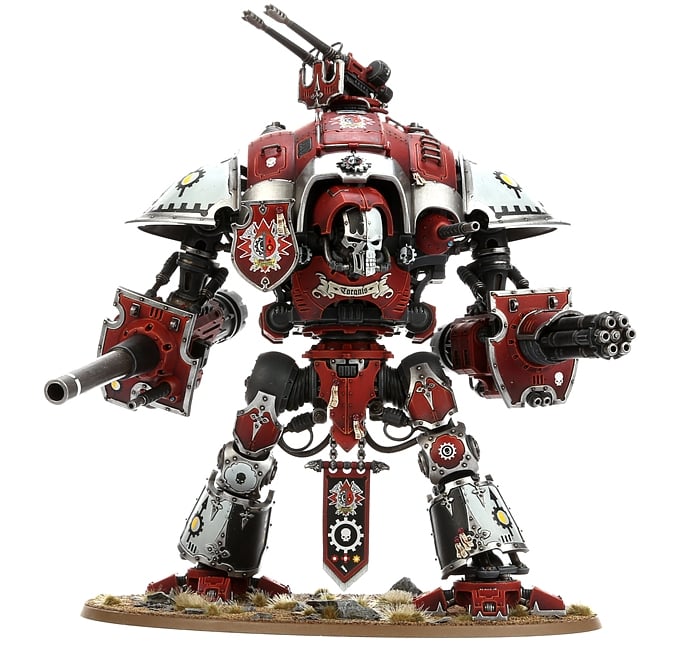 Kind of like this… but different
Double Gun Battle Cannon Maniac
Iconoclast Household Ambition
Knight Despoiler, Rapid Fire Battlecannon X 2, Heavy Stubber X 3, Ironstorm Missile Pod – 493 pts
I know everyone loves the double Gatling cannon – but I think the Battle Cannons can just be amazing for a model that is sitting in the back, throwing down damage, and holding an objective.  The power of this guy comes in how you build him out to match what your opponent is playing.  Just take a look at these basic options.
Vow of the Beastslayer + Veil of Medrengard – Versus the new  Chaos Dreadnought hotness as he sits with a 4+ inv save and gets to reroll 1's for damage versus all those pesky Dreads and Lord Discordants.
Helm of Warp-Sight + Dreadblade – Between Pacts and damnations you could get a 2+ hitting Knight, Gaining a Command Point a turn, and only worry about not being able to charge or strike last every round – oh and they murder flyers no matter where on the table.
Swap the Ambition to Infernal and you can do some funky stuff like have better damage, meaner Heavy Stubbers, and even get a chance to pop back up again to continue to be a jerk.  These are all things you can just choose as you get to the table top beyond picking your Ambition and initial load out of the Knights.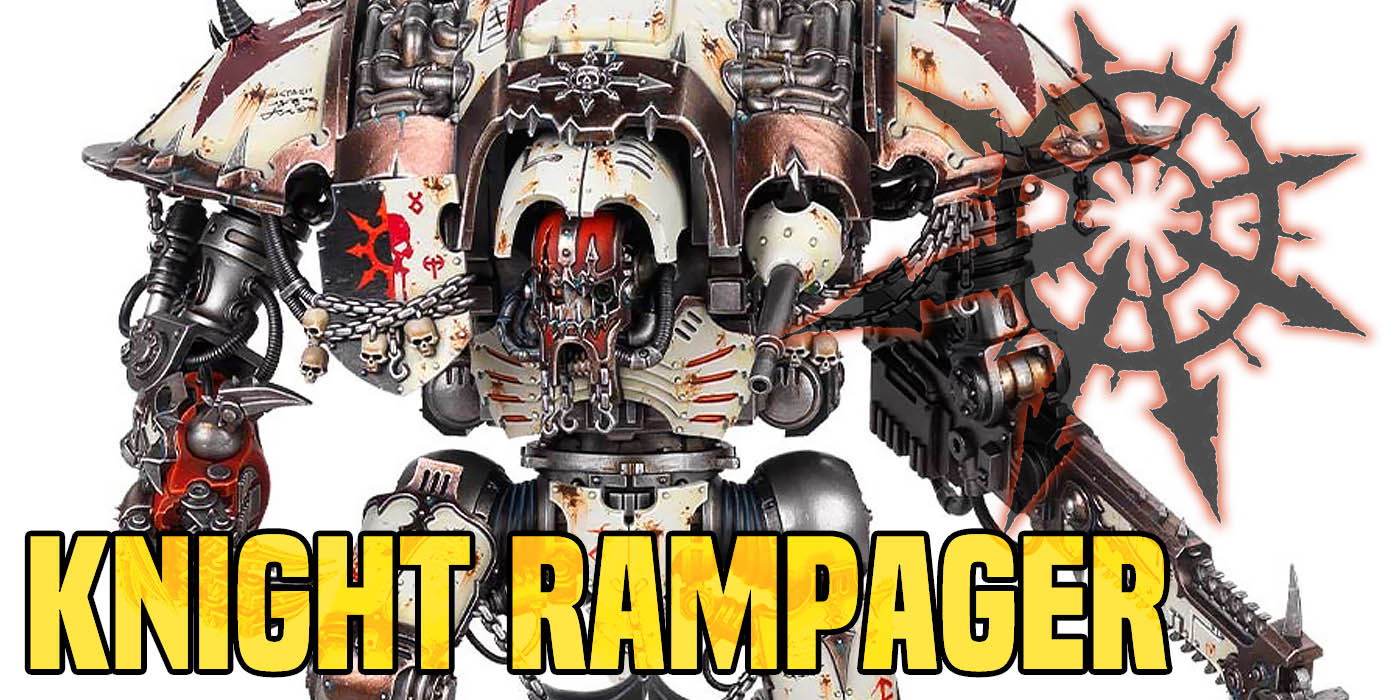 Next up I have come around to the Rampager as a decent single use model in a Chaos Knight army.  There are times you need that ability to always get 6 brutal hits as needed with its special ability.  A few lucky chances could push the hits into a higher level as well as giving you a chance to murder something big so quickly that it is nuts.  Here is one of the load outs I like.
Gonna Grab all your Candy Chaos Knight
Infernal Household Ambition
Chaos Knight Rampager, Thunderstrike Gauntlet, Heavy Stubber, Reaper Chainsword – 387pts (forgot the stubber – thanks Don)
Warlord Trait – Eager for the Kill
Relics – The Quicksilver Throne of Slaanesh
Burn a Daemonic Surge to get +2 to movement and a +1 to the charge and you got a Chaos Knight going 14″ + d6″ + 3″ and then Charging 2d6″ +3″.  Do the the maths for ya that is up to 38″ and minimum of 23 inches for a charge.  That isn't too bad at all.  Heck you could throw in the Dreadblade mark and see if you can get lucky with a +2 to movement to make that low end a 25 and the upper in a 40 inch charge.  This guy is pretty nuts and with a few other things you could get a good amount of attacks hitting your opponent, regaining some wounds with another Stratagem, and being a pain in the butt.  If you go with Iconoclast you lose some movement – but gain a Vow to let you gain more attacks as you murder things.  Not to bad either.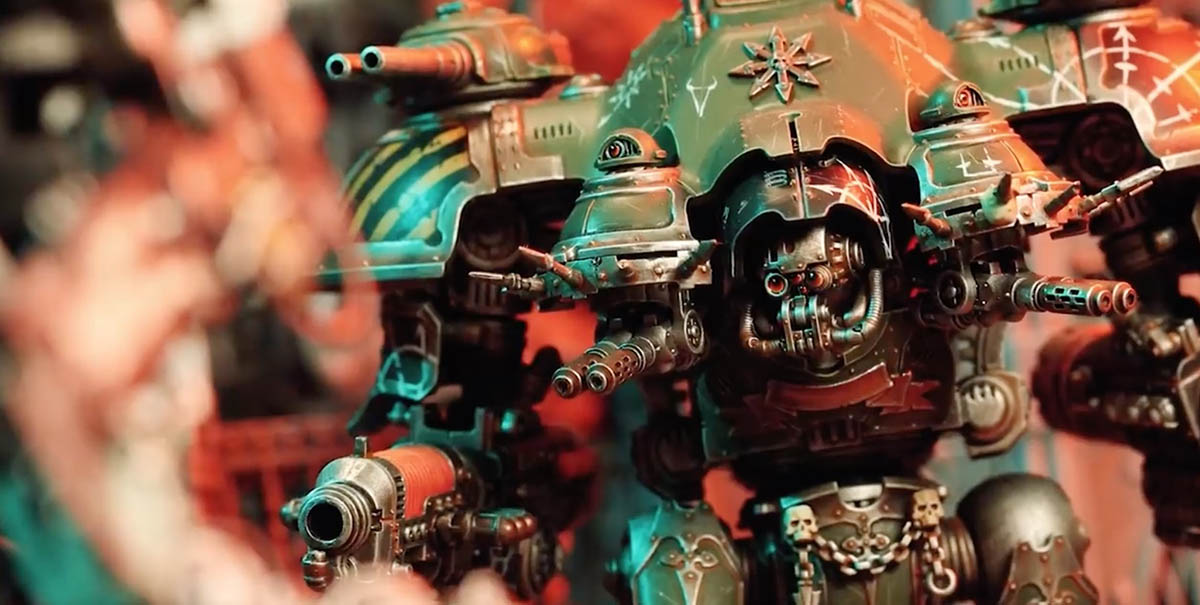 The last Knight I like is a different pick as I think this could shine in the right build – again depending on what you need it for.  In the middle of a giant blob of say Plague Bearers would be pretty good – maybe with 2 Wardog friends backing it up as it pushes up the middle of the field.  Again you can combo some different things if you need too – depending on what you are playing and what Household you like.
Burn It All!
Iconoclast Household Ambition
Chaos Knight Tyrant – Conflagration Cannon, Thundercoil Harpoon, 2 Shield Breaker Missiles, 2 Twin Siegbreaker Cannons – 600pts
Vow of Dominance Versus other powerful shooting, Vow of the Beastslayer if needed
You could also go Dreadblades if you like as well – Gaining a Command point or going for a 2+ to hit with Warp Fugue and Forsaken if you have to pick or just go for a random roll.
Relic – Rune of Nak'T'Graa if you want to go Dreadblades and push for more Pacts or Veil of Medrengard if you want to save command points for a flat 4+.  Helm of Warp sight can be powerful as well.
I know you can go Castellan if you want but it feels more interesting to go with the Harpoon.  A few lucky rolls on a Dreadblades and you got a 2+ hitting monster with a deadly harpoon of death surrounded by whatever junk you want.  How about some Nurgle Red Corsairs that you give a -1 to hit too.  Or some crazy Plague Marines if you want to go Death Guard.  push them up the field, give them some Nurgling friends to hide behind as your Giant Warmachine of death keeps you protected.

All Hail Chaos!
Overall the sheer customization of the Chaos Knights is what's going to be powerful when you look at upcoming builds.  I can see most Chaos armies using one or two to help mitigate some specific match ups and give some powerful weapon potential.  I could see another summer of the Tyrant/Castellan being broken in the hands of Chaos armies that can use and abuse a 2+ hitting giant robot of death.  I know I am looking at some close combat options mixed with 1 shooting knight and some greater daemon nonsense.  Nothing like having a Giant robot keep your Thunder Chicken safe as he flits and flutters about.
~What is your favorite Chaos Knight build?