The Chaos Knights are up for pre-order along with a few other kits from Games Workshop. Take a look at what's available this weekend!
via Games Workshop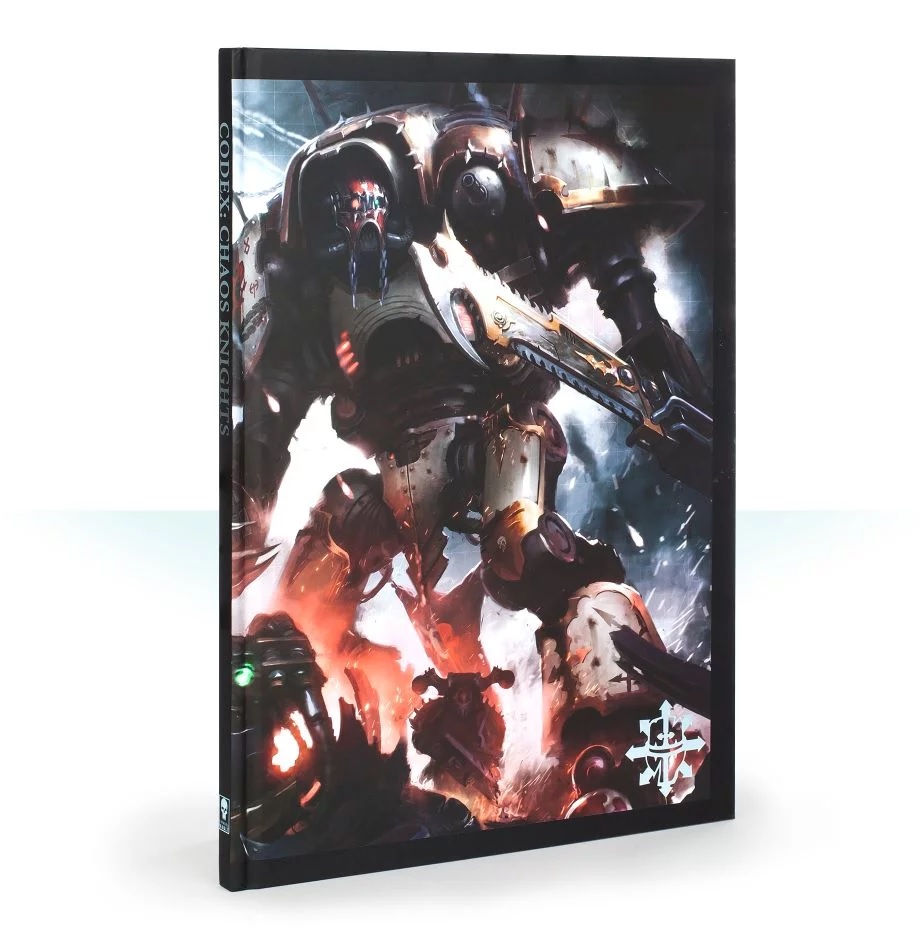 Codex: Chaos Knights is your complete guide to the Questoris Traitoris – the Chaos Knights.
The Collector's Edition is beautifully presented and features a soft-touch cover with artwork on the front and back, black page edges and a black ribbon bookmark. The standard codex cover art is also featured on first page.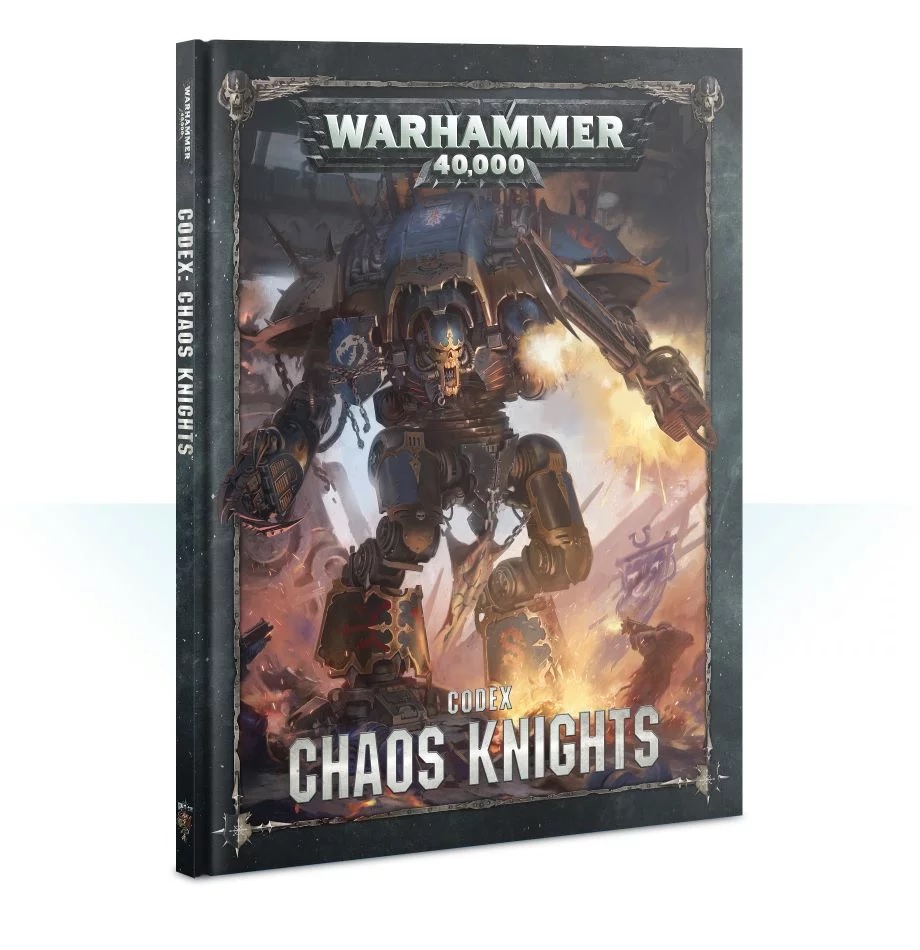 In this codex, you'll discover how the Chaos Knights were once paragons of honour and nobility, but fell to the corrupting influences of the Dark Gods. In some cases, entire households have turned against the Imperium in this manner, though others fight as masterless, lone renegades known as Dreadblades.
This 72-page hardback book is also a fantastic resource for collectors, containing tips for building your army, examples of Chaos Knights forces, and loads of invaluable reference material and alternative colour schemes for painters.
This book contains:
– Lore and art exploring the history and goals of the Chaos Knights, including the background, illustrated examples of colour schemes and heraldries for the following Chaos Knight Households – Lucaris, Herpetrax, Khymere, Vextrix, and Khomentis – as well as the infamous Dreadblades Sire of Doom, Decima, Incarnate Slaughter, The Gilded King, Hope's Shroud, Aesyr, Empyrean Scythe, Hatred of Krastellan, and Litany of Destruction
– A showcase of beautifully painted miniatures
– 5 datasheets providing rules for using Chaos Knights in your games of Warhammer 40,000
– Questoris Traitoris Armaments – profiles for all weapons and wargear of the Chaos Knights
– Household Ambitions – Household-specific special rules for either Iconoclast or Infernal Chaos Knight Households
– 23 Stratagems
– Dreadblade Pacts and Damnations – a choice of 6 Pacts and 6 Damnations which provide additional special rules for your Chaos Knights
– Artefacts of Tyranny – 14 weapons and artefacts available only to Chaos Knights
– Warlord Traits for the Chaos Knights
– Points values for every unit, weapon and piece of wargear for use if you are playing a matched play game, or any game that uses a points limit
– 6 Tactical Objectives unique to the Chaos Knights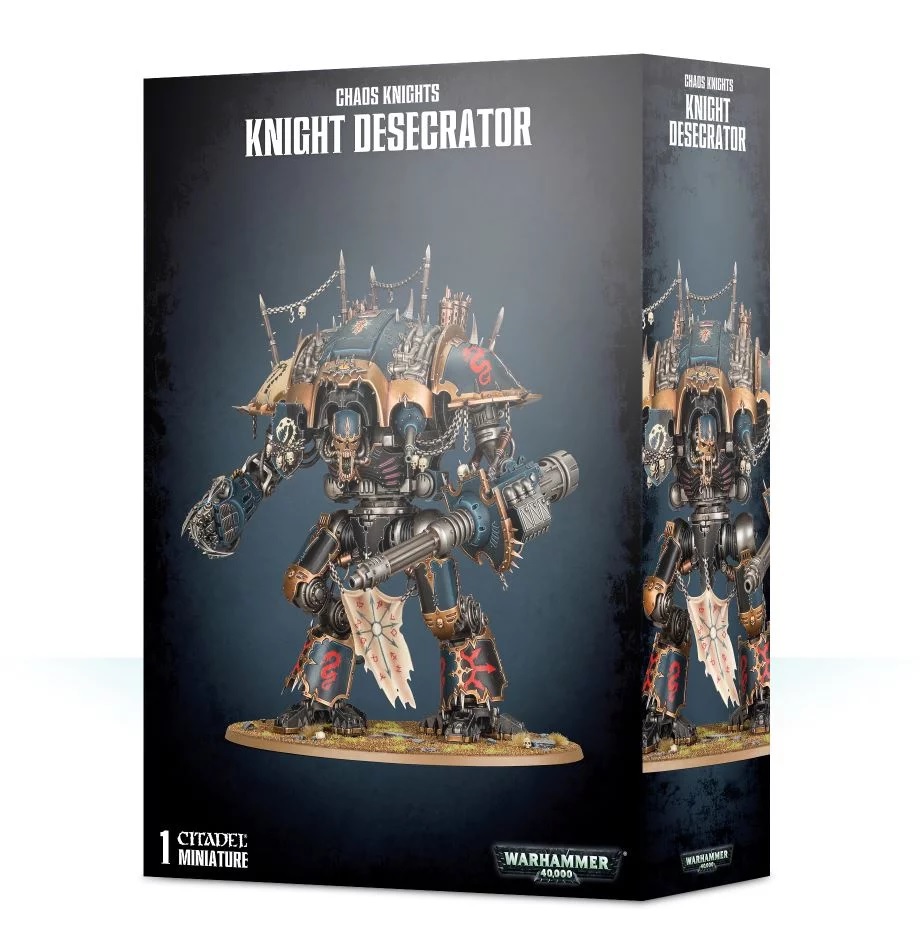 Knights Desecrator possess potent mid- to close-range armaments that lend themselves toward duelling enemy war engines or monstrous beasts, or tearing down the foe's Fortifications. Armed with a laser destructor, it packs a considerable punch at considerable range.
The Knight Desecrator is a truly imposing kit in every sense of the word – it towers over most other models on the tabletop and a choice of vicious faceplates and optional chains, pipes, spikes and horns allow you to customise your Knight, making it as malicious as you want. They can also be armed with a choice of either reaper chainsword or thunderstrike gauntlet with which to crush any foe that survives a barrage from its laser destructor.
This multipart plastic kit is supplied as 119 components and includes a Citadel 170mm oval base and a Chaos Knight transfer sheet, which features iconography for Houses Lucaris, Herpetrax, and Khymere, as well as a huge variety of Chaos runes and markings. It can also be assembled as a Knight Rampager.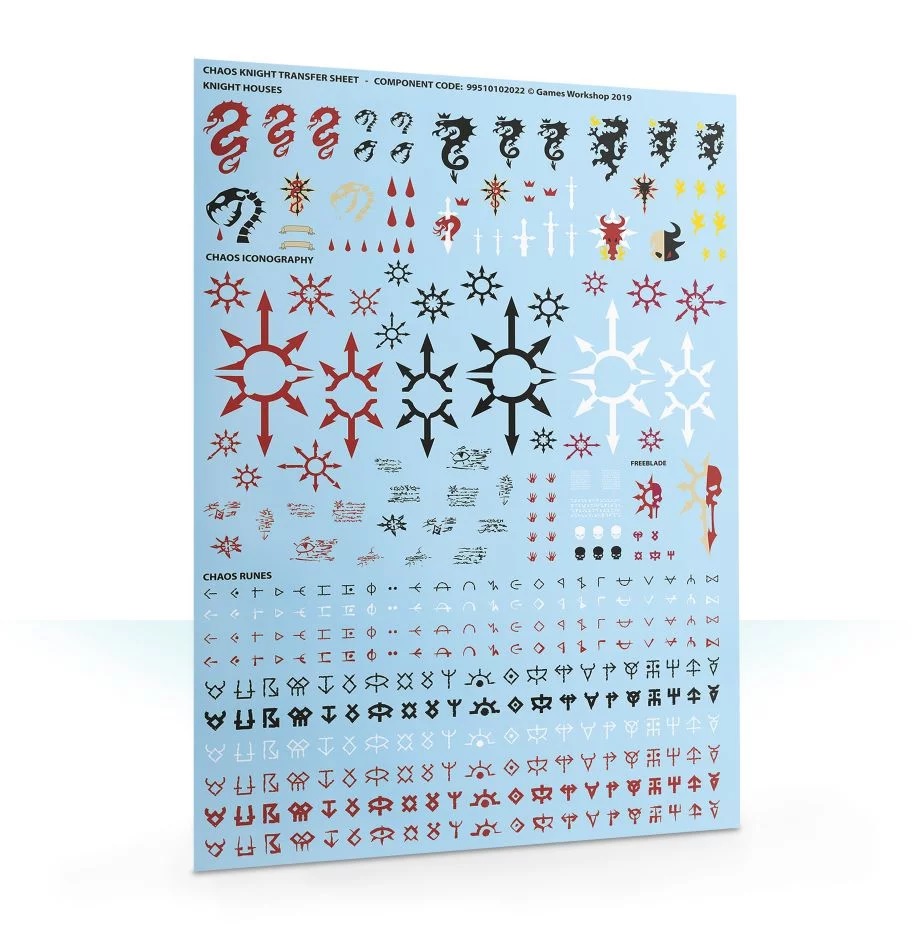 When Chaos Knights march to war they do so emblazoned with the icons of their Houses and marks showing their devotion to the Dark Gods.
Decorate your Desecrators, Rampagers, Despoilers, Tyrants and War Dogs with this set of full-colour transfers depicting the icons of three Knightly Houses pledged to Chaos – Lucaris, Herpetrax and Khymere. These can be added to carapraces and armour plates to enhance your paint job and demonstrate your allegiance to your dark masters.
Also included are a number of Chaos runes and markings so that your Knights can truly give glory to the Ruinous Powers.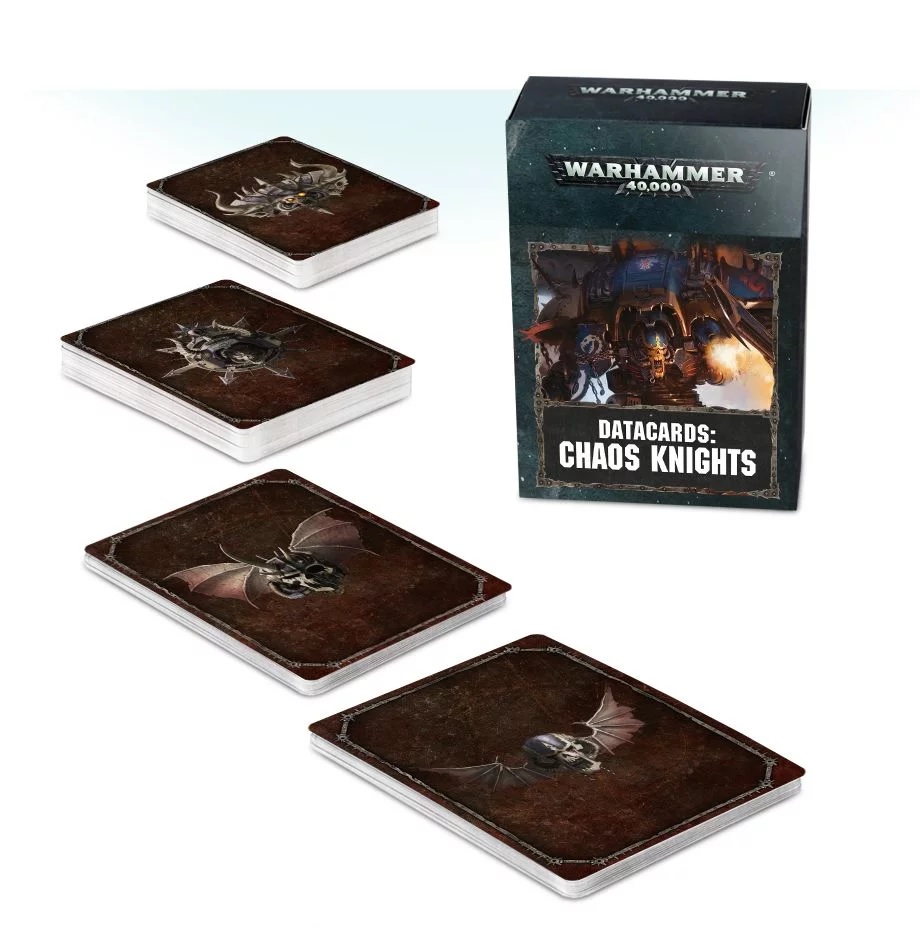 Lead your corrupted household to war with these datacards – an invaluable reference resource for Chaos Knights players. These cards are designed to make referencing key information in your games simple, giving you more time to crush your weakling enemies beneath your mighty tread.
In this set, you'll find easy-reference cards for 26 Stratagems, 6 Dreadblade Pacts and 6 Dreadblade Damnations, plus a full deck of Tactical Objectives cards.
Please note – you'll need a copy of Codex: Chaos Knights to use this set.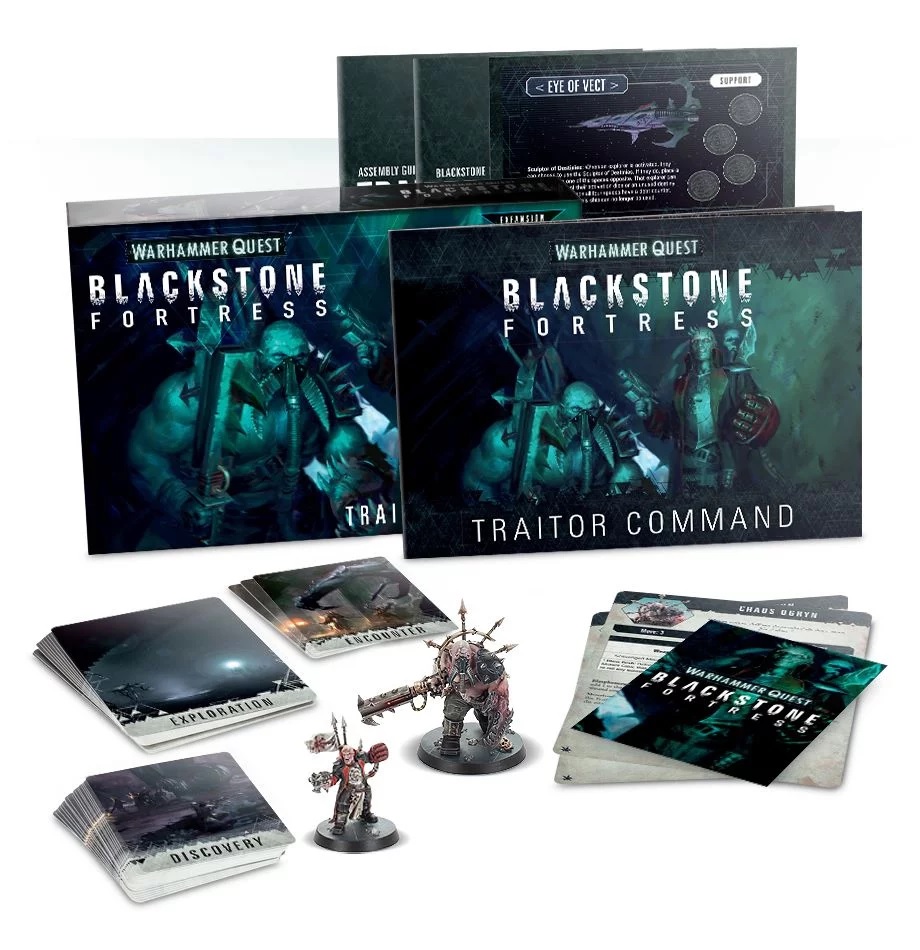 A perfect expansion set for fans of Warhammer Quest: Blackstone Fortress, this pack provides you with two new hostiles in the form of a Chaos Ogryn and Traitor Commissar (even the infamously stoic Commissars are not entirely immune to the lures of Chaos!), and an exciting new quest for your explorers to undertake. Can your adventurous team of ne'er-do-wells halt a fell ritual that is taking place deep within the Blackstone Fortress before it is completed?
The pack also features a plethora of new cards, tokens and rules that will add a new dimension to your games of Warhammer Quest: Blackstone Fortress.
The set includes:
– 1 Traitor Commissar
– 1 Chaos Ogryn
– 16-page Traitor Command booklet
– 1 Heart of Corruption sheet (yes, it's as creepy as it sounds)
– 1 punchboard sheet of card tokens
– 18 discovery cards
– 12 exploration cards
– 2 encounter cards
– 2 hostile reference cards
– 5 soul price cards (again, bad times)
– 1 Heart of Corruption envelope (within which lies your secret reward for completing the quest)
– 1 assembly guide (to aid you in building the miniatures included in the set)
You will need a copy of Warhammer Quest: Blackstone Fortress to use the main contents of this set, though the miniatures assembly guide also includes Warhammer 40,000 datasheets (including power ratings and matched play points values) for the Chaos Ogryn and Traitor Commissar.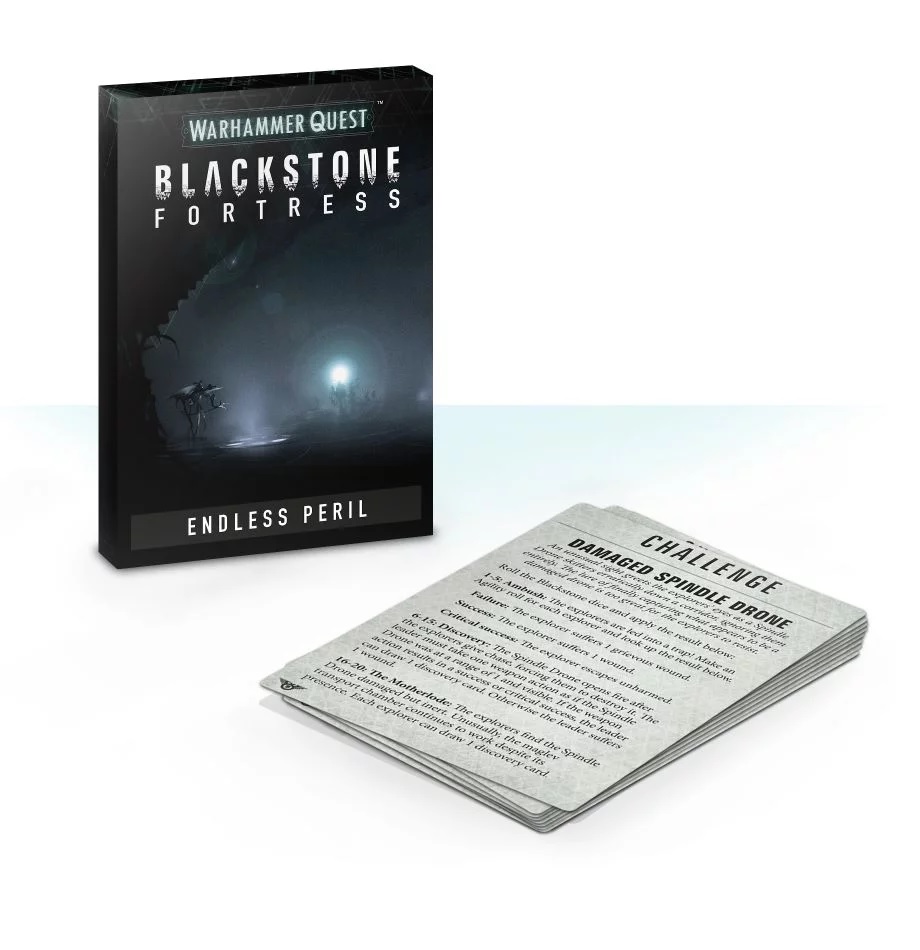 A perfect expansion set for fans of Warhammer Quest: Blackstone Fortress, this card pack provides you with 30 new exploration cards to shuffle into your existing deck. Comprising 15 challenge cards and 15 combat cards, Endless Peril will add a whole new dimension to your games.
You will need a copy of Warhammer Quest: Blackstone Fortress to use the contents of this set.
Chaos Knights and Blackstone Fortress in the same weekend – coincidence? Perhaps…