Pathfinder 2nd Edition might not be launching until next week, but today you can catch a glimpse of things to come with a look at the new Bestiary.
That's right folks, today we've got a look at Pathfinders new rules, and, fittingly enough for Pathfinder, it's a goblin. Earlier today paizo shared a snapshot of what a monster from the upcoming 2nd Edition Rules will look like, releasing an image of a goblin–because they somehow seem to get everywhere and never exactly when you'd expect them.
How would you deal with a goblin in Pathfinder Second Edition?#pathfinder2e #pathfinder pic.twitter.com/SFjA72maSO

— Paizo (@paizo) July 23, 2019
Here's a closer look at the Goblin.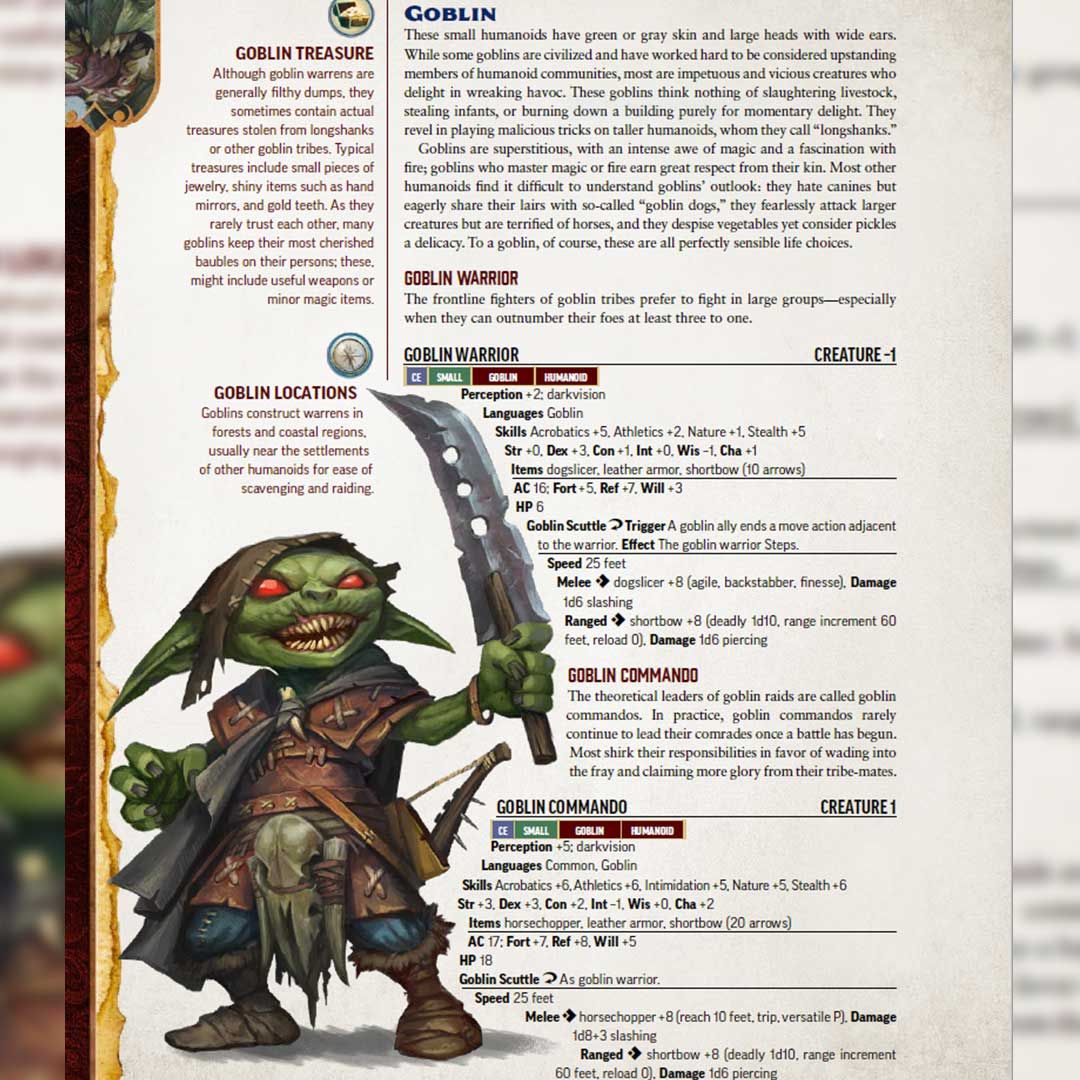 It's an interesting evolution of a monster entry. You can see that it's still definitely Pathfinder; all the usual trappings are there. But you can also see there 4th and 5th edition D&D have left their mark on the new edition, which is interesting, given that Pathfinder grew as sort of a response to 4th Edition. But we're not here to remark about the trends of the industry, we're here to look at the Goblin statblock. As you can see, the core concepts are all there–you have Fort Ref and Will saves, AC, hit points, all that. But the ability scores have been reduced down to their modifiers, for ease of use. Attacks are listed in a streamlined, 5th edition sort of style, where you'll see the name of the weapon, the to hit number and damage dice–along with the weapon qualities that 2nd Edition is making its mark with.
The Goblin's short sword, or dogslicer, has three different qualities: agile, finesse, and backstabber. If you look at the Shortbow you'll see deadly 1d10, and ranged info as well. There's a lot of information packed tightly into these entries. Agile and Finesse mean two different things, so you'll want a handy reference for these weapons.
The other thing worth noting are the Reactions, noted with that looping arrow symbol. The Goblin has Goblin Scuttle which lets it take a Step every time one of its allies ends its movement right next to it. What do other monsters look like? You'll just have to wait and see. But in the meantime…
Happy Adventuring!