Against the Aeon Throne, the adventure path which pits Starfinder heroes against an ancient starfaring empire, newly returned, is now on Roll20.
Starfinder's second adventure path, Against the Aeon Throne, introduced players to the Azlanti Star Empire, while at the same time, expanding one little corner of the galaxy where Golarion (should) reside. It's a great race to capture an experimental stardrive while at the same time avoiding getting caught by the Azlanti, who are bent on dominating this new part of the galaxy. All of this is newly available to Starfinder! Let's check it out.
via Roll20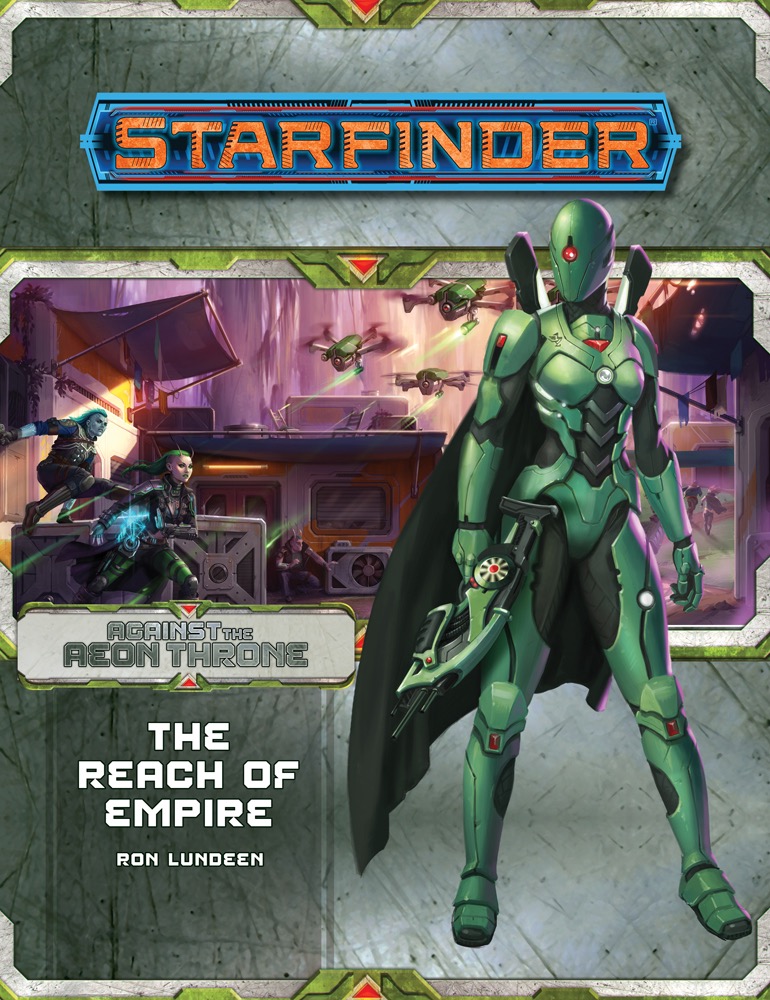 Guerrillas In The Mist
Hired to transport supplies to a fog-shrouded world in the Vast, the heroes discover that a small military force from the Azlanti Star Empire has invaded and occupied the Pact Worlds colony there. The heroes must liberate the settlement from its merciless oppressors, but when they do, they learn that the Azlanti have taken both an experimental starship drive discovered on the planet and one of the colonists — an old friend of the heroes — back to the Star Empire!
This volume of Starfinder Adventure Path launches the Against the Aeon Throne Adventure Path and includes:
"The Reach of Empire," a Starfinder adventure for 1st-level characters, by Ron Lundeen.
A gazetteer and brief history of the Pact Worlds colony on Nakondis and its main settlement of Madelon's Landing, as well as a new colonist theme for player characters, by Ron Lundeen.
A collection of advanced starships built and flown within the Azlanti Star Empire, by Lyz Liddell.
An archive of fascinating new creatures, from beasts of living magma to massive clouds of devouring ooze, by Patrick Brennan, Ron Lundeen, Joe Pasini, and Owen K.C. Stephens.
Statistics and deck plans for an exploratory vessel of the Azlanti Star Empire, plus an overview of the forest planet of Nakondis, by Ron Lundeen.
---
Product Information
Roll20 Enhancements:
Fully prepared adventure requiring no additional setup. All maps are laid out, encounters are pre-placed, and rules are readily accessible for you and your players.
Dynamic Lighting on every battle map (requires plus / pro subscription) to add more drama to your game.
15 new monsters and 10 starships.
Pre-made Roll20 character and starship sheets.
Adventure tailored for 1st level characters.
Expanded lore for new creatures and new areas.
System: Starfinder
Starting Level: 1
Length: Long Campaign
Installation: 1 module, 1 art pack
Happy Adventuring!