Here are my thoughts on the Splintered Fang, Corvus Cabal and Unmade and some tactics for using them on the AoS tabletop.
It's another week, and GW has graced us with three more awesome Warcry factions. Just like before, each one has a warscroll allowing them to be used in your games of Age of Sigmar, and oh man are they awesome!

Splintered Fang
Hailing from the Life Realm of Ghyran, the Splintered Fang are, ironically, masters of taking life quickly. Employing acrobatic warriors, deadly poisons, and even venomous snakes, the warriors of this warband believe in killing their opponents with only a single, well-placed wound. In Warcry, this warband is fast and can dish out an incredible amount of damage with their poisoned weapons and deadly snakes. In Age of Sigmar, they function much the same way, being one of the faster and larger warbands available. For 70 points, you get ten cultists, maxing at 40, with 1 4+/4+ 1 damage attack, 6" movement, one wound, and a 5+ save. For every ten models, you need 1 Trueblood, who gets an extra attack, 1 Serpents base, which gets an extra wound, and 1 Serpent Caller.
For as long as the Serpent Caller is alive, you can add 1 Serpents model to this unit in your hero phase, giving this warband a surprising amount of staying power. However, this warband is known for their lethal weapons, and their warscroll represents that with the One Cut, One Kill rule. If the unmodified hit roll for any models in this unit is a 6, the attack inflicts a mortal wound, and the attack sequence ends. This has the potential to be incredible, as it can bypass tough armor and potentially shred an enemy unit.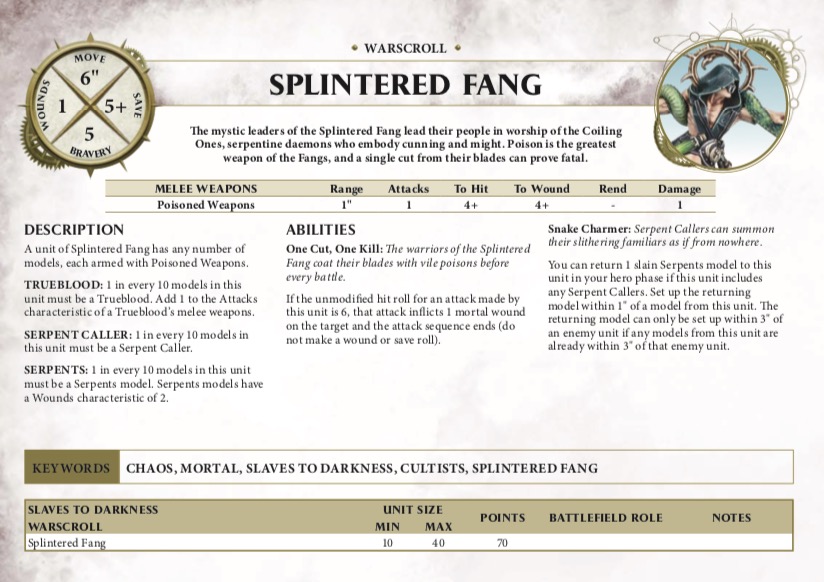 Use this unit as a cleaner, or a fast alpha strike to take out a problematic enemy. Smacking a heavy high wound model like a Vampire Dragon or Magmadroth with 40 Splintered Fang Cultists has the potential to wipe the grin off even the most confident opponent.

Corvus Cabal
A warband from the shadowy realm of Ulgu, the Corvus Cabal emulate the carrion birds of their namesake and pick useful items from their fallen foes (or occasionally their allies). The strike fast and hard before retreating again, preferring death by a thousand cuts to a protracted fight. In Warcry, several of their units can ignore terrain entirely, allowing them to reposition in a moment to a more advantageous angle, and they have a variety of gnarly abilities that allow them to strike and move or empower themselves by taking trophies from their foes. In Age of Sigmar, they make fantastic vanguard units for a chaos force, boasting an incredible movement of 8" and a unit-wide missile attack. They are purchased in blocks of 9, maxing out at 36, for 70 points each, and have the standard single 4+/4+ 1 damage attack in addition to their 8" 4+/5+ missile attack. For every nine models, one must be a Shadow Piercer, who receives an additional melee attack, and one must be a Shrike Talon, who allows the unit to re-roll 1s when rolling for charges. Their 6+ armor save isn't anything to write home about, but this isn't the warband for staying power. Their special ability, Death From Above, allows them to move across terrain features as though they could Fly. This makes them incredibly good objective grabbers, as they can quickly get to objectives other units may be unable to. Getting them close to a hero means you have a first turn 14" fly run move to snag a distant objective.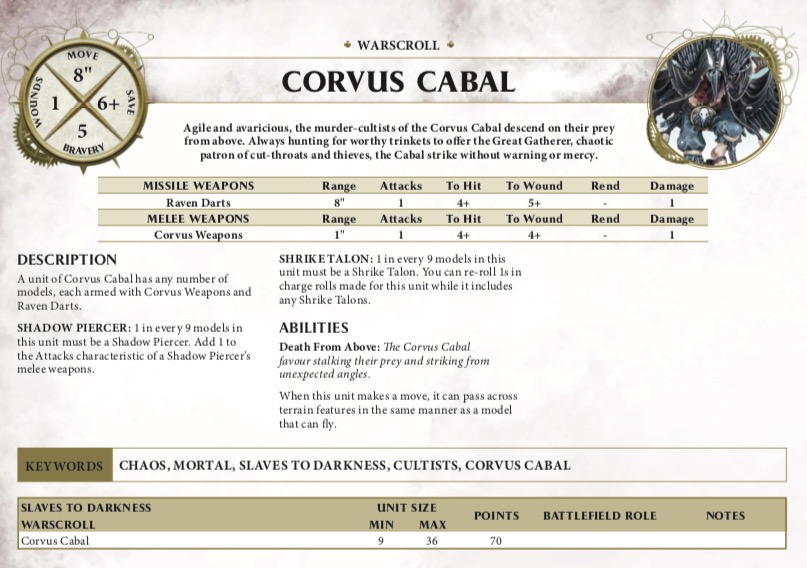 While they certainly don't want to be in combat, using this unit as a fast runner unit is key. A slow army like Nurgle will love this unit since it can fill one of their only weaknesses.

The Unmade
A spooky group from the deathly realm of Shyish, the Unmade take terror to a whole new level, shredding their faces and replacing their limbs with wicked weapons. In Warcry, this warband can lock down their enemies and lay down a blistering amount of damage. In Age of Sigmar, their horrifying appearance and damage potential is just as lethal and dangerous. They are bought in units of 9, up to 36, and sport the usual 4+/4+ 1 damage attack, plus a pretty good movement of 6" but a meager save of only 6+. For every nine models, one must be a Joyous One, who gets an additional attack, and one must be a Blissful one, the real monster of the unit, who replaces his standard attack with three 4+/3+ Rend -1 2 damage attacks. As if that kind of damage wasn't enough, the Unmade bring a fabulous ability with them in the form of Frozen in Fear, which not only reduces the Bravery of all units within 6" by one but also prevents units within 3" from retreating. Any unit that this warband comes into contact with is there for the long haul, so use them to lock down a unit that absolutely doesn't want to be in combat, like a wizard or an enemy shooting unit.
These guys are a great addition to a Nurgle army, allowing you to hold a unit still until your deadly but slow monstrosities can catch up.
Will you be using these units in your games of AoS? Which ones are your favorites?