Part Magic Mirror, part Demonic killing machine, all deadly grace and beauty, the Contorted Epitome is a sleeper hit for Slaanesh. Here's why.
The Hedonites of Slaanesh are an army full of colorful, varied, and hard hitting characters capable of turning a game singlehandedly.
But the Contorted Epitome stands out. These twin Heralds carrying a sentient magical mirror are one of the more finessable units–and while they may initially not seem as powerful or tough as the other heroes in the book–they pack in a pretty incredible toolkit that, when kitted properly, can be the most devastating piece in your arsenal.
It all comes down to attacks. This model has a ridiculous amount of attacks, even by Slaanesh standards. Baseline, it gets 9 attacks with its Ravaging Claws and 2 more with its Coiled Tentacles. 11 attacks on a non-monster hero is already outstanding, but with the army traits of Slaanesh, it could potentially ramp up to 22. Both attacks hit on 3+ and wound on 4+, the claws doing a single damage with a Rend of -1 while the tentacles do 2 damage with a Rend of -2.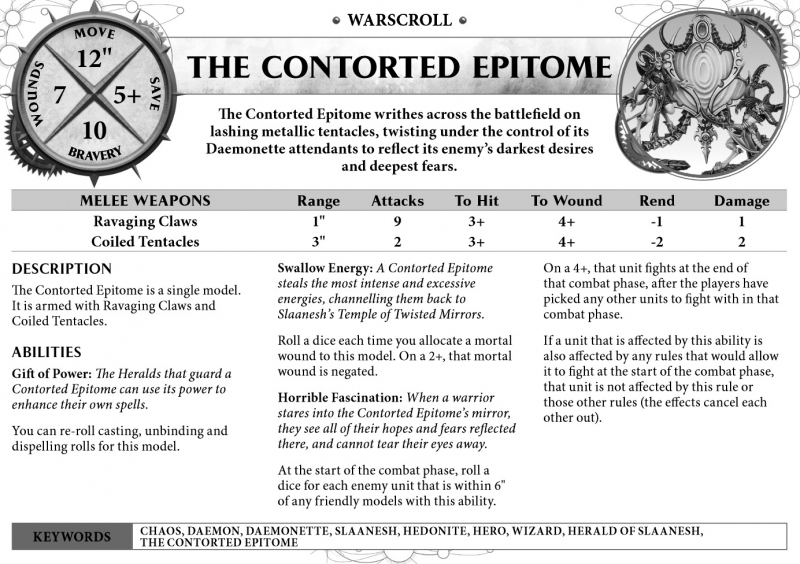 Even against tough, hard to crack units the weight of numbers is in your favor. Need some depravity points? Slam these ladies into a hero. There's a lot they can do without having to do much. For instance: give a Pretenders CE the Sliverslash, increasing their attacks even more (my advice is to increase the Tentacle up to 4 since it has higher Rend and more damage) and also increase the chances of rolling those lovely 6s. Or, if you want to kill heroes with the quickness, make your army from Ulgu and give the CE the Sword of Judgement. You'll lose out on getting the extra hits on 6s against heroes and monsters, but I promise you that the d6 mortal wounds you'll deal will make you forget all about it as you rack up sweet sweet depravity points and wipe your opponent's best heroes off the map. Just don't expect to win many friends with this murder machine.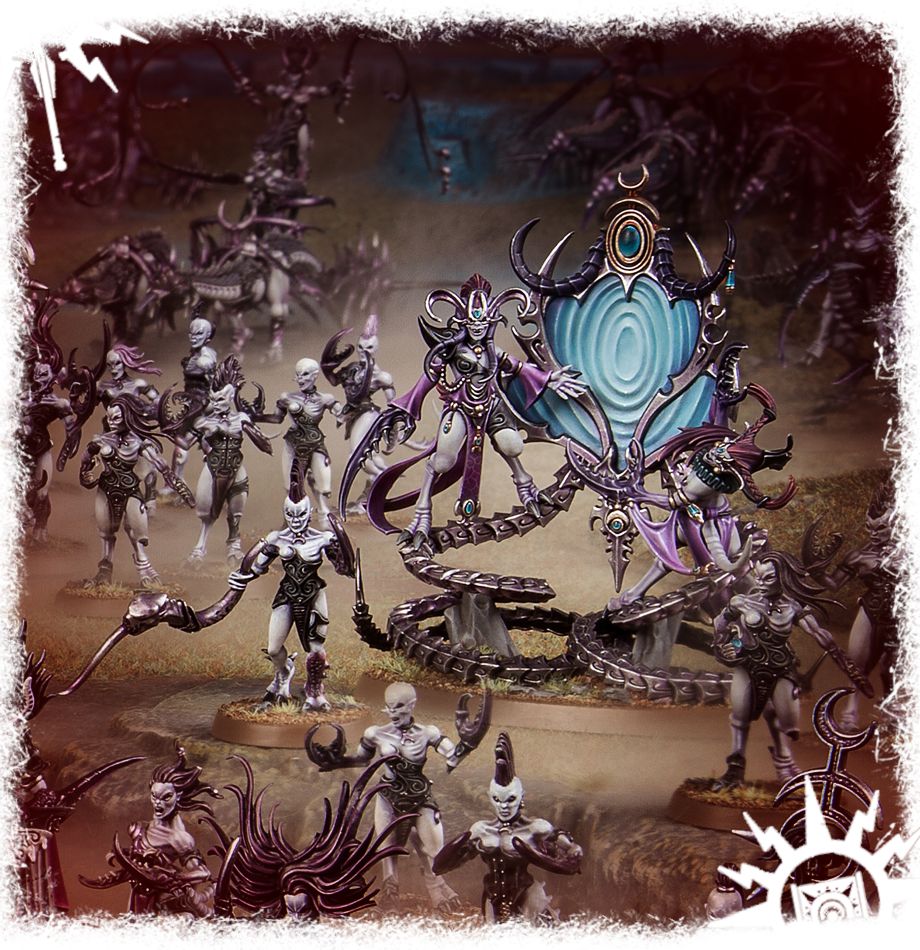 The Contorted Epitome isn't the most durable piece in the Slaanesh arsenal by far, but that certainly doesn't mean its a pushover either. First, it has 7 wounds, again a relatively hefty order for a non-monster hero, and a suitably average 5+ save. However, its Swallow Energy ability allows it to ignore all mortal wounds on a 2+, and considering how many factions rely on laying down mortal wounds to do their primary damage, this is an incredible shield.
Nighthaunt in particular will hate this ability since most of their damage turns into mortal wounds on 6s, making some of their strongest set pieces almost useless against the CE. Additionally, the Horrible Fascination ability allows them to shut down everything close to them, making them incredibly good at holding up big blocks of units. At the start of the combat phase, roll a d6 for EVERY unit within 6" of any Epitomes, and on a 4+ they strike last. Note that not only does this take place after the Locus of Diversion, which happens in the charge phase, it can potentially target more than one unit or even a unit that resisted the Locus of Diversion! The Epitome may not be super tough, but getting it into deep combat could be very beneficial, especially with a little bit of support.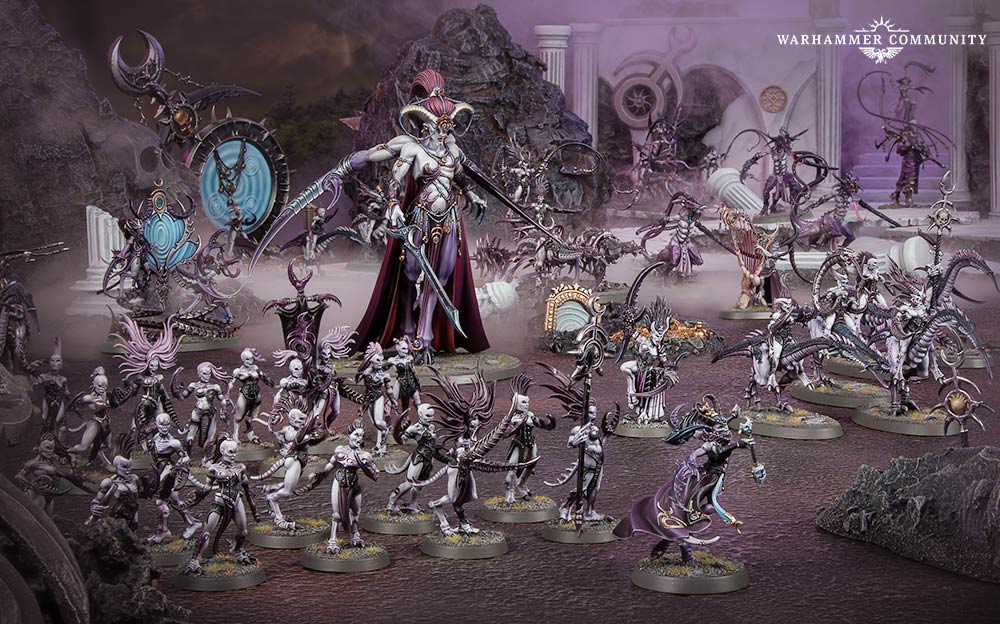 Like all the other heroes in the Hedonites book, the Contorted Epitome is a wizard, and it's a dang good one at that. It has a standard 2 cast 2 unbind, which is upper level for most wizards, and a pretty snazzy signature spell that makes it even better in combat. It also has access to the Lore of Slaanesh, which allows you to kit it out to fit whatever battlefield role you might need. W
here the Epitome really shines over other Slaanesh casters though is with the Gift of Power ability, allowing it to re-roll ALL casting, unbinding, and dispelling rolls. This will almost guarantee that you can cast, or stop as the case my be, crucial spells at clutch times in the battle. Combined with the Swallow Energy ability, this makes the Epitome almost impossible to kill with spells, and allows you to dictate the placement of Endless Spells with ease. In an army full of heavy hitters, this model's toolkit is almost a must include, and can mold itself to any situation required of it.
What's your favorite Slaanesh hero?