A new report from the Orr group about Roll20's users and the games they're playing shows some interesting trends for what's big in RPGs right now.
It's a truth universally acknowledged that D&D is the biggest RPG out there right now–but while that might do for Mr. Darcy and the rest of the gang at Netherfield, it leaves the question open: what are people playing when they're not playing D&D? A report from the Orr group has taken a look at popular virtual tabletop/roleplaying platform Roll20 and gathered up some data that shows what's on the rise. Let's take a look.
The Orr Report has made a shift in how we collect data. In previous years, our collection method was solely based on user selection data. We have now added a new process that also looks at character sheet usage from all 4 million+ Roll20 accounts. This provides us with data that is more broadly representative, accurate, and integrated into our systems.Whether you are familiar with the Orr Report already and have been patiently awaiting the next one or this is your first encounter, we're confident that our improved data selection adds more value to the results than ever before.

The charts below provide a quick glance at game system frequency in Q2 2019, but as always we'll have the full breakdown for each game system on Roll20 at the end of the report. Let's have a look!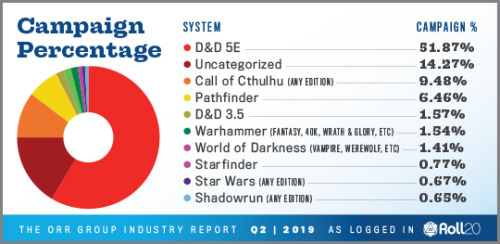 Dungeons & Dragons Fifth Edition (D&D 5E) leads across both categories with the highest percentage of both campaigns and accounts in Roll20. We'll come back to discuss Uncategorized games in a moment, but first we want to look at the interesting twist in the results for the next unified game system! If you look at Account Percentage, Pathfinder comes in a strong second, meaning more people play Pathfinder than anything else except D&D 5E. Look over at Campaign Percentage, however, and you'll find that Call of Cthulhu has stretched up its tendrils to seize a surprise second place for the overall number of games played in any system.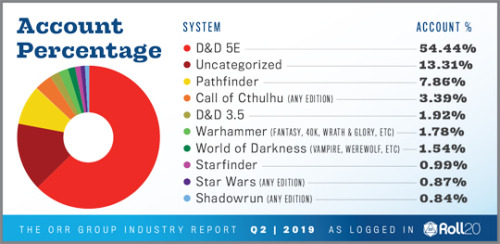 We got curious about how that happened and decided to dig further into our data for Call of Cthulhu games. We found that they have an average playtime of 11.9 hours, compared to 40 hour average game times for other systems on these charts. This might suggest that Call of Cthulhu GMs enjoy running more short games with small groups, or simply that you're all descending into madness very quickly and your GMs are leaving you to die.

Now let's look at that big slice of Uncategorized games. This is a new grouping made possible by our updated data collection which looks at all usage on Roll20, including this group of free spirits who use custom sheets, have no listed system, or eschew character sheets entirely. The size of this group suggests that quite a healthy percentage of tabletop players want to customize their games, whether it's taking a familiar system and morphing it to suit their needs or building a homebrew system all their own. The size of this unique segment would never be reflected in a regular sales chart, and we look forward to digging deeper with the Roll20 data to understand both this and other interesting trends in future Orr Reports.

D&D still holds the biggest chunk of the online audience by far. But in an age where there are so many RPGs, it's interesting to see what else floats to the top. 2019's big mood is awaiting some eldritch abomination to bring relief from the problems of the world, and it seems fitting that Call of Cthulhu should be on the rise. Pathfinder will likely change now that 2nd Edition is out, but can any system hope to catch D&D?
Let us know what you think in the comments!