New Numenera adventures, a knight that fights with garden tools, and a new way to build dungeons. Come check out this week's batch of Kickstarter highlights!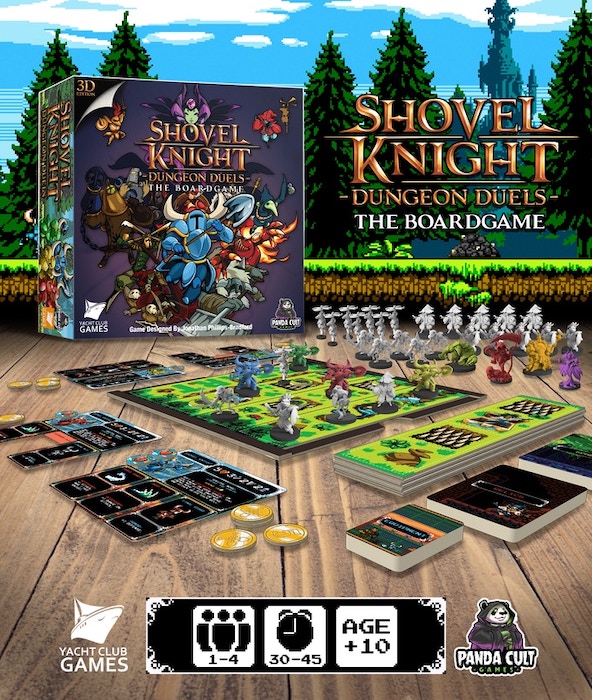 It is time to sharpen thy shovel once again! Shovel Knight makes his auspicious return to Kickstarter in Shovel Knight: Dungeon Duels! Based on the hugely successful crowdfunded video game and made in close cooperation with Yacht Club Games, Shovel Knight: Dungeon Duels is a competitive side-scrolling dungeon crawler for 1-4 players.  Players compete as different colored Shovel Knights to shovel out  justice in spades against the evil Order of No Quarter all while trying  to grab the most treasure to prove that they are the one true Shovel  Knight! 
You can snag a deluxe edition with 3D minis and all stretch goals for $70.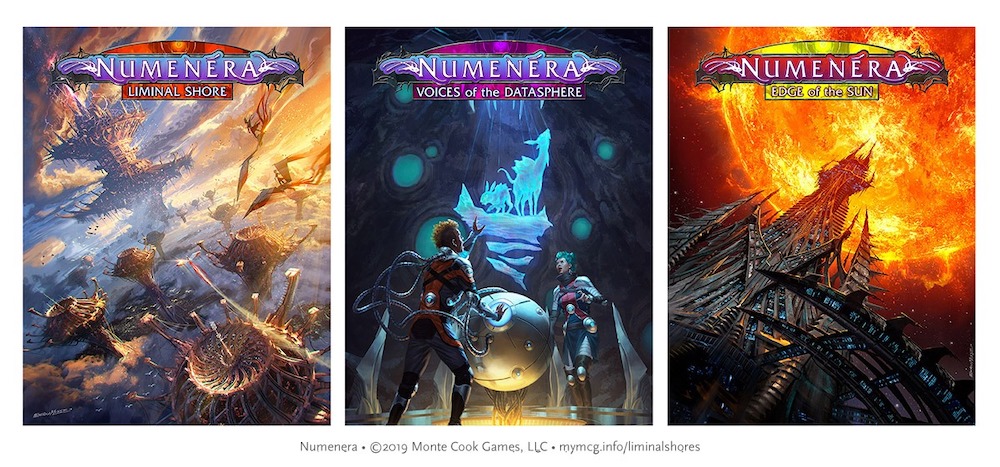 The Numenera: Liminal Shores Kickstarter seeks to fund three thematically linked, hardcover sourcebooks containing all new material for the award-winning phenomenon of the Numenera tabletop RPG. Numenera is a game about exploration and discovery. The three new hardcover books offered in this Kickstarter campaign give you all-new methods of exploration and incredible discoveries to be made. They will take your campaign to new heights while embracing the game's core focus.
The Ninth World still has more unexplored places. One of them is all around us, even now. It's a network of ancient information, sustained by machines far above our heads circling the world far overhead. And it's much more than that. It is knowledge and secrets, but it's also a sort of place. A conceptual space. The datasphere.
You can pick up all three books in hardcover with PDFs for $135.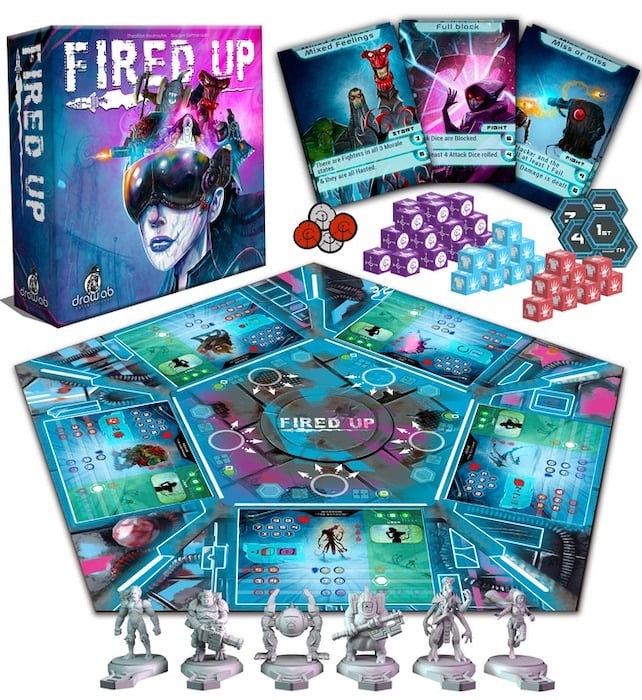 The most amazing fight is about to take place and you are here to witness it! Fired Up is an arena game in which the players are the audience and not the fighters. Use your influence dice to cheer or jeer the fighters, encourage them to run faster, fight better or even make them change their targets, so that you can see some amazing Highlights, and leave the stadium Fired Up! Be careful though, since the other players may have totally different agendas so you need to make sure to adapt your energy to the right fighter at the right time.
You can get the core game with all stretch goals for $59

.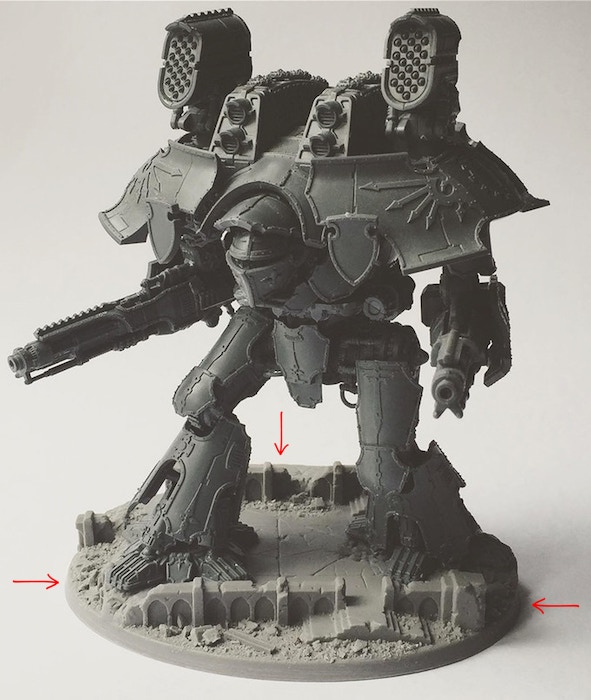 Titanicus Warlord Titan shown for scale only.
Bring your miniatures to life with our new range of resin bases and terrain for 10mm scale wargames! We sculpted these bases to add a narrative element to your titans and perfectly frame your miniatures that you have spent countless hours painting! Each base is crammed with crisp detail, achieved through pressure casting which leaves a perfect bubble-free finish with no imperfections.
Several different sets are available and range from $6 to $109.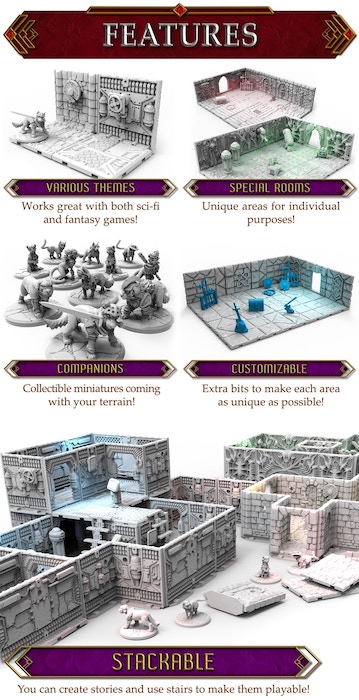 Tabletop terrain designed for gaming. Made using hard plastic, it will survive all your battles and adventures. Easily assembled without glue because we all like to change and adapt our layouts from time to time. Featuring both sci-fi and fantasy design that will fit all kinds of games. Fully customizable with specialized rooms and extra bits. Created to be affordable so you cn easily and quickly fill up your gaming table.
You can get a core set with 207 pieces for $99.  There's also a pledge for some nifty kitty and doggo companion models for $39.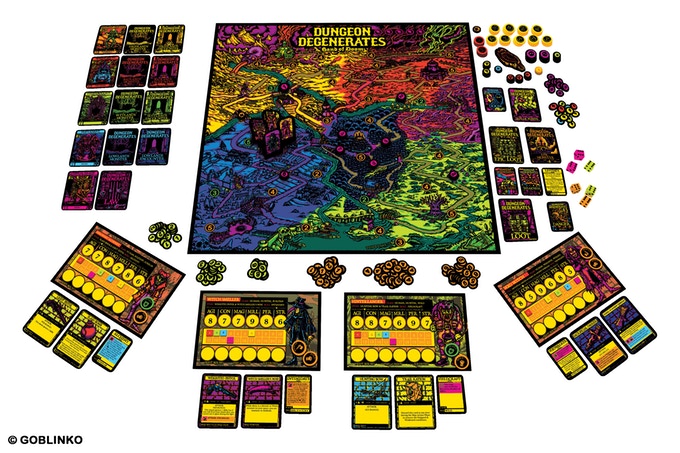 DUNGEON DEGENERATES: HAND OF DOOM will plunge you through a thick veil of resinated smoke into a fantastic world that is familiar & mythological – pulsating with street-level culture illuminated in eye-melting colors that will expand exponentially as you explore it. DUNGEON DEGENERATES: HAND OF DOOM is the Dark Fantasy Medieval Metal Punk board game of swords, sausages & sorcery from Goblinko. You play degenerate adventurers who have been thrown into the dungeons of Brüttelburg & after escaping, you must find your footing & fight your way to freedom as the Hand of Doom curses the very land you walk on.
The game box is essentially the same as the second printing except for inclusion of a new suggested minimum age and safety label. We are including the full range of Dungeon Degenerates supplemental game materials at a special Kickstarter discount & we are working with an EU Friendly fulfillment company so our European fans can get the game delivered to them for the lowest price. Pick up a sausage & join the adventure!
You can buy the core game for $70, or the core game with an expansion for $105.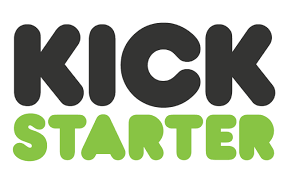 ~Which Of These Campaigns Caught Your Attention?