The Slaughter Queen of the Daughters of Khaine is a versatile, mudery tool that can help raise the damage level of any DoK army.
There are several powerful armies in the AoS meta, and Daughters of Khaine are near the very top of the pack. A good amount of this power is owed to the awesome hero choices, and one of the most devastating is the Slaughter Queen. Even without any magic and paper thin defenses, the Queen can easily rip apart even heavily armored foes almost by herself.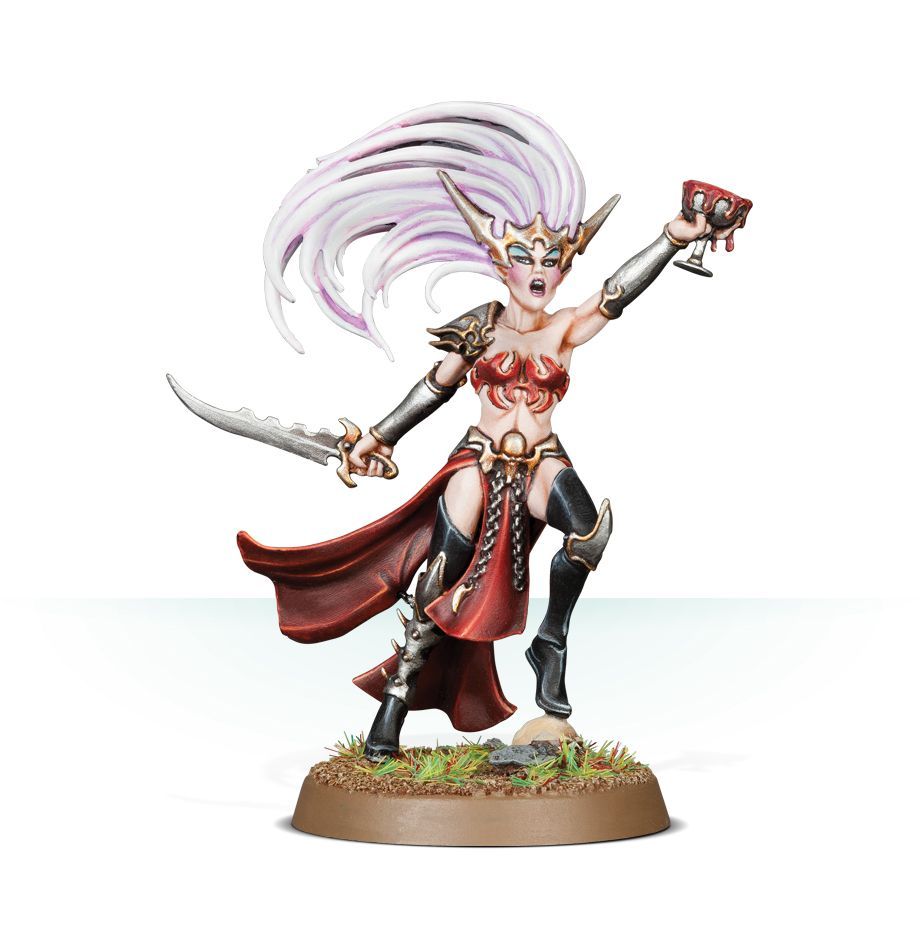 On her own, the Slaughter Queen has a pretty hefty close combat profile, with 4 Blade of Khaine attacks that hit on 3, wound on 4, and deal 1 damage with -1 Rend, and 3 Deathsword attacks, which hit and wound on 3 and deal d3 damage a piece, also with a Rend of -1. This is already a pretty snazzy amount of damage, but you can make it even scarier if she is your general by giving her the Mistress of Poisons ability. This allows her to increase the damage of all of her weapons by 1, raising her max damage potential from 13 to a bone shattering 20. With her Rune of Khaine and Dance of Doom prayers you can increase this damage even further, using the former to increase the Damage of the 4 Blade of Khaine attacks to d3, and the latter allowing the Queen to pile in and attack twice in the next hero phase. Get both of these off, combined with the Mistress of Poisons, and you're looking at a potential 46 damage from a single model!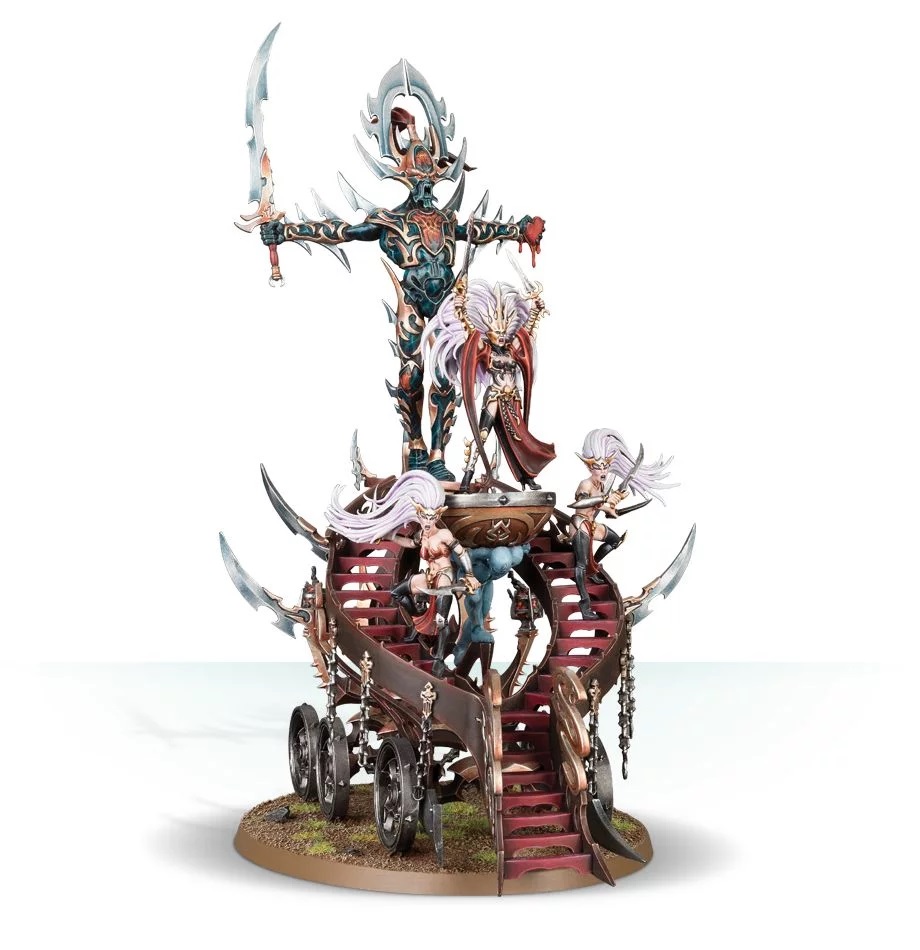 Just for reference, that is a dead 20 man unit of Sequitors, plus a little extra, if everything goes through. But the Queen can get even meaner if you give her some wheels and mount her on a Cauldron of Blood. From up on her altar, not only does the Queen get 8 more wounds, but from the 3rd turn onward, or earlier with a lucky prayer roll, the Avatar on the back gives her a nasty shooting attack, shooting 6 times for a single damage, and 4 swings with its mighty sword, each with a Rend of -2 and 3 damage. As if that wasn't enough, she also gains a pair of attendants that give her a diminishing amount of extra attacks, starting at 8. She does unfortunately lose access to her Dance of Doom prayer, but the extra attacks more than make up for the loss.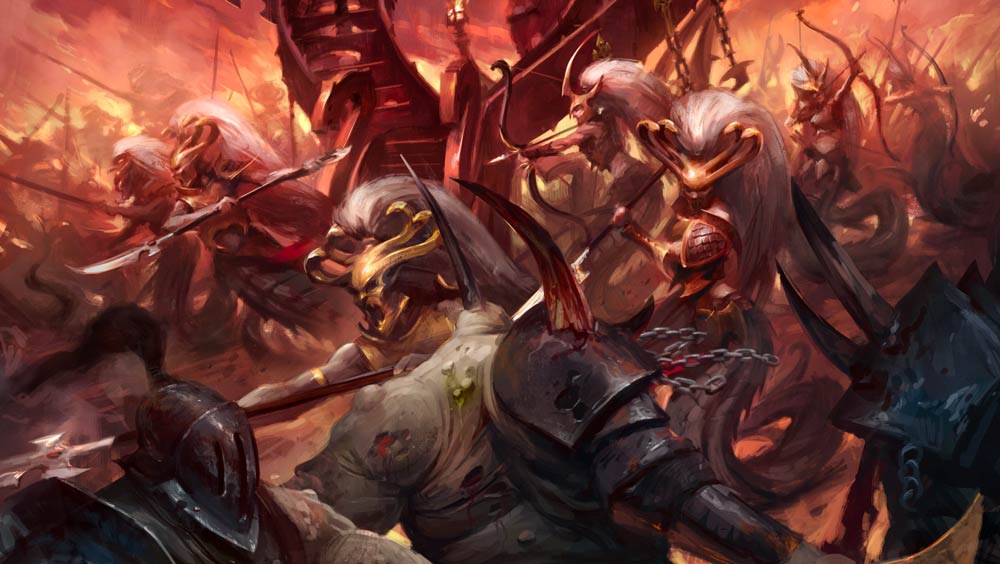 With the Mistress of Poisons trait, a Slaughter Queen on Cauldron of Blood with an active Avatar can deal 60 wounds, which is staggering. There is very little in the game that can stand up to damage like that, and if you are feeling really vindictive, you can use the Orgy of Slaughter command ability to allow the Cauldron to attack in the hero phase as well, dealing an ADDITIONAL potential 60 damage before the combat phase. As far as combat goes, there are few heroes in any army as deadly as the Slaughter Queen.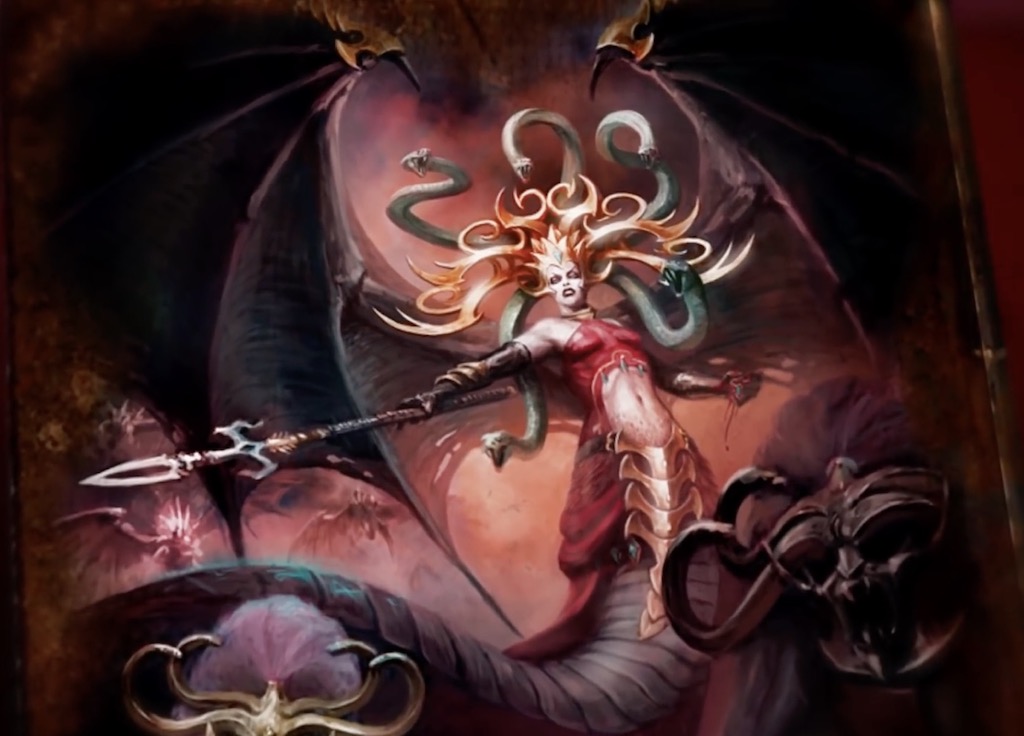 Morathi, notwithstanding, of course. Please don't sting us with your murder tail.
Unfortunately, all that raw destructive power comes at a price, and for the Slaughter Queen that price is extreme fragility. Sure she has a 5+ save, which isn't bad, and a 6+ Feel No Pain save, but she certainly won't be standing up to protracted combat for very long if your opponent focuses her (and trust me, they will). One way to increase this is to pop her on the Cauldron and give her the Crone Blade artefact, naming the Avatar's sword the chosen weapon. This will give her 13 wounds instead of 5, a 4+ armor save, and for every model she kills she regains a lost wound, which shouldn't be a problem for a 4 attack 3 damage weapon. If you're fighting single wound armies, the Slaughter Queen will outlive almost anything on the table, provided she can get herself into combat. What makes the Cauldron especially good is the aura, which not only increases the armor save of nearby Daughters of Khaine units, but also makes them immune to battleshock, which will keep them in the fight longer. So even if the Queen doesn't have the staying power of some of the beefier heroes, she can still support her allies and make sure the see the combat they thrive in.
What is your favorite Daughters of Khaine hero? Let us know in the comments!