A number of Eberron spoilers await, including a long-awaited guide to pricing, crafting, and selling your own magic items. Check it out friends.
In the latest live stream of Dragon+, the D&D news/talk show, Jeremy Crawford, lead rules designer for 5th Edition stopped in to chat about what awaits you in the upcoming Eberron: Rising from the Last War, which includes rules that many a player and DM have been looking for, whether you're wanting rules for airships and having cool fights on trains, or just looking for the most boring possible option for something to do with your gold–spend it on giving yourself an extra +1 to hit and damage. So whether you're a cool intellectual or an unimaginative coward, you'll want to check out what lies in store in Eberron.
Eberron is at hand. If you aren't sure what that means, the video gives you a good overview of what it's like, including the post-war pulp setting that features tensions between nations, spies, action thrillers, and gives you a look at an industrializing fantasy world where everything is powered by Magitech. Or just straight up magic.
Overseeing all of this are the Dragonmarked Houses which are somewhere between noble houses and corporations where you are born with a special magical tattoo but then you're also expected to advance the cause of your House which gives you a load of storytelling opportunities to play with. And that's what Eberron, really, is all about. You'll play as robots built for war who are instead looking to figure out their purpose in life, you might play gnomish intelligence agents, or spirits from another realm taking refuge in a nearby human mind.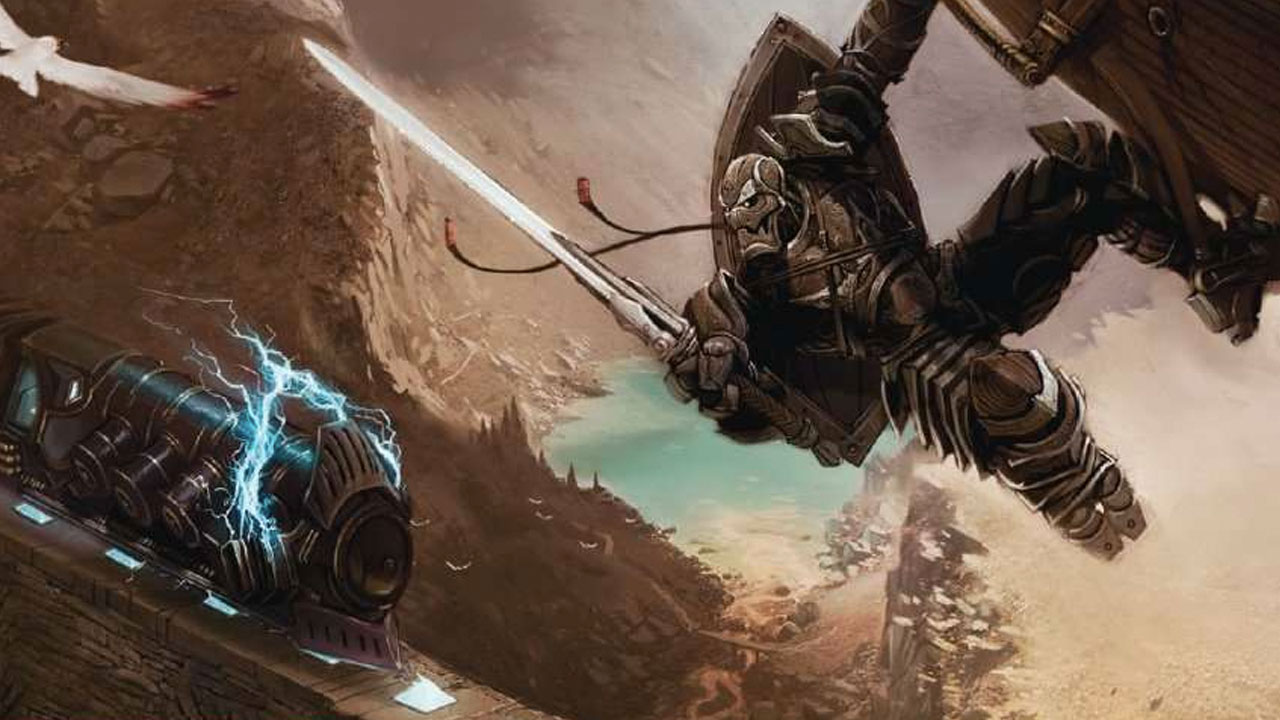 Whatever you're playing, though, you'll find rules for them modeled here. Including a big change to the way playable Orcs work–the playable version of the Orc is a step away from the vaguely eugenics-hewing (and problematic trend) of D&D creatures having "racial stat bonuses." Orcs in Eberron don't have an intelligence penalty, which is pretty great–there are a few other tweaks as well, but that's the big one worth dwelling on.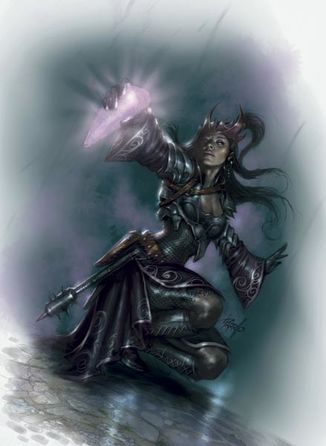 You'll also get rules for making Common and Uncommon magic items with the Artificer, the new class included, and as well you'll find rules for a Group Patron that represents an organization your adventuring party works. You might be agents of a spy ring, a university, a criminal syndicate, or whatever–these come with new background features.
And all that's just Chapter 1.
There are five other Chapters, including a gazetteer of Khorvaire, a big focus on Sharn (Chapters 2 and 3, respectively) and a 100 page adventure creation toolkit that echoes the excellent kit in Guildmaster's Guide to Ravnica with ables, maps, organizaing information, and new spoilers about things like Warforged Colossi (which are warforged the size of skyscrapers and of course you'll be adventuring in a fallen colossi).
Then after all that in Chapter 5 you can find all the economic rules you want for buying magical items, especially Common ones, and the last chapter, Chapter 6, is the Eberron Specific monster manual with the Living Spells, Daelkyr, and other friends, waiting to make a comeback.
We're hungry for Eberron here at the BoLS Office–hope you are as well.
Happy Adventuring!