Roleplaying games are very good, and this digest of short games shows off just why. Play a gingerbread cookie, a skateboard hero, a dracula, and more.
Roleplaying games let you tap into the unlimited potential of the most powerful computer on the planet… THE HUMAN BRAIN–at least according to the various PBS specials of the 80s and 90s, let's just forget about the Summit for now–though if roleplaying games let you tap into that, you're a much better gamer, and should probably be hanging out with Matthew Lillard, Angeline Jolie, and Renoly Santiago. At least according to the movie Hackers of the mid 90s.
The point I was trying to make before stumbling headfirst into the Hackers wiki (of course that exists) is that roleplaying games can take you to worlds you've only ever dreamt of. And with twenty one different games showing off the kind of bonkers creativity you can only get away with when you don't have shareholders and a billion-dollar investment firm to answer to. Speaking of things to answer to though, in the interest of full disclosure, I worked on this digest of games, creating the game (un)Life in the Shadows, a game of vampires just trying to make it day to day in the modern era.
And that's just one of the many different games you'll find, including a pro-skateboarding rpg, a procedurally generated Evil Dead style game, and more!
via the San Jenaro Co-Op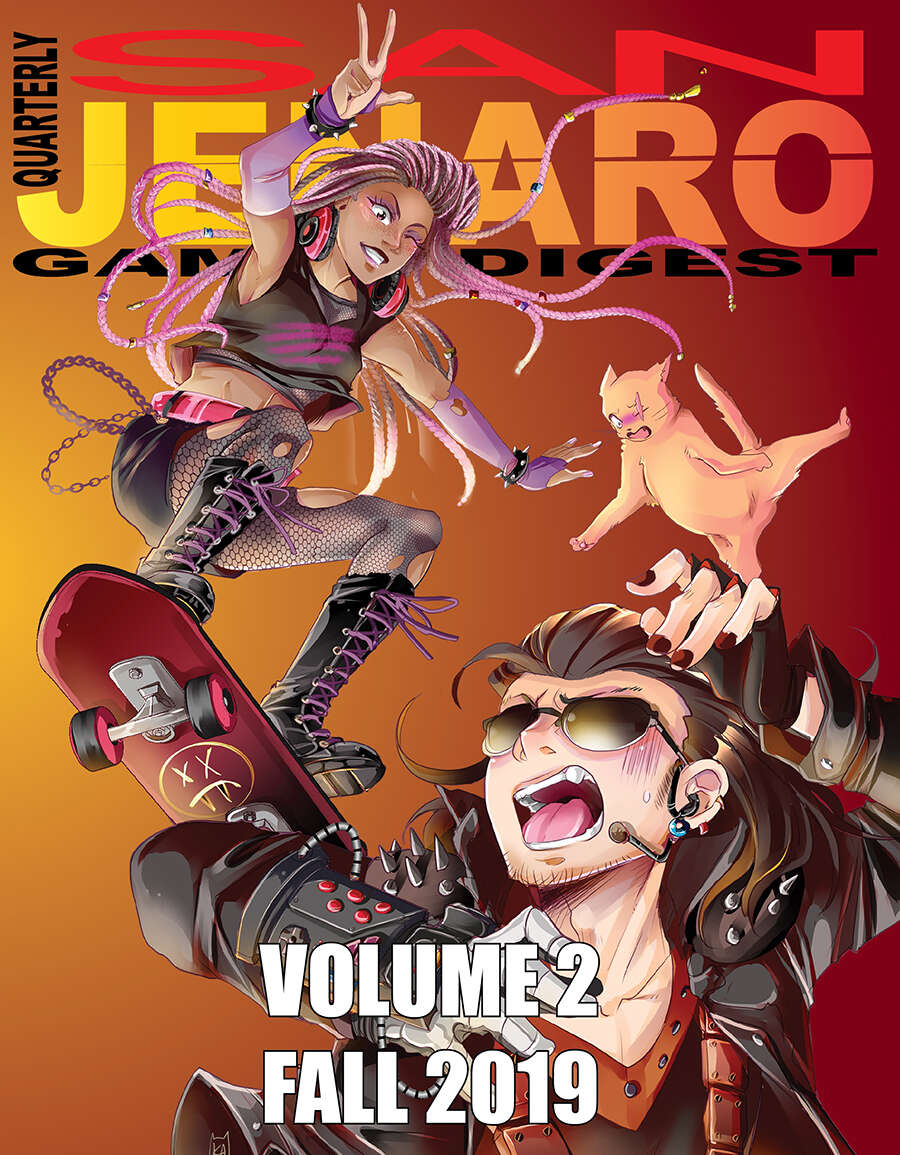 Welcome to the San Jenaro Short Games Digest, Volume 2! For this fall's issue, we're bringing you 21, count 'em, new games!  We've got games for everyone in here, of all sorts of styles. The San Jenaro Co-Op is a fully operational machine of game making, and we want you along for the ride.
Check out some of what we've got in store for you:
In Tina Falcon's Sponsored* Skating RPG, compete as a skateboarder trying to pull of the gnarliest combo before time runs out!
In Cats of San Jenaro, be a cat with magic in an urban fantasy nightmare world!
In Voice in the Static, use dominoes to describe a surrealist road trip that makes Lost Highway look like Crossroads!
In Gingerbread Jailbreak, fight off giant ants and kids with peppermint and magic!
In Speedrunners, find new ways to play your favorite games!
In The Airbnb From Hell, you're a group of friends taking a much-needed vacation  in a house in the woods full of demons trying to eat your souls! #selfcare!
And so many more!
The San Jenaro Co-Op is a collective of designers, writers, artists, and other creatives who believe in equal pay for equal contribution. Our books are 100% profit-shared, 100% creator-owned. So if this book does well, the creators do well.
Do you want to check out volume 1? You can do that here!
---
Happy Adventuring!