D&D quests, hidden agendas, historical minis, and high tech espionage. Come check out this week's batch of Kickstarter highlights!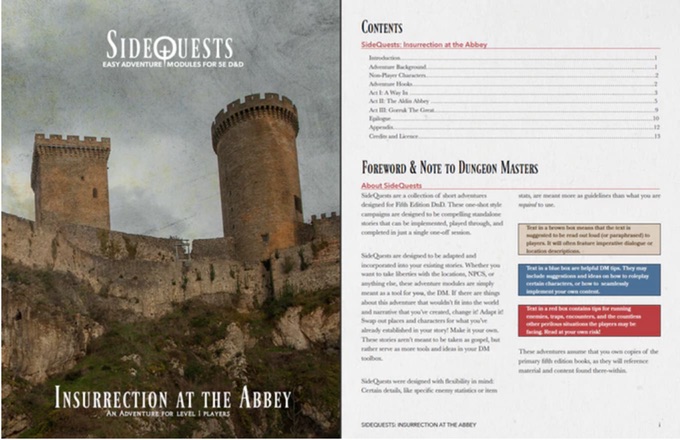 SideQuests are a collection of short adventures designed for Fifth Edition Dungeons and Dragons. These one-shot style campaigns are designed to be compelling standalone stories that can be implemented, played through, and completed in just a few sessions. Whether you're using them as a filler adventure between your own major story arcs, as one-offs to play with people unfamiliar to D&D, or just because you forgot to plan your next session, the second edition of SideQuests aims to be even more invaluable tools for your DM toolbox.
Each campaign comes with a variety of customization features: Adventure Hooks and Epilogues — so you can naturally ease your players in and out of each and every quest. SideQuests are designed to work in tandem with your own campaigns, so you can easily substitute anything within the modules for your own original content. Each volume also comes with a variety of role-playing, puzzle, looting, and combat scenarios, so players will enjoy them no matter what they personally value in a roleplaying adventure.
You can pick up the entire SideQuests III collection plus stretch goals for $15.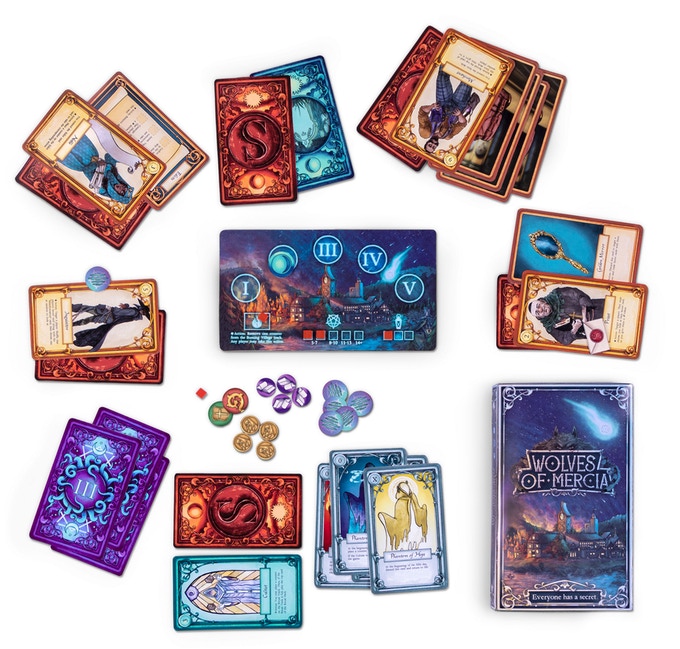 Wolves of Mercia is a game of deception and strategy, set in the dark fantasy village of Mercia. But in this town, the villagers don't wait helplessly to be slaughtered by the werewolf. Each must deploy their unique abilities in order to fulfill their own hidden agenda! Whether torching the village, tracking the werewolf by night, or completing a fearful eldritch ritual, 5-16 players will lie, bluff, and kill to seize the night.
During the day, you pretend to be ordinary. Trading goods as a merchant, studying ancient lore as a scholar, or taking confession as a priest. But when night falls, you drop the facade and work toward your own secret agenda. Perhaps you are an initiate of a sinister cult, working with your fellows to usher untold destruction. Or perhaps you prefer the arsonist's insane fantasy of torching half the village…
You can pick up the complete game for $15.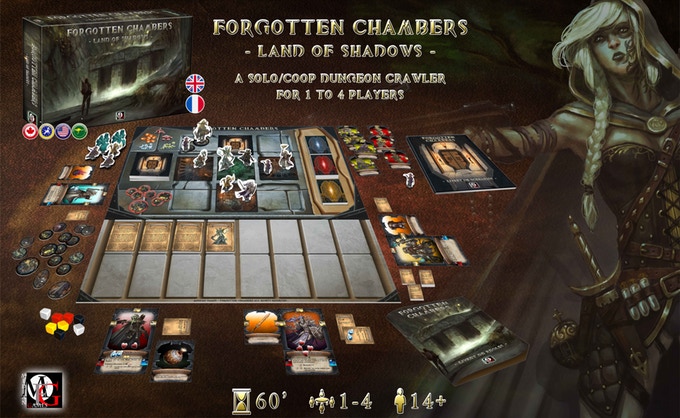 Forgotten Chambers: Land of Shadows is a Solo/cooperative dungeon crawler board game where 1-4 players take Heroes determined to find secrets, artefacts and glory. Every dungeons are randomly generated and follow scenarios. All monsters, encounters, events are UNIQUE and give you a huge playability. You'll never play the same game even if you play the same scenario! 
The core game will run you $44 – early bird options are still open for a few more hours!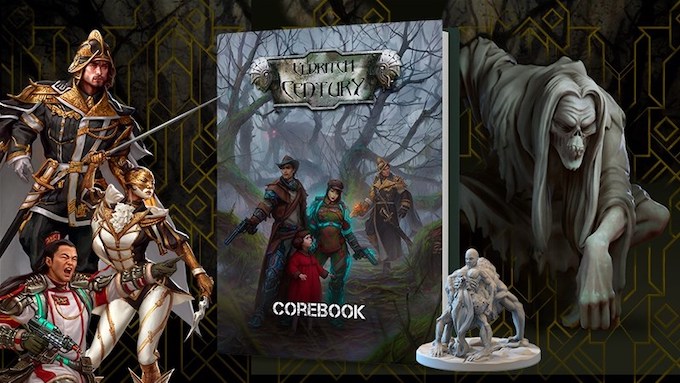 For 66 years, the Miasma has been slowly eating away at the World. This led to a violent schism in humanity, leading to the formation of six factions with extreme and diametrically opposing agendas. On this Wounded Earth, the unearthing of ancient and forbidden secrets led to the development of weird technology, while eldritch beings slowly plunge us into the unknowable. With the world powers ready to go at each other's throats, the only thing keeping us from falling over the edge is the Minerva Initiative, a secret multi-lateral organization seeking to understand these mysteries and, hopefully, put an end to the horrors they beget. This is the end of history; this is the Eldritch Century.
Eldritch Century is fully compatible with the 5e ruleset including the stats, powers and abilities. In addition the book details the Draco System. In this system, each character is created following a series of prompts based on the setting. We call this character creation concept the Exegesis System.
You can snag a PDF of the core rulebook plus STL files for minis for $20.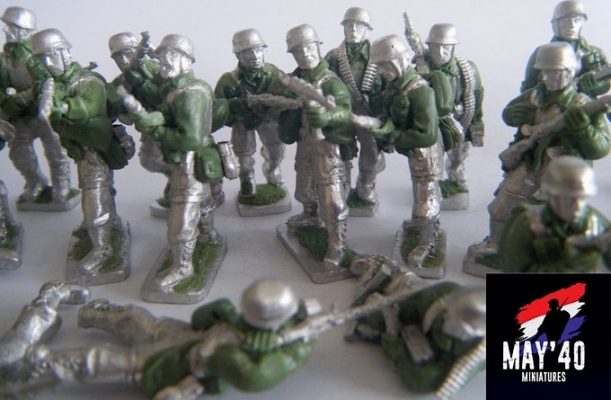 May '40 Miniatures [is]  a great team of dedicated people. UK: Michael Percy, France: Mathilde Perzik Calon and Jonathan Llinares from Vae Victis Miniatures, Netherlands: Stephan Vroom and Spain: Clara and Alfredo from Barrage Miniatures. Moulding and casting will be in the hands of Griffin Moulds JJP Ltd.
Our mission is to bring you a range of 28mm highly detailed and historically accurate 1939/1940 German Fallschirmjäger that are excellent for wargaming but can also be used for diorama's or in exhibitions in museums. The miniatures are made as historically accurate as possible in this scale.  Games set in Norway, The Netherlands, Belgium and even Crete will greatly benefit from using these miniatures.  We hope you are as enthusiastic about these miniatures as we are!
Ranges from $11 to $247 depending on how many models you want.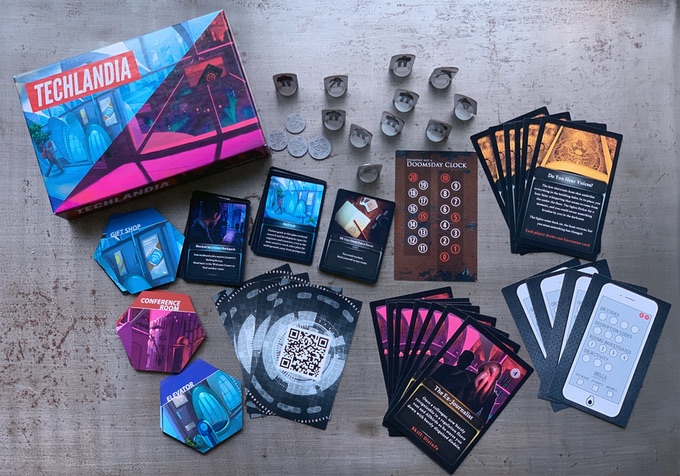 Imagine an all-powerful technology company, like the ones you interact with every day. But, this tech titan is secretly a front for a Lovecraftian death cult! The Techlandia Corporation, and its twisted CEO, Dexter Ward, plan to use the launch of the highly anticipated new TX-1 smartphone to open a gateway to another plane of existence, bringing elder gods back to our realm to sow destruction. Sounds pretty bad, right? Almost as bad as that that "top tweets" default view on Twitter.  
You haven't been invited to the grand launch of the TX-1 smartphone, but you're not a tech blogger because you like following the rules (I mean, except for tabletop game rules). There's something strange going on here, and you're going to expose it all.  
Techlandia is a modern dungeon crawl adventure, where 1-4 players attempt to infiltrate the high-tech corporate headquarters of the Techlandia corporation. The objective is to gain entry to the invite-only Techlandia TX-1 smartphone unveiling being held in a subterranean auditorium under the Silicon Valley headquarters of the secretive Techlandia corporation. 
You can pick up the core game and all unlocked stretch goals for $39.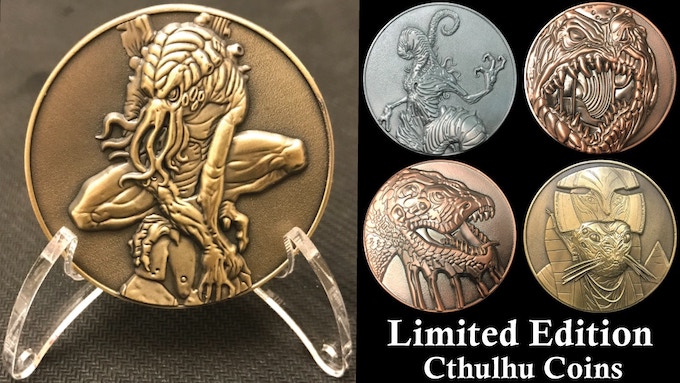 An extraordinary set of Limited Edition collectible coins based upon legendary game designer Sandy Petersen's vision of the Cthulhu Mythos. These coins are ONLY being minted this year.  After this minting, the molds will be DESTROYED and they will NEVER be minted again.
Coins are made from a solid zinc alloy metal
Coins are 2 inches (50.8 mm) in diameter
Each coin weighs about 2 ounces
Coins are about 4 mm thick
15 different designs are available and you can pick up 4 of your choice for $36.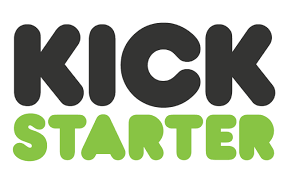 ~Which Of These Campaigns Caught Your Attention?