This week, we wrap up our coverage of greater and lesser devils with one of the strangest. Meet the stygian devil sometimes called an Amnizu.
The Amnizu are a strange beast. These stygian devils have morphed over the years from a weird big-brained demon with a tiny body, to a portly devil whose heads have shrunk as their powers have grown. But how do we go from devils that are described as having big ugly heads to the grinning face gracing the featured image of this article? Let's find out. It all starts with Styx–the river, not the band, but you better believe I'm going to link to Mr. Roboto.
I mean they went out of their way to cram a reference to Kilroy into their big song, so the least we can do here is cram a reference to the band in here. But the river styx has long played an important part in D&D cosmology. It flows throughout the cosmos, and in particular the lower planes, where it connects the Abyss and the Nine Hells. Borrowing from mythology, that age-old D&D tradition, the river Styx is one of the five rivers of the underworld in Greek Mythology. The other four are Acheron, Cocytus, Phlegethon, and Lethe–a few of those names you might recognize from elsewhere in D&D.
In mythology the river Styx is where the deities of the Greek pantheon swore every oath, because during the war with the Titans, Zeus decreed that every oath must be sworn upon the river Styx after the goddess of the river sided with the gods in the cataclysmic battle. Its renowned powers–like making Achilles invincible–don't really play in D&D though. The D&D version of the river Styx is much more like the river Lethe, the river of unmindfulness. The D&D Styx will wipe souls clean of their memories (as well as living creatures for the most part).
We mention all this because the monster known as the Amnizu began life as the Styx Devil.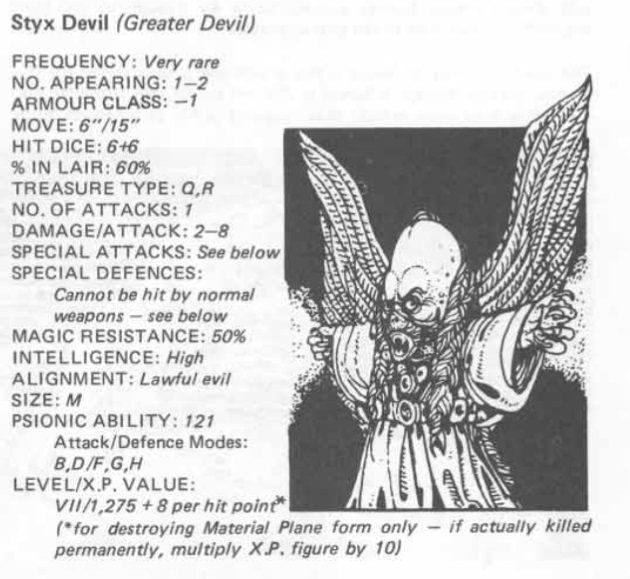 Appearing first in the 1st Edition Fiend Folio, the Styx Devil, as it was called then, was a powerful devil described as having a disproportionately large, ugly head. And it shows in the artwork. These big-headed devils are tasked with seeking out souls to bring to Geryon, archduke of the 5th Layer of the Nine Hells, and they succeed at this task with aplomb, given their inherent invulnerability to nonmagical weapons and a touch attack that has a 50% chance of casting a 22nd level Imprisonment. Styx Devils don't mess around.
Neither do they in 2nd Edition, where their artwork changed and their powers got recalibrated (a perfect imprisonment half the time might be fine for a Gygax-esque DM, but most people don't want that). They did gain the ability to cast Fireball three times per day, as well as an expanded role in the infernal hierarchy.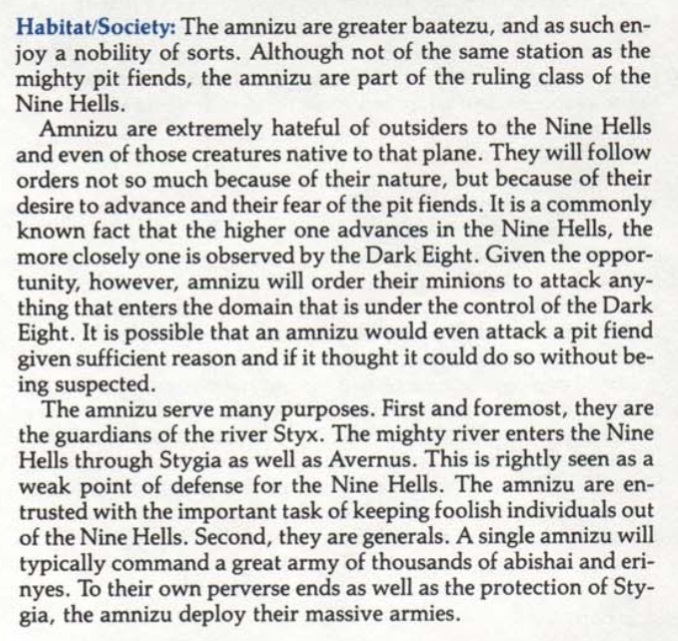 You can see they are near the top of the chain–a fact that remains true throughout the editions. Let's take a look at how they fared in 3rd Edition D&D.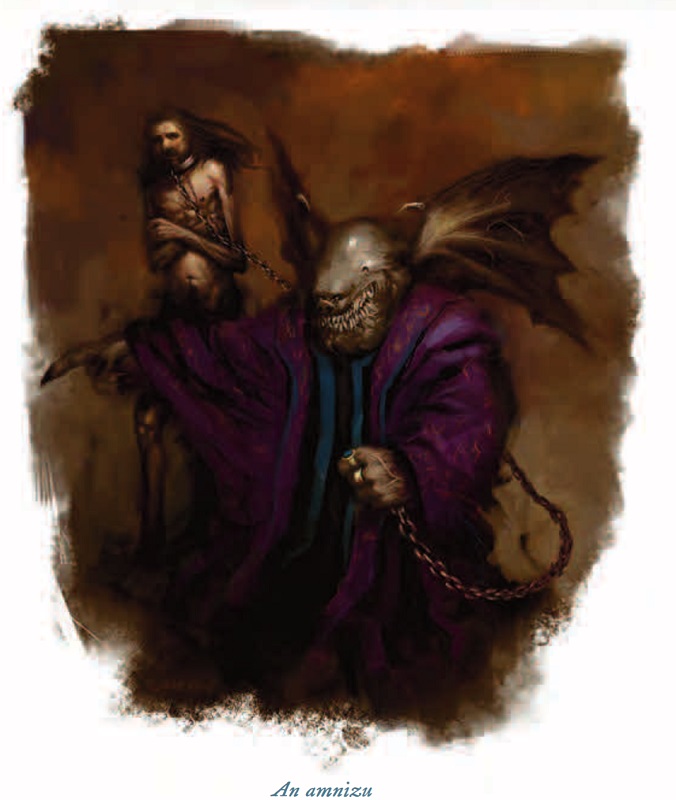 Here the transformation is much more dramatic. You can see the result of the shift, slowly all that mass in the head has flowed downward into the body, and their wings have shrunk down and they wear a downright jocular expression. Just look at that smug smile.
In 3rd Edition, they have lost their noble role in the fiendish hierarchy, instead being like a sort of hellish traffic control. 3rd Edition Amnizu are expected to be guardians who oversee traffic through the gates of hell. They occupy checkpoints stationed every ten miles along the River Styx, only becoming the fearsome soul hunters they were in previous editions should someone try and slip past them.
Powers-wise, the Amnizu shifts in focus as well. They lose their imprisonment abilities, instead gaining the power to stupefy creatures with a touch, as well as regeneration.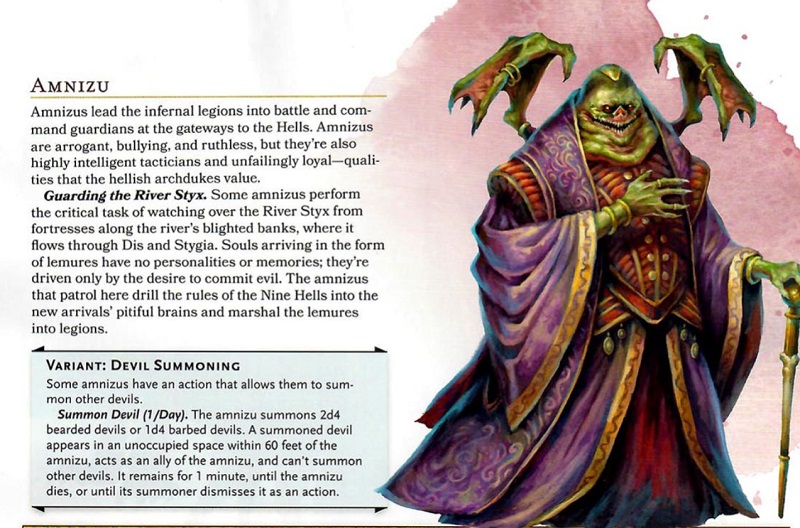 And while they don't appear in the 4th Edition monster manual, they do appear in D&D 5th Edition, where you'll find them gracing the pages of Mordenkainen's Tome of Foes. Now wearing finery, these devils are arrogant, bullying, and ruthless. These devils are infernal commanders–some oversee armies of devils, some are tasked with overseeing the River Styx, but they command powerful enough forces to trust that to their legions.
5th Edition Amnizu are much more suited to be wheelers and dealers. They come with an instinctive charm that allows them to try and charm a person as a reaction. And with 18 Charisma, they're naturally personable. As in previous editions, they possess a powerful touch attack, instead disrupting targets with necrotic damage. Feeblemind and Forgetfulness mean that this devil can always stay in control of a situation–but having power doesn't necessarily mean using it indiscriminately. These devils are smart above all else.
---
Amnizu are a perfect mastermind type villain. If you want someone to be at the heart of an infernal cult–especially if you're using the cult rules included in Mordenkainen's Tome of Foes, the Amnizu is a perfect way to ramp up the tension and build towards a very cosmic conclusion to your battles with cults.
Happy Adventuring!