In honor of the spooky season, we're taking a look at some of the spooky, scary skeletons of the world. Today, it's the enigmatic Crypt Thing.
Adventurers are a tomb-bound bunch. Whether disturbing ancient graves in search of items, or delving deep into sinister sepulchers in search of shadowy cultists and their undead allies and/or masters, adventurers keep to crypts. And yet, the crypts of the world are meant to be places for the dead to rest in peace. Where the quiet repose of the grave soothes their souls as the years pass–and sometimes, there is a single being waiting there to protect them.
These ancient undead of seemingly unknown origin protect tombs and crypts and dungeons throughout 1st and 2nd Edition. And for incredibly rare undead, garbed in sinister looking robes, they're actually not too bad once you get to know them.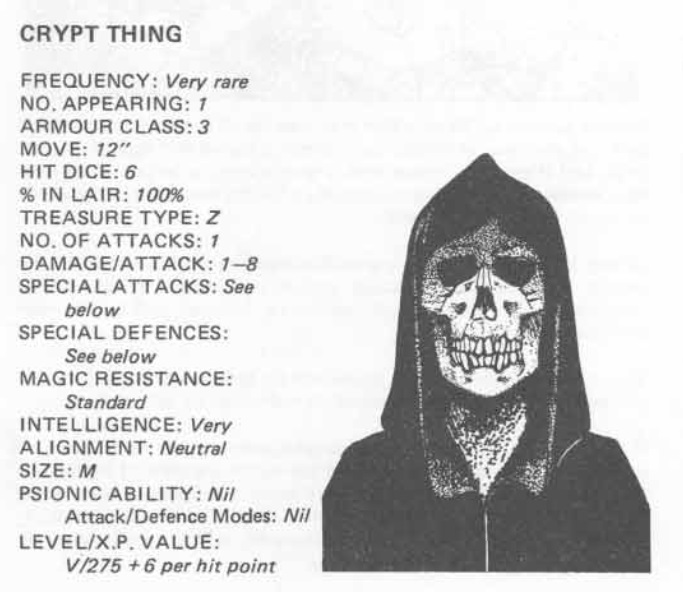 Take the original Crypt Thing. This pale, solitary skeletal being will not attack if left undisturbed. Adventurers have to set them off somehow, but if you're cool just hanging out, so are they. Rouse a Crypt Thing's ire though, and you will face what they are most known for: teleportation. Although the Crypt Thing won't teleport themselves–with a wave of their hands, they will instead force teleportation on a whole party (once per party encountered) instantly transporting people who fail their save to a different location: 100-1000′ in one of the cardinal directions, one dungeon level up, or one dungeon level down.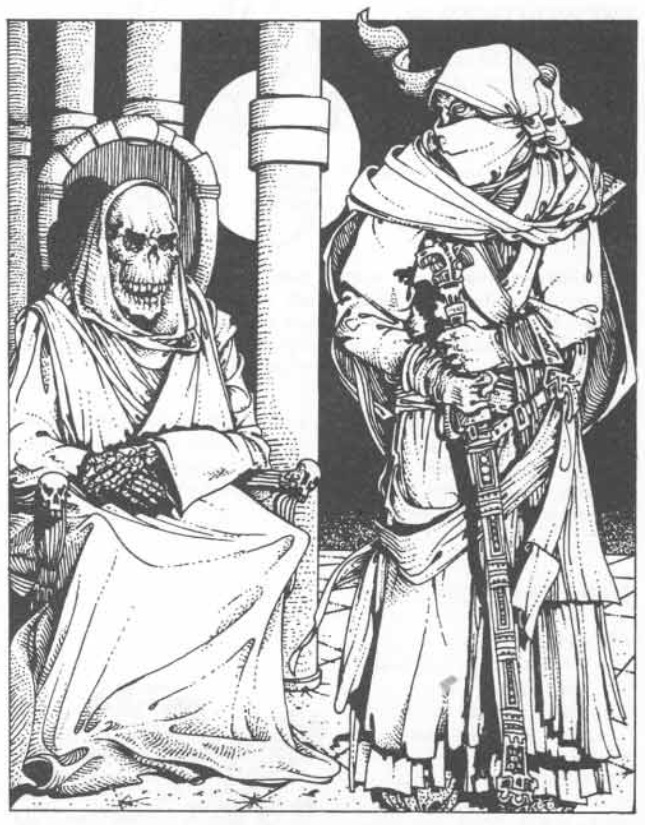 But it gets better. Each victim's distance and direction are determined individually. So your entire party might be scattered across multiple levels and rooms. You'll always arrive safely, but the party doesn't necessarily know that. In fact the Crypt Thing will specifically lie to the party, telling them that the party members who have disappeared have in fact been disintegrated. And what's worse: there are rumored to be aberrant Crypt Things that, instead of teleporting victims, simply paralyze their targets and turn them invisible.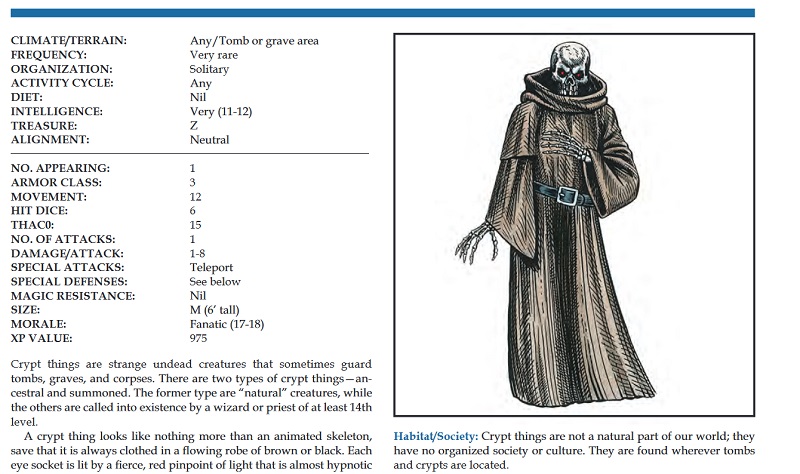 2nd Edition, as usual, expands on how Crypt Things fit into the world, splitting them into two variants: ancestral and summoned. Ancestral Crypt Things occur as "naturally" as any undead can, while summoned Crypt Things are the result of a new 7th level spell that your party might even learn.
However despite the all-natural options, the description of the monster goes out of its way to mention that they are not beings of this world. You might be able to make a potion of undead control out of their bone juice, or craft special pipes of haunting from their bones (with double the normal strength), but these powerful undead still delight in transporting their victims away. In fact, 2nd Edition spells out how their teleportation can be more lethal.
Instead of arriving randomly, the Crypt Thing can use its own judgement to determine where individuals end up. And teleported creatures do not arrive at floor level:
Particularly clever Crypt Things have been known to transport victims several hundred feet into the air, or atop a vast chasm, leaving them to fall to their deaths.
Crypt Things might not regenerate every turn and be vulnerable to fire and acid, but even so, they make excellent trolls.
Happy Adventuring!