Following the release of subclasses for the 11 base classes in D&D, WotC has announced a new survey to determine where D&D goes next.
That's right folks, the time has come once again for another big D&D survey. The last time we saw one of these so close to the release of so much Unearthed Arcana we got Xanathar's Guide to Everything, which–considering we've just seen new content for pretty much everything that D&D has out so far–is a pretty good sign that something big is coming. And soon.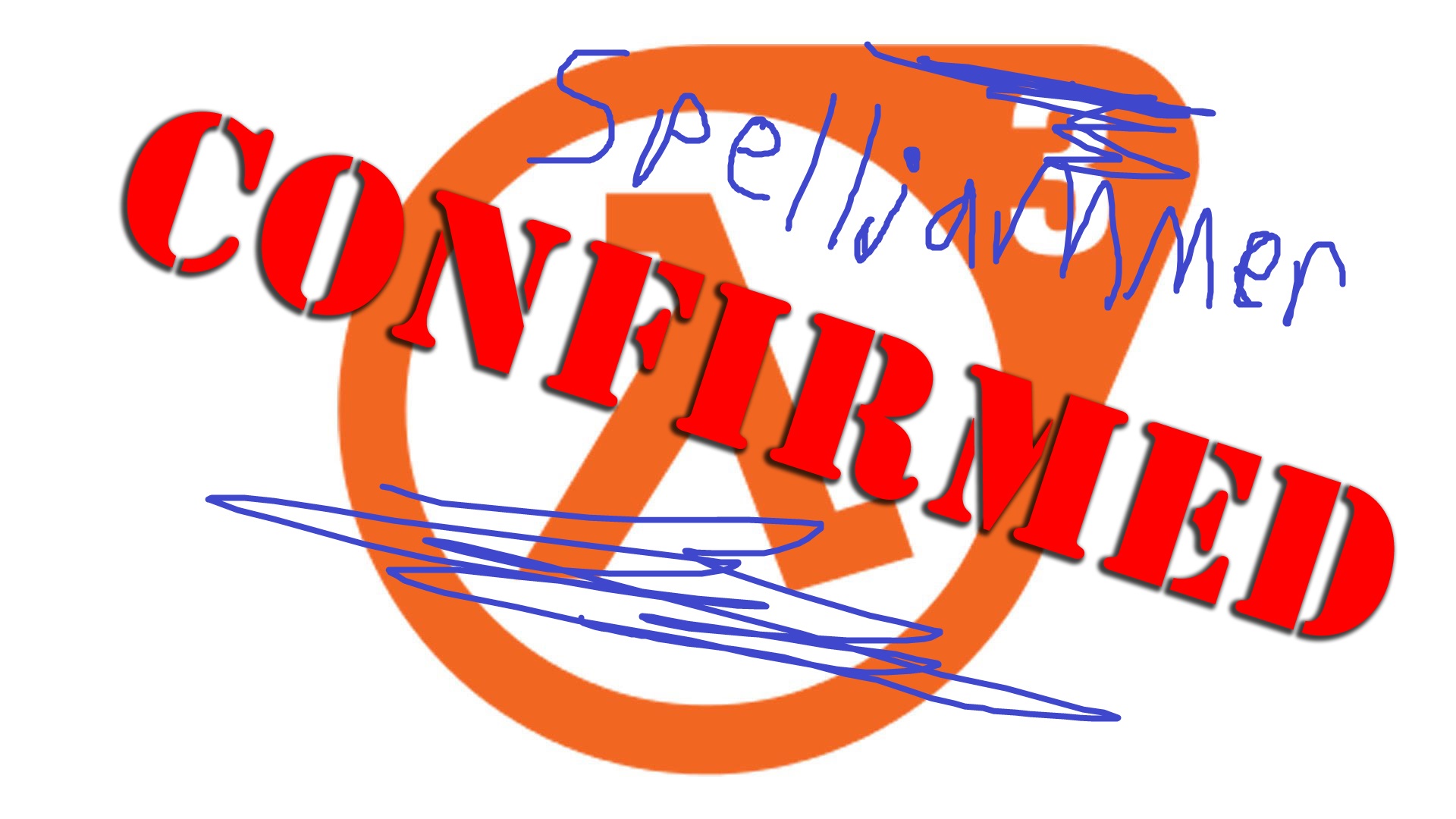 But for now, let's talk about what they're looking for in the latest survey, because if we can see the places where D&D is looking for feedback we can get an idea of what they're wanting to improve on and where they're hoping to take D&D in the next few years. So strap in, and let's take a look at what D&D wants to know.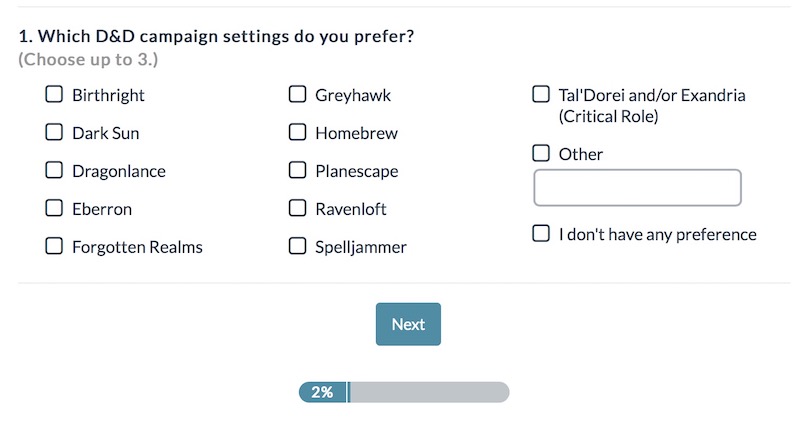 Right off the bat we see some telling information. Campaign Settings are a big part of where WotC is expanding this year, with their earlier Greyhawk situated Ghosts of Saltmarsh and the upcoming Eberron: Rising from the Last War. Of particular interest is the sole non-WotC setting they included in the list (aside from Homebrew): Critical Role's Exandria/Tal'Dorei, which is a Green Ronin release.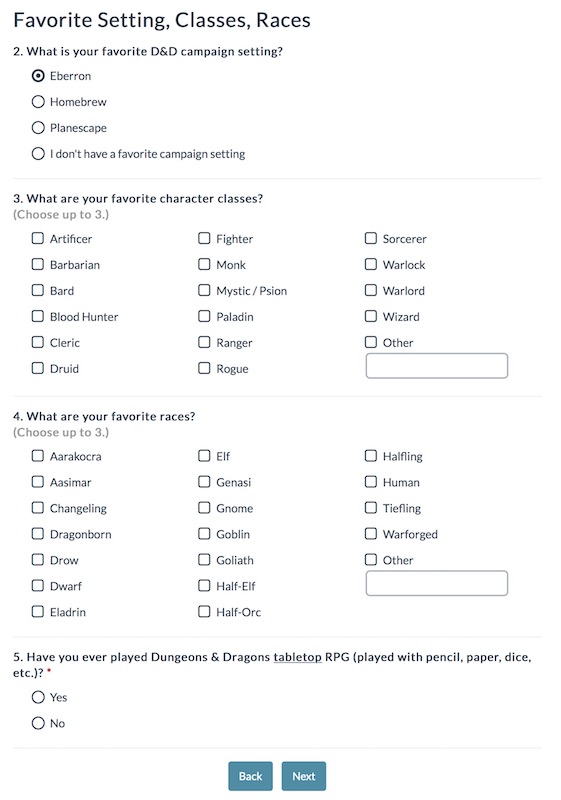 They're also looking for the usual list of favorites to see how well their popular and not-so-popular choices are doing. Bear in mind, player options that haven't "tested well" have been modified or sometimes cut, so this particular feedback feels particularly important. It also gives us a sense of what player options WotC is paying attention to, including the as yet unofficial version of the Mystic/Psion. If you're hoping to see it, now's your chance to chime in.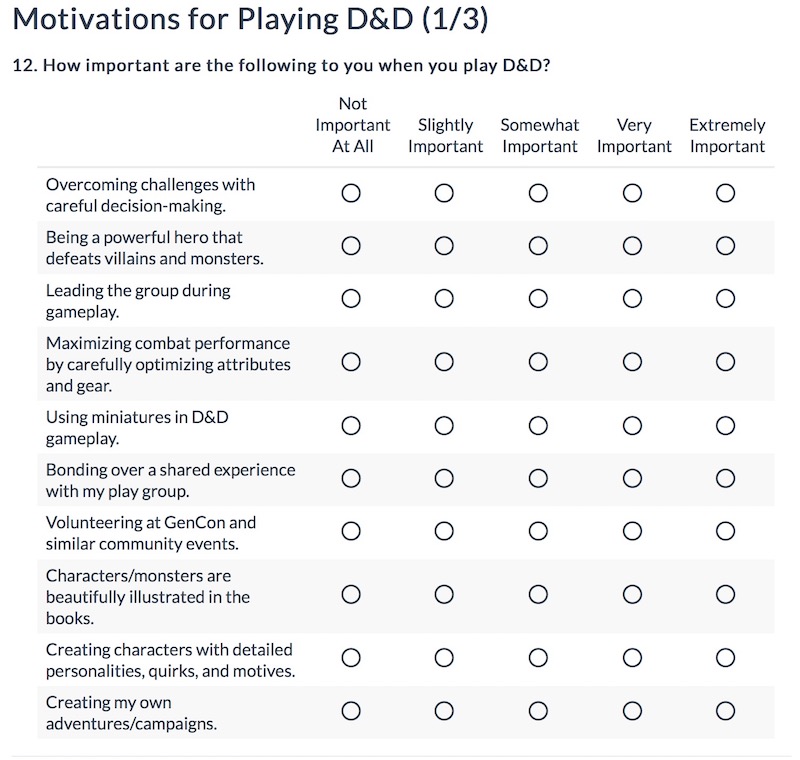 Other areas of interest include your own personal motivations for playing the game, specifically with what you're into. And interestingly enough, there's a whole page aimed at content creators: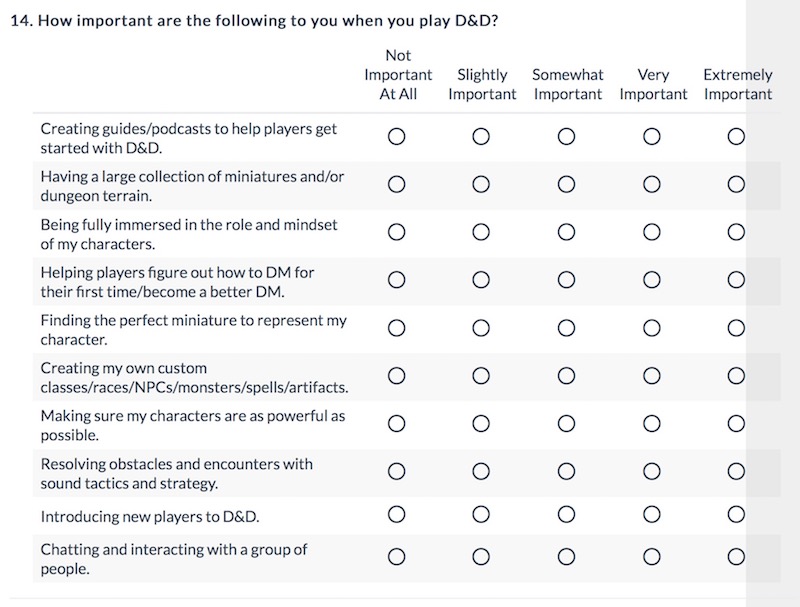 Other areas of concern seem to be character creation and how often you GM. If you're looking to get your input on the way D&D grows, now's your chance to let them know. This kind of survey is particularly important, especially as a new book is nearing completion. So if you're getting amped up, click the link below and fill out the survey and let's see what else comes down the line.
What are the things that make you play D&D? Maybe it's the open world, the opportunities to optimize or customize your character, the ability to tell a shared story with friends, the iconic art, or maybe all of the above! Take our survey and help shape the future of what we're working on at Wizards!
Happy Adventuring!