If you're planning on heading to the Winter Court 2019 Tournament for Legend of the Five Rings, get ready to fight over these prizes!
Fantasy Flight Games is hosting the Winter Court 2019 for The Legend of the Five Rings starting Wednesday November 6th through Sunday November 10th. You can see the full schedule at the link and you can see the event information list here. But what will folks be playing for? Some really neat swag! Check out this year's prize support pool.
Prize Wall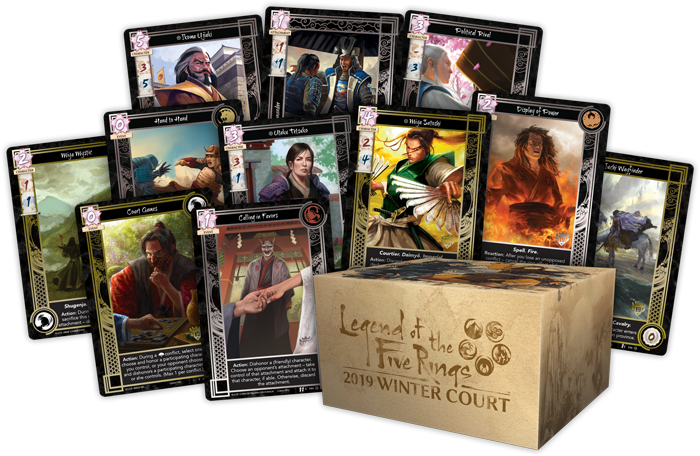 For anyone playing in events, you'll earn tickets which you can use to spend on goodies from the Prize Wall. There are a TON of promo cards you can score just from playing – the better you do, the more tickets you'll earn.
Participation Prizes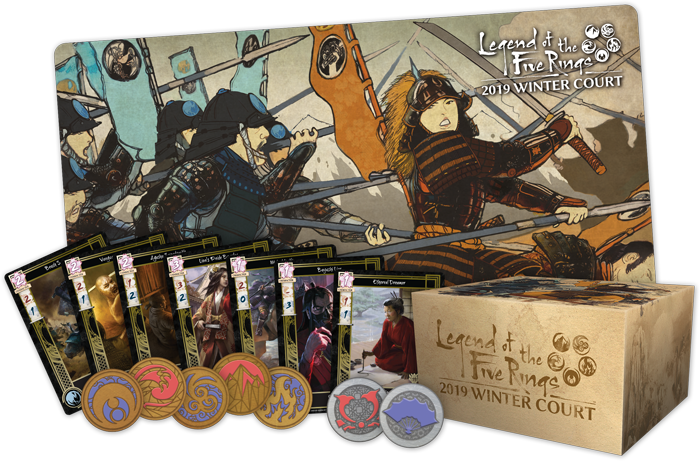 "Depending on your chosen faction, each player who participates in the 2019 Winter Court World Championship will receive a set of three promotional character cards, with black framing and a striking gold trim. Players will also receive a gorgeous playmat and deckbox featuring art from The Spear Rushes Forth. ​Not only that, simply for participating in the main event, players receive a drawstring token bag (not pictured) and a set of premium metal ring tokens! Separately, all players who make it to Day 2 will receive an Imperial Favor token, naturally featuring both military and political sides of the coin."
Top 32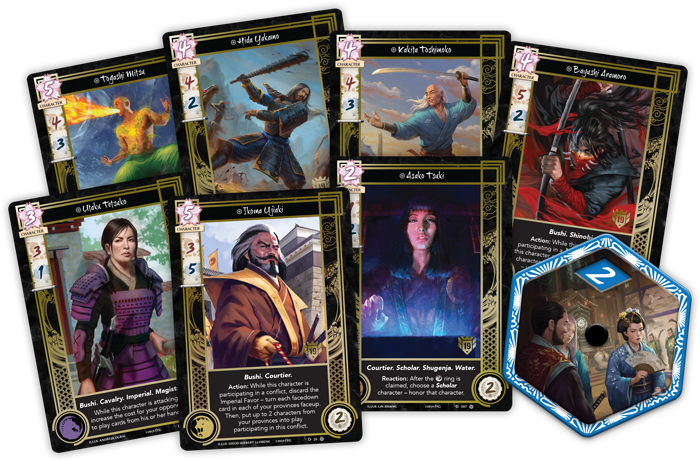 A blue honor dial featuring the art of Kevin Sidharta from the Crane character card
Each day – Top 32 players for each clan will receive a set of three promotional cards of one of their clan's characters
Top 16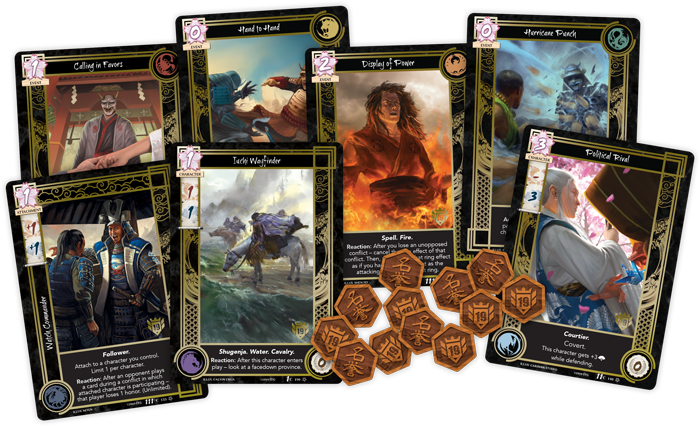 Top 16 players per day from each clan will receive a different set of three promotional cards with black framing and a gold trim
Top 16 overall players will win a set of twenty wooden honor tokens
Top 8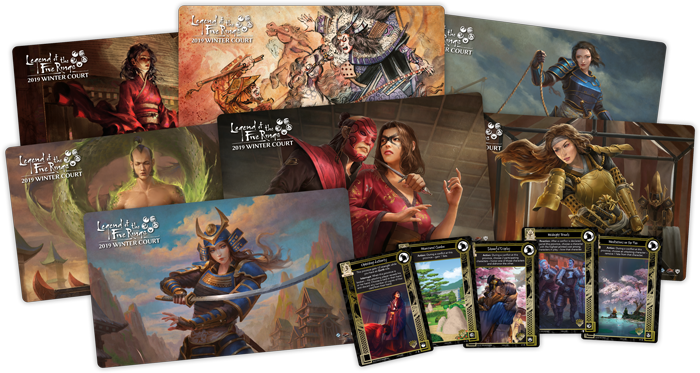 Top 8 of each clan per day will be rewarded with a playmay featuring art from cards like Graceful Guardian, Kaiu Shihobu, and Never Yield
"Furthermore, during the elimination rounds on Day 2, players who make it into the Top 8 cut will receive a set of five promotional province cards with gold trim, including Manicured Garden, Shameful Display, Meditations on the Tao, Midnight Revels, and Upholding Authority. These cards will also be awarded to the Top 2 players per faction on for each day of the main event. In addition, the previous World Champions will be honored with a set of these cards!"
Top 4 – Hatamoto Status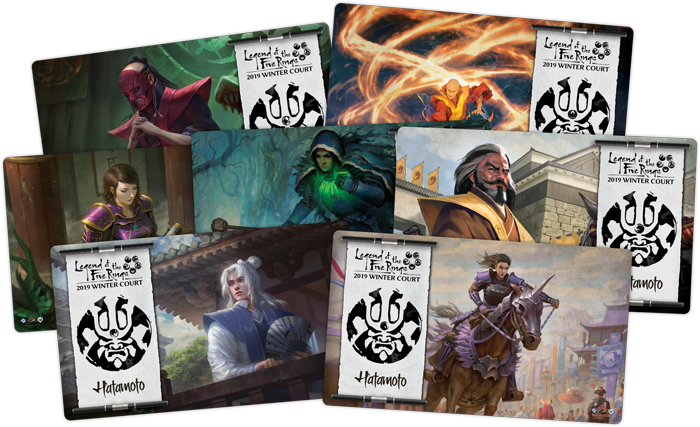 "Samurai who rank among the very best of their clan on either day of the main event will achieve Hatamoto status and a playmat that signifies their profound accomplishment.​ Those who climb the ranks to the Top 4 overall will also be bestowed with the esteemed title of Hatamoto. In addition to this exclusive prize, the title of Hatamoto grants these elite players many other benefits and rewards, including the opportunity to shape the future of their clan!"
Champion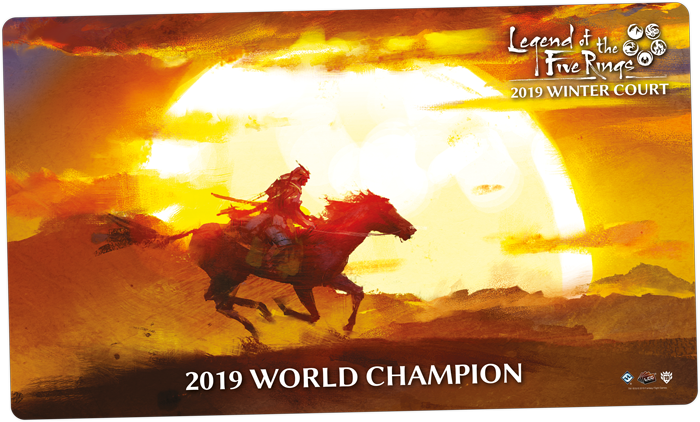 The 2019 World Champion will receive a one-of-a-kind playmat along with all the other rewards along the way!
If you've got what it takes then head to the 2019 Winter Court World Championship and claim your prizes!