A while ago, I went to a local gaming convention called Sword and Brush 2019. It ran in Burlington, Ontario, Canada and featured a painting competition on top of gaming. Take a look at some of the minis out on display!
In this post, I showcase four of the entries into the contest. My guess is that there were a couple of hundred entries, so this is but a small sampling. As a note, many of these miniatures are of a larger scale than most gaming figures. That said, it is a very closely related hobby that uses all of the same tools as us wargamers use when reading our miniatures for battle.
Keera Blade of Justice
Let's start with the image above – the title image. That is Keera Blade of Justice by Scale75. It was painted by Jason Zajac. This one is a 75mm figure entered into the Sci-Fi and Fantasy part of the competition. If you want to learn more about her and Scale75, come on over and check out my post on MCM.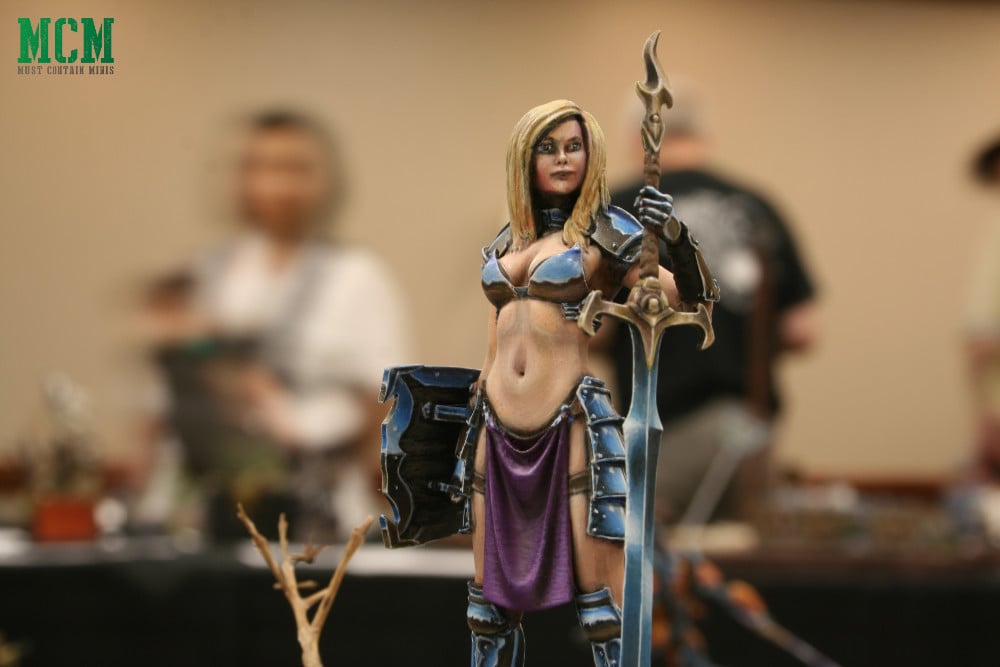 Boudicca
This next miniature is a 1/10 Historical Bust by FeR Miniatures. She is absolutely gorgeous and based on a real-to-life historical Celtic Warrior Queen. This one was painted by Brian Latour. Simply stunning work! My post about this one covers the history of the historical person with great shots of the model.
Spitfire Pilot
Here we have a WW2 Historical Spitfire Pilot. This 1/10 Bust took home best in show and it looks absolutely incredible! Paul Stockley painted up this miniature for the competition. If you want to get your hands on a model like this, it is by Young Miniatures. Simply amazing.
If you want to learn more about this model, I have some basic information about the Spitfire along with an Interview with the painter (Paul Stockley) over on Must Contain Minis.
Trollblood Mountain King
The final miniature of this quick four-piece showcase circles things back to gaming again. This time, we have a nicely done Trollblood Mountain King for Hordes (Privateer Press). This one was painted by Dave Garbe of Wargaming Tradecraft. Over on Must Contain Minis, I have a nice showcase piece showing off this monstrosity.
Wrapping it up…
Hopefully, you enjoyed this quick showcase piece. In this article, I aimed to show off some great painting talent from a local gaming convention (Ontario, Canada). If you live close to Ontario (or in Ontario), checking out the Ontario Miniatures Gaming Convention Page might be worth your while to get events onto your radar.
This one in Burlington (Sword and Brush) really drew out some amazing talent from across the province.
Slowly, I will do more showcase pieces on MCM related to this event. Depending on the reception of this post, I may summarize them over here too. Let me know what you think of that idea.
Thanks for reading and until next time, Happy Gaming Everyone!!!

Read more about great Indy and Historical games on my site!
Must Contain Minis is my personal Website. If you like this post, be sure to check out my site. You can also follow me on Social Media. I am very active on Facebook and share posts of a wide variety. I upload my best pictures to Instagram and am fairly active on Twitter.
My aim is to promote gaming with companies outside of those that already dominate the gaming market. You can find a wide variety of games there from Indy to Historical.