Howdy folks, come take a look at some of our favorite fan art and RPG minis on social media. Here's what the community is working on!

Let's start things off right with this perfect pumpkin and a tiefling youngster getting ready for a fall festival:
5; as a child
Hehe I keep forgetting to post my oc tober posts here#tiefling #ArtistOnTwitter pic.twitter.com/M4M5C7M2H9

— Sab ᘛ⁐̤ᕐᐷ @ Commissions (@ghoustea) October 21, 2019
Meanwhile, this fantastic paladin from Rachel Denton is perfectly poised in heavy armor
A commission of a stone cold paladin named Vissenta – thank you so much for allowing me to draw heavy armour again – this was so much fun!!#dnd #art #dungeonsanddragons #dnd5e #art #characterdesign pic.twitter.com/AVJqO0pfWR

— Rachel Denton ? (@Tallinier) October 24, 2019
Here's a look at a familiar, fiery ampersand, rendered in beautifully done stained glass(!):
Born from flame ? #dndart #stainedglass pic.twitter.com/6YJJivqSdY

— TheGlassRaven (@TheGlassRaven1) October 24, 2019
And while we're on the subject of stunning things, here's a Tabaxi rogue, showing us why practice makes perfect:
Ranged combat is aimless. ? #dnd
Art by #ThibaudPourplanche pic.twitter.com/xECJ23G3sN

— PaladinDad (@Paladin_Dad) October 24, 2019
And an underrepresented character type–an Aasimar cleric, complete with ethereal wings waiting to manifest in times of need:
Been in an art rut lately, but I finally got something drawn. This is Ariya Lark, aasimar light cleric, and a ray of sunshine. She reads trashy vampire books, the official mom friend, and isn't truly aware of her race. She just thinks she is a cool human ☀️ #dnd #dnd5e #dndart pic.twitter.com/EzSixCmERx

— ⭐Abby Amland⭐ (@unepetitefae) October 20, 2019
We don't often see much custom mini work in D&D here on these fanart Fridays, so take a look at this very hungry scion bursting from the depths!
#DnD #dndart #tabletopgaming Garrithur the Scion or Hunger – I thought you lovely folks would love to see it – this was a competition entry piece whose challenge was to use Halloween vampire fangs in a build – can you see them ??? The rest of the temple and mountain will be next pic.twitter.com/ozJIpEw0h1

— Matthew Ryan (@Matthew_Ryan_Do) October 25, 2019
This custom creation would look lovely on anyone's tabletop. Meanwhile, on Critical Role, the party recently hit level 10 and is looking stylish:
Did my best to be spoiler-free with #Nott's entire arc on this one so went with pure FLUFFUH NUTTUH!! #Criticalrolefanart #CriticalRole #CriticalRoleArt #DnD pic.twitter.com/xwTxDb8JmR

— Jessica Nguyen ?️‍? (@Jessketchin) October 22, 2019
Here's the full version: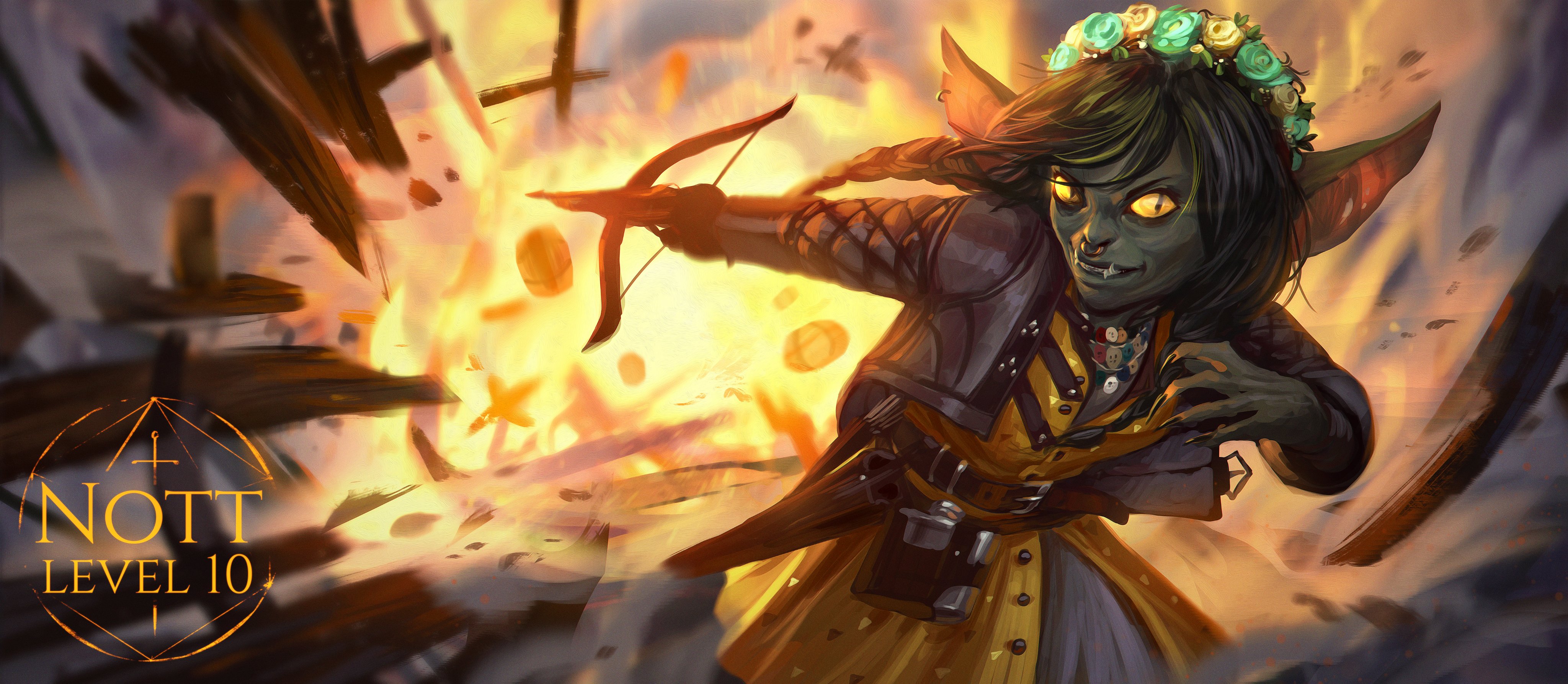 This Warlock off the Undying patron is ready for the spooktacular season…
May I present, Morrigan Ravenwood – Warlock of the Undying. #dnd #dndart #fantasyart #characterart #npc #rpg pic.twitter.com/B3kmntVj4x

— ??????????? (@decafpillow) October 25, 2019
Here's another slice of Critical Role perfection:
Critical Role Jester | Painting using clip studio paint @LauraBaileyVO <3https://t.co/8fC6eojeWw#criticalrole #criticalrolefanart #critical_army #critters #digital #dnd #dndart #dndcharacter #criticalroleart #digitalpainting #csp #tiefling #painting? #artwork? pic.twitter.com/V5wFYuaM1Q

— Robert Jaśkowski (@rjjaskowski) October 24, 2019
And a fantastic moment captured so perfectly well, immortalized forever, but also spoilers ahoy:
Uh oh#Criticalrole #criticalrolefanart #CriticalRoleSpoilers pic.twitter.com/TKpkPwGbC3

— sami ⚡️ etsy open (@sami_jen) October 22, 2019
And just because one instance of Caleb is never enough:
Arcane shield#criticalrole #criticalrolefanart pic.twitter.com/bgN9ADUOvJ

— Ron Koza ? (@koza_ron) October 23, 2019
But we're talking fall, so here's a fallen foe for y'all:
…I'm still not over how cool Avantika was?#CriticalRole #criticalrolefanart pic.twitter.com/XaVvSe1pCJ

— Algiz Art (@AlgizArt) October 23, 2019
And it wouldn't be a RPG without some dice and these ones reflect the monster of the day…
Day 25 – wraith ?#DiceGoblins #Spooktober ?#MonsterPalettes #Dice #DicePorn #DnD #dnd5e #ttrpg #dungeonsanddragons #monsterpalette #clickclackcollective pic.twitter.com/ultZ1hc64M

— ?Dungeonista of Dread? (@Tahina_Andale) October 25, 2019
Have a great weekend folks!
If you saw something you liked, be sure to follow the artist on Instagram, Twitter, or Facebook. Want to share what you're working on? Drop it in the comments – we'd love to see what you're creating.